February 16, 2023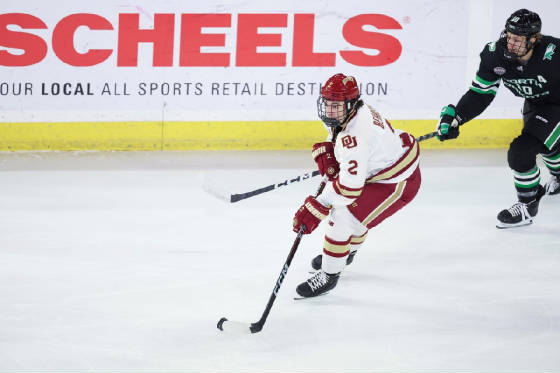 Sean Behrens in last weekend's DU sweep over North Dakota. (Tyler Schank/Clarkson Creative via DU Athletics.)
As a 15-year-old freshman at Barrington High School in Chicago's northwest suburbs, Sean Behrens was a strapping, 5-foot-5 defenseman.
Although he was a standout in the area's Chicago Mission Tier I / AAA program by then, projecting him as a college hockey star required considerable faith in his development.
The Denver Pioneers' staff had it.
They offered Behrens a scholarship and he "committed." At that point, nothing was binding.
"It just felt like the right fit for me," Behrens, now a Pioneers sophomore and still a mobile defenseman, told me at Magness Arena Thursday. "Talking to these coaches, they believed in me from the get-go. I was a little kid. Somehow they saw something in me. I couldn't be more grateful for that opportunity."
Neither Behrens nor the Pioneers wavered in the ensuing years as the promoted David Carle settled in as Jim Montgomery's successor.
"You look at your options, yes, but honestly I didn't have any," Behrens said. "No Big Ten schools, no other NCHC schools talked to me at the time. So Denver was the biggest school and it just felt like the right fit. It was somewhere I wanted to be and somewhere they wanted to have me."
As a "commit," Behrens was a Pioneer in waiting, and part of it was playing two seasons with the National Team Development Program. After he officially signed on with his letter of intent and then was a few months away from enrolling at DU and joining the Pioneers, the Colorado Avalanche claimed him in the second round with the 61st overall choice of the 2021 draft. So now it's the Avalanche waiting and watching Behrens with considerable interest.
It's not an unprecedented tale in the sport. A then-unheralded Cale Makar, for example, committed to UMass at 15 and stuck with it when others came after him. But it's a tricky process ... for both player and program. Sometimes premature faith and over-optimistic projection can be costly in NCAA hockey. It has worked out for the Pioneers as their top prospect defenseman now is seeking to be part of a second consecutive national championship in his sophomore season.
After he had 3 goals and 26 assists as a freshman for the 2022 Frozen Four title team, Behrens has 3 goals and 16 assists in 25 games for the Pioneers this season heading into the Friday and Saturday NCHC home series against Minnesota Duluth. He missed two Pioneers games at North Dakota in November with an upper body injury, then three more DU games spanning New Year's Day to earn a bronze medal with Team USA in the 2023 World Junior Championships in Halifax and New Brunswick. That came after an injury limited him to one game for the USA in the 2022 WJC, rescheduled to August because of the pandemic. He's now listed at 5-10 and 180 pounds and can be tough at the defensive end and a generator offensively. He'll turn 20 on March 31.
"I think I'm having a good year," Behrens said. "But I think there's been a lot of ups and downs. Being at World Juniors in the summer and then coming in here at the start of the year, I had kind of a slow start offensively. I was playing good , but I thought there was more to my game I could show. The (regularly scheduled) World Juniors over the winter helped me with that, helped me find confidence. That tournament kind of jump-started the second half for me. Throughout this second half, I've been finding the scoresheet. That's helped my confidence. That all-around game has been good this year.
"I think I'm a smart reliable two-way guy who's really competitive. Defending and taking pride in my own end, keeping pucks out of our end is the biggest thing for me. When I'm doing that, it helps the rest of my game. I think the offensive stuff's always going to be there."
So how long will he stay? Given the precedents for second-round picks playing NCAA hockey, it's a reasonable bet he will sign with the Avalanche organization after this season. The other possibility is that all concerned decide he'd be better off with a third year in the college game and continued physical maturation, and he sticks around for his junior year. Also, his draft rights now are a tradeable commodity as the Avalanche assess possible deals.
"I've talked to my family about it," Behrens said. "I've talked to my agent about it. We're not in a rush to make decisions. Right now I'm focused on winning another national championship. After this season, we'll sit down and have a discussion about that. As of right now, there's no decision made and I'm not thinking too much about it."
Behrens is one of 12 Pioneers on this season's roster who have been drafted by an NHL organization. His situation is a bit unique, considering Behrens is playing in the market of the NHL team that drafted him. He also attended the Stanley Cup champions' summer development camp.
"It's not that much different than any guy on the team that's been drafted," he said. "The Avalanche does a good job of letting me be two feet in here, to help this team win and be focused on this team."
Behrens has been focusing on hockey since he was 12. The deck was stacked: Although the family lived in Barrington, Sean's father, Kyle, is from Toronto. "He got me on skates early and was my coach for probably 7 or 8 years, so he's taught me a lot," Sean said.
But Sean also was a kid shortstop who could make the tough plays.
"I really liked baseball, it was just a little slow for me," Sean said. "When it came down to the time I had to make a choice and I couldn't do both, hockey was my choice. It was right around that age where I was playing travel hockey and travel baseball. I was missing baseball practices and it wasn't really fair to the other guys on the team. I had to give it up."
His hockey interest was stoked by his fan experience.
"For sure, it's all Avs now," he said. "But the Blackhawks were my team growing up. It was great to watch them have success. . . I was 7 when they won their first Cup (in 2010, starting a run of three championships in six seasons). I got to go to the Cup parade, so that was pretty cool. It was pretty cool to go to that one at 7, and I was lucky enough to be part of the Avs' one here (on June 30). They had a float for us, so being in that parade it had kind of come around full circle."
When he was with the renowned Mission program, winning five consecutive state championships as his core group moved up the age-group ladder, Behrens had some tough travel -- from Barrington to either the Seven Bridges rink in Woodridge or, eventually, the Blackhawks' project adjacent to the United Center. "Seven Bridges was 45 minutes from my house," Behrens said. "Then (Mission) moved downtown. Depending on when I left, that was anywhere from an hour to more, depending on traffic."
It's paying off.
Sean Behrens in Pioneer media guide
Sean Behrens at Eliteprospects.com
Other DU hockey-related commentaries:
November 11, 2022: DU's Carter Mazur chases the dream
December 13, 2022: DU's Aidan Thompson a NoCo breakthrough
January 27, 2023: CC vs. DU at Ball Arena: A big night for Colorado hockey
POSTSCRIPT
Here's the list of the NHL draft choices on the Pioneers' current roster:
LW Tristan Broz, sophomore, Pittsburgh, 2nd round, 2021
C Massimo Rizzo, sophomore, Carolina, 7th round, 2019
RW Jack Devine, sophomore, Florida, 7th round, 2022
LW Carter Mazur, sophomore, Detroit, 3rd round, 2021
C Aidan Thompson, freshman, Chicago, 3rd round, 2022
RW Jared Wright, freshman, Los Angeles, 6th round, 2022
LW McKade Webster, junior, Tampa Bay, 7th round, 2019
RW Rieger Lorenz, freshman, Minnesota, 2nd round, 2022
D Sean Behrens, sophomore, Colorado, 2nd round, 2021
D Mike Benning, junior, Florida, 4th round, 2020
D Shai Buium, sophomore, Detroit, 2nd round, 2021
G Magnus Chrona, senior, Tampa Bay, 5th round, 2018. Rights traded to San Jose, 2021.