RIP, Lt. Col. John Mosley
A trailblazing hero
Saturday, May 23, 2015: The sad news came tonight that Lt. Col.
John Mosley died Friday.
This is part of the "Fourth Down and a War to Go" chapter in
Playing Piano in a Brothel.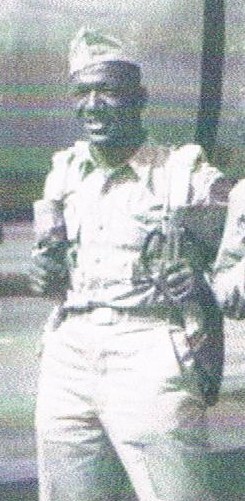 Number 14 John Mosley, Guard
Many of the players in the 1942 game came from Denver, and one of
them was a trailblazer. Aggies guard John Mosley was raised in a
home on Marion Street, across the street from Whittier School. John
Sr. was porter on the Union Pacific Railroad and his wife, Henrietta,
was a housewife.
"The old expression was that it takes a village to raise a child," John
Jr. told me. "Denver was actually a village at that time, so all the
neighbors and community people in the area helped raise the
children. We couldn't go two or three steps without someone saying a
word of encouragement or criticizing us for what we were doing or not
doing."
Significantly, the Aggies' program was integrated long before the
University of Colorado's. I came across Mosley while researching my
book Third Down and a War to Go.
At the time, covenants and standards essentially prevented black
families from living anywhere other than extreme northeast Denver.
"The types of things going on in Denver were quite similar to what
was happening down South, in terms of drinking fountains and the
various department stores," he told me. The segregated lunch
counters in downtown Denver included those at Kress and
Woolworth, and he took pride in being part of the movement that led
to their integration in later years.
I asked how those experiences couldn't have left him embittered.
"I didn't look at it that way," Mosley said. "I looked at it as an
opportunity to move ahead. I really didn't have any bad feelings about
who was responsible for the segregated activities and the types of
discrimination we experienced. I was too busy trying to ensure that I
got everything I possibly could out of school and also to participate in
athletics."
Mosley also was active at his church and with the Boy Scouts, the all-
black Troop 150, and sang in a quartet called the "Junior Mills
Brothers." The quartet appeared in many of the Denver theaters and
also on KLZ radio. Mosley laughed and remembered with wonder that
they once were paid $5 for each gig.
He often went fishing for crawdads at City Park, using pieces of liver
as bait. "We'd go down to Lafayette Street and sell crawdads to
people," he said. "Crawdad meat was considered very tasty at the
time." He also visited the old National Guard field on what is now
Park Hill Golf Course and watched planes land and take off. "I
pretended I was flying," he said.
A National Merit Scholar at Manual, Mosley went to Fort Collins with
his childhood buddy, Charles Cousins, also the son of a Pullman
porter, and enrolled at A&M. "I wanted to go to school with my
buddy," Mosley said. "He went up there with the intention of going to
veterinary school."
Mosley was an all-city fullback at Manual, but he wasn't pursued to
play collegiate football, even under the limited recruiting practices of
the times.
There were nine black students at the school. Most of the time, six
men shared a small house off campus. Four of Mosley's housemates
were Harry Martin, Eugene Combs, Jesse Douglas, and Junior James.
"We called ourselves, 'The Lonesome Boys,'" Mosley said.
Most of the Fort Collins restaurants wouldn't serve blacks. "We would
load up on food in Denver, as we came down on weekends," Mosley
said. "Our whole existence was cooking for ourselves. We could eat at
the student union and there was an ice-cream parlor where we could
get ice cream. All the rest had signs up. Some of the things were so
demeaning, I didn't want to recall them, but I do remember, 'No
Niggers allowed,' or, 'We don't serve Niggers here.'"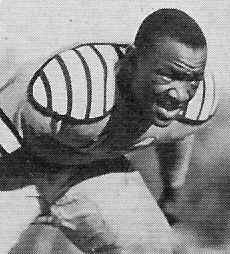 Cousins and Mosley went back and
forth from Denver to Fort Collins
during their college years. "As a result
of working on the Union Pacific
railroad in the summertime, Charles
and I were able to acquire Model
A Fords," Mosley said. "We went up in
tandem because if one broke
down, we were able to have the other
pull or shove or render some help to
make sure we made it down from
Fort Collins to Denver or
back up."
Housemates nicknamed him "One-Tea Bag Mosley,"
because he tried to nurse a single bag through a month. They saw no
humor in him trying out for football as a freshman in 1939. "I just
showed up and asked for a uniform," Mosley said. To re-emphasize:
before that season, there wasn't a single black player in the Mountain
States Conference, which included CU.
Nearing his thirtieth anniversary as the Aggies' head coach, Harry
Hughes welcomed Mosley. "I guess he felt that he knew he was
retiring soon and to have a black on his football team was no big deal
because they couldn't do anything to him," Mosley said. "And he
recognized that I could contribute to the team."
His teammates' reactions, especially at first, were mixed.
"I had to sell myself not only to Harry Hughes and the coaches but to
the players," Mosley said. "There were many players from Texas and
the Western slope, farmers and so forth, who didn't like black people.
That was quite an experience to gain the support of my teammates.
My first night out for football, one of the players from the Western
Slope tackled me, and in doing so, he slapped his hands down on my
helmet at the ears. That actually knocked me out. When I came to,
Eugene Combs was there on the sidelines watching and he was
laughing. He said, 'I told you not to go out for football. I told you these
guys weren't going to treat you right.' But the fact that I could play
football and block and tackle was productive in showing what I could
offer to the team. I won't call out any names now, but there were
several players on my team who never accepted me. But most did."
He played fullback until he was switched to guard as a senior.
"Naturally, there was name-calling and that type of thing," he said. "I
had no problem in my responses, because I didn't respond. It was my
teammates, Dude Dent and Woody Fries, who were quite vocal in
ensuring that those voices didn't get out too much. The way I
responded was through my ability to tackle and to run the ball hard. I
never had to 'fight my own battles' on the football field. There were
some things that were said, and that was constant, but if anyone tried
to challenge me any other way, all my teammates would come and get
in their way. I always backed off. I got several awards for being a good
sportsman, and that was one thing I didn't have to worry about. The
way I got around that was on the next play or subsequent plays, if I
was blocking someone or tackling, they knew that they got hit and
blocked. So you always had a chance to get back at those who weren't
too polite."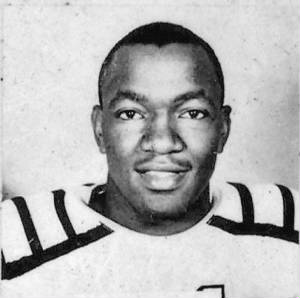 During the 1940 season, when Mosley was a sophomore, the Aggies
traveled to Salt Lake City to play Utah. On Friday, they went to a
movie theater. An usher told Mosley he would have to sit in the
balcony.
"As the team went in, Coach Hughes asked the players, 'Hey, where's
Mosley?' Somebody said, 'They sent him upstairs.' He told the
assistant coach, 'You go in there and make this announcement: All
Aggies, get the hell out of this damn theater!' The team came out and
they were asking, 'What's wrong?' And Coach Hughes said, 'We're not
going to that damn theater because they wouldn't let Mosley sit
downstairs.'"
By the time the 1942 season began, Mosley was down to one
roommate, Harry Martin, who was majoring in chemistry and went
on to be a physician. They lived near the campus. Mosley considered
CU the enemy on the playing field and noted that while the Buffaloes'
football program hadn't yet been integrated, he had friends attending
the school. "We used to go down to visit them, and they were
restricted, as we were," Mosley said. "They were off campus, on Water
Street. That was the black district down there and they lived with
black families."
At A&M, Mosley was named vice president of his class as a junior and
senior and hoped to become the first black in Advanced ROTC at
A&M. "I had the correct academics and was well-known on campus,
and I thought it was a shoo-in for me," he said. He took a physical at
Fitzsimons Army Hospital.
"Understand, I had been playing football for six years and wrestling
and taking physical exams every year," he said. "I went back up to
Fort Collins and was awaiting my assignment for Advanced ROTC,
and they said, 'Sorry, you didn't make it; you didn't pass the
physical.'"
Doctors told him he had a heart murmur.
I asked Mosley if he was an angry young man at that point, given what
he was going through in Fort Collins and in football and wrestling.
"Very definitely, but I had had some very good white friends and
buddies up at CSU," he said. "I certainly wasn't angry at them. I was
angry at the system. The president up there was a guy named [Roy]
Green. I never will forget Green. He was a racist S.O.B."
When the door was shut to Advanced ROTC, Mosley sought an
alternative.
"They were starting up a program called civilian pilot training, and it
was at most of the colleges around the United States," he said. The
civilian pilots ferried military aircraft to bases around the country or
even to bases overseas. "So I decided, 'This is the way I am going to
beat this game,'" Mosley said. "You had to get your own flight physical
and pay for it. I got my money together, went to the flight physician,
and he examined and passed me."
He started taking flying lessons in Fort Collins.
"When you signed up for civilian pilot training, you had to either sign
up for the Army Air Forces or the Navy," he said. "At that time, the
Navy wasn't even thinking about having blacks fly their airplanes. The
only thing that was left was this experimental group, down in
Tuskegee."
The all-black 99th Fighter Squadron was formed at Tuskegee in June
1941. By late 1942, the 332nd Fighter Group was considered the
umbrella organization for the Tuskegee Airmen. Mosley made it his
goal to join the Airmen.
Before he entered the service, an experience as his graduation
ceremony approached left him reluctant to return to Fort Collins for
many years. Fort Collins businessman "Sparks" Alford clumsily tried
to congratulate Mosley.
"Sparks was really the sponsor of the team," Mosley said. "He went on
all of our trips and he owned the Burlington, the bus run from Fort
Collins to Denver. He did give me a job of mopping up the bus station,
which was just a little cubbyhole down by the train station. I worked
for Sparks for two years, I guess, maybe three, and we were good
friends because he was a sponsor of the team. Whatever the team
needed he would certainly work very hard to try and give the team
that type of support. In getting my diploma, I was the happiest person
in the world, thinking, 'Boy, I really have it made,' and that type of
thing. I saw Sparks, and Sparks came up to me and said, 'Hey, John,
very good, if you every get in jail just give me a buzz and I'll get you
out.' That to me was the most disappointing thing, to suggest that I
might be a candidate for jail. I'd never been to jail in my life and
certainly hadn't been involved in any problems up in Fort Collins. For
him to think that the only thing I could do was to get involved in
trouble some way left a very bad taste in my mouth."
Mosley was astounded when he wasn't drafted after graduation. "My
peers were given their degrees early so they could go in," Mosley. "I
got my degree, and my process was sitting and waiting. September
came along, and nothing. I thought for sure I would be going down to
Tuskegee." He complained to the draft board, and he was told that
there had been a mix-up and his draft board believed he already had
been called up. Soon, he was called in to the Army.
Instead of being sent to Tuskegee to fly, however, he was dispatched
to a segregated field artillery unit at Fort Sill.
"I started writing letters, along with my parents, to congressmen and
the White House," Mosley said. "I said, 'Look, I have actually been
trained in flying, and why haven't I been sent down to Tuskegee?'"
He got his wish two months later.
"When I was going through," he said, "they didn't graduate any more
pilots than they needed with the 99th [Fighter Squadron]. If they lost
two people in the 99th, two people would graduate. They would
eliminate you for anything-shoes not shined or for any attitude you
had that wasn't appropriate. I often tell people I'm the best pilot in the
world, but there were pilots better than I was who got washed out for
nothing because they didn't realize they had to demonstrate they
could out-strategize their white instructors. Those were the kinds of
things we had to go through.
"The one goal I set for myself was I wanted to get those silver wings. I
knew I had to do everything in the world to scrap and to prove myself.
Although we had black instructors through primary training, they
were all white instructors at basic and advanced. That's where the
washouts were frequent. We used to say, 'How many did we lose in
Europe, three or four?' And three or four would graduate from the
next class. It was that sensitive and [there was] quite a bit of trying to
outdo your fellow classmates so you would be selected to advance.
That wasn't very pleasant, either, because you were fighting against
other blacks down there trying to make it. I didn't tell my flight
instructors that I already knew how to fly."
Why not?
Mosley said the word was that instructors would feel threatened by
that and find a way to "wash out" that Airman.
Following pressure from black-owned newspapers and from the
White House, the first black airmen served in combat, flying fighters
in North Africa and Europe. In 1945, Mosley was one of the first
blacks trained to be a bomber pilot. "They didn't trust us with B-17s,
with bombs," Mosley said. "They thought the first thing we'd do was
head for 1600 Pennsylvania Avenue. They really had to sell Congress
with 'we think we can trust those guys now,' so we were permitted to
fly B-25s."
Part of the training was at Tucson, and then at Freeman Field in
Indiana.
"They had a provision that there would be no black officer above the
rank of captain, and there wouldn't be any white officers below the
rank of major," Mosley said. "The white officers were all considered
instructor personnel, and they had an officers' club they called the
Instructors' Club. To ensure that we as black officers recognized that
we weren't supposed to use it, they had two MPs standing up there.
We discussed this and said, 'This is not right.'"
The angriest was pilot Daniel "Chappie" James. Mosley said James
announced that the pilots should just storm into the officers' club.
Eventually about forty of them did just that and were arrested, but
Mosley was on a training mission to South Carolina at the time.
"The commander of the airfield used to carry around a swagger stick
and put it under his arm," Mosley said. "We used to mock him by
picking up a stick and carrying that. He decided to court-martial
everybody involved. He had issued a statement that we were supposed
to sign, that we understood we were not supposed to go into the
officers' club. Of course, nobody signed it. We were sent back to
Kentucky by Fort Knox. They thought by moving us back there, it
would be a more secure thing. They thought there might be a
revolution."
While the insurrectionists were awaiting their court-martials, Mosley
said, they were under confinement at the Kentucky airfield in a
barracks behind barbed wire. "German prisoners also were housed
there, and they had the complete run of the base," he said. "They
could use the PX. The airfield was somewhat separate from the Fort
Knox unit, but the Germans had assignments over there, picking up
the trash and things like that. It was most embarrassing to watch
those German prisoners and then to look over there to the barracks
that housed the guys who were under arrest, and the German
prisoners had the full run of the base, it seemed like. So you knew
what they thought of us. That was really disturbing."
Mosley said that the court-martial was held in the base's theater.
Future Supreme Court Justice Thurgood Marshall was one of the
defending attorneys.
"It was a comical show for all of us blacks on base because we had to
get there at six in the morning to get in line and get in the theater,
because everyone wanted to crowd in there to watch this court-
martial," Mosley said. "It really was the white base commander who
was on trial. It was embarrassing to him and to the armed forces and
the War Department, and following that, only about four people
received a very minimal reprimand and letters in their files."
By then promoted from copilot to pilot, Mosley and others were
ticketed to fly in Pacific combat had the war continued into late 1945.
As a reservist after the war, he was asked to write a position paper
about the possible integration of the armed services and was told it
would it would reach President Harry Truman's desk. He doubts that
it did. But that report also is part of the reason why he always felt he
had at least a small role in Truman's decision to integrate the military.
"The integration of the armed forces was really a prelude to all the
kinds of civil rights activities that took place in this country," Mosley
said. "That's why I use the Tuskegee Airmen as being the basis for all
of this developing and making America what it should be. You asked
why I wasn't bitter. It was because I was part of the movement to
prove that we were capable of making a contribution to the
development of this great nation. We had the foresight to know that
this would be the best nation in the world. And it is the best nation in
the world. The Armed Forces would have never been integrated had it
not been for the Tuskegee Airmen proving they could fight, wanted to
fight, could be relied on to fight, and were not afraid of giving their
lives to accomplish their missions and goals."
During the Cold War years, Mosley spent reserve stints in the new
U.S. Air Force flying supplies to West Germany and North Africa and
also worked for the YMCA. During the Vietnam War, he was an
operations officer in Thailand as U.S. pilots flew bombing missions
over North Vietnam. He retired from the Air Force in 1970 as a
lieutenant colonel and served as special assistant to the
undersecretary in the Department of Health, Education and Welfare
in Washington before returning to Denver. He worked at the regional
office for the Department of Health and Human Services until he
retired.
Mosley was inducted into the Colorado Sports Hall of Fame in 2009,
and I was honored to introduce him at the banquet.