December 13, 2022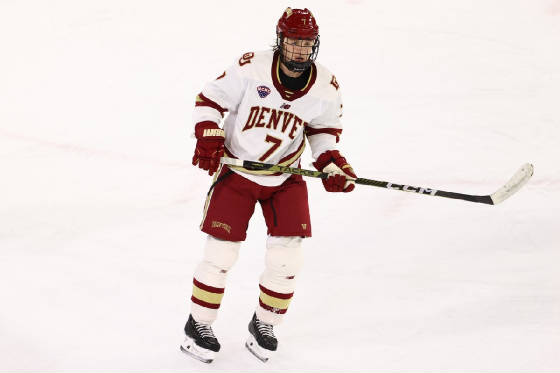 Aidan Thompson (Photo: Jamie Schwaberow/Clarkson Creative via Denver Athletics.)
In July 2017, Aidan Thompson was a 15-year old, commuting, car-pooling hockey prospect from Fort Collins.
He was in his first -- and what would turn out to be his only -- season skating with the 16-under, triple-A Colorado Thunderbirds. That regional and national powerhouse program is based in the East Denver's Lowry area and many of Colorado's top youth hockey prodigies aspire to play there, even if it requires long drives to and from for practices.
The University of Denver's then-assistant coach, David Carle, watched the feisty Thompson's Thunderbirds tryout. Remembering it years later on Tuesday, Carle -- now the Pioneers' head coach -- wryly dubbed Thompson "a bundle of hate." Thompson soon was offered a DU scholarship and declared that he planned to be a Pioneer. (Despite the nearly universal use of the term "commitment" in those situations, there is no commitment until signatures go on a letter of intent.)
"I think I always knew I wanted to come here," Thompson said Tuesday at Magness Arena. "It was the perfect spot for me, so even though I was so young, it was an easy decision. There was no wavering at all."
Yes, Thompson indeed made it to DU, but it took longer than expected. Following his stint with the Thunderbirds, he made a hockey-playing stop for two seasons at a Berkshire, Massachusetts, prep school and then spent another two seasons with the Lincoln (Nebraska) Stars of the Junior A United States Hockey League.
Finally, though, Thompson enrolled at DU for the fall term. The 5-foot-11, 170-pound center is off to a strong start as a 20-year-old freshman center for the defending NCAA champions.
"I knew all along it was going to be a long road," he said. "I've been watching DU since I was 8 years old. "
He had been expected to join the Pioneers for the 2021-22 season, but a joint decision made among Thompson and his family, plus Carle's staff pushed that back -- to five years after Thompson announced his choice of DU. For one thing, that kind of advance recruiting requires a coaching staff confident enough to plan that far down the road, and Carle was the in-house choice to succeed Jim Montgomery when Montgomery moved to the NHL with the Dallas Stars in May 2018.
Going into DU's two-game, non-conference set against Lindenwood University of St. Charles, Missouri Friday and Saturday at Magness Arena, Thompson has 4 goals and 5 assists in 10 games for the Pioneers. He missed DU's first eight games after suffering a knee injury in the 2022 National Junior Evaluation Camp for Team USA in the delayed World Junior Championships. Three of his DU teammates -- defensemen Sean Behrens and Shai Buium and forward Jack Devine -- will be off at the USA training camp for the 2023 WJC this weekend, where 32 players will be compting for 23 roster spots. At 20, Thompson now is too old for that U-20 tournament.
"He came in with a lot of expectations," Carle said. "You try to temper expectations a little bit. I think he's done a really nice job. He's very competitive, and you start to see his talent come out in practice, and I think you'll start to see that in games a little more. . . We expect him to keep improving as he gets stronger and executes details a little bit better."
In-state talent has become common on DU's roster in recent years as the state became a youth hockey hotbed. Yet Thompson is the Pioneers' only Colorado-born player as they seek the school's unprecedented 10th NCAA title.
He also is the first Coloradan on the DU roster since senior spare-part forward Jack Doremus, from Aspen, in 2020-21.
Thompson also played lacrosse, golf and soccer before making the decision to focus on hockey. Thompson's father, Brad, played hockey growing up before moving to Fort Collins, and he was one of Aidan's coaches as he got started in the game with Northern Colorado Youth Hockey. Another was Brad Williamson, who first came to the area as a Central Hockey League defenseman in the Colorado Eagles' first six seasons of existence, and who also coincidentally later was Avalanche coach Jared Bednar's teammate with the ECHL South Carolina Stingrays.
"I think Fort Collins was a good place to grow up and a good place to play," Thompson said.
But there came a point when he realized that to continue his progression, he needed to join the Thunderbirds. As strange as it sounds, part of the decision to go 2,000 miles away to prep school was that his hockey would be right where he was living, and at that point, he already was planning that DU was in his future.
"Not having to drive back and forth to the rink made it easier for my family," Thompson said. "It was a good school and a good experience. Prep school was a little bit of a step between youth hockey and junior hockey, so I had that steppingstone before I went to Lincoln. And Lincoln was important for me to come to DU."
As he was headed to Lincoln, he was expected to be claimed in the 2020 NHL draft, in his first year of eligibiity as an 18-year-old. But his name wasn't called, and the same thing happened in the 2021 draft, after his first season in the USHL.
"I would like to say no, that didn't bother me," Thompson said. "But I think that every kid that grows up playing hockey wants to get drafted. When kids I played against got drafted, and I didn't get drafted, it was a little irritating."
Then came that decision about whether Thompson would head to DU in the fall of 2021 or return to Lincoln for a second USHL season.
"I think I just wanted to take a little more time to develop," Thompson said. "Everybody's path is different. That extra year is what I needed. I think it worked out well."
Said Carle: "He could have come here last year, but when we sat down and talked about it, we felt that another year in the USHL, and having a dominant year in the USHL, would be the best thing for Aidan long-term. He had that kind of season."
Then, in his third and final year of draft eligibility, the Blackhawks claimed him in the third round. So as he is in the early stages of his DU career, he's on the Chicago radar and is coming off attending the Blackhawks' development camp. "It was good to be around all the pros," Thompson said. "Guys from the team were there. We weren't allowed to skate with them, but to meet guys like Patrick Kane and Jonathan Toews was cool."
Now the question is: After this long wait ... how long will he stay at DU? If he doesn't sign an NHL deal and sticks around with the Pioneers, he will be 24 at the end of his senior season. If he makes it to the NHL, he will join Troy Terry (now with Anaheim), Jaccob Slavin (Carolina) and Brandon Carlo (Boston) as Coloradans who played for the Thunderbirds on the way to the NHL. Also, Terry played at DU and Slavin at Colorado College, while Carlo took the major junior path with the Tri-City Americans. Other Colorado-born NHL players include two sons of former Avalanche players -- Callen Foote of Tampa Bay and Brendan Lemieux of Los Angeles. The sixth Colorado-born NHL player is Michael Eyssimont of Winnipeg, another former Thunderbird.
Thompson's route -- including how far it goes -- still is being charted.