November 29, 2022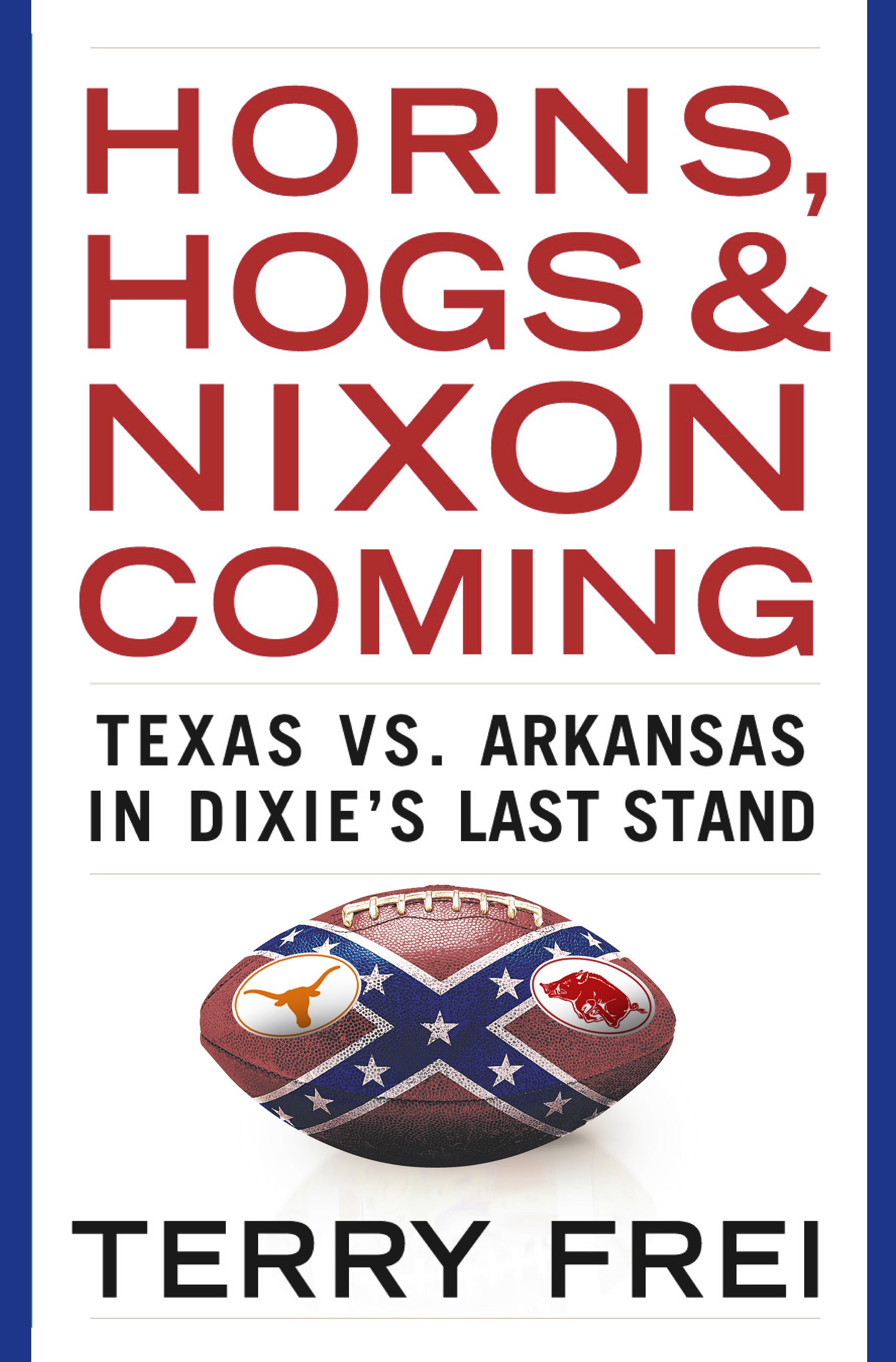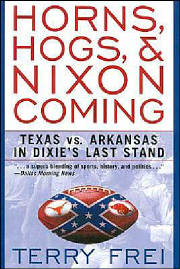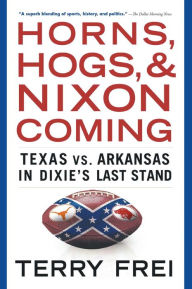 Left: The 2002 Simon and Schuster hardback
Center: The 2004 Taylor Trade paperback (still available)
Right: The 2016 Simon and Schuster paperback (still available)
Saturday was the 20th anniversary of the official release of my first book, Horns, Hogs, and Nixon Coming. It's the deeply researched story of the 1969 Texas-Arkansas football game ("The Big Shootout") and the turmoil surrounding it in turbulent times, much of it previously undocumented. I kept asking questions and often was astounded by the answers.
There's considerable information about the book on this site's HHNC page. That includes background, reviews and followup material I've come across and/or written about in the ensuing years. Pictures tied to much I will write here are on that page. I won't duplicate them here. It might even be best to go to the book page now and then have that as a backdrop for what I'm about to say. . .
Thanks! Welcome back. I'll try to minimize repetition.
I've done six more books since. But HHNC remains my best-known. It's maybe not my "best." My novel Olympic Affair gets my vote for that. But damn right, I'm proud of HHNC -- and of them all.
Here's how it came about.
By early 2000, as I continued my journalism career at The Denver Post, I was clinging to the hope of breaking through with The Witch's Season, the roman a clef novel I started as a senior at Wheat Ridge High School. I kept returning to it and finished it about 27 times over the years. It is based on my father's Oregon teams in the Woodstock era on one of the nation's most notorious cauldron campuses. I had meetings in Los Angeles about it as a movie property because a producer -- a former student radical at the University of Michigan and early SDS firebrand herself -- saw herself in one of the major characters and loved it. At her prodding, I wrote a rough draft of a screenplay adaptation. (I've got a "finished" version now.)
Nothing happened then, neither with the novel nor the screenplay. A major suggestion from those looking at it was that I would be better off simply writing it as a non-fiction book rather than a novel based on fact. In the novel, I compressed the timeline and the characters mostly were based on famous figures or were composites. I took one pass at both the novel and screenplay using real names for many of the characters, and Ahmad Rashad's reaction was typical: He had no objection. But it also was clear that the hybrid fiction/non-fiction approach in this case would be a tough sell for a first-time author. (I laughed at my naivete later when I realized that many best-sellers with considerable concocted dialogue were shelved as and labeled history.)
I repeatedly was told I was wasting the access I had as a sports journalist and that as much as I wanted to be a novelist, I should step back and shoot to first establish myself as an author with a conventional sports book.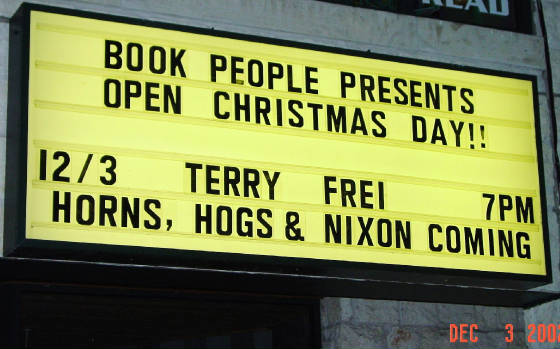 Austin, Texas
About that time, in late 2000, I received an e-mail from literary agent Randy Voorhees, asking me if it might be possible to expand my 1994 Sporting News story about the 25th anniversary of The Big Shootout into a book. Sure, I said. At the very least, I told myself, I could transform it into a book making the game the climax and centerpiece of a work about the 1969 college football season, the centennial year of college football.
It turned out I didn't need to do that. I eventually had an overabundance of material.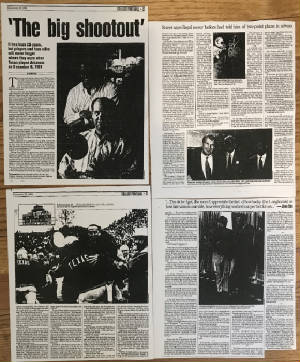 Randy and I discussed my connections to the story, including that my father was Oregon's coach in 1969 and a contemporary of Texas' Darrell Royal and Arkansas' Frank Broyles. I had gone to the same Denver-area high school as one of the game's key figures, eventual cancer victim Freddie Steinmark, a Longhorn safety. As a WRHS athlete, including as his successor as Farmers baseball captain, I read his posthumously released autobiography and was shooled in his legend. And I had a box of magazine story research and interview tapes to serve as the starting point. (I soon realized the magazine story was, well, only adequate.)
We talked about whether I might be resented as an "outsider," but agreed that we hoped it could be transformed into an advantage. I was a neutral writer, not a partisan of either of the rival programs. We also talked about how The Witch's Season was still floating around and involved the same college football and campus era. Jeanne Field of Windfall Management would continue to represent me for movie rights and screenplays. (She still does.) But I was willing to sign on to the Big Shootout project.
The Sporting News story was easy to adapt into a book proposal, and Randy quickly had multiple offers from publishers. We reached an agreement with Jeff Neuman, Director of Sport Books at Simon and Schuster. Jeff used the working title of the Last of How It Was. I was calling it Tin Soldiers and Nixon Coming, directly lifting the full line in the Neil Young protest song, Ohio. In part because the song abount the Kent State shootings was set in 1970, tinkering was not sacrilegious, and at Jeff's suggestion, the working title became Hogs, Horns and Nixon Coming. Then Denver Post editor Glenn Guzzo, a sports nut, suggested the winning team should come first. Voila: Horns, Hogs, and Nixon Coming. Then came the eventually problematic subtitle: Texas vs. Arkansas in Dixie's Last Stand. (More on that later.)
I later realized that one handicap would be my refusal to contrive and exaggerate in the fashion of several other football or sports books of the time, including one Voorhees cited as the type publishers were seeking. If that seems sanctimonious, I won't apologize. I heard too many figures from those books say their trust in writers had been misplaced and those books -- while labeled as "sports" and non-fiction -- ridiculously strayed from the truth. But neither Neuman nor Voorhees ever suggested I should follow that model.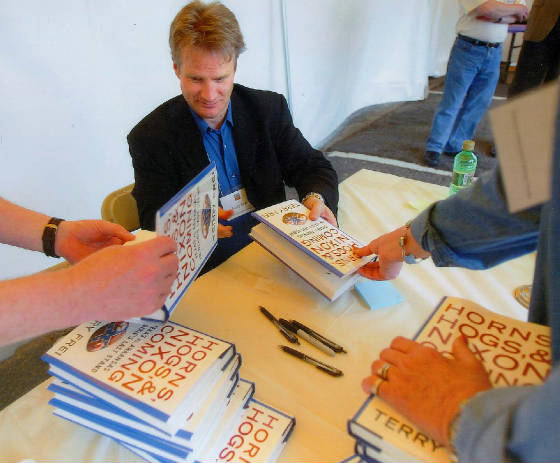 Little Rock, Arkansas
While continuing to do my newspaper work, I did additional core research on the book, through correspondence, phone interviews, and diving into archives available at the time while remaining in Colorado. I did some interviews while in Dallas and Austin for games.
In early August 2001, I covered the final round of The International Golf Tournament at Castle Pines, jumped in the car and headed for Texas. Thanks to the terrific cooperation of both schools, I had set up interview appointments with many of the book's major -- and peripheral -- figures across Texas and Arkansas. Eventually, I had long interviews with both Frank Broyles and Darrell Royal. They were wary, but I believe they had heard from others that I was reliable and fair. It didn't hurt that they knew my father. On the trip, I also dived into newspaper and other archives -- there was this thing called "microfilm" -- primarily in Austin and Fayetteville. By the time I went home, just before 9/11, I'd talked with roughly 65 book figures, from coaches, to stars, to the unsung; and with non-football-connected characters in what was a multiple-layered drama involving civil rights, the Vietnam War, and social unrest. I also tackled the pending integration of both programs.
I didn't downplay the epic Big Shootout itself, profiling most of the starters for both teams in a democratic -- little "d" -- approach. To this day, I debate with myself about whether I should have narrowed the focus to a handful of stars on each team. I inevitably come back to the conclusion that part of the story was that everyone had a story and telling as many of them as I could strengthened the book. I also broke down the game in painstaking detail, including writing an entire chapter about one famous, pivotal play -- Right 53 Veer Pass, which went from James Street to Randy Peschel.
Among the many subplots, I found Darrell Brown, an Arkansas law student in 1969, who was at the forefront of the protest over the use of "Dixie" as the school's athletic anthem. He was wounded in the leg in a drive-by shooting after a pep rally at the campus' Greek amphitheatre the night before the game. He asked me, "Did you know I was the first black Razorback?" Uh, no, I didn't. He went on to relate how he turned out for freshman football in 1965, and told me of the mixed reaction he received before giving up football to concentrate on getting to law school. A little later, I came across a mention that said Darrell Brown was a defense attorney for Jim Guy Tucker in the Whitewater trial who questioned Bill Clinton on video tape in the White House. I called Brown back, confirmed that was him and asked why he hadn't volunteered that, too. He laughed and said I hadn't asked, and then we talked about it.
I tracked down attorney Hiram McBeth, who was listed as a member of the Razorbacks "B" team in 1969, meaning he was in the program but didn't suit up for the Big Shootout. He told me about how the Arkansas black students were determined to storm and occupy the Razorback Stadium field if the band played "Dixie," on national TV and in front of President Richard Nixon and others in a Washington contingent, including Texas Rep. George H.W. Bush. McBeth explained he went out for football only because the campus group Black Americans for Democracy (BAD) appointed him to try to integrate the varsity. He was the only member who raised his hand when leaders asked who had played high school football. With that gesture, he had "volunteered."
I had an intriguing chat with Texas' first black letterman, Julius Whittier, at his Dallas law office. He was a freshman in 1969, ineligible for varsity play, but was all in at the time of the Big Shootout as a trailblazer in the Texas program. (A statue of him is outside Texas' Memorial Stadium today.)
I spoke with Col. Eugene Holmes, the head of the Arkansas ROTC program who ended up the father-in-law of Razorback tailback Bill Burnett. That came into play when Holmes signed off on the quashing of Bill Clinton's draft notice in that summer of 1969 because he believed Clinton would enroll in Advanced ROTC. The week of the game, as Rhodes Scholar Clinton prepared to listen to the Big Shootout on short-wave radio in London, Clinton mailed to Holmes an angst-filled letter that later surfaced in the 1992 presidential campaign. He essentially apologized, saying he hoped Holmes didn't feel misled. Holmes did ... and still did when he talked with me many years later. (Avoiding service, and especially avoiding deployment to Vietnam, turned out to be a bi-partisan phenomenon.) Though Clinton later praised me and HHNC in his My Life, through a spokesman he declined to talk with me for my book. For what it's worth, Bush sat down and typed out his memories of the Nixon contingent's harrowing trip to Fayetteville and then sitting down the row from the president in the stands. That letter, with handwritten corrections, is on my den wall.
I interviewed the firebrands of the anti-Vietnam protest staged in Nixon's view on the hill outside the other side of the stadium. Fayetteville attorney Don Donner was a Vietnam combat veteran and his stories of dealing with the advance Secret Service delegation were comic relief. Physics professor Bud Zinke was a radar technician in the Pacific during World War II. Still, he bitterly opposed U.S. involvement in the Vietnam War. That wasn't as unusual as you might think in 2022.
The book was due in early February 2002, about the time I was supposed to leave for the Winter Olympics at Salt Lake City. As a newspaper-trained scribe, I didn't have any problem getting it done on time. I had done some of the phone interviews while on the road and I did much of the writing while on trips to cover the reigning Stanley Cup champion Colorado Avalanche.
I printed out the manuscript, sent it to Simon and Schuster in a box and waited. Jon Malki, Jeff Neuman's right-hand man, hand-edited it. (With a pencil!) That's the last time I went through the process that way. Jon soon sent the manuscript back to me, with a note saying I had done terrific work and he was excited. I assume he had made a copy. He also teased me that he corrected about 1,836 uses of the passive voice. Eventually, he sent me loose proofs to go over, and then bound proofs with a yellow cover that were sent out as advance review copies.

The Arkansas Democrat Gazette jumped the gun in August with a long lead editorial by Kane Webb about the book based on the bound proofs review copy he came across in the newspaper office. He praised it and noted: "It was a bit like stumbling upon a family history as written by a distant cousin . . . But much to the dismay of our most cherished prejudice, an outsider, a furriner, a Coloradan for gosh sakes, has seen things we couldn't. Like a Tocquevillian sportswriter in a new world, Terry Frei does the unexpected, if not the impossible: He makes 'thatdamngame'--and all the cultural, political, and social issues swirling around it like so much red-and-white confetti--seem new again, relevant again. When Mr. Frei's book comes out this fall, it may prove to be a public service. He may wrap it up and put it behind us fo once and for all."
That indeed was flattering and encouraging. That was the reaction we had been hoping for, rather than resentment from Texas and Arkansas journalists. And indeed, eventual reaction from Southwest journalists was in that positive vein.
I spent much of the pre-publication months in Wisconsin, doing initial research for what turned out to be Third Down and a War to Go, and I was in Lancaster when I had a long phone conversation with a high-ranking Simon and Schuster publicist. She outlined plans to promote HHNC, including a book tour, and asked me to set aside time around the release and the December 6 anniversary of the game. She might have said "major" tour, but I know I at least interpreted it as "national." That's on me. I might have heard what I wnted to hear. This was before Zoom or other virtual interview technology became popular. Absolutely, I was excited. I was a naive, idealistic optimist, picturing myself on "Today" and "Good Morning America" and going to P.J. Clarke's to commune with the spirit of Bobby Kennedy. And then making stops coast to coast for bookstore signings and other appearances.
I soon heard from Jeff Neuman, who broke the news that the pre-publication Publishers Weekly review was mixed and then sent it along to me. It did say I "was mostly successful," but it was generally unenthusiastic. What bothered me the most was that it was un-signed. (An anonymous keyboard warrior! He or she probably was one of Twitter's first members.) I was angry then, and I'm still angry now. I should know better. I overreacted then, and I'm going to overreact now. It's what writers do.
I was (and still am) convinced that the reviewer hadn't read the book. That was unsophisticated, perhaps even petulant, of me, but how else could I react to a review that threw this line out: "The subtitle promises far more analysis of the dying days of segregation than Frei delivers." Given the above, and much more evidence in the book itself, I didn't pay enough attention to the end of segregation in the programs? That criticism was ignorant and unfair.
PW also knocked me for including tangential (and revelatory) unearthed material, including about Clinton's connection to the game. I had been set up with Col. Holmes -- a Bataan Death March survivor who was at the game and was about to receive the infamous letter from Clinton -- for his first public comment since his letter was released in the 1992 campaign. He commented to me about the July 1969 meeting at his home with Clinton and his bitter reaction when he received Clinton's letter, dated the week of the game. He still was bitter when I spoke with him years later, answering in a booming voice that could have been heard in Cleveland. His daughter, Linda, married Burnett and became a Republican party operative in Arkansas. I was supposed to ignore all that about Clinton and Holmes -- including what was going on the week and day of the game -- as tangential?
Plus, as noted, Clinton himself later praised HHNC when writing about his dealings with Holmes and listening to the game. The reviewer wasn't perceptive enough to grasp that I had spent much of the book on the pending integration of both programs, with looks at Darrell Royal and Frank Broyles' track records and paths. Yet I never intended it to be a national look at the issue. And the subtitle's mention of Dixie had a double meaning. An ongoing storyline through that year and season was the bitter dispute over whether the Arkansas band would continue to play the song. It was Dixie's last stand. The song's, too.
I wrote about band director Richard Worthington's courage in saying the band would abide by a Student Senate vote on the issue. Sure enough, the Senate voted to recommend banning the playing of "Dixie" the week of the Big Shootout. That was the first game at which the song wasn't played. That was monumental. At that Friday night pep rally at the Greek Theatre, Worthington told a somewhat hostile crowd that the decision to honor the Student Senate vote was his, and his alone. Worthington also made sure no band members ignored the edict. Again, if the vote had gone the other way and/or the song was played, it would have led to a potentially violent clash between protesters occupying the field and law enforcement, with the president of the United States in the stands. I had uncovered revelatory and underplayed material, connecting dots. The reviewer didn't seem to notice. Arkansas' Black Alumni Society did, and I was brought to Fayetteville for an April 2003 reunion weekend to appear on a panel discussing the tumultuous events of game week. The major quibble from other panelists who had been there was that I had underplayed Worthington's courage. They're right. (A highlight of that event for me was attending the banquet and meeting best-selling novelist E. Lynn Harris, a great guy and Arkansas' first black cheerleader. He effusively told me he loved HHNC. RIP, Lynn.)
The PW piece was one review. Only one. As publication approached and after the book was released, the reviews -- as you can see on the HHNC page here -- were universal praise. Reaction from readers was heartening. The game obviously was a time marker for many, and not just in Texas and Arkansas. I'm grateful to this day for that. Yet that single review was the lead on the Amazon sales page for quite some time. I was a first-time author, looking for that breakthrough, and I remain conviced that single PW review, at least immedately after the release, had far more influence than it should have.
It also was ironic, given PW later lavishly praised my book March 1939: Before the Madness, and a snippet of that review leads the paperback's back-cover copy. To this day, I'd trade deserved praise for HHNC from PW for that rave review six books later.
When I got the itinerary for the tour, it was for appearance-packed visits to Fayetteville and Austin, running from December 3 through December 7. That turned out to both fun and productive. But that was it. The whole physical tour. I also was set up for a "radio" tour with about 20 stations and shows from December 13 to December 23. I separately was directly invited to make appearances in Dallas (on an Avalanche trip) and Little Rock later, including at the wonderful Arkansas Literary Festival in Little Rock in April 2004, when I met another of my favorite novelists, former newspaperman Terry Kay (To Dance with the White Dog), and General Wesley Clark, who had a book out, too. My session outdrew those for famous authors, but I figured out it was because many the high school football players in the Little Rock area picked it out as the session to attend to get extra credit in English class.
Also, North Arkansas College brought me to Harrison, Arkansas to deliver the John Paul Hammerschmidt Lecture. That was gratifying because Hammerschmindt was the former World War II pilot who, as a Congressman, was Bush's close friend and was part of the Washington traveling party to the Big Shootout. He had contributed his memories of the trip for the book. As I spoke, Hammerscmidt and ex-Razorback receiver Chuck Dicus listened from the front row, and the post-event reception was a blast.
So while I enjoyed the book promotion, including the first of my many appearances and signings at the great Tattered Cover in Denver on December 11, most of it was self-generated. (I came to believe it also involved the S&S retrenchment that included layoffs.) I also made several other signing appearances at Barnes and Noble and Borders stores in Colorado. Those contacts proved handy after my later books.
Despite all that, HHNC sold respectably -- or better than that, since it had a long run on regional best-seller lists, including in Colorado. I was ridiculously preoccupied at times. The way I remember it, I noticed when covering a UNLV-Colorado State football game the week of the release and as I was about to head to Austin that it hit the Barnes and Noble Top 10 for about 15 seconds. The rave reviews kept pouring in. From all over. Yet to this day, I unapologetically believe it deserved a better sales fate. I realize all authors feel that way.
S&S farmed out the paperback rights to Taylor Trade. I did the screenplay adaptation and Jeanne Field has shopped that. (It's also tightened, and is more the story of Fayetteville and the Arkansas campus in the week leading up to the game, and of the game itself.) The Longhorn and Razorback players organized their own joint reunion in conjunction with the 2004 Texas-Arkansas game at Fayetteville. I was honored to be recruited as the neutral keynote speaker and loved seeing players scramble to have me, plus opponents and teammates, sign their copies.
Later, I was brought to Fayetteville to appear in an ESPN 30 for 30, "Nixon's National Champions." That focused on the Nixon angle, attending the game and anointing the Longhorns the national champions. In its limited run time, it never got into the turmoil surrounding the game.
The Taylor Trade paperback stayed in print and is still selling today. When I explored the possibility of legal action over another later book and subsequent movie crossing the line in plagiarizing material from HHNC, the intellectual property attorney I consulted broke the news to me that the book's copyright hadn't been registered at the hardback release. I pointed that out to S&S. Soon, S&S reclaimed paperback rights and filed that copyright. In 2022, new copies of HHNC in paperback -- plus in various e-book formats -- still are available from or via both S&S and Taylor Trade. (See the links on my HHNC page.)
Since, I've done four more books for Rick Rinehart and Taylor Trade/Lyon Press -- '77: Denver, the Broncos, and a Coming of Age; Playing Piano in a Brothel; Olympic Affair; and the aforementioned March 1939: Before The Madness. The Wisconsin Historical Society Press did a terrific job with Third Down and a War to Go, and the paperback edition, with a foreword by David Maraniss, also still is in print. (I've done a screenplay adaptation for that, too.)
I bit the bullet, so to speak, and self-published The Witch's Season in 2009. It's available in paperback on Amazon and Kindle. The friends who read the manuscript or the book itself at various stages over the years are loyal to it, mainly because it's exceedingly personal. They recognize that and know who many of the characters are modeled after. They tend to cling to the belief that it's my best work, despite its eventual self-published status. I'm not opposed to having a mainstream publisher take a run with it, and the screenplay version remains the best of the three I've done. (Important disclaimer: I have not written an Olympic Affair adaptation yet, though it draws the most "should-be-a-movie" comments of all my books. It should be a movie.) But, without having this as a strategy, I believe Horns, Hogs, and Nixon Coming and The Witch's Season turned out to be companion volumes about college football in that Woodstock period -- HHNC about the South, Witch about the West Coast.
I remain grateful to Rick Rinehart; to Kate Thompson and the folks at the Wisconsin Historical Society Press; and to all involved with Horns, Hogs, and Nixon Coming. That includes Randy Voorhees, who soon left the agent business; Jeff Neuman and Jon Malki, who both have left Simon and Schuster; and all who cooperated with me in the project, most notably those I interviewed.
And HHNC always will be my first.