On one of the nation's cauldron campuses during the
1968 Nixon-Humphrey presidential campaign,
Cascade University President Neal Hassler is caught
between militant students and an irate citizenry. Under
statewide criticism, he is defiant in public as he unravels
behind the scenes. His primary student antagonists are
SDS leader Annie Laughlin and Jake Powell, chairman of
the Campus Coalition Against the War. They're close to
student journalist Kit Dunleavy, who struggles to balance
her relationships with the radicals and her theoretical
objectivity.
Complicating matters and infuriating fans, Jake also is
a starting linebacker for the Cascade Fishermen football
team, expected to challenge O.J. Simpson and the USC
Trojans for the Pacific 8 Conference title. Coach Larry
Benson, a World War II pilot criticized for allowing his
players to participate in campus politics, faces pressure
to both tighten the reins, especially with Powell and star
tailback Ricky Hilton, and win at all costs.
Amid campus and national unrest, the Fishermen -- an
eclectic group with several star players and bright young
coaches destined for bigger things -- encounter triumph,
controversy, and disappointment. Ultimately, the ensemble
cast's fates are intertwined in a fall that becomes The Witch's
Season.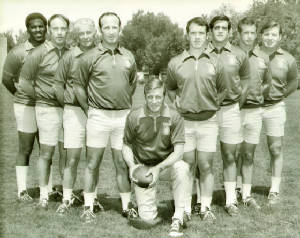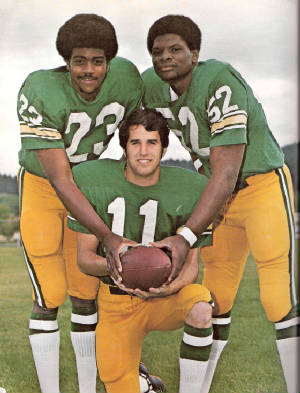 The Witch's Season is a roman a clef novel based on the Oregon Ducks
of the Woodstock era. The coaching staff included Jerry Frei, George
Seifert, John Robinson, Bruce Snyder, John Marshall, Ron Stratten and
graduate assistant Gunther Cunningham. Three of those men became
NFL head coaches and a fourth, Snyder, came within one play of
winning a national championhip as the head coach at Arizona State.
The roster inclded Ahmad Rashad, Dan Fouts and Tom Graham
(pictured).