email: terry@terryfrei.com
Twitter: @TFrei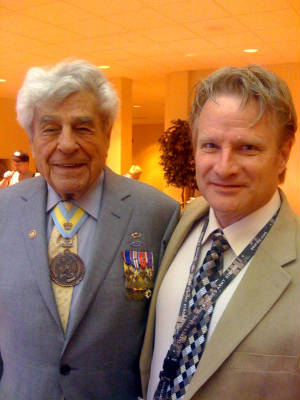 2010 World War II Glider Symposium keynote
speakers James Megellas, most decorated
officer in 82nd Airborne history, and Terry Frei.
Megellas died on April 2, 2020. He was 103.
Terry Frei is a Denver-based author. He's a graduate of the University of Colorado with degrees in history and journalism.
On the heels of his critically acclaimed fact-based novel, Olympic Affair, about Colorado native and 1936 Olympic decathlon champion Glenn Morris, Frei returned to non-fiction for his seventh book, March 1939: Before the Madness. That tells the story of the first NCAA basketball tournament, its plucky champions, and the backdrop of stormclouds in advance of World War II.
Frei's earlier non-fiction books are Playing Piano in a Brothel; '77: Denver, the Broncos, and a Coming of Age; Third Down and a War to Go (foreword by David Maraniss), and Horns, Hogs, and Nixon Coming.
The Witch's Season, based on what he saw and experienced while growing up as the son of a major college football coach on a cauldron of a campus in a tumultuous time, was his first novel. He started it as a senior at Wheat Ridge High School in the Denver area, and part of it appeared in the school literary magazine.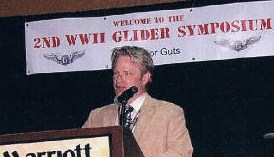 Those books -- mostly combining sports and history -- have drawn considerable praise from former presidents, Pulitzer Prize winners, prominent journalists, reviewers and the public.
In addition, Frei's collaborations include They Call Me "Mr. De" The Story of Columbine's Heart, Resilience, and Recovery, by former Columbine principal Frank DeAngelis; and Save By Roy, with Adrian Dater.
Frei was honored to deliver the John Paul Hammerschmidt Lecture in Harrison, Arkansas, the hometown of the World War II pilot, longtime Congressman and close friend of another HHNC figure who contributed his memories for the book -- former President George H.W. Bush.
Also, among many other appearances and speeches, Frei has spoken at the Wisconsin Veterans Museum, the Wisconsin State Historical Society, and Lambeau Field; and was a keynote speaker at the World War II Glider Symposium in 2010, when he appeared with many surviving heroes, including Lt. Col. James Megellas, the most-decorated officer in the history of the 82nd Airborne.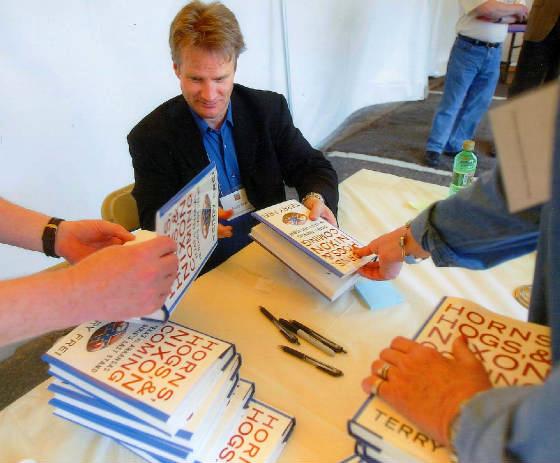 Arkansas Literary Festival, Little Rock