email: terry@terryfrei.com
Twitter: @TFrei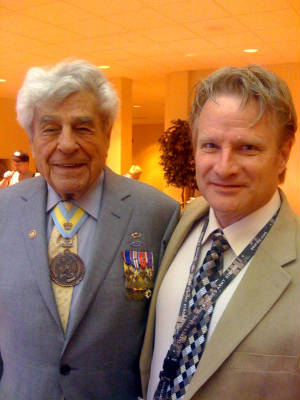 World War II Glider Symposium keynote
speakers James Megellas, most decorated
officer in 82nd Airborne history, and Terry Frei.
Megellas died on April 2, 2020. He was 103.
Terry Frei is an award-winning journalist, author, screenwriter and affiliate professor at Metropolitan State University of Denver.
On the heels of his critically acclaimed fact-based novel, Olympic Affair: Hitler's Siren and America's Hero, Frei returned to non-fiction for his seventh book, March 1939: Before the Madness.
Frei's earlier non-fiction books are Playing Piano in a Brothel (2010), '77: Denver, the Broncos, and a Coming of Age (2008), Third Down and a War to Go (2007, foreword by David Maraniss), and Horns, Hogs, and Nixon Coming (2002).
The Witch's Season (2009), based on what he saw and experienced while growing up as the son of a major college football coach on a cauldron of a campus in a tumultuous time, was his first novel.
His books have drawn considerable praise from former presidents, Pulitzer Prize winners, prominent journalists, reviewers and the public.
His collaborations include They Call Me "Mr. De" The Story of Columbine's Heart, Resilience, and Recovery, by former Columbine principal Frank DeAngelis; and Save By Roy, with Adrian Dater.
Represented by Windfall Management in Los Angeles, Frei also has written three screenplay adaptations of his own books, done consulting work in the film industry, and taken voluminous mental notes.
He spent his early years in Eugene, Oregon before moving to the Denver area as a high school junior. He has degrees in history and journalism from the University of Colorado-Boulder. He worked at the Rocky Mountain News while in college and joined The Denver Post after graduation.
Between two stints at the Post, he was sports columnist at the Oregonian in Portland and then a pro and college football writer for The Sporting News.
The highlights of his work for the St. Louis-based magazine were major stories, most of them cover pieces, on eventual Hall of Famers Jerry Rice, Emmitt Smith, Richard Dent, Charles Haley, Thurman Thomas, Michael Irvin, and Larry Allen.
Frei was an ESPN.com hockey columnist on a freelance basis for eight years. He has won numerous journalism awards and has been named a state's sportswriter of the year by the National Sports Media Association seven times -- three times in Oregon and four times in Colorado, including for 2015 and 2016.
He also has extensive experience in radio show hosting and television guest appearances.
On the newspaper front, he has covered the NBA, NHL, MLB and NFL as a beatwriter and/or columnist; and has attended many World Series, Super Bowls, NBA Finals, Stanley Cup Finals, Final Fours, major bowl games, Olympic Games, and major boxing events.
Frei delivered the John Paul Hammerschmidt Lecture in honor of the World War II pilot and longtime Congressman; spoken at the Wisconsin Veterans Museum, the Wisconsin State Historical Society, and Lambeau Field; and was a keynote speaker at the World War II Glider Symposium in 2010, when he appeared with many surviving heroes, including Lt. Col. James Megellas, the most-decorated officer in the history of the 82nd Airborne.
At CU, he has served as vice chairman of the History Department Advisory Board and chair of the Global Studies Resident Academic Program - International Affairs Advisory Board.
He is a Senior Writer for woodypaige.com and also writes for many other sites and publications, including Mile High Sports Magazine.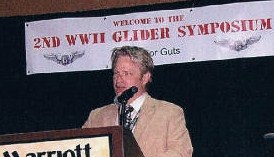 Keynote speaker, World War II
Glider Symposium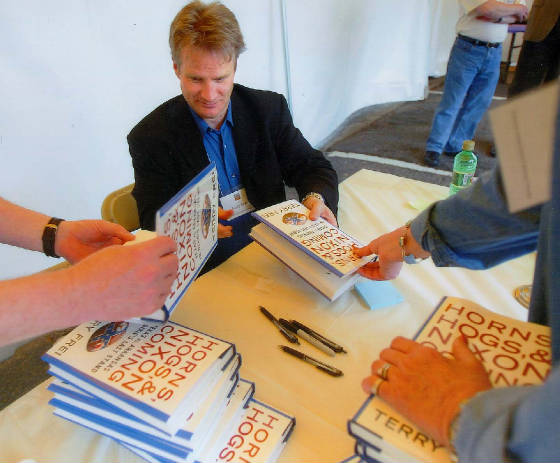 Signing Horns, Hogs, and Nixon Coming at Arkansas Literary Festival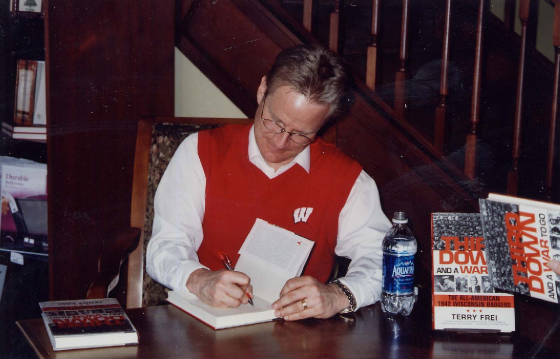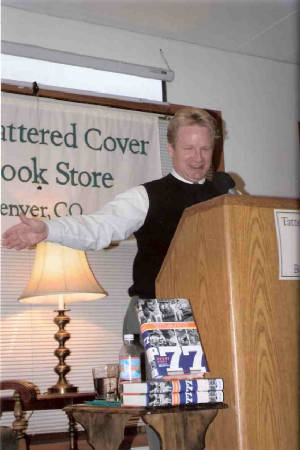 Tattered Cover, Denver