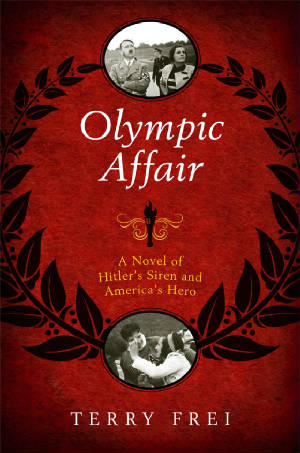 Amazon
Hardcover, Kindle, Audiobook, MP3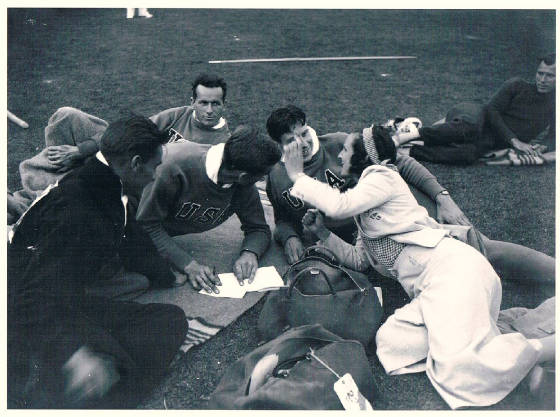 Though not a member of the National Socialist Party, Leni Riefenstahl was the film-maker darling of the Nazis and Adolf Hitler. First a successful dancer and actress in Germany, she became more notorious when she produced and directed Victory of Faith and Triumph of the Will, the chilling and ultimately horrifically foreshadowing documentaries about Nazi Party congresses at Nuremberg.
Glenn Morris was an All-American
farm boy from tiny Simla, Colorado, as well as a former college football star and student body president at the school now known as Colorado State University. At the 1936 Olympics, he won the decathlon, earning him the label of "the world's greatest athlete." Among the American heroes at the Berlin Games, he was considered second only to Jesse Owens, who won four gold medals.
Riefenstahl and Morris: An unlikely
couple? Perhaps, but in her 1987 memoirs, the German filmmaker belatedly confirmed she had an affair with the American athlete during the filming of
Olympia,
Riefenstahl's documentary about the Berlin Games. It was clear that Morris, unfortunately, initially bought her rationalization of her links with Hitler and the Nazis as distasteful and involuntary, necessary because of her fear for her family and other issues.
Riefenstahl, an ultimate opportunist, portrayed the affair as much more than a dalliance and wrote that she was crushed when rather than stay in or return to Germany to be with her, Morris instead soon married his college sweetheart.
In Olympic Affair, Terry Frei turns
to historical fiction in a novel researched in much the same fashion as his widely praised works of non-fiction, including
Horns, Hogs, and Nixon Coming
and
Third Down and a War to Go
. Using deduction, imagination and narrative skill to augment documented fact (as well as debunk myths), Frei tells the story of their ill-fated affair…and beyond.
Morris, who went on to Hollywood, the National Football League, and military service, spoke sparingly of the relationship, which ultimately was toxic. Although he had chosen to end the affair, late in life he mused that he "should have stayed in Germany with Leni." In 1936, he seemingly had been destined for lifetime celebrity and accomplishment. In his final days, he was a broken man.
The story that led to Olympic Affair: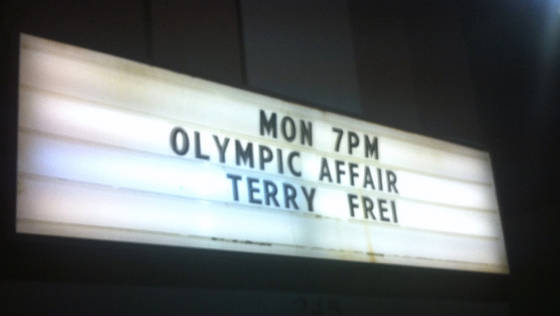 "It's 4:45 am and I'm still up reading it. Exceptional. Borderline brilliant."
"History tells us that decathlon champion Glenn Morris and Nazi propagandist Leni Riefenstahl had an affair at the 1936 Olympics in Berlin. In his riveting and richly researched novel, Terry Frei tells us what might well have happened between them, what was happening around them, and what it all might have meant had things ended a bit differently."
-- Neal Rubin, columnist, Detroit News
"Give a talented journalist an engrossing storyline – especially a sports writer accustomed to the drama of games – and he will keep you mesmerized by the who, what, where, when and why of the unfolding adventure. And so it is with Terry Frei's Olympic Affair. Set against the 1936 Berlin Olympics – remembered primarily for Jesse Owens' four gold-medal performance and Adolf Hitler's disdain for him – Frei focuses on the decathlon champion, America's Glenn Morris, and his affair with the renowned German actress and Olympic film director, Leni Riefenstahl. It is, then, a compelling look at an historic sporting event and a love/sex scandal cloaked in intrigue and danger. Frei's style is reporter/novelist, cleanly balanced between event and character, offering a panorama of human triumph saddened by failure. Of the books I've read in the past four or five years, this one is near the top of the list."

--

Terry Kay, novelist and screenwriter, Townsend Prize and Southern Emmy winner, author of To Dance with the White Dog and The Book of Marie

"Few writers place sports in its proper sociological and historical context better than Terry Frei. In Olympic Affair, he takes it to new levels, weaving fiction and nonfiction together to create an absorbing sense of time and place, where the clouds of a coming war envelop the characters and the reader alike."
-- Luke DeCock, sports columnist, Raleigh News-Observer

"How does a wide-eyed, college kid from rural Colorado wind up becoming a player in the rise of Nazi Germany before World War II? Simple. All Glenn Morris had to do was set a world record in the decathlon, go to the 1936 Olympics in Berlin and, on his way to winning a gold medal, fall in love with a beautiful genius of a woman in Hitler's inner circle. We know all this to have actually happened, but Morris's affair with Leni Riefenstahl left many questions still unresolved more than three-quarters of a century later. Terry Frei not only poses credible answers in his novel Olympic Affair, he writes about them into a marvelous, chronologically told story that weaves lives and paths in a way that has the reader eager to see how they will unfold day after day, page after page. It is that rare volume that mixes history, politics, sport, racism, religion and romance in a didactic way that entertains rather than lectures. If Frei's book is made into a screenplay, the movie stardom that Riefenstahl promised Morris might finally become a reality."
-- Ron Flatter, New York-based national/international network radio news anchor
"I have tremendous admiration for Terry Frei's new book, which traces the unlikely and complicated relationship between Colorado sports legend Glenn Morris and Hitler's favorite filmmaker, Leni Riefenstahl. Historical fiction is a dangerous game: where does history leave off and fiction begin? How to draw the line between what happened and what might/should have happened? Frei takes these challenges head-on and succeeds brilliantly. His research is impeccable and names are not changed to protect the guilty. I found particularly moving the account of Morris' ruined later life, which could serve as a warning to many present-day sports heroes. This is history as historians seldom write it and should be required reading for everyone. Highly recommended."
-- David Milofsky, professor of English, Colorado State University, novelist and author of Playing From Memory and A Friend of Kissinger
"[T]he most intriguing sports book I've read in the last 12 months . . . Frei has an incredible knack for writing compelling books about a subject nobody thought previously about writing. His Horns, Hogs, and Nixon Coming was a terrific example of that but Olympic Affair is even better. . . What makes the book special it's that it's actually a novel, with Frei's exhaustive research filling in the blanks of the love story and what has been largely an untold tale. The book is written with care and sensitivity and works on several levels -- not only as straight entertainment but as a history refresher on what the world was like during that explosive time. And hey, any book featuring sex, sports and Nazis is bound to be pretty good, right? Obviously, this is an adult book but one I recommend highly. Frei's Glenn Morris is a fascinatingly tragic hero that you will not soon forget."
"In a world marching toward inevitable war, small-town boy Glenn Morris goes to Berlin in search of a gold medal at Hitler's Olympics. He finds much more. Olympic Affair author Terry Frei masterfully guides us through Morris' exhilarating, heartbreaking journey in a finely-detailed novel about sport, history, politics and a taboo love affair which forever changed the life of the world's greatest athlete. I couldn't put it down."
"Olympic sports, an international romance, and world politics on the eve of World War II collide in the electrifying Olympic Affair. Author Terry Frei recounts the romance between an American Olympic decathlon gold medalist and a highly-connected German film director during the 1936 Berlin Olympics, when neither realized the traumatic impact that their friendship, his sudden fame, her unchecked ambition, and the approaching Second World War would forever have upon their lives. This meticulously researched and historically accurate novel is illuminated with plausible fictional dialog, using the same readable approach as Alex Haley's Roots and Leo Tolstoy's War and Peace. Frei has crafted a book which confronts the reader with ethical questions and the consequences of life decisions. Olympic Affair is simultaneously fun, informative, and thought-provoking."
-- Dr. Richard C. Haney, Professor of History Emeritus, University of Wisconsin - Whitewater, author of When Is Daddy Coming Home?: An American Family During World War II
"The hard part about historical fiction is taking the truth and providing a background story that is plausible and believable, and Terry Frei does exactly that in Olympic Affair. The story of Glenn Morris and Leni Riefenstahl flows from the start, painting the landscape of the world around them and how it ultimately affected the outcome of the couple, and eventually, the individuals involved. As it all unfolds, it becomes clear Frei let his research lead him to all the right conclusions. When reading historical fiction, one wants to be able to believe the story really could have played out in such a manner, and in Olympic Affair, Frei takes his readers down that very path."
-- Mike Brohard, sports editor, Loveland Daily Reporter-Herald
"Terry Frei's unique writing style, taking the facts he has researched and filling in the blanks based on what we do know about Glenn Morris, Leni Riefenstahl and those around them during the 1936 Olympics in Berlin, bring to life an incredible story about one of the most unique sports figures ever to come out of Colorado. While winning an Olympic gold medal in the decathlon, Morris, a farm boy from Simla, Colo., also was having an affair with the Olympic filmmaker who had glorified Adolf Hitler and Nazi Germany in earlier documentaries. Frei connects the dots in a way that is both believable and entertaining. Whether you're a sports fan or not, Olympic Affair: A Novel of Hitler's Siren and America's Hero is a great read."
"...an unusual yet riveting read of historical fiction and romance, much recommended."
-- Midwest Book Review
"This book knocked me out. I couldn't put it down. It's a wonderful read."
"Olympic Affair captures the Glenn Morris story like a Hollywood Movie ... It turns a story of history into the kind of story only Hollywood could dream up for their next Charlize Theron blockbuster."
"Weaving history with fiction, Olympic Affair takes a reader on an exciting and informative journey through one of the seminal events in modern sports:

the Berlin Olympic Games of 1936.

This is no simple look at Hitler's showcase, however.

We see this epic struggle of good and evil through the eyes of the famous (or infamous) film director Leni Riefenstahl and her lover, the naïve but determined and obscure American decathlon champ, Glenn Morris.

The two launch a love affair that rivals the intensity of the Berlin scene itself, and the cast of surrounding characters – Hitler, Goebbels, athletes, boosters, and the FBI – support the drama.

Along the way, the author introduces us to the intricacies of athletics and training, filmmaking, and Nazi power.

In a sad but revealing tale of history, heartbreak, and hometown heroes, Terry Frei has captured an era through a searing tale that leaves convinced that the fiction surrounding a story that actually happened is really true.

It is movingly written; you won't put this one down!"
-- Thomas W. Zeiler, Professor, History and International Affairs, and Director, Global Studies Academic Program, University of Colorado-Boulder, author of Annihilation: A Global Military History of World War II
"Using his initial information ... and a combination of deduction and artistic license, Frei fills in the blanks left by history and tells his own version of the story. The combination of the diligent research techniques he used to write his widely acclaimed non-fiction books ... and creativity makes Olympic Affair a success as both a stand-alone novel and historical fiction. While simultaneously recalling the athletic triumphs of participating nations, Frei builds a tension-filled love affair that steals the show from the most controversial Olympic Games in history. Combining inference and invented dialogue, he forces the reader to invest deeply in even the most outlying of characters, some of which he pulls from history and personalizes through fiction (swimmer/actress Eleanor Holm Jarrett, heavyweight champion/restaurateur Jack Dempsey and even chancellor/psycho Adolf Hitler). Through the developing plot, the details of the Olympics and the skewed historical perspective of men and women living in a pre-WWII environment, Frei has (maybe unintentionally) created a new sort of story regarding the US-Nazi saga ... Olympic Affair offers a chronicle that proves why athletic drama often goes well beyond the field (or track) of competition. An athletic controversy, a triumph against adversity or a love affair can bring together the fanatics, the casual followers and those who just happen to appreciate a good yarn, no matter the origin. And who better to tell a story of that kind than an acclaimed sportswriter and non-fiction author turned novelist?"
-- Author Jim Blanchet in Philadelphia Review of Books
"This is one of the most enjoyable books I've read in a long time...I said to the author when he appeared on our radio program, 'this book would make a tremendous movie.' I'm hoping that some filmmaker decides to do so."
JIMMY HAYDE'S REVIEW
Terry Frei gives a remarkable account of the improbable and little known story of America's greatest athlete and his torrid, politically charged love affair with Nazi Germany's most famous woman in a war ready Germany in Olympic Affair: A Novel of Hitler's Siren and America's Hero.
Olympic Affair rediscovers the legend of Glenn Morris, America's long forgotten hero from a tiny farming town in Colorado who won Olympic gold in the Decathlon at the 1936 Berlin Games, and brings his conflicted life back into the consciousness of America. Mr. Frei recounts how Morris, in the days around his ascending to the title of "The Greatest Athlete in the World", won something even more unexpected, the heart and passion of Leni Riefenstahl, Germany's renowned actress and producer who gained infamy as "Hitler's Film Maker" for her 1935 Nazi propaganda film, Triumph of the Will.

Morris and Riefenstahl, at great personal and professional risk, plot to avoid the watchful eyes of the omnipresent Gestapo and the casual observations of ordinary citizens to conduct their clandestine affair amidst the backdrop of a flourishing and edgy Berlin. The drums of war can be faintly heard in the background before and during the Games as Mr. Frei weaves a story that leaves one wondering; Is Riefenstahl a star struck lover, a ruthlessly ambitious filmmaker, or a manipulative Nazi?
Leni Riefenstahl, using her celebrity and singular force of will, maneuvers the political quagmire of the Nazi propaganda machine, led by the vulgar Minister of Propaganda, Joseph Goebbels, in order to make her greatest film without the meddling of the Gestapo and German Olympic officials. She, with myopic vision, drives her Olympic Games documentary, Olympia, by pitting fear of the Fuehrer against anyone meddling in her aspirations. Glenn Morris, with his simple country values, helps to unite a racially divided Olympic team while trying to remain focused on his goal of Olympic gold and a future away from the farm. While Leni tries to open his eyes to a new world and unimagined future, Glenn struggles between the seductive pleasures of the present versus the moral expectations of his past. Mr. Frei details the racial, political and petty sexual machinations of America Olympic officials and sets them against the grander, evil maneuvering of the Nazi Party, who orchestrate the Games as a tool to deceive the world into believing that Germany is a peaceful and tolerant nation. Racism, anti-Semitism and back door political dealings all coalesce in a shocking appeasement of Hitler to save embarrassment to the Nazi party.
Terry Frei revives an age when humility was an American trait, when a world class athlete hoped for a few crumbs from a benefactors' table, when faithfulness to the girl next door was as American as a Rockwell painting. His Olympic Affair is a well crafted tale of triumph, love and deceit as two giants of their times weave between love and expediency. He evokes a pre-war time when bureaucrats appeased a dictator and common citizens and athletes from around the world lived with hope, trepidation and suspicion. Interspersed with the stories of Jesse Owens and the forsaken Jewish sprinter, Marty Glickman, Olympic Affair roils with personal and political intrigue and love stretched to its boundaries. It is a story not to be missed.
Glenn Morris display at Simla High School. Leni sees this in Chapter 1.

Glenn at the medal ceremony, day after decathlon ended

Glenn receives wreath in Olympia restaging. Her name is...

Glenn as Colorado Agricultural College (now CSU) football star

Leni was on the cover of Time Magazine during '36 Winter Games

On the ship, sprinters Marty Glickman and Sam Stoller

US sprinter Helen Stephens' meeting with Hitler was a sore subject.

Leni and her crew also focused on 400 meter winner Archie Williams

NYC Mayor Fierello LaGuardia meets Glenn after his return

Back in Denver on Glenn Morris Day, he shows off his gold

Downtown Denver parade on Glenn Morris Day

Tarzan's Revenge publicity shot. These two didn't like each other.

CSU's South College Field House was renamed in 2011

Hitler during opening ceremonies. He would watch Glenn Morris win the decathlon from this box.

Glenn Morris, Max Schmeling, and discus thrower Walter Wood in the Olympic Village

Leni at Olympia planning meeting during Games

Glenn shortly before start of Games

Glenn responds to the cheers during NYC parade

Hitler greets Leni at Olympia premiere

Bob Clark, Glenn Morris, Jack Parker after sweeping decathlon medals

On the Atlantic crossing, the two Glenns -- Cunningham and Morris -- putt around.

Leni during Olympia filming

Glenn encounters Thomas Wolfe in Olympic Affair, and this ran in a German paper during the Games.

Even before Games opened, Glenn was popular with the Germans

Glenn's actual gold medal, now at CSU

Flags reflect the American sweep on the scoreboard

Glenn as Tarzan, with co-star and ex-Olympian Eleanor Holm

Glenn is pictured at CSU's Hughes Stadium




Denver Post interviewed Leni at '74 Telluride Film Festival

Glenn in Denver Athletic Club uniform in NY before departure