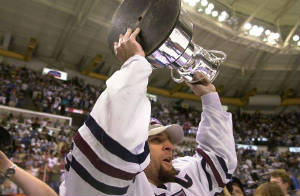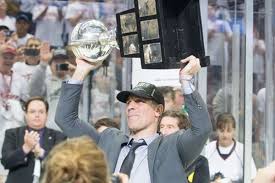 Left: Jared Bednar holding aloft the ECHL's Kelly Cup as the South Carolina Stingrays' captain.
Right: With the AHL's Calder Cup as coach of the Lake Erie Monsters.
The Avalanche has forced the Stars to a Game 7 in the Western Conference semifinals.
Going into the postseason, anything but an Avalanche advancement to the conference finals would have been considered underachievement.
Making the conference finals would have been improvement over a year ago, when the eighth-seeded Avalanche beat the Flames in the first round and fell to the Sharks in the conference semifinals. And, when healthy, this is an upgraded roster, with Joe Sakic making astute moves to add scoring depth in the offseason.
But now there's a safety net of perception: Down to its third goalie, knockabout journeyman Michael Hutchinson; and also minus Erik Johnson and (most likely) Gabe Landeskog for Game 7 Friday night, the Avalanche will have pulled off a shocker if it manages to win this series. Especially after falling behind 3-1.
If that happens, considerable credit should and will go to unflappable coach Jared Bednar.
(Well, not to sound like Hank Kimball on "Green Acres," but it's probably more accurate to say Bednar is flappable; and that he just flaps when flapping is called for, picking his spots -- and almost always behind the scenes.)
The man from Saskachewan paid his dues ... and then some. Sometimes it seems he played or coached everywhere except Hooterville beforre finally reacing the NHL four years ago.
Bednar's progression since taking over in the wake of Patrick Roy's shocking resignation in the 2016 offseason has been signficant, and it comes with an acknowledgment that under customary NHL practices, he would have been made the scapegoat for the Avalanches' dreadful 48-point 2016-17 season, his first behind an NHL bench.
That was the worst bang-for-the-buck season of the salary cap age, considering Colorado was brushing up against the celiling.
It wouldn't have been surprising if Sakic had fired him at that point, saying it just didn't work out. Or even if Sakic had succumbed to the NHL's traditional overreaction to inevitable lulls and fired Bednar during the 2018-19 season, before the Avs reawakend.
But four years after his hiring, the choice has been vindicated many times over. Bednar is under contract through 2021-22, which passes for security in a league that champions the scapegoating of coaches in times of trial.
Bednar's intuitive sense of which buttons to push has been evident during the ups and downs of this series with the Stars, too.
It was a long time coming for the man from Saskatchewan who until he came to the Avalanche hadn't beeen an NHL anything. Neither player nor coach.
* * *
The grain storage elevator was the tallest structure in the village. Population fluctuated, and if the count was taken at the right time, it might crack 300. This was Elbow, Saskatchewan, halfway between Regina and Saskatoon, and elementary school student Jared Bednar was the son of an often transferred Royal Canadian Mounted Police officer, settling in and making new friends.
Bednar was used to it.
"Every two or three years, we'd move," Bednar told me as he prepared for that trying first season with the Avalanche.
Born in Yorkton, Saskatchewan, Bednar spent the most time in his childhood in a big city, Humboldt, population 5,000, because his father, Wally, was stationed there twice, including when Jared was beginning to advance through the ranks of youth hockey.
"In rural Saskatchewan, you live, breathe, eat, sleep hockey," he said. "That's what you do. So it didn't matter what time of the year, you found a way to play, whether you're playing street hockey on the pavement or ice rinks or outdoors on ponds. That's all we did. Well, we played other sports as well, but we found a way to make sure we were getting our hockey in every night -- that and watching 'Hockey Night in Canada.' "
Bednar hoped to play for the Humboldt Broncos, the local Tier II team, or maybe -- just maybe -- major junior's Saskatoon Blades. As a big, tough defenseman who saw dropping the gloves and fighting as part of the job description, he attained both, eventually playing four seasons in the Western Hockey League with the Blades and the Spokane Chiefs, Medicine Hat Tigers and Prince Albert Raiders. He went unclaimed in the NHL draft and was 21 when he finished his major junior career.
"I assumed that I was going to play at at least the American League level," he said of the NHL's "triple-A" feeder. "When that didn't happen and I wasn't part of an NHL team and I didn't sign, I was thinking, 'What do I do now?' "
His coaches had contacts in what then was called the East Coast Hockey League, a step down from the AHL, and he caught on with the expansion Huntington (W.Va.) Blizzard.
"I didn't know anything about the league," Bednar said. "I'm 21 years old, I'm leaving Saskatchewan and Western Canada really for the first time to jump in my car and drive down to West Virginia and play hockey. I had no idea what it entailed."
Bednar was a stay-at-home defenseman, even more popular with crowds and his teammates because he dropped the gloves to avenge and defend and also because at that level, at least one good scrap a night was part of the league's identity and box-office allure.
"It was something I could contribute to help my team, so I did it," Bednar said. "I wanted to play and I loved my teammates."
In Huntington, the home of Marshall University, Bednar met and started dating the woman who later would become Susan Bednar. In his third season, though, he was traded to the South Carolina Stingrays, based in Charleston.
"I was crushed," Bednar said.
The immediate silver lining was that his teammate, roommate and best friend, Dan Fornell, was traded with him, and they quickly became valuable members of the Stingrays.
"We always referred to him as 'Bedrock,' " said Rob Concannon, a Stingrays teammate who now is president of the ECHL team. "He had a cool persona about him, and at one point he had the long hair and an earring. ... We find out that we're getting Jared Bednar and Dan Fornell from the Huntington Blizzard and we said, 'Let's look at the guys' stats!' That first (expansion) year, Jared was minus-82. Minus-82! So of course we were all saying, 'Who the hell are these two guys?' And then they came to town.
"I played a kind of antagonistic role and Jared would turn to me and say, 'Coocs, you go out there and do whatever you want, I have your back.' That's what he was. He always had your back."
Jason Fitzsimmons was the Stingrays' goaltender.
"He was a great teammate," Fitzsimmons said of Bednar. "He stood up for his teammates, he spoke with his actions and he held people accountable. I think those are things he has taken over to the coaching side."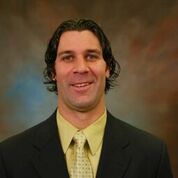 The Bednars came to love Charleston so much, he and Susan Bednar and their two children made it their base during Jared's subsequent hockey travels.
The Stingrays won the league's Patrick J. Kelly Cup twice when Bednar played for them, in 1997 and 2001. In between, he had brief stints in the AHL with St. John's and Rochester, and in the International Hockey League with Grand Rapids, but wasn't considered an NHL prospect. He didn't mind going back to the Stingrays and winning championships.
"It was awesome," he said. "You don't know any better. I didn't know any better. I went down there and we were drawing 10,000 fans a game, selling out our building and they're treating us like we were an NHL team. We were Charleston's team, South Carolina's team and the fans were great."
In 2002 he was pondering whether to play another season when Fitzsimmons, the former goalie, moved up from assistant coach to head coach. On the night of his hiring, Fitzsimmons asked Bednar, who lived two blocks away, to come to his house for a talk. He asked Bednar to retire and become his assistant.
"I wanted to stay in hockey and I didn't know if I was going to be able to do that as a player," Bednar said. "Probably the biggest factor in me deciding was I had played one way my whole life. I wasn't the most talented, but I was real competitive. I had some anxiety at certain points in my career about fighting, but generally I fought because I was in the moment and wanted to do it. My last year, that kind of went away. I was at a spot where I had my son and I didn't feel that I battled to the point I did the rest of my career."
He was torn. He told himself he wanted to play one more season, return to his passionate role and go out that way. But he told Fitzsimmons yes.
His coaching career had begun.
"I fell in love with it," he said. "It gave me a chance to work and learn and make a lot of mistakes."
Bednar and Fitzsimmons, who remain close, were on the Stingrays' bench together for five seasons.
"Even though I was the head coach and he was the assistant coach, I viewed it as being co-coaches," Fitzsimmons said. "I learned a lot from him. I knew I was pretty green and we were both young kids and I knew that being an ex-goaltender, I used to talk about the game with him and I knew we had the same philosophy. I think I kind of talked him out of playing another year and I think now, 15 years later, he's probably thankful I did that for him."
In 2007, Fitzsimmons moved on to the Washington Capitals as a professional scout, and Bednar became South Carolina's head coach. In Bednar's second season, the Stingrays won the Kelly Cup again in 2009, and as much as he loved Charleston, he was wondering whether he might be able to coach at a higher level.
He signed on as an assistant to Jim Playfair, a former NHL defenseman who was the head coach of the AHL's Abbotsford Heat.
"I quickly realized that first and foremost, our personalities connected," said Playfair, recently named the associate coach of the Edmonton Oilers. "There just weren't many loose parts in his coaching and his disposition as a person. His connection to the players. His attention to detail. His preparedness. I was just really impressed that coming out of the East Coast League, that he was as well-versed in handling video tape and teaching structure and getting his point across to the players."
Playfair recalled a conversation with Bednar after the Heat was eliminated from the playoffs and the coaches and players were in the Calgary airport.
"I said, 'Look, you are past being an assistant coach at this level. I think you're good enough to be a head coach,' " Playfair said. "I made some phone calls to different general managers that I had relationships with that I thought might be looking for a good, solid, young coach."
The St. Louis Blues hired Bednar to be head coach of their AHL affiliate, the Peoria Rivermen. So he had gone from ECHL assistant to ECHL head coach, from AHL assistant to AHL head coach and he was on the path to the ...
Not so fast.
The Rivermen were 81-63-12 in his two seasons, but Bednar's contract wasn't renewed.
"It was disappointing," he said. "I'd put a lot into that and I felt like it was my chance. I'm a competitive person. I want to win and we didn't, but I thought our staff and myself put a lot into that team and I felt we did everything we could with the group we had. ... I think deep down I worried a little bit that that was my chance as an American League head coach. But I'm of the belief that everything happens for a reason."
The Columbus Blue Jackets hired him as the second assistant for their AHL franchise, the Springfield Falcons. After two seasons, Falcons head coach Brad Larsen -- a former Colorado winger -- moved up to the Blue Jackets' staff, andBednar was a head coach again. The Blue Jackets' affiliation switched to the Lake Erie Monsters in Cleveland for 2015-16, and the Monsters stormed through the AHL playoffs and won the league's Calder Cup. Bednar signed a new two-year contract with the Blue Jackets' organization, but after Roy's stunning Aug. 11, 2016 resignation, the Avalanche interviewed Bednar and hired him two weeks later.
He kept his poise through his painful introduction to the NHL and in 2017-18, the Avs jumped to 95 points. And the rest ...
Well, that history still is being written.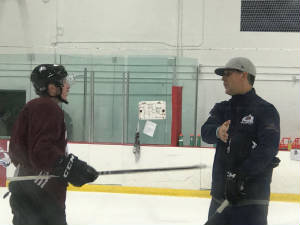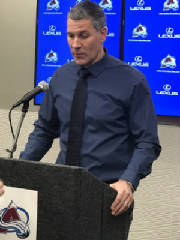 Left: Bednar on ice with one of his Avalanche challenges, Matt Duchene.
Right: Post-game at the Pepsi Center. His answers generally have been more intelligent than the questions.
(Adapted from a 2016 Denver Post story.)