When longtime University of Oregon and National Football League coach Jerry Frei died in 2001, many of his former players attending his memorial services were astounded to learn that he had been a decorated P-38 fighter pilot in World War II. He never brought that up with his players. But like so many other veterans, he hadn't talked much about the war with his children, either.
Late in Jerry Frei's life, his son – author and journalist Terry Frei – belatedly began asking more questions about the young pilot's experiences. As they talked, a frame of reference was the Wisconsin Badgers' 1942 team picture on Jerry Frei's den wall. Sophomore backup guard Jerry Frei, then only 18, was in the fourth row of that 1942 photo, behind All-American end Dave Schreiner and star halfback Elroy "Crazylegs" Hirsch. The elder Frei spoke of how the players on one of the greatest college football teams of all time went off to serve their country after their glorious season – and about how not all of them made it back.

After his father's death, Terry Frei set out to learn more about the team and the men in that picture. What he learned left him forever changed.

On December 11, 1941, Schreiner wrote to his parents, "I'm not going to sit here snug as a bug, playing football, when others are giving their lives for their country. . . . If everyone tried to stay out of it, what a fine country we'd have!" Schreiner didn't stay out of it. Neither did his teammates.
In the final-fling atmosphere common on college campuses as the first year of U.S. involvement in the war was winding down, the Badgers climbed up the national rankings under the guidance of coach Harry Stuhldreher, the quarterback of Notre Dame's famed "Four Horsemen." Stars and scrubs alike had enlisted in various branches, were awaiting their callups, and knew that each game brought them closer to military service.

Schreiner and the Badgers' other co-captain, halfback Mark Hoskins, both came from tiny Lancaster, Wisconsin, and the long-time buddies and teammates both planned to become pilots. But Schreiner's color blindness ruled him out as a pilot, and after he renounced a pre-medicine student deferment, the two-time All-American end became a Marine officer.

As the war raged on, the Badgers sailed through Harm's Way, fought in the Battle of the Bulge, pushed the envelope as pilots, and led units in the fierce Pacific island battles.

Through exhaustive research and interviews with the remaining Badgers, their families, and combat comrades, Terry Frei tells the story of this band of brothers. In particular, the climactic material about the "Great Escape" prison camp, plus the Battle of Okinawa and the role of several Badgers in it, has tugged at readers' hearts.

Readers and reviewers agree: This isn't about one team. It's an All-American story.
Online Interview with Terry Frei about Third Down and a War to Go
Wisconsin Public radio Interview with Terry Frei about Third Down and a War to Go
"While Schreiner's is among the most compelling, the stories of these young men and their efforts and the battlefield recall a different era. . . These Badgers did their job as teammates on the gridiron, and they headed off together to fight the Germans and Japanese, united in their purpose and with a grateful nation behind them."
--Scott Angus, editor, Janesville Gazette, son of team manager Robert Angus
"Great job. So good that I was brought to tears. So good that I almost need to visit the cemetery in Lancaster, Wis., and say 'thanks' to Dave Schreiner and Mark Hoskins." --Randy Jesick, journalism professor, Indiana University of Pennsylvania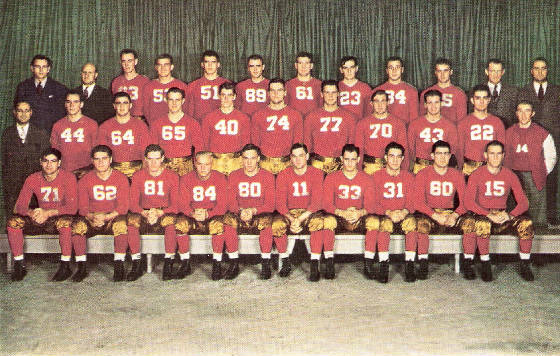 "Mythology is nice. Truth is better. The '42 Badgers were boys being boys. Good for them. Good for Terry Frei, who chose to write their story truly in his book, Third Down and a War to Go: The All-American 1942 Wisconsin Badgers.What a powerful piece of work the book is, a telling detail in the great portrait of America at war, young men and women who saw their duty and did it no matter how much it scared them."
-- Dave Kindred, The Sporting News and author of Sound and Fury
"Many times you hear athletes called heroes, their deeds and accomplishments on the field or court are characterized as courageous. After reading Third Down and a War to Go, I am embarrassed to have ever been thought of as brave or courageous. Enjoy this adventure in history, life, and in courage and take it from a so-called 'tough guy'...keep the hanky close by."
--Dan Fouts, Hall of Fame quarterback and ABC-TV sportscaster
"...a book that not only makes you keep reading, but makes you care...The last chapter in Frei's book, 'Lives and Deaths,' details what happened to everyone from that squad, and by the time you get there, you really want to know about them. It's that kind of book, relatively modest in intent but rich in fabric and execution."
--Dwight Chapin, San Francisco Chronicle
"Here's a book written with love and passion . . . What began as a sports book comes to resemble something akin to 'Band of Brothers,' by the late Stephen Ambrose (who played for the Badgers more than a decade later). . . This is an inspiring book, full of fun and pathos and heroism."
--Dave Wood, past vice-president of the National Book Critics Circle and former book review editor of the Minneapolis Star Tribune.
"Of all the traits of the World War II generation, perhaps the most impressive some 60 years later is the ability to make do, no matter the circumstances, and with little ceremony at that. That theme echoes throughout author Terry Frei's thoroughly researched and ardently objective book, a chronicle of the 1942 Badgers' rapid transition from carefree college clashes against Notre Dame and Minnesota to battling Nazi Germany and imperial Japan. . . The first half of the book establishes the principal characters and the 'swell' atmosphere of the day, to borrow some period terminology, while detailing an 8-1-1 season in which the Badgers were deemed mythical national champions by the Helms Foundation. With the war heightening, the majority of the players were sent overseas to fight on the front lines, and Frei follows them relentlessly in the book's second half, focusing mainly on (Dave) Schreiner and (Mark) Hoskins. It's a logical choice, given their long friendship, their disparate assignments and Schreiner's status as an All-American . . . Either half of the book would have stood alone, but together they do supreme justice to a group all too soon gone, all too easily forgotten."
-- Adam Mertz, The Capital Times, Madison
"With its members serving on all fronts, the 1942 Wisconsin Badgers become a microcosm of the American war effort, representatives of a remarkable generation of self-sacrificing Americans. . . . Through Hoskins and Schreiner, the cocaptains of the 1942 team, the author makes his most important point. Frei portrays the young men who played football at the University of Wisconsin in 1942 and later fought for their country as truly 'All-American' boys. Having embraced the opportunity to serve his country and risk the ultimate sacrifice, Dave Schreiner -- as both a star athlete and all-American on the football field as well as a man of impeccable character off it -- was the definitive symbol of this. Written with the passion of an inspired student, Third Down and a War to Go is fulfilling and powerful. It adds athletic perspective to our understanding of the 'Greatest Generation' as well as a window into their rural, midwestern lives and their roots as athletes, students, and friends." -- Shane Butterfield, Michigan Historical Review
"David Nathan Schreiner was far more distinguished off the field, a reality brought to life in the must-read bookThird Down and a War to Go by Terry Frei."
-- Andy Baggot, Wisconsin State Journal
"The drama, heroism and pathos of this book would make a great movie that would star two Grant County men -- Lancaster's Dave Schreiner and Mark Hoskins."
--Jon Angeli, Grant County Herald-Independent
"This is a story of the highest degree, one that will leave the reader at various times laughing, mournful, amazed, and inspired. Third Down And A War To Go is much more than just a football story. It is much more than just a war story. It is a story about us."
--Doug Warren, Badgernation.com