Shadowing CU linebacker
Derrick Webb though
the 2013 Buffs season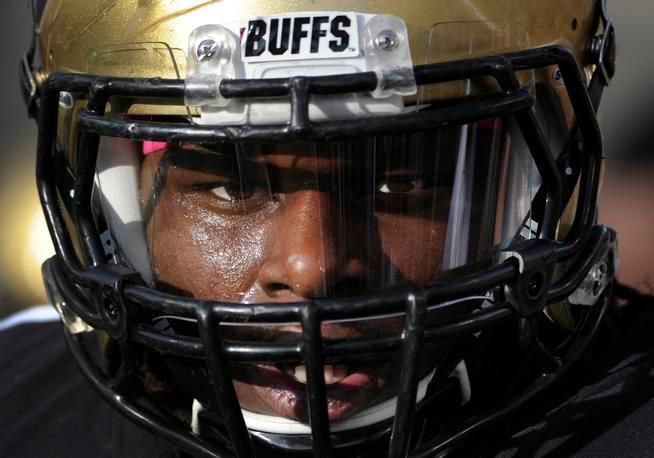 BOULDER — In late August, during the first week of the University of Colorado's fall semester, the Buffs' annual Rocky Mountain Showdown against Colorado State in Denver was four days away.
Senior linebacker Derrick Webb came off the practice field and, squinting in the late summer sunlight, looked ahead.
"This is a lot of emotion, going into my last year," he said. "I can't let my emotions take over too much and do something crazy with the new rules about head contact. I have to be smart."
For the second consecutive season, Webb was a Buffaloes co-captain.
Unimposing physically and listed at 6-foot, 225 pounds, he held his helmet in one hand and wiped sweat from his forehead with the other. He was about to play his first game for his third head coach, Mike MacIntyre.
"I feel like Coach MacIntyre came in and gave everybody an equal opportunity," Webb said. "I had to earn my spot all over again. That was perfectly fine with me. I want to be pushed. I want to be coached. I don't want anything handed to me."
In the opener, the Buffs beat Colorado State, 41-27, in Denver. The difference was CU junior quarterback Connor Wood's two long touchdown passes to junior wide receiver Paul Richardson, who was making a triumphant return after missing the entire 2012 season following knee surgery. But the defense did its part and also accounted for a touchdown on defensive back Greg Henderson's 53-yard fumble return.
"We played some great football, made some plays in the clutch," Webb said. "As long as I've been here, I can't remember too many games where I felt like we won it on defense. I mean in the clutch moments where you need plays, you make plays."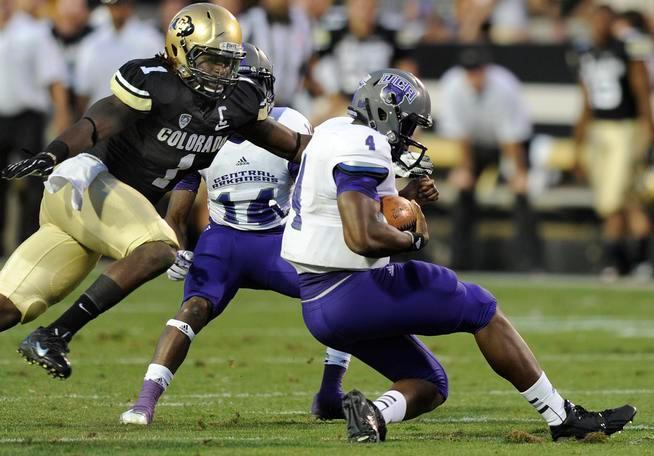 Derrick Webb against Central Arkansas
The next week, Colorado overcame FCS Central Arkansas, 38-24, at Folsom Field. Webb was in on a total of 19 tackles in the first two games, and as the "Will" linebacker, he was playing next to true freshman middle linebacker Addison Gillam, who was looking like a future star. Suddenly, and surprisingly, the Buffs were 2-0.
"It's been a tough last few seasons and the seniors feel like we owe it to ourselves to go out and be competitive and leave a winning legacy after all we've been through," Webb said. "It feels good to win in front of the home crowd and it feels good to be 2-0."
The floods hit Boulder late the next week, and the Buffs got word at a Sept. 13 team meeting that the Fresno State game the next day was at least postponed. (Ultimately, it would be canceled.)
"We were getting ready to go to the hotel when they told us," Webb said. "We were shocked, but we know that other things were more important."
Webb personally was unaffected, given that he lived to the south and east of campus, in the Broker Inn on Baseline Road next to the famous off-campus restaurant/bar, the Dark Horse.
Once known as a top hotel in the area, the Broker Inn now is also used for student accommodations, similar to the Regency complex's role in Denver for the Auraria Complex. Roughly a half-dozen players were living there during the 2013 season. Webb had a 1986 Grand Marquis back home in Memphis, but decided not to drive it to Boulder. To get around, he either walked, got rides, or borrowed a car.
Webb lived alone in his single room, and, yes, it looked like a conventional dorm room — a bed, a dresser, a study desk, a tiny closet that didn't come close to having enough room for his clothes, which were strewn around the room. The walls were bare. The terms of his athletic scholarship cover the monthly rent payments, but as noted during the debates over whether college football players should be additionally paid, there's not a lot of pocket money involved.
"I sometimes have a hard time at the end of the month," Webb said. "Things can come up. Some guys who have cars have to get them fixed, things like that. You have a set amount set aside for food, rent, cellphone bills, all that. One time I got a ticket and I was really struggling at the end of the month because I had to pay for it. A little extra money would make the situation better, maybe give me a little more freedom, maybe do a little more outside the basic essentials. Like taking a girl out on a date. Like taking yourself out to eat once in a while."
The Buffs finally were back in action on Oct. 7, and the bubble burst in a 44-17 loss at Oregon State. It was 10-3 late in the first half, but the Beavers scored on their final drive of the first half and then on the first possession after the intermission and rolled from there.
"I really think it came down to three or four plays both ways," Webb said. "At least that should have been a fourth-quarter game."
Next up were the powerful, high-octane Oregon Ducks, back at Folsom. At the team's Broomfield hotel that Friday night, Webb was with his usual roommate, freshman linebacker Kenneth Olugbode, his backup on the depth chart. They tested each other on the defensive game plan, and then Olugbode set up his laptop and watched his San Jose high school, Bellarmine Prep, play via live streaming. They compared notes about their high school football experiences, and Webb felt old, realizing Olugbode was talking about the previous fall, while Webb was talking about 2008.
The next night, Oregon romped. The Buffs led 3-0 and 10-8, but the Ducks stormed back behind quarterback Marcus Mariota and were up 43-16 at the half and 57-16 after three quarters. The scary thing was that it would have been unfair to say the Buffs didn't play well. They hung in there, but that's how wide the talent gap was.
"I'm proud of the effort," Webb said afterward.
He made eight tackles and was angry at himself for dropping a potential interception early, when he was coming up to play an anticipated screen — the blocking set up that way — and Mariota inexplicably threw the ball right at him. "I was trying to get inside of the blocker and position myself to make a tackle, and the ball hit me right in the stomach," he said, shaking his head.
He recovered a fumble later in the game. "I made sure I got that one," he said.
Back in school
Under MacIntyre, the Buffaloes' routine was in line with an increasingly popular college football trend, with early morning meetings, as soon as 7 a.m. CU then practiced on lower campus fields down the hill and across Boulder Creek from the Dal Ward Center. After that, the players in theory were done with football for the day and headed off to classes. Because of the flexibility and freedom tied to his May graduation with a degree in communications, Webb was able to build his schedule with his earliest class starting at 12:15 p.m. — Introduction to Theater on Tuesdays and Thursdays, with Latino Poetry following at 5:15. On Mondays, he had Introduction to Africana Studies at 2 and Women, Sport and Culture at 3.
On the Monday after the Oregon game — the NCAA-enforced day off for players after film study and a "correction" practice on Sunday — the small second-floor auditorium in the Clare Small Arts and Sciences Building was standing-room-only for instructor Martin Atuire's Africana Studies course.
He opened with a welcome to his "brothers and sisters," then went through an African dialect greeting and response with his students that seemed to be an entrenched routine by the second months of classes for his diverse group.
Webb sat on an aisle about halfway back and signed the roll-call sheet as it made the rounds. Scrawling across the blackboard, Atuire lectured, then showed a video and led a discussion about enslavement in the Americas.
"That's your history, your ancestry," Webb said after class. "The whole point of that film was to remember your past. It's pretty empowering to know of the people who endured so much."
In the Duane Physics and Astrophysics Building basement, instructor Jenny Lind Withycombe, still a competitive rower and an acknowledged expert on women's sports social issues with a doctorate in sports psychology, discussed the imbalance in coverage of men's and women's sports. She also showed a video, "Playing Unfair: The Media Image of the Female Athlete."
The give-and-take among the students was spirited, and Webb joined in. At the end, Withycombe reminded them that they had an assignment due soon — to interview a female athlete and turn in the transcript. Derrick said his plan was to speak with his sister, Breanna Scott, who lives in Maryland and had just started skating on a roller derby team.
In his Tuesday classes, he was preparing to take part in a brief play in Theater class and learning about Latino poets.
On Oct. 12, Webb had seven tackles as the Buffs lost their third straight, to Arizona State 54-13 in what was their worst performance of the season. They were down 47-6 at halftime, and the final score could have been a lot worse. MacIntyre and his staff seemed to demonstrate that they would start looking to the future, and not just with the much-discussed move at quarterback, demoting Wood and removing true freshman Sefo Liufau's redshirt to install him as the starter.
The good news: Webb had finished his interview with Breanna for Withycombe's class. "I asked her about the whole experience of roller derby, how she prepares and whether she'd recommend it to other female athletes," he said. "We talked about the double standard of women competing in physical sports."
The bad news: Webb was on the field for only 25 plays as the Buffs beat Charleston Southern, the FCS replacement for Fresno State on the schedule, 43-10. Some of that was an attempt to get more players experience, but the Buffs also increasingly were experimenting with different packages, mainly going with just two linebackers and a nickel back. What that meant was that Webb more often was competing with the other outside linebacker starter, junior Woodson Greer III, for playing time.
As the game plan and practice work for Arizona the next week made it clear that Webb wasn't ticketed to play much that week, either, MacIntyre had him, Wood and senior linebacker Paul Vigo stand at a team meeting. He praised them for how they were handling reduced playing time and said he was proud of them.
Against Arizona on Oct 26, the Buffs opened on defense with Gillam and Greer at linebacker, and freshman Chidobe Awuzie at nickel back. Webb was on for only 21 plays from scrimmage in the 44-20 loss. He consciously tried to be animated and supportive on the sideline, speaking with Gillam and Greer.
"The ups and downs," Webb said the next week, smiling. "All you can do is support the decisions and be there to support the team. I was more disappointed in the outcome of the game than me not seeing more action."
The next Tuesday, Oct. 29, MacIntyre said Webb would get more work in the practices that week and seemed to signal that Webb's attitude had helped make the coaches realize the futility and even the unfairness of shunting seniors aside at that point — especially if one of the seniors was a much-respected and liked co-captain. "He's handled it really well," MacIntyre said.
"He's been a good leader and it's fun watching him mature at that stage and working with him on it. This (past) week has been a big test for him and I thought he passed it with flying colors."
That night, over dinner at the Dark Horse, Webb said he was determined to keep working hard and accept whatever happened. Since he lived next door, it wasn't surprising that he was familiar with the menu on the wall next to the kitchen window and cash register and knew that wait service is available only during lunch. "I come here for the student deals," he said. It also was obvious by now that at least during football season, while he isn't a loner, he mostly hangs out with his teammates at the Dal Ward Center. Plus, it's both a matter of time — he doesn't have much — and finances. "Football and school is like 90 percent of my life right now," he said. "Maybe even more than that."
Nearing the finish line
Back on the field, Webb had probably his best game of the season in a 45-23 loss to UCLA in the Rose Bowl on Nov. 2, getting a team-leading nine tackles. He and Gillam were the linebacker starters, with Awuzie still opening at nickle back. If a 22-point loss could be a moral victory, that was it, since the Buffs — who fell to 3-4 for the season and 0-4 in the Pac 12 — were competitive.
Webb wasn't sure he was going to be back in the every-down rotation until game-time.
"We shared reps," he said back on campus a few days later. "The way I looked at is was that I had to prepare like I was going to start and be on the field. … The coaches are going to do what they think is best for the team and I never took it personally." He enjoyed the experience of playing in Pasadena for the second time in his career. "It's awesome, everything about it," he said. "Perfect weather, a great night for football, the field is just like a golf course."
The next Monday, he felt he aced his Africana Studies midterm and then in the women in sports class mostly listened as Withycombe laid out a convincing argument that women college athletes were treated in condescending fashion in such things as media guides, with emphasis on them wearing something other than athletic garb in pictures, for example. Webb's classmates included a few CU women athletes. He also felt good that the poem he wrote and read for the Tuesday-Thursday class in Latino Poetry was well-received.
But as this was all going on, he felt the clock winding down on his football career. "I can almost see my whole career flashing before my eyes," he said. "Coming here as a freshman, all those camps, spring ball, fall camps, all those practices, all those games. And you realize, man, where did it all go?"
Because the NCAA had granted the Buffs a waiver due to the extraordinary circumstances, they could count both wins against FCS teams in the attempt to get to six wins and bowl eligibility, CU still had hope of going to a bowl game. The players, including Webb, spoke of that without a trace of self-consciousness while sensing most outsiders believed there was no way that was going to happen, since it would require three wins in the last four games.
"There are a lot of great opportunities left on the field," Webb said.
On Saturday, Nov. 9, CU's 59-7 loss at Washington was a reminder of how far the Buffs still had to go to become even a middle-of-the-pack team in the Pac 12. Webb had eight tackles and, despite the result, seemed back in the full-time playing mode. Also, Greer was out with a shoulder injury suffered in practice that week, and it turned out that he was done for the season.
There was hope, though: Similarly downtrodden California, also winless in the conference, was coming into Folsom on Nov. 16. The Buffs beat the Golden Bears 41-24, and Webb and Gillam both had 11 tackles. With blustery winds, the weather was horrible and Webb fought through severe headaches and even declined a chance to go to the interview room to meet with the media after the game. He did consent to a one-on-one talk in the hallway outside the dressing room, though. He was in agony.
"It kind of stuck with me," he said of the headaches, then laughed darkly. "It's still sticking with me. I think it was the cold and the wind blowing, more than anything. It wasn't to the extent that I couldn't play. I pulled myself through. These are the last three games of my career, and everybody out there was having so much fun, making plays on defense, doing their job, hitting on all cylinders."
He had two games left: The Senior Day matchup at home against Southern California and the Nov. 30 game at Utah.
Down the Stretch
The floor's yours, MacIntyre told the Buffaloes' four senior co-captains. It was the Thursday before CU's final home game of the season, against Southern California on Nov. 23, and took his turn at the front of the team auditorium in the Dal Ward Center.
Webb told his teammates how much they meant to him, "putting it all out there in my senior year," and thanked them for all the work they had put in.
He told them how he would like it to end - with two victories, against USC and Utah.
Meanwhile, in Memphis, Derrick's mother, Felicia Morris, was preparing to be part of a family junket to Boulder for the "senior day" ceremony. The patriarch of the contingent was her father and Derrick's grandfather, Harold Scott, struggling physically and often wheelchair-bound in his 70s.
"He's already packed," Morris said from Memphis. "He's called me about 15 times. He asked me: 'What do you think I'm going to need? I think I'm going to bring my thermos. Can I bring my thermos?' I said that would be OK."
Webb's football career at CU, which spanned three head coaching tenures and included few wins, was not "glorious" when judged with conventional standards. But what of this standard? His mother already had seen her son walk across the stage on the Folsom Field turf the previous May to receive his bachelor's degree in communications, and Webb indisputably had gotten much out of the college and college football experience.
"I was so proud and so grateful to see him walk across that stage," Morris said. "All that help I got to get him to that stage, as a single mother for so long. I was so blessed that he went in the right direction, and that he had that degree."
Felicia Morris was in the Army for five years and stationed at Fort Riley, Kan., when Derrick was born. Later divorced from his father, she left the service, returned to her hometown, Memphis, and has been working as a clerk for the U.S. Postal Service for 15 years.
Derrick had little contact with his father before he died while Derrick was young.
"His grandfather's been there since the beginning," said Derrick's mother, who has been married to Billy Morris since 2010. "He's been with Derrick since he was 6, taking him to games, being on the sidelines, even trying to coach."
"Football's always been a big part of my life," Derrick said. "I started pretty young, and my mom always stressed I had to get good grades to be able to play. I had a lot of friends and had a lot of fun, and I got a lot of 'whippins.' ... I had a bit of a talking problem in school. I wasn't a bad student. I just couldn't keep my mouth closed. If the teacher had to call my mom, that was a spanking."
Webb starred at Memphis' Whitehaven High School and seemed ticketed to go to Tennessee until Phillip Fulmer was fired after the 2008 season. The new staff, under Lane Kiffin, was disinterested. CU, in the hunt early, had stayed in touch, and Webb visited Boulder.
"I was nervous about him going, being so far away, of course," his mother said. "The coaches told me they would take care of him like he was their own son. I got to know Coach (Dan) Hawkins, and I liked him."
Webb redshirted in 2009, played in seven games as a redshirt freshman in 2010 - when Hawkins was fired late in the season - and was a starter in Jon Embree's two seasons. Webb led the beleaguered 2012 Buffs in tackles. The defense was statistically bad, but he drew high marks for playing on as the losses mounted.
"I was so used to being competitive and when I was in football games that weren't competitive, that was tough," he said.
Exit Embree. Enter MacIntyre.
In the fall semester, as the season unfolded, Webb was taking four classes to add hours to his transcript and remain eligible: Introduction to Africana Studies; Women, Sport and Culture; Introduction to Theater; and Latino Poetry. It reflected his social consciousness and eclectic interests, since he writes lyrics and might try to break into the music business.
By the week leading into the senior day game against USC, the Buffs were 4-6 overall, 1-6 in the Pac 12. Webb was temporarily demoted from the starting lineup at midseason, but he rebounded and was back to full-time duty.
On the Tuesday before the USC game, Webb talked about the upcoming weekend over dinner at one of his favorites, Moe's Original BBQ, on one side of the Broker Inn, the hotel largely converted to a student residence, and where Webb lives.
"I'm excited about senior day," Webb said. "My family is coming out to see me for my final home game. Two, it's special because my grandfather (Harold Scott) is coming out here for his first Colorado game. He's been a huge inspiration for me, the biggest father figure in my life. He always was the disciplinarian, kept my head on straight and kept me in football."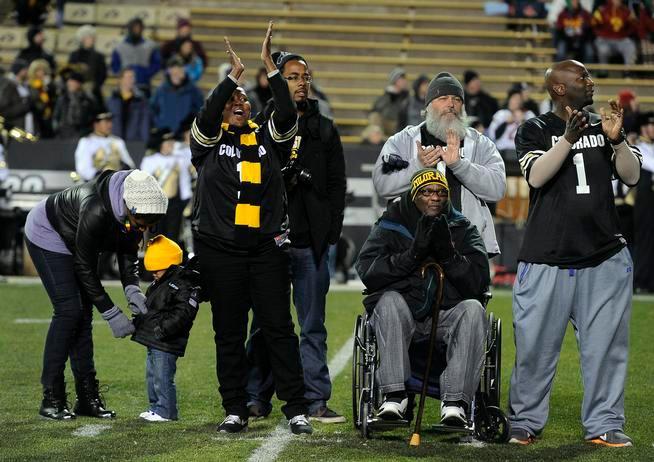 Derrick Webb's family cheers him on on Senior Day. From left, Derrick's sister, BreAnna Scott and her son Ezekiel Brookis, 2; Derrick's mother, Felicia Morris; BreAnna's fiancee Mikel Brookins; Felicia's husband, Billy Morris; Derrick's grandfather, Harold Scott (in wheelchair); and and Derrick's uncle, Kevin Scott.
Saturday night, when it was his turn as the seniors were introduced, he ran onto the field and handed flowers to his mother and greeted his grandfather in his wheelchair, plus his sister, BreAnna, and her young son and fiancé; his stepfather, Billy Morris; and his uncle, Kevin Scott.
"Leading up to it, I thought I was going to cry during the ceremony," Derrick said later. "But when I was out there, it was all about being happy and proud, all smiles, not about tears."
USC cruised to a 47-29 victory. Webb had a team-high 11 tackles. Felicia made her way to where the players would pass on their way to the dressing room.
"I was very excited to see my son play," she said as she waited. "It was great for Derrick to have a chance to play football here and for us to be a part a part of Buffnation."
She had seen her son receive his diploma in the same stadium and she had seen him finish his home football career, and did it really matter that in Derrick's four seasons of competition, his teams had won a total of ...
No, in that context, there's no reason to do the math.
Suddenly, Derrick was leaving the field and approaching the path to the Dal Ward Center. His mother waved and the security guard holding the rope, who previously had been adamant that he couldn't let Felicia by, found cause to look the other way as she slipped past.
The hug between mother and son was a Kodak moment.
Last loss really stings
There was one more game to play, at Utah on Nov. 30. The Buffs fell 24-17 to the Utes, finishing 4-8 overall, 1-8 in the Pac-12. Most frustrating for Webb, he suffered a "stinger" in the left shoulder and neck area midway through the fourth quarter.
"They had a big, physical running back, and he got low, and I got low," Webb said a few days later in the University Memorial Center. "I've had stingers before and I've never come out of the game with a stinger. But this was my worst one."
He wanted to get back in, but the clock ran out.
"After the game, that's when the emotions hit," he said. Yes, that means tears.
And after, he discovered that he had finished with 99 tackles, second to Addison Gillam.
"I wish I could have stayed in and got to 100," he said. "All I can do is laugh about that now."
Webb confided that one of the reasons he had handled his temporary midseason demotion so well was that he had looked in the mirror after he couldn't get on the field much as a backup linebacker in his freshman season under Hawkins.
"I handled it the wrong way then," he said. "I would sit around as quiet as I could and wouldn't say anything to anybody. When it came back around, I said, 'I'm not going to get mad at anybody.' I said, 'Hey, what can I do to get better?' "
In the aftermath of that final game, MacIntyre said of Webb: "He's a great, young man. He's been exceptional ever since I got here, and I'm pretty sure he was before I got here. He lifts your spirits. He's that type of guy. He loves Colorado football, and he loves playing football. He'll have a great future at whatever he does."
After the term ends, Webb plans to head back to Memphis, then decide where to work out, and with whom, to get ready for CU's pro timing day in the spring. He hopes for a shot at an NFL camp.
"Coming into college, my two passions were football and music," he said. "I would write music, rap songs, and I was passionate about it. I had a lot of fun doing that, and it would be a fun profession. But careers like that, along with professional sports, people think of it as a longshot. I give people my Plan A and my Plan B, and they say, 'You need a Plan C.'
"So if it comes to it, I'd like to be a business owner and give back to my community."
Regardless of what he does, the college football experience will be a foundation.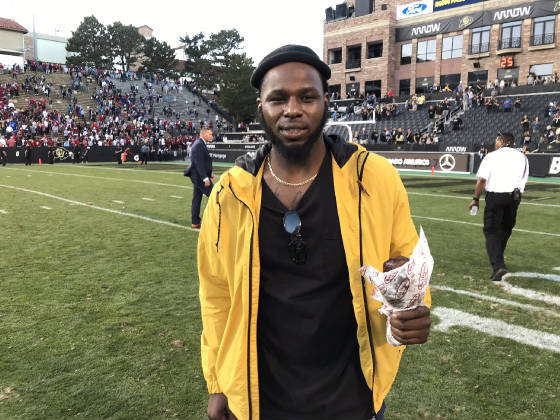 Six years later: Derrick Webb at the CU-Stanford game in 2019.