"Weaving history with fiction,
Olympic Affair
takes a reader on an exciting and informative journey through one of the seminal events in modern sports:
the Berlin Olympic Games of 1936.
This is no simple look at Hitler's showcase, however.
We see this epic struggle of good and evil through the eyes of the famous (or infamous) film director Leni Riefenstahl and her lover, the naïve but determined and obscure American decathlon champ, Glenn Morris.
The two launch a love affair that rivals the intensity of the Berlin scene itself, and the cast of surrounding characters – Hitler, Goebbels, athletes, boosters, and the FBI – support the drama.
Along the way, the author introduces us to the intricacies of athletics and training, filmmaking, and Nazi power.
In a sad but revealing tale of history, heartbreak, and hometown heroes, Terry Frei has captured an era through a searing tale that leaves convinced that the fiction surrounding a story that actually happened is really true.
It is movingly written; you won't put this one down!"
--
Thomas W. Zeiler, Professor, History and International Affairs, and Director, Global Studies Academic Program, University of Colorado-Boulder, author of Annihilation: A Global Military History of World War II
"Using his initial information ... and a combination of deduction and artistic license, Frei fills in the blanks left by history and tells his own version of the story. The combination of the diligent research techniques he used to write his widely acclaimed non-fiction books ... and creativity makes Olympic Affair a success as both a stand-alone novel and historical fiction. While simultaneously recalling the athletic triumphs of participating nations, Frei builds a tension-filled love affair that steals the show from the most controversial Olympic Games in history. Combining inference and invented dialogue, he forces the reader to invest deeply in even the most outlying of characters, some of which he pulls from history and personalizes through fiction (swimmer/actress Eleanor Holm Jarrett, heavyweight champion/restaurateur Jack Dempsey and even chancellor/psycho Adolf Hitler). Through the developing plot, the details of the Olympics and the skewed historical perspective of men and women living in a pre-WWII environment, Frei has (maybe unintentionally) created a new sort of story regarding the US-Nazi saga ... Olympic Affair offers a chronicle that proves why athletic drama often goes well beyond the field (or track) of competition. An athletic controversy, a triumph against adversity or a love affair can bring together the fanatics, the casual followers and those who just happen to appreciate a good yarn, no matter the origin. And who better to tell a story of that kind than an acclaimed sportswriter and non-fiction author turned novelist?"
"This is one of the most enjoyable books I've read in a long time...I said to the author when he appeared on our radio program, 'this book would make a tremendous movie.' I'm hoping that some filmmaker decides to do so."
JIMMY HAYDE'S REVIEW
Terry Frei gives a remarkable account of the improbable and little known story of America's greatest athlete and his torrid, politically charged love affair with Nazi Germany's most famous woman in a war ready Germany in Olympic Affair: A Novel of Hitler's Siren and America's Hero.
Olympic Affair rediscovers the legend of Glenn Morris, America's long forgotten hero from a tiny farming town in Colorado who won Olympic gold in the Decathlon at the 1936 Berlin Games, and brings his conflicted life back into the consciousness of America. Mr. Frei recounts how Morris, in the days around his ascending to the title of "The Greatest Athlete in the World", won something even more unexpected, the heart and passion of Leni Riefenstahl, Germany's renowned actress and producer who gained infamy as "Hitler's Film Maker" for her 1935 Nazi propaganda film, Triumph of the Will.

Morris and Riefenstahl, at great personal and professional risk, plot to avoid the watchful eyes of the omnipresent Gestapo and the casual observations of ordinary citizens to conduct their clandestine affair amidst the backdrop of a flourishing and edgy Berlin. The drums of war can be faintly heard in the background before and during the Games as Mr. Frei weaves a story that leaves one wondering; Is Riefenstahl a star struck lover, a ruthlessly ambitious filmmaker, or a manipulative Nazi?
Leni Riefenstahl, using her celebrity and singular force of will, maneuvers the political quagmire of the Nazi propaganda machine, led by the vulgar Minister of Propaganda, Joseph Goebbels, in order to make her greatest film without the meddling of the Gestapo and German Olympic officials. She, with myopic vision, drives her Olympic Games documentary, Olympia, by pitting fear of the Fuehrer against anyone meddling in her aspirations. Glenn Morris, with his simple country values, helps to unite a racially divided Olympic team while trying to remain focused on his goal of Olympic gold and a future away from the farm. While Leni tries to open his eyes to a new world and unimagined future, Glenn struggles between the seductive pleasures of the present versus the moral expectations of his past. Mr. Frei details the racial, political and petty sexual machinations of America Olympic officials and sets them against the grander, evil maneuvering of the Nazi Party, who orchestrate the Games as a tool to deceive the world into believing that Germany is a peaceful and tolerant nation. Racism, anti-Semitism and back door political dealings all coalesce in a shocking appeasement of Hitler to save embarrassment to the Nazi party.
Terry Frei revives an age when humility was an American trait, when a world class athlete hoped for a few crumbs from a benefactors' table, when faithfulness to the girl next door was as American as a Rockwell painting. His Olympic Affair is a well crafted tale of triumph, love and deceit as two giants of their times weave between love and expediency. He evokes a pre-war time when bureaucrats appeased a dictator and common citizens and athletes from around the world lived with hope, trepidation and suspicion. Interspersed with the stories of Jesse Owens and the forsaken Jewish sprinter, Marty Glickman, Olympic Affair roils with personal and political intrigue and love stretched to its boundaries. It is a story not to be missed.
"...a superb blending of sports, history, and politics."
-- Si Dunn, Dallas Morning News
"one of the better - and most readable — books of social history published in recent years."
-- Pulitzer Prize winning editorial writer Paul Greenberg, Arkansas Democrat-Gazette
"The game and its cultural contexts have been beautifully chronicled by Terry Frei in his book Horns, Hogs and Nixon Coming."
-- Bill Clinton

"Everyone knows that football today is a far cry from what it was in the days of leather helmets and dropkicks, but it takes a book like Terry Frei's 'Horns, Hogs, and Nixon Coming' to show how much the game has changed in just the last three decades. Frei does so by chronicling what might have been the final game of the God-Family-Football era, before shoe companies, superagents and TV networks turned the muddy old gridiron into a multigazillion-dollar business."
-- Charles Hirshberg, Sports Illustrated
"Some of us codgers on the scene thought we knew all facets of The Great Shootout. But now, 33 years after that climatic Arkansas-Texas game, comes a most intriguing account on whys and wherefores and backgrounds and personality quirks, warts and all, and political implications (Vietnam protests) and whatever. (That climatic week just happened to be the time when Bill Clinton got his ROTC draft deferment from an UofArkansas official, whose daughter was dating a Razorback player, etc.) Title is 'Horns, Hogs and Nixon Coming' and it's by Terry Frei, who must have worn out a dozen tape recorders in the process."
-- Blackie Sherrod, Dallas Morning News

"It was a bit like stumbling upon a family history as written by a distant cousin . . . But much to the dismay of our most cherished prejudice, an outsider, a furriner, a Coloradan for gosh sakes, has seen things we couldn't. Like a Tocquevillian sportswriter in a new world, Terry Frei does the unexpected, if not the impossible: He makes 'thatdamngame'--and all the cultural, political, and social issues swirling around it like so much red-and-white confetti--seem new again, relevant again."
--Kane Webb in a lead editorial, Arkansas Democrat-Gazette
"The great sports books eventually aren't about the game or the scoreboard result, but about the characters involved -- on the field, in the stands, outside the stadium, around the country -- and the times, (and) appeal to more than just the sports fan. Frei's account of an important moment of Arkansas and Texas sports history is great because of that and can mean something to the average readers off in Oregon or Connecticut."
--Jim Harris, Arkansas Times, Little Rock

"Frei's often humorous telling is much more than a rehash of the game. . . (It) also serves as a larger history of the social and political climate surrounding the competition. (The book) is a delightful, well-researched chronicle of a turbulent era."
-- Larry Little, Library Journal

"A great story, well-told, with more delicious details than a linebacker could handle."
--David Hendricks, San Antonio Express-News

"In some spots, a reader may laugh out loud. There also may be some tears, especially in regard to courageous Texas defensive back Freddie Steinmark, who six days after playing in the Big Shootout had his left leg amputated because of a cancerous bone tumor and died in 1971. . .
"Frei does a masterful job of weaving in the historical significance of the turbulent times, including Vietnam protests, the military draft lottery and the civil rights movement that were so much a part of campus life in that era. It's political football at its best."
-- Bob Holt, Arkansas Democrat-Gazette
"Frei went to Wheat Ridge High School, which produced not only (Freddie) Steinmark, but also Texas guard Bobby Mitchell, whose brother was killed in Vietnam. In part because his father then was the head football coach at the University of Oregon, Frei possesses the football expertise, an uncanny ability to buttonhook diverse personal anecdotes together and appreciation for history to best tell this remarkable tale."
--John Moore, theater critic, The Denver Post
"Terry Frei set out to learn more about his father. He wound up bringing to life a team, a cause and an era. Likewise, all that the young men of the 1942 Wisconsin Badgers set out to be was college students and football players. But circumstances called most of them to do something greater: Save the world. Impressively researched and reported and powerfully written, Third Down and a War To Go will put you in the huddle, in the front lines and in a state of profound gratitude -- not only to the Badgers and the hundreds of thousands of men like them, but to Terry Frei."
--Neal Rubin, Detroit News and author of Gil Thorp
"Mythology is nice. Truth is better. The '42 Badgers were boys being boys. Good for them. Good for Terry Frei, who chose to write their story truly in his book, Third Down and a War to Go: The All-American 1942 Wisconsin Badgers.What a powerful piece of work the book is, a telling detail in the great portrait of America at war, young men and women who saw their duty and did it no matter how much it scared them."
-- Dave Kindred, The Sporting News and author of Sound and Fury

"Many times you hear athletes called heroes, their deeds and accomplishments on the field or court are characterized as courageous. After reading Third Down and a War to Go, I am embarrassed to have ever been thought of as brave or courageous. Enjoy this adventure in history, life, and in courage and take it from a so-called 'tough guy'...keep the hanky close by."
--Dan Fouts, Hall of Fame quarterback and ABC-TV sportscaster

"Terry Frei has captured the spirit of a different time in this country, a time of faith in school and in country, a time of intense loyalty to teammate and fellow soldier. Third Down and a War to Go tells the story of one University of Wisconsin football team during World War II. But to limit the tale to that is like saying Angela's Ashes is about Ireland. This book brings to life, in shades of black and blue and blood red, the idea that certain things are worth fighting for."
--Rick Morrissey, Chicago Tribune

"Tirelessly researched and relentlessly touching. The true allegory of football and war, minus the cliches."
--Jay Greenberg, New York Post

"...a book that not only makes you keep reading, but makes you care...The last chapter in Frei's book, 'Lives and Deaths,' details what happened to everyone from that squad, and by the time you get there, you really want to know about them. It's that kind of book, relatively modest in intent but rich in fabric and execution."
--Dwight Chapin, San Francisco Chronicle
"The drama, heroism and pathos of this book would make a great movie that would star two Grant County men -- Lancaster's Dave Schreiner and Mark Hoskins."
--Jon Angeli, Grant County Herald-Independent

"Here's a book written with love and passion . . . What began as a sports book comes to resemble something akin to 'Band of Brothers,' by the late Stephen Ambrose (who played for the Badgers more than a decade later). . . This is an inspiring book, full of fun and pathos and heroism."
--Dave Wood, past vice-president of the National Book Critics Circle and former book review editor of the Minneapolis Star Tribune.

"Of all the traits of the World War II generation, perhaps the most impressive some 60 years later is the ability to make do, no matter the circumstances, and with little ceremony at that. That theme echoes throughout author Terry Frei's thoroughly researched and ardently objective book 'Third Down and a War to Go,' a chronicle of the 1942 Badgers' rapid transition from carefree college clashes against Notre Dame and Minnesota to battling Nazi Germany and imperial Japan. . . The first half of the book establishes the principal characters and the 'swell' atmosphere of the day, to borrow some period terminology, while detailing an 8-1-1 season in which the Badgers were deemed mythical national champions by the Helms Foundation. With the war heightening, the majority of the players were sent overseas to fight on the front lines, and Frei follows them relentlessly in the book's second half, focusing mainly on (Dave) Schreiner and (Mark) Hoskins. It's a logical choice, given their long friendship, their disparate assignments and Schreiner's status as an All-American . . . Either half of the book would have stood alone, but together they do supreme justice to a group all too soon gone, all too easily forgotten."
-- Adam Mertz, The Capital Times, Madison

"'Third Down and a War to Go' by Terry Frei is required reading for anyone with an interest in football or the Second World War. If you have an interest in both, then this book is a must."
-- The Iconoclast, Ourlads.com Scouting Service

"With its members serving on all fronts, the 1942 Wisconsin Badgers become a microcosm of the American war effort, representatives of a remarkable generation of self-sacrificing Americans. . . . Through Hoskins and Schreiner, the cocaptains of the 1942 team, the author makes his most important point. Frei portrays the young men who played football at the University of Wisconsin in 1942 and later fought for their country as truly 'All-American' boys. Having embraced the opportunity to serve his country and risk the ultimate sacrifice, Dave Schreiner -- as both a star athlete and all-American on the football field as well as a man of impeccable character off it -- was the definitive symbol of this. Written with the passion of an inspired student, Third Down and a War to Go is fulfilling and powerful. It adds athletic perspective to our understanding of the 'Greatest Generation' as well as a window into their rural, midwestern lives and their roots as athletes, students, and friends."
--Shane Butterfield, Michigan Historical Review
"...during World War II, as this book movingly reminds us, there was little separation between war and football. Most of the young men who played at Camp Randall during the fall of 1942 were headed for the service within a year, graduating seniors and underclassmen alike. All season long they knew what was coming, as did their coach, Harry Stuhldreher, one of the famed Four Horsemen of Notre Dame. Soon enough his players were in the Marines, Navy, and Army and fighting in all theaters of the world war. All of them were doing only what they were expected to do, what they believed they had to do, not thinking of themselves as especially brave and certainly not heroic. Yet it is impossible to read this book and not be awed by their actions.
"At the center of the story are the Touchdown Twins, Dave Schreiner and Mark (Had) Hoskins, unforgettable middle-American archetypes. They were childhood pals from Lancaster, a small town of 2,600 in southwestern Wisconsin, who lived out the dream of playing and starring together on the topflight Big Ten team up in Madison, culminating with the 1942 season. The interwoven stories of Had and Dave evoke hope and heartbreak.
"Hoskins was among a squadron of Wisconsin players who became pilots (including Terry Frei's dad, Jerry Frei, a backup guard). It was while flying a B-17 mission in Europe three weeks after D-Day in June 1944 that Had was shot down in Hungary near the German border.
"Schreiner joined the Marines and ended up leading a company into battle on Okinawa along with his Wisconsin teammate Bob Baumann. Among the many striking moments in Frei's narrative, I will never forget the scene of Schreiner sprinting out of a trap staged on the island by the Japanese and looking down at a corpse as he sped to safety. 'That looked like Bob,' he said, his eyes misting as he kept running. The account of Schreiner's own final hours and how he died represents Frei's deepest reporting and brought me to tears. It is impossible not to love Dave Schreiner, who was the best of the 1942 Badgers, better than the more famous Crazylegs, but more than that the best of humanity. His death was front page news in the Wisconsin newspapers that June of 1945, and it hurts still sixty-one years later.
"I've already mapped out one of the first trips I intend to make when I get back to Wisconsin. I'm going to drive the highways winding through the beautiful rolling hills southwest of Madison to pay my respects to Had Hoskins and Dave Schreiner, the Touchdown Twins, who are buried at Lancaster's Hillside Cemetery, side by side."
-- From the foreword by David Maraniss
"David Nathan Schreiner was far more distinguished off the field, a reality brought to life in the must-read book Third Down and a War to Go by Terry Frei."
-- Andy Baggot, Wisconsin State Journal
"This is a story of the highest degree, one that will leave the reader at various times laughing, mournful, amazed, and inspired. 'Third Down And A War To Go' is much more than just a football story. It is much more than just a war story. It is a story about us."
--Doug Warren, Badgernation.com

"While Schreiner's is among the most compelling, the stories of these young men and their efforts and the battlefield recall a different era. . . These Badgers did their job as teammates on the gridiron, and they headed off together to fight the Germans and Japanese, united in their purpose and with a grateful nation behind them."
--Scott Angus, editor, Janesville Gazette, son of team manager Robert Angus
"Great job. So good that I was brought to tears. So good that I almost need to visit the cemetery in Lancaster, Wis., and say 'thanks' to Dave Schreiner and Mark Hoskins."
--Randy Jesick, journalism professor, Indiana University of Pennsylvania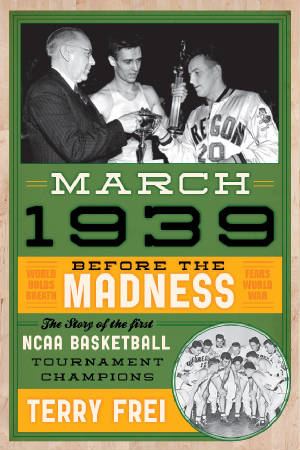 "Terry Frei has told an amazing, riveting story of how a group of basketball coaches started a loosely organized tournament that Oregon won that first year. Of course, it eventually would grow into an even that captures the nation's attention each March. As a young NCAA administrator, I was the tournament director in the 1960s -- and I have to say this taught me a lot I didn't know."
-- Chuck Neinas, president, Neinas Sports Services; former executive director, College Football Association; and former commissioner of Big Eight and Big 12 Conferences
"From humble beginnings, Oregon's 'Tall Firs' became the best basketball team in the country, helping to break the New York monopoly on an increasingly national game, and the NCAA tournament became an unstoppable financial juggernaut. Once again, Terry Frei has vividly captured a pivotal moment in history, for the world of college basketball and for a world about to go to war. The exploits on the court are enthralling not only for their drama, but held up for comparison against what the tournament has become today—as well as the danger lurking only a few years away."
-- Luke DeCock, sports columnist, Raleigh News & Observer
"Few writers are able to put sports into real-world context like Terry Frei. Reading March 1939 is like crossing ESPN with the History Channel. Frei brings the '39 Oregon Webfoots to life and takes us inside their victory in the first NCAA basketball tournament -- played as Germany and Japan marched the world (including a hesitant United States) to the brink of war."
-- Steve Luhm, Salt Lake Tribune
"Carefully crafted, fast-moving, and refreshing, Frei's study ... is quite memorable."
-- Publishers Weekly
"I was in my second season with the Browns in '77, but as a Colorado kid - and a long-time Broncos fan - I followed this Denver team and was both proud and envious when I attended both playoff games in Mile High Stadium. Terry Frei has taken me back, reminding me of many things I had forgotten or telling me things I didn't know, both about that team and my hometown's growing pains and identity crisis. I especially enjoyed his in-depth looks at the '77 Broncos' interaction and relationships during that landmark season, and I found that especially fascinating because I have gotten to know so many members of that team over the years. This is more than a football book: With all due respect to those who lived in Denver prior to '77, this is about a birth of a city."
-- Dave Logan, former U. of Colorado All-American, NFL player, voice of the Denver Broncos, and co-host of KOA Radio's The Ride H
ome
"No one knows more about Denver and its sports than Terry Frei does, and here in '77, he describes nothing less than the transformation of a city with a special focus on Denver's most magical team. To know why and how the Mile High City exists as it does today, this is essential history."
-- Sandy Clough, sports talk host, FM Sports Radio 104.3, The Fan
"The games, the politics and the culture with which Frei deals here unfolded 30 years ago, but they're brought to life again in this book with a clarity and a luster that makes the story of Denver and the Broncos seem as fresh as the upcoming football season. It's a rite-of-passage tale for a city and a team as they reach and pass the cusp of the 'Big Time' in tandem. Would one have happened without the other? Maybe. But Denver and its football team grew up hand-in-hand during this extraordinary season, making this history a must-read for fans of the NFL, of the 1970s and of the American West. You didn't have to live through it in Denver to appreciate this account of the flowering of a franchise and its love affair with a town, but this book takes those of us who did straight back to those thrilling days of yesteryear in unforgettable fashion. Frei has written Denver's version of `Ladies and Gentlemen, the Bronx is Burning.'"
-- Michael Knisley, Senior Deputy Editor, ESPN.com
"Frei is an engaging writer, and even though I generally don't care whether the Broncos win, lose, or tie, the book kept my interest all the way through."
-- Ed Quillen, Colorado Living Magazine
"Ahh the memories. And they all happened right here in the forgotten time zone. Those magical moments came back with a rush last week reading '77: Denver, The Broncos, and a Coming of Age. What a fantastic read...'77 is more than just a Bronco football memoir. It was a time when our Centennial State exploded on the national scene...Thanks to Terry Frei's wonderful work, we get to live that magical moment all over again."
-- Dick Maynard, Grand Junction Sentinel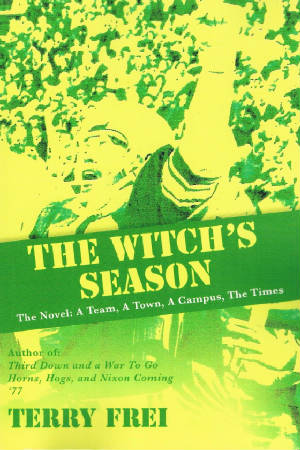 "Events carry the story forward swiftly, and that alone would make it a good read. But Frei has a larger point to make. It's during times of upheaval, when the very foundations of normalcy are being shaken, that personal courage, honor and the willingness to stand fast on principle matter most. All of the central characters in Frei's story will have to decide whether to make that stand, and if so, how to make it. Frei has written three nonfiction books, most notably Horns, Hogs, and Nixon Coming. This book proves he can write fiction too."
—Ken Goe, Portland Oregonian