June 12, 2023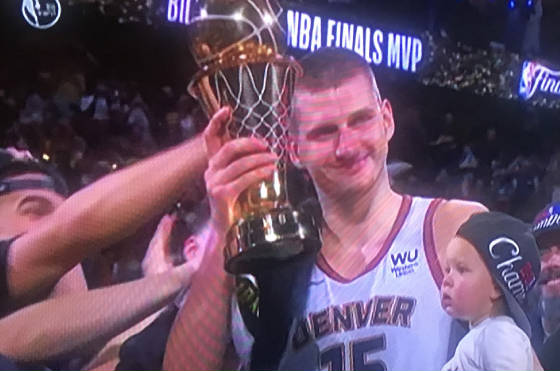 Nikola Jokic with the Finals MVP trophy
There is no "right"answer to this, so a heated argument would be artificial provocation.
But in the wake of the Nuggets' first-ever NBA title, it's interesting to ponder and make individual choices about the impact of Denver's seven championships.
Here are mine:
1, Broncos 1997 season, Super Bowl XXXII.
After progressing from bedraggled to a four-time Super Bowl loser, the Broncos finally broke through, beating the Packers in San Diego.
2, Nuggets 2023.
The championship wait was over -- after 47 years in the NBA and longer if you count the Rockets/Nuggets' days in the ABA.
3, Avalanche 1996.
This was tricky. In Denver's second chance in the NHL, the agonizing wait for fans to celebrate a Stanley Cup champonship was several months, not years. But it was Denver's first championship -- and there can be only one first.
4, Avalanche 2001.
The only time the Avs clinched and celebrated at home, beating New Jersey (the former Colorado Rockies) in Game 7 of the Final. And Joe Sakic made the Stanley Cup handoff to Ray Bourque. This was pre-salary cap and the Avs' best team, but they pulled it off with Peter Forsberg missing the final two rounds after his scary spleen injury.
5 Broncos 2015, Super Bowl 50.
Von Miller harrassing Cam Newton always will be memorable. And Peyton Manning going out in style.
6, Broncos 1998, Super Bowl XXXIII.
It's tough to repeat and this was John Elway's last game, too, so it's tempting to have this higher. But in terms of impact, the Broncos' consituency had been there and done that only a year earlier.
7, Avalanche 2022.
Denver had matured as a hockey market and again the Avalanche had two of the best players in the world -- this time, Nathan MacKinnon and Cale Makar. As the GM, Sakic led the rebuild after the historically awful 2016-17. But something has to be seventh.
ADDENDUM: Among the early reaction to this, several readers -- while acknowledging this was about Denver's championship teams -- brought up the 1977 Broncos and the 2007 Rockies. They pointed out that both teams galvanized Colorado, perhaps to an extent surpassing one or more of those seven championship teams.
That's an arguable point.
In fact, I actually wrote '77: Denver, the Broncos, and a Coming of Age because I believed that team was monumental in Denver's transformation from an outpost with an inferiority complex to a major-league market.
And Rocktober was darned near the damndest thing I've ever seen in sports.
The Broncos lost Super Bowl XII to the Cowboys, but that was an an anticlimax after a kismet season and the AFC championship game victory over the Raiders in Denver.
The Rockies' World Series loss to the Red Sox? After the astounding Rocktober run, that was anticlimactic, too. It all was so memorable because it was so unexpected.
So I'll continue to join in any salute to those near-championship teams. But they don't make that championship list.