April 11, 2023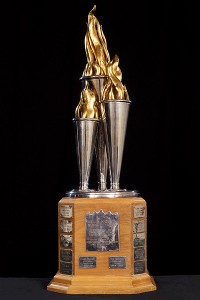 Bill Masterton Memorial Trophy
Veteran winger Andrew Cogliano is the Colorado chapter of the Professional Hockey Writers Association's nominee for the Bill Masterton Memorial Trophy. The award goes to the PHWA's choice as the NHL player who best exemplifies perseverance, sportsmanship and dedication to the game.
(I'm a member and formerly was a long-time PHWA vice president. For the record, while Cogliano is a worthy nominee, my choice would have been Erik Johnson.)
So who was Bill Masterton? It's usually pointed out that the Winnipeg native had played for the Minnesota North Stars, but only rarely that he also had been a University of Denver Pioneer. In fact, he was the star of the DU teams that won back-to-back NCAA titles in 1960 and '61.
In the early hours of January 15, 1968, the North Stars center died at a suburban Minneapolis hospital of a severe brain injury after he was checked and fell backwards, and his head hit the ice in a January 13 game against the Oakland Seals.
He was only 29.
After his DU career, he played in the Canadiens' system. He then retired from pro hockey came back to DU to get his master's degree in finance. While living in Minneapolis and working for Honeywell as a contracts administrator, he regained his amateur status to play several seasons of senior hockey and — as a naturalized U.S. citizen — also serve as the captain of the U.S. national team. He was the first player the North Stars signed.
Looking back at the contemporary newspaper accounts of his injury and death, it's striking how respected he was, and how he was one of the prime examples of terrific players who couldn't break through in the six-team era and got a chance after the expansion from six to 12 teams for 1967-68.
"Billy was fulfilling a life-long dream," North Stars general manager Wren Blair said that week. "He did not need the National Hockey League. It was just something he wanted to do."
In fact, Masterton wore a helmet in his collegiate career at DU, because they were mandatory in NCAA hockey, then went without as a pro.
Shockingly, Masterton's family was in line to get only $50,000 from the NHL's life insurance program, $10,000 from the league's accident insurance, $25,000 from Minnesota Workman's Compensation and roughly $15,000 from the remainder of his contract, which the North Stars said they would honor.
The NHL's benefit of $10,000 in accident insurance was scheduled to be increased to a $100,000 double indemnity payment on February 1 — two weeks after his death.
"It is sad to think that this wasn't in effect the day before yesterday," Campbell said. "But we've done this as expeditiously as possible."
Campbell shot down the idea that the league could play a benefit game to raise money for the family.
"I think a benefit game is asking the public to pay for a normal hazard in our business," Campbell, a true dinosaur, said. "It is our own responsibility to pay indemnification whenever it is necessary. You can't compensate for a man's death no matter what you do. This is just a built-in hazard of our business."
Pittsburgh Penguins GM Jack Riley pointed out an irony at the All-Star game festivities.
"The first All-Star game in 1934 in Toronto was held for a man, Ace Bailey, who almost lost his life because of a severe head injury," Riley said
Campbell wasn't swayed by that.
Later, others involved with the North Stars speculated and cited anecdotal evidence he had had brain hemorrhage issues before that fateful game, but had played through them. That's what you did in those days. And not just in hockey. The Toronto Star first laid out those details in 2011.
After that 1967-68 season, Claude Provost of the Canadiens was named the first Masterton Memorial Trophy winner.
One Colorado player has won the Masterton.
(Final Jeopardy theme.)
Give up?
It was Colorado Rockies goaltender Glenn "Chico" Resch in 1981-82, the team's final season in Denver before its sale and move to New Jersey.Several winners played for the Avalanche or Rockies, but were with other teams when honored. That list includes Craig Anderson, Ian Laperriere, Jose Theodore, Teemu Selanne and Lanny McDonald.
Former Avalanche coach Tony Granato was the award's winner when playing for the Sharks. He had come back from undergoing brain surgery after suffering a frightening head injury when with the Kings in a 1986 game against Hartford.
DU's MVP award also is named after Masterton.