May 5, 2023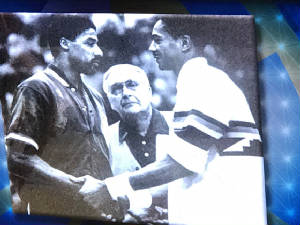 (UPDATED SATURDAY MORNING FOLLOWING THE SCRATCH OF FORTE)
When I moved to the Nuggets beat early in my journalism career, in a time when that meant traveling with the team on commercial flights, legendary trainer Bob "Chopper" Travaglini told me two things. This wasn't a cold introduction, since I knew him when I covered the NHL Rockies. But I would get to know him a lot better.
One: "Piss me off, kid, and your bag's in Taiwan."
Two: He mentioned he occasionally would let me know in advance of a trip where he thought it might be a good idea for me to reserve rental cars.
It usually had nothing to do with getting to the hotels, arenas and airports.
That was so I could take Chopper to and from horse tracks on off nights, from coast to coast.
He knew I didn't mind.
I already had covered the thoroughbreds some at Littleton's sprawling Centennial Race Track, which was between Federal and Santa Fe at Belleview, in an area of major commercial development now.
But it was enjoyable to go to other tracks and marvel that the same wise guys seemed to be at every track. They were the guys arguing with their buddies in the mutuel lines, bemoaning the "woulda," "coulda" and "shouldas" and grousing that the licenses of the jockeys on the horses that let them down should be revoked before the next race. They also seemed to be at the other tracks I visited in my later newspaper travels after leaving the Nuggets beat, and in occasional junkets to tracks on vacation — most notably Santa Anita Park, Hollywood Park, Arlington Park, Belmont Park, Pimlico and Bay Meadows. I loved wandering around to the grandstand, clubhouse, and paddock. Often, I'd hang at the rail to watch the race.
Later, I made it a habit to venture to Centennial's replacement, Arapahoe Park in Aurora, mainly to find and tell stories of the horse-racing life.
I don't close my eyes and ears to documented maltreatment of thoroughbreds at tracks major and minor, including the use of performance-enhancing substances. Still, I believe it's at least more zealously policed than it used to be. Call me naive. More on this, and specifically about Churchill Downs, later.
But this is the first Saturday in May. That means only one thing …
It's Derby Day.
The Kentucky Derby.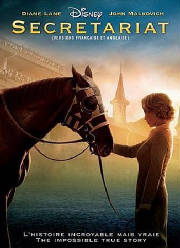 I've never been to Louisville for a Derby. Yes, it's on the list, one of the few major events I haven't been able to check off.
The Derby is one of those phenomena that defies rational explanation, other than the power of a bandwagon effect. The two minutes between the opening of the starting gates and the winner crossing the finish line don't look much different than what takes place in thousands of races annually from coast to coast, at tracks both major and minor.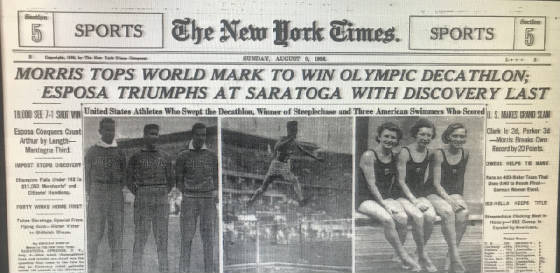 A routine day at Saratoga shared the top billing with the 1936 Olympics in the New York Times. The decathlon champion in the headline was Glenn Morris, from Simla and Colorado A&M / State and the protagonist in my book Olympic Affair.
Yet it's a short-lived flashback to when horse racing and boxing coverage often outstripped the attention paid to, say, the NFL and the Olympics in the nation's major sports sections.
It's the Derby, darn it.
Scheduled post time is 4:57 p.m. Mountain. NBC and Peacock's coverage of the racing program begins at 10 a.m., and the official Derby coverage show starts at 12: 30 and runs until 5:30. The buildup to the race itself will rival Super Bowl coverage, with portraits of owners, trainers, jockeys, and — yes — the horses.
By the time the Churchill Downs bugler plays the call to the post and the horses come on the track, it can almost seem as if you're watching a "Saturday Night Live" parody. But you're willingly going along with the skit, and it continues through the race and in the immediate aftermath as the winner's chances of going on to also win the Preakness and Belmont and the Triple Crown already are broken down.
There's still more to thoroughbred racing, much more, than the Triple Crown races and the Breeders' Cup races in November.
That includes at Arapahoe Park, now known as Bally's Arapahoe Park, which has carved out a nice little niche as Colorado's only track of note, running a mixed thoroughbred/quarter horse meeting from June 17 to September 11 this year. Live racing is pretty much a loss leader for the track's ownership, which also operates or licenses Off Track Betting satellite wagering facilities taking bets on other tracks races around the country. The state requires live racing at Arapahoe Park as part of the tradeoff.
Over the years, I've enjoyed writing about the track's Runyonesque characters, whether jockeys or trainers. The state's horse racing community of breeders and owners also is full of intriguing personalities.
None of them were connected to a Kentucky Derby winner.
Not yet.
They still can dream, though. Dreams are the only sure thing at the track — whether Churchill Downs or Arapahoe Park or anywhere else.
Official wagering in the Churchill Downs pool began Friday and as expected, the favorite as of Saturday morning was Forte, at 4-1. He had won six of his seven lifetime starts. His trainer is Todd Pletcher, whose previous Derby winners were Super Saver (2010) and Always Dreaming (2017). But in a shocking development, Forte was scratched Saturday morning, leaving 18 in the field. Forte was the fifth scratch.
That stunner comes in a week in which five horses have died at Churchill Downs and two of them were trained by Saffie Joseph Jr.
Joseph also trained a Derby entry, Lord Miles, and that horse was scratched because Joseph Thursday was suspended and horses in his stable were barred from running in Kentucky "until further notice." (Details.)
My pick?
After a run through the Daily Racing Form earlier in the week, my pick was Confidence Game. He was listed at 20-1 on the morning line at the time. Official betting in the Churchill Downs pool began Friday. After Forte's scratch Saturday, Confidnce Game was 16-1. He has won three of his seven career starts. He's coming off a win in the Grade 2 Rebel Stakes at Oaklawn Park. (That was 10 weeks ago, though, and that's considered an unorthodox layoff.) He has earned $785, 525. His trainer is Keith Desormeaux and his jockey is James Graham.
Part of the rationale for that pick was -- and is -- staying away from the favorites. Part of it is hunch. And part of it is knowing that in what remains a large field, darned near anything can happen.
Here's a USA Today story that includes a picture of Confidence Game.
The sport is far from perfect. Always has been far from perfect. But for one day, it rules.
NOTE: Mage was the upset winner at 15-1. Confdence Game was 10th. You win some, you lose some.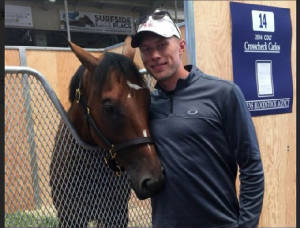 Avalanche defenseman Erik Johnson dabbles with partners in racehorse ownership. Here, he's with Crosscheck Carlos at Del Mar. He has named other horses after Avalanche teammates. My 2016 story.
A sampling of my Colorado horse-racing stories:
Colorado's Whittham family makes the starting gate at Kentucky Derby
Ellite jockey Tracy Hebert's comeback trail makes stop at Arapahoe Park
Jonathan Horowitz calls the races
Jockey Kelsi Purcell puts horrible fall in rear-view mirror
First a trainer at 16, Temple Rushton still a Colorado stalwart
Cantankerous Willard Burbach is state's top breeder-trainer
Former rodeo star Sean Davis in standout second career as trainer
Linda Wood of Menoken Farms doesnt let go of her babies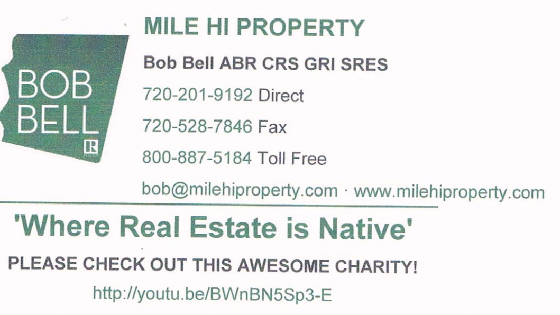 Bob Bell's Mile Hi Property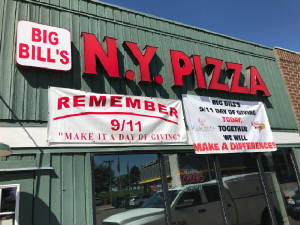 8243 S. Holly Street
Centennial CO 80122
(303) 741-9245
JoAnn B. Ficke Cancer Foundation