Dan's previous stop...
Belmont Abbey College: Bill in school's Hall of Fame, Dan successful hoops coach
July 20, 2019
Denver's own Dan Ficke
named head hoops coach
at Belmont Abbey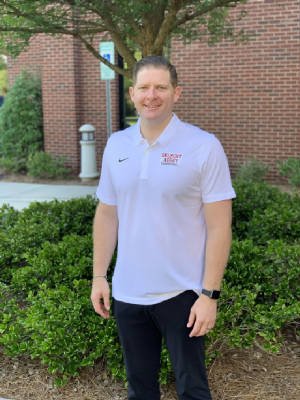 Dan Ficke at Belmont Abbey
The Ficke family has gone full circle at Belmont Abbey College, just west of Charlotte.
The Crusaders -- a Division II program playing in the Conference Carolinas -- named Denver's own Dan Ficke, 32, their new head men's basketball coach, succeeding Billy Taylor, who left to become an assistant coach at Iowa.
Dan's father, Bill Ficke, proprietor of Big Bill's New York Pizza in Centennial, is an iconic figure in the Colorado sports community -- and beyond. Bill knows everyone and everyone knows Bill. And it's not only because he's a former Nuggets assistant coach. His 9/11 "Day of Giving" at Big Bill's, with free food for voluntary contribiutions to the JoAnn B. Ficke Cancer Foundation, annually raises six figures for Colorado cancer organizations and his heart is huge.
In 2007, JoAnn and Bill's son, Dan, then playing for Loyola (Maryland), delivered his mom's eulogy and there wasn't a dry eye in the church.
We felt, and still feel, as if we have watched Dan grow up, including at Regis Jesuit and Loyola and beyond.
So now we have all the more reason to be proud.
Dan's hiring at Belmont Abbey hire has been in the loop for several weeks, but Dan arrived at Belmont midweek and the official announcement came Thursday.
Before his collegiate career at Loyola, Dan played at Aurora's Regis Jesuit.
Most recently, he has been an assistant for four seasons at the University of Denver, under Joe Scott and Rodney Billups.
Prior to DU, Dan worked in the programs at Wake Forest and Loyola.
Big Bill not only played at Belmont Abbey, he played there under legendary coach Al McGuire, whose first head coaching
job was there from 1957-64. Bill already was ticketed for fall induction into the school's Hall of Fame.
So this is a Ficke family return to the school.
"It's hard to put into words how incredibly blessed I feel to have that opportunity," Dan told me from Belmont on Saturday.
"My dad is probably, outside of my wife, my best friend and he's definitely my role model. I've walked in his very large
footsteps for a very long time. So to be able to go back there to the school where he played and has such great memories of,
it means everything for my first head coaching position to be at the place where he played college basketball. It seems like
a divine intervention to be there."
Bill was ecstatic.
"Next to the day I got married to my wonderful wife, and then when my son was born, and then when I saw him become a
father, I'd have to say it's all right up there," Bill told me. "Whoever thought 57 years later, there'd be a Ficke with the basketball team at Belmont Abbey? . . . The best thing that happened to Dan was his first job was with Jeff Bzdelik at Wake Forest, and Jeff laid the foundation for his work ethic and knowledge of basketball. He really worked with Dan and helped him grow."
Dan also is the president of the JoAnn B. Ficke Cancer Foundation. The Day of Giving, a salute of 9/11 victims and first responders, predates JoAnn's 2007 death and subsequent formation of the foundation, and has raised $1.2 million overall.
Dan and his wife, Jordan, have 20-month-old twins, William Winslow and Sloane Smith.
Belmont Abbey athletic director Stephen Miss announced Dan's hiring. Dan had interviewed for the job when Taylor was hired in 2016, so he was in the Crusaders' memory bank when the job opened again.
"During what was a thorough and comprehensive national search, Dan Ficke emerged as the right individual at this time to lead Belmont Abbey College's men's basketball program," Miss said. "In addition to having benefited from playing for and working with many exceptional coaches, Coach Ficke articulated repeatedly during the interview process an appreciation of and conviction in our mission that positions him well to form and develop our students as they endeavor individually and
collectively to realize their full potential: body, mind, and soul."
The fact that Dan played both high school and college basketball at Catholic schools was a plus for him in the selection process. Dan also can benefit from Bill's and his own connections in the coaching fraternity, and in the recruiting networks. Plus, some of Bill's former teammates are supporters of the program.
"Back in December of January, I can't remember when it was, the president of the university came out and told me they were going to put me in the Belmont Abbey Hall of Fame," Bill said. "That's going to happen on October 12. So I said, 'Great 2019's my year.'"
He laughed and added, "Now I've been upstaged by my son."
When Dan was playing at Loyola, his teammates labeled frequent visitor Bill as "Thornton Mellon,'" after the Rodney Dangerfield character in "Back to School." Ever since, I've pictured Bill on the Tonight Show couch, tagging on his tie and lamenting, "I tell 'ya, Johnny, I don't get no respect. No respect at all."
On Saturday, Bill joked, "I'm going back to school," then added: "No, I figure about once a month I'll go out and see him and the grandkids. During the season, I'll go when there's two or three games in close proximity and see him coach."
'
UPDATE: Bill indeed was inducted into the Belmont Abbey College Hall of Fame on October 12. Here are pictures from that occasion.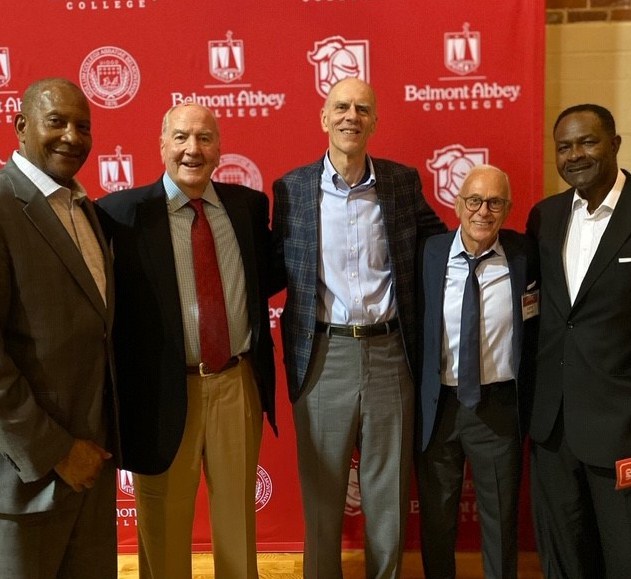 Alex English, Big Bill, Bobby Jones, Larry Brown, T.R. Dunn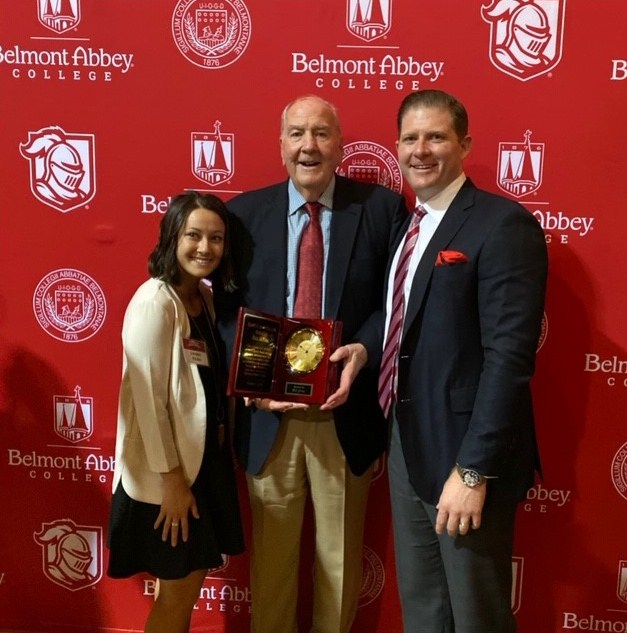 Jordan Ficke, Big Bill, Dan Ficke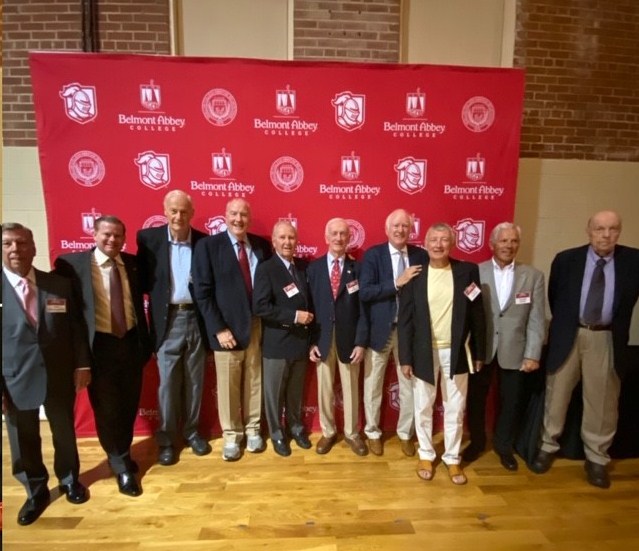 Big Bill with his Belmont Abbey teammates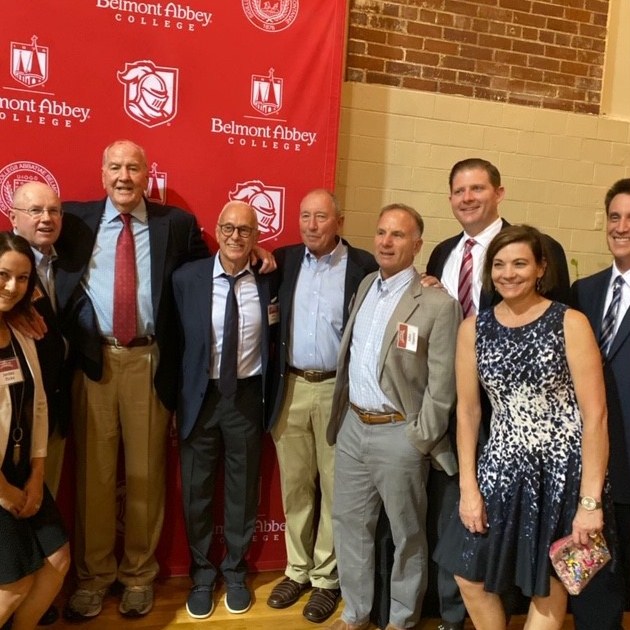 Big Bill with Dan and some of the friends to traveled to Belmont to see his induction. Among them are Denver high school coaching legend Bob Caton and Larry Brown.