June 6, 2023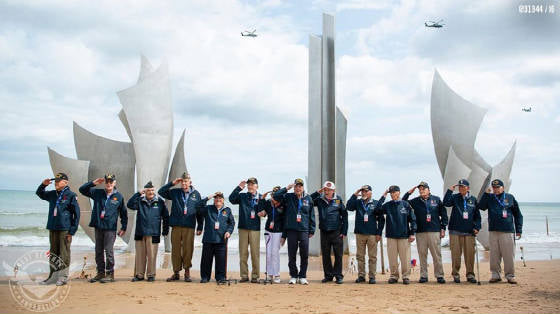 Leila Morrison, at center in white pants, with other Normandy veterans on Omaha Beach in 2019.
On the 79th anniversary of D-Day, I'm linking a couple of my pieces connected to the Normandy landings.
While covering the 2006 Stanley Cup Final matching Carolina and Edmonton, I was struck that the D-Day anniversary would fall on an off day and that one of its underplayed aspects -- at least in the United States -- was the involvement of Canadian forces in the landings. I decided to try to find a D-Day veteran from each of the Cup competing markets for my ESPN.com column. I tracked down John C. Clark, a retired farmer who lived near Raleigh, and Wally Strang, a retired radio newsman from Edmonton. I also spoke with other experts on the Canadian involvement. The reported column was one of the best I've ever done. Yes, a "hockey" column about D-Day. Here it is.
Also, here's my commentary on Leila Morrison, then of Windsor, Colorado, who as a World War II nurse also came ashore at Omaha Beach -- yes, behind the troops -- and moved with the lines and an Evac Hospital across Europe through the rest of the war. War is hell and she saw it. She attended the 75th-year commemoration at Normandy in 2019. She passed away in 2022.