July 28, 2023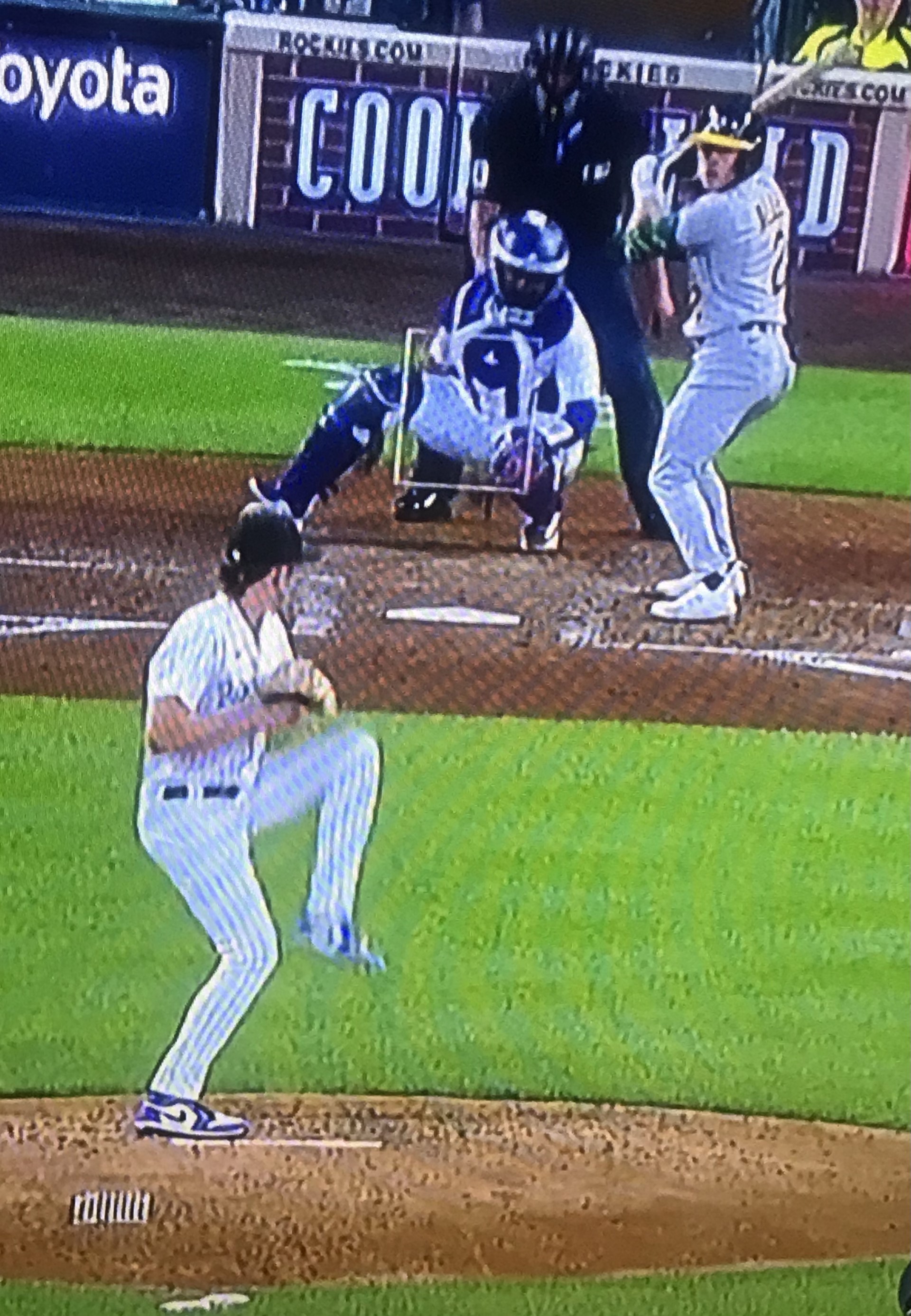 The A's beat the Rockies 8-5 in the series opener Friday.
The Oakland Athletics are in Denver this weekend for a three-game series against the Rockies. And, yes, it caused me to ponder what the state of Major League Baseball in Denver might be in 2023 if the proposed sale of the A's to oilman Marvin Davis and a move to Denver hadn't fallen through in 1978. Instead, 15 years later, the Rockies took the field as an expansion franchise. And the rest is a mostly frustrating history.
In late November 1977, as the Broncos and regional fandom were enjoying the breakthrough season I later chronicled in '77: Denver, the Broncos and Coming of Age, baseball suddenly competed for the headlines. I was in my first year at the Denver Post after graduating from CU. I was covering the Colorado Rockies -- the NHL Colorado Rockies.
Cantankerous Athletics owner Charlie Finley revealed in Chicago on the day after Thanksgiving that he had met the previous week with an, ahem, unnamed potential buyer of his American League team who would want to move it to Denver if the deal went through.
Finley said that California Angels President Red Patterson had helped arrange the meeting between the prospective buyer, a Patterson friend who lived in Southern California, and Finley. However, the plot thickened when Frank Haraway of the Denver Post reached Patterson, who was irate that Finley had disclosed the meeting. Patterson claimed it was only preliminary in nature -- leaving us to infer that Ol' Charlie was playing games again, perhaps trying to gain bargaining leverage with another potential buyer, Robert Moody, who hoped to move the franchise to New Orleans. (Aside: Frank Haraway, who mainly covered baseball and CU sports for the Post, was inspirational for young writers, including me. He fought back from a childhood case of tuberculosis and used metal crutches, including on the job, for the rest of his life.)
Even Patterson pointed out that the Athletics had a 10-year lease at the Oakland Coliseum that might prove difficult to break.
Within a few days, the news broke that the potential buyer was Davis, the Denver oilman and movie studio magnate who indeed also had a home in Southern California. Davis had a record of getting what he wanted. After a long tradition of minor-league baseball, Colorado fans started to plan on having American League -- Big League! -- games in Mile High Stadium in the 1978 season. A new baseball-only stadium at that point wasn't part of the conversation. Revamped piece by piece for football, Mile High Stadium/Bears Stadium originally was -- and still could be -- a "ballpark," anyway.
In early December, the latest was that a rival group inquiring into purchasing the Athletics included some heavy hitters -- Bill Cosby, Redd Fox, Curtis Mayfield, George Foreman and Don King. The competition, from that group and also from Moody, turned out to be short-lived, though.
Then Davis revealed that he had made tentative inquiries about a lease for the team at Mile High Stadium and didn't like what he had heard. Mayor Bill McNichols believed it was all posturing. "I don't think that the lease would hold it up," he told Haraway. "But if it does, it will have to be hung up."
On December 10, that hurdle seemed to be cleared. Davis and Finley met with McNichols, and came away with an agreement on lease terms if the team moved to Denver. (It was unclear why Finley was present.) Haraway's story in the Post indicated that MLB officials believed the Oakland-Alameda County Coliseum Authority would let the A's (most likely reasonably buy their way) out of the Coliseum lease if the San Francisco Giants agreed to play about one-third of their games in Oakland. That didn't seem much of a problem, given the antipathy many baseball fans had for wind-swept Candlestick Park.
The party was on and champagne corks popped four days later, on December 14.
At a news conference at his downtown Denver office, Davis announced he had closed a deal to buy the A's from Finley and bring them to Denver. The price was said to be $12 million, equivalent to $60 million in 2023 dollars after accounting for inflation. (Kris Bryant's 2023 salary is $28 million.) Davis said that in the final conversation, he and Finley "hassled a little bit -- about 10 minutes back and forth. I said, 'What will it take?' He said, 'If you give me this price, you've got a deal.' And I said, 'Deal.'''
It was going to be a challenge to fill the seats, Davis knew, especially because the A's were coming off a 63-win season and had just unloaded star pitcher Vida Blue. "In life you get stereotyped in business," Davis said. "You do everything motivated for business. Sometimes you want to do something for fun when you're 52 years old."
Colorado fans whimsically began calling the baseball team the Orange Sox.
But, wait, there were snags. Davis declared that if the Oakland lease issue wasn't cleared up within 30 days, he might have to give up getting the sale done in time for the 1978 season, meaning he would back off. Ominously, in the legal wrangling with Oakland, Finley agreed that he couldn't sell the team without the Coliseum's approval. It appeared that negotiations were continuing and that it would come down to how much Finley was willing to pay to break the lease and to keep the Coliseum folks from fighting the sale and move. Perhaps he was hoping Davis would jump in and pick up those expenses, too. It was becoming a circus.
In mid-January, as the Broncos were in New Orleans preparing to play the Cowboys in Super Bowl XXII, Finley announced he had made his "final" offer to the Coliseum. Davis told Frank Haraway it was "a hell of an offer" -- around $2 million -- and that it included an MLB-supported stipulation that the Giants would play 33 games in Oakland each season. "If they don't take it," Davis told Haraway, "I don't know what the hell he's going to do."
Oakland didn't budge.
The Athletics stayed put, in the Coliseum. Forty-five years later, the Coliseum is the worst stadium in baseball, Oakland attendance is sparse and the Athletics -- whose lease this time runs through 2024 -- are destined to move to Las Vegas if all the hurdles are cleared to build a proposed new stadium on the old Tropicana property.
The 1978 sale derailment prevented Denver from becoming the franchise's fourth home, after Philadelphia, Kansas City and Oakland. Following the near-miss, the Colorado quest to break into the big leagues turned to campaigning -- with commissions and other civic groups leading the way -- to land an MLB expansion franchise for Denver. It worked. But Denver lived with Class AAA ball for 15 more seasons -- 15 seasons when the Athletics could have been playing here. During that period, the A's won the 1989 World Series, the Earthquake-marred battle of the Bay against the Giants. There's no way of knowing how good a Davis ownership and successors, or its likely overhauled management after taking over, would have been here. But it's intriguing. (Davis died at age 79, in 2004, after about 10 years of failing health. At various points, Davis attempted to land an NFL expansion franchise for Los Angeles and staged failed takeover bids for the Broncos.)
The Colorado Rockies joined the National League in 1993 and, after two years in Mile High Stadium, moved into the new Coors Field in in 1995.
I bet you knew that.

(Material adapted from '77: Denver, the Broncos, and a Coming of Age.)