As he did in '77 and earlier books, Frei combines reporting, historical research, memoir, and opinion, taking readers behind the scenes of some very high-profile events and settings as he displays his abilities to observe, to explore, and, perhaps most important, to listen.
As the son of a longtime major college and National Football
League coach, Frei has a unique perspective of an observer of sports from several angles. Here, he opens with a blunt and unsparing assessment of the state of contemporary sports journalism that might cause some in his business to wince, but many to nod in emphatic agreement. After establishing the context, Frei discusses his experiences and the diverse characters he has encountered since he was a green sportswriter during that initial Broncos season of glory in 1977. From football, those figures include 2010 Hall of
Fame inductees Jerry Rice and Emmitt Smith; the father-son combination of Jack and John Elway; and renowned college coaches Lou Holtz and Nick Saban. In a section that follows up on his
Third Down and a War to Go
, Frei tells the story of two additional World War II-era college football teams whose players met on the field, then went off to serve -- many of them in combat, many of them heroically, and one of them as a trailblazing member of the Tuskegee Airmen.
Frei's remembrance of being caught in the 1989 World
Series Earthquake, and especially the characters he encountered in San Francisco in the ensuing days of chaos, will touch readers. His visits to minor-league baseball outposts -- one,a hardscrabble mining town, the other the childhood home of one of American's renowned novelists -- also echo with a love for the sport.
He also is the rare writer who has extensively covered both the NBA and NHL, and he includes his reflections and experiences while chronicling the superstars and even the controversial incidents in those leagues. A frequent visitor to world title fights, Frei takes readers into the ring with such boxing legends as Muhammad Ali, Larry Holmes, Mike Tyson, Ray Leonard, Marvin Hagler, and Thomas Hearns. And he goes behind the scenes of several Olympic Games, where he encountered gold medallists, recreational-caliber skiers just hoping to stay on the course, and even a Catalonian woman who tended to her beloved stray cats in a famous park as the marathon passed her by.
Ultimately, Playing Piano in a Brothel is an ode to sports -- and what they still can be.


"Frei is a columnist with the Denver Post, covering the National Hockey League and college football. Interestingly, his father was also involved in sports, as the head football coach at the University of Oregon in the late 1960s and later as an assistant in the NFL. The title refers to his mother's preferred vocation for him—anything but a sportswriter! He begins with some impassioned thoughts on the state of sports journalism today and its slavish adherence to short, obvious, and noninformative articles with no depth. He then presents a series of articles that are long, relatively subtle, and quite informative. Subjects include the far-reaching effect Super Bowl–winning Denver Bronco quarterback John Elway had on Colorado sports; a very interesting look at the world of the NFL offensive lineman; and a look back at the Denver Nuggets of the mid-1980s and their personality-plus coach, Doug Moe. Note: the book is not a collection of columns. These are original pieces assembled from memories of a lifetime in sports. Here's hoping Mama Frei is among the readers. She'll have to revise her opinion of of sports journalists."
-- Wes Lukowsky, Booklist
"For every story, there's a story behind the story, and Frei's book captures hundreds of them. Frei provides never-before-read tales of legendary athletes, monumental events and games behind the games, as well as his own opinion of newspaper sports journalism as a whole—and its future . . . A must-read for every sports fan."
—Doug Ottewill, Mile High Sports Magazine


PART ONE: PLAYING PIANO IN A BROTHEL
A Pair of Twos
We're Supposed to Be Better Than That
PART TWO: PREDOMINANTLY ORANGE
The Elway Effect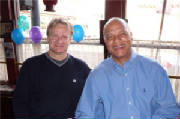 Haven Moses: A Man of Courage
"O" Linemen: Breaking the Silence
PART THREE: COLORADO CHARACTER
Chopper, the Big Stiff, and the Nuggets
Jack Dempsey and Damon Runyon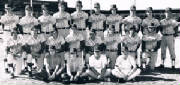 Dave Logan: A Man for All Seasons
Fourth Down and a War to Go
Frank Shorter: Forty-eight Seconds before the Roar
PART FOUR: DIAMONDS
The Honeymooners Meet the Boys of Summer
Baseball in the Bushes
PART FIVE: DANCING HALL OF FAMERS
Jerry Rice: Mississippi Yearning
Emmitt Smith and Thurman Thomas: Hall of Fame Friendship
Michael Irvin: Getting Open
PART SIX: COLLEGE FOOTBALL
"There Is a Place Called Nebraska . . . ."
The Team You Love . . . or Love to Hate: Notre Dame
Nick Saban before he was Nick Saban
PART SEVEN: PUCKS
Rocky . . . Really Rocky . . . Hockey
Avalanche Glory Days: Sakic, Forsberg, Roy and the Stanley Cup
Steve Moore and Chris Drury
PART EIGHT: BOXING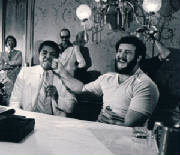 Muhammad Ali and the Heavyweights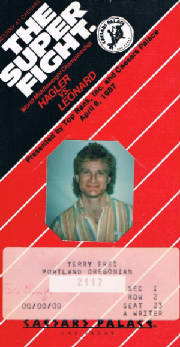 PART NINE: OLYMPIC FLAMES
San Marino, My San Marino
An Opening Stroll
A French Village and a Pin Trader
The Dream Team and the Marathon Route