October 27, 2017
CSU Fetes Glenn Morris
With Olympic Oak Tree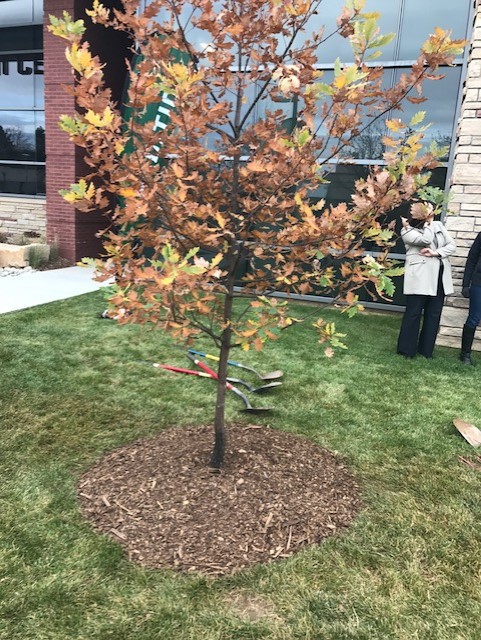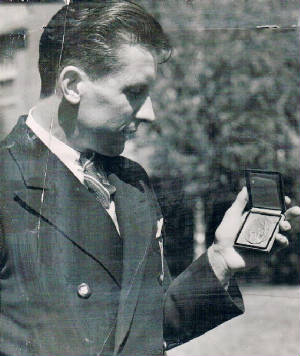 FORT COLLINS -- This was the Glenn Morris Oak Tree Sequel.
On Friday afternoon, outside the Iris and Michael Smith Alumni Center
at the northwest corner of the new stadium, Colorado State planted an
oak tree to honor Morris, the 1936 Olympic decathlon champion from
tiny Simla, 49 miles northeast of Colorado Springs.
Before winning gold at Berlin and becoming briefly one of the most
famous athletes in the world, Morris was a football and track star,
plus the student body president, at what then was known as Colorado
A&M.
The main speaker during the ceremony Friday was CSU's Tony Phifer,
a former Coloradoan sports writer whose self-described "obsession" to
track down the oak tree Morris was presented in Berlin -- to go with the
gold medal -- started a chain of events that, indirectly, led to me writing
Olympic Affair. It's why I dedicated the book to Phifer and Morris Ververs,
the long-time educator in Simla who in essence was the trustee of Morris'
legacy.
Here's the beginning of that Afterword (touched up to avoid repetition):
In May 2010, I heard from former newspaperman Tony Phifer, a senior writer for Colorado State
University's Division of External Relations. Tony and I serve together on the selection committee
for the Colorado Sports Hall of Fame. Tony suggested that an upcoming ceremony on the CSU
campus in Fort Collins might be in my wheelhouse for a Denver Post story. CSU was going to
plant an oak-tree seedling to salute Glenn Morris.
Why an oak tree?
Tony explained that the German Organizing Committee officials handed out seedlings for the gold
medalists to take home and plant, preferably in their hometowns or at their universities. As the trees
grew, they would be reminders of the Olympic spirit. Less trumpeted was that they also could be
considered links to mythology's Thor and his "Donar Oak." Tony found a picture that proved Morris
presented his tree to CSU president Charles Lory in September 1936. By the 21st century, though,
nobody seemed to know where it had been planted, if it had been planted at all, or what happened to
it. Tony wrote stories for university publications on the mystery, and he hooked up with Don Holst,
the 1968 Olympic men's decathlon coach and an Olympic historian who lives in Chadron, Nebraska.
Holst sought to trace the few known surviving Berlin trees, produce second- and third-generation
oak seedlings, then plant them at various sites tried to the 1936 Olympians around the country.
In May 2010, it was CSU's turn -- in honor of Morris.
In advance of that 2010 ceremony, I visited Simla, meeting with Ververs and
even holding Morris' gold medal, and did considerable additional research on
Morris. I pre-wrote an extensive feature on Morris that I would touch up while
attending the ceremony for publication in The Denver Post. What I had came
across was fascinating, including that controversial German filmmaker Leni
Riefenstahl and Morris had an affair tied to the making of her acclaimed
documentary, Olympia. Morris told others about it, including his brother
and A&M booster Sparks Alford, and Riefenstahl wrote about it in her 1987
autobiography. A half-century after the affair, she stunningly admitted that
she, a manipulative woman accustomed to getting her way, was crushed
when Morris declined to remain in Germany, or return soon, to be with her
and act in German films. Instead, he soon married his college girlfriend and
embarked on a brief, unsuccessful stint in Hollywood, including portraying
Tarzan in the dreadul Tarzan's Revenge.
After doing that story, I realized I had just scratched the surface, and
plowed on in the research and writing -- and two years later, Olympic
Affair was published.

Phifer also was instrumental in the CSU decision to rename the field
house on the east side of the campus after Morris.
It seemed only right to find a way to honor Morris at the new stadium
and that's what Friday was all about. The tree planted near the field
house seven years ago is not particularly robust, but it turned out that
Tim Buchanan, the city of Fort Collins' forester, also had obtained two
additional oak saplings of the same lineage from Holst seven years ago,
and one had grown into a healthy, if still developing tree. Buchanan
donated it to CSU, and the decision was made to plant it at the stadium
in Morris' honor.
Before the ceremonial first shovels and then the replanting of the tree,
Phifer outlined the Morris story in his turn at the microphone, including
the Olympic champion's stay at A&M/CSU. Then he brought up the
oak-tree saplings, pointing out that Morris had remained in Europe
after the Games competing in other meets at the behest of the USOC.
(He also returned to Berlin for supplemental Olympia filming with
Riefenstahl.)
"Then he was back on the ship for another week, and so he carried this
seedling with him for all this time, and I started to think, 'Where would
it be at CSU and where would they have planted it?'" Phifer said. "I was
still at the Coloradoan at the time, writing for the newspaper, so I started
looking for the tree around the Oval, which was really the only part of
campus that existed back then. I couldn't find anything that resembled
a tree that would be the right size, the right type. I looked at every tree
over there ... Then I started doing some research in other ways. I went
to the Morgan Library to start looking for old copies of the Collegian and
I was really getting frustrated because I couldn't find any information
about this tree."
Then came the discovery.
"Finally, this one day I was just flipping through these pages and I really
wasn't paying attention and, voila ... "
He then pointed at an easel to his right, where the picture of Morris
presenting the sapling to President Lory was displayed.
"... that photo appeared on the front page of the Collegian. And I said,
'Oh, my God, the oak tree made it to Fort Collins, made it to campus.'
That me even more crazy about this story. In fact, my wife (Kathy), who
is right over here, one day looked at me and said, 'You know what you
are? You're obsessed. You're obsessed with this story. You're obsessed
with this oak tree,' and I really kind of was. Then I wrote a story and
that story was seen by the foresters at CSU and also Tim Buchanan, the
forester for the City of Fort Collins. They agree with me, there was no
Olympic oak on this campus. That became more and more of a mystery.
What happened to this tree?"
Phifer noted that after he joined the CSU staff a couple of years later,
he wrote another story on the mystery for the university's magazine,
and it caught Ververs' attention. Ververs contacted Phifer and they
talked about Morris, and then also a CSU alum in Chadron pointed
out the story to Don Holst. That led to Holst offering an Olympic
oak-tree seedling to CSU, and giving two more to Buchanan.
And that all led to Friday's ceremony.
Buchanan also spoke at the ceremony Friday, and he explained that
Holst's seedlings, including the three he gave to CSU and Buchanan,
were third generation in the lineage. The original seedling was the
one given to 800-meter gold medalist John Woodruff and was planted
in Connellsville, Pennsylvania. That tree flourished, and still is alive, and
Holst -- who since has passed away -- took seeds from that tree and
planted them near the U.S. Track and Field Hall of Fame on the Butler
University campus in Indianapolis. The seedlings brought to Fort Collins
are the offspring of that tree.
So while the mystery of what happened to the seedling Morris himself
presented to CSU might never be solved, he now is honored with two
offspring trees from from the Olympic crop on the campus.
Morris' gold medal, transported from Simla to CSU five years ago,
now is in a case inside the Alumni Center, honoring CSU's
Olympians -- also including six-time gold medalist Amy Van Dyken.
One part of getting the game-day football experience back to campus
now can be saluting Morris and the tree outside the stadium, and
seeing his gold medal in a tour of the Alumni Center.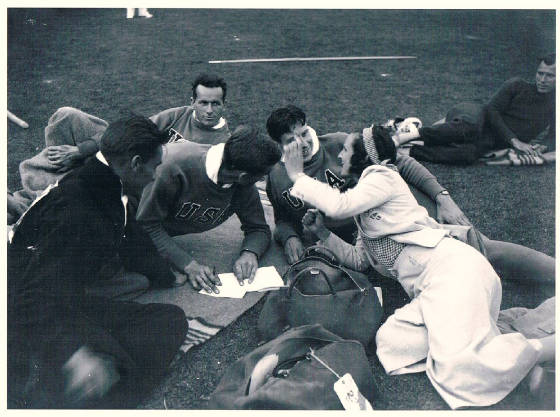 Glenn Morris and Leni Riefenstahl. (National Archives. NA-242-HD-245-1.)