Chip Hilton Sports Series by Clair Bee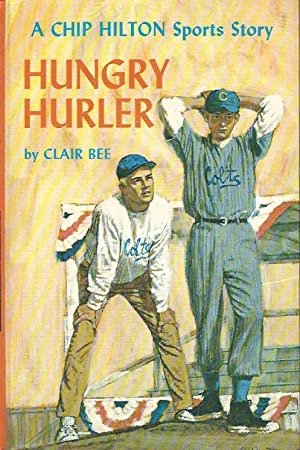 I have been asked many times why a book called
Fourth Down Showdown
showed up in my
Amazon.com
author listings, with my name listed after you navigated to the book's specific sales page. Eventually, not because I was disowning any association, but to make it more clear, I asked that Amazon specify that I was not one of the authors, but that I had written the afterword.
Yeah, I'm a Chip Hilton nut.
For the uninitiated — you poor souls — Chip was the Hardy Boys of sports. Former Long Island University coach Clair Bee wrote them, and they came from the same publisher as the Hardys and Nancy Drew. A true nut knows that the first 19 of the 23 original Hilton books came out in dust jacket versions before the switchover to picture covers, and that the final four came out only in picture cover. The 23rd book, Hungry Hurler, had such a limited press run as the original series lost popularity, it beecame one of the Holy Grails of kids' books. It has been roughly a $250 eBay book for many years, depending on condition, after going for over $500 in the early days of the auction site. Now, in June 2020, the only copy I can find online is on the Advanced Book Exchange. Bee signed it, and it's listed at $1,800.00. (I am not making that up.)
There are many of us Hilton nuts out there. We wouldn't have to rent the Las Vegas Convention Center to hold a gathering, but we could fill up a Dave and Buster's somewhere and talk about Chip, Valley Falls High, State U., and even that pert State Drug cashier, Mitzi Savrill.
We know where Chip's mom worked, how she became a widow, where No-Hitter was set, and even which two books were "out of order" in the original series — because Chip played his senior season of high school basketball before he played his senior season of football.
Most of us have full sets of the original books, either saved from our youths — our moms didn't give them away with our baseball cards — or obtained in trips to used book stores, or from eBay and other online outlets. The online shopping is great, but also took a bit of fun out of it. Part of the enjoyment used to be locating and visiting all the used book stores around the country in our travels and pouncing when we spotted a "Chip." Even after I filled out my collection, I continued to attempt to upgrade — mainly to give myself an excuse to continue the pursuit.
For what it's worth, prices have come down in recent years after many Hilton fans rebuilt their sets and stopped bidding against each other.
Some of us nuts contributed "blurbs," afterwords and prefaces for the modernized paperback editions that came out in the late 1990s, but again are out of print.
My afterword ran in Fourth Down Showdown and a "blurbed" comment from it (a sample is above) ran on the back of many of the books in the new paperback series.
Another nut is long-time Sports lllustrated writer Jack McCallum, who had written a landmark SI piece on Bee and Chip in the late 1970s. One time, Jack and I went out to dinner with some colleagues in Las Vegas — a Portland-Lakers playoff game was moved there in the wake of the Rodney King unrest — and we went into such depth in talking abut the Hilton books, everyone thought we were crazy and escaped us to hit the relative sanity of the craps tables.
I first communicated with Bee's daughter, Cynthia, years ago. At the time, she and her husband, Randy, were schoolteachers in Indonesia. Randy became the basketball sports information director at Texas Tech. Bobby Knight was another Chip nut who met Bee late in his life and remained loyal to the family. Randy and Cynthia began rewriting the original Chips for modern kids and the original 23 came out in the revised paperback editions. Clair Bee's 24th manuscript, Fiery Fullback, which wasn't published, also was issued, both in a "classic" hardback and an updated paperback. In the paperbacks, typewriters became computers and the cast was diversified, and everything was updated as much as possible, yet they remained faithful to the originals. There were some dilemmas involved, primarily because Chip's three-sport participation and success is made virtually impossible in this era of overlapping seasons. As long as they were considered updated fables and aren't subjected to line-by-line cynical scrutiny, they were fine. But they're also out of print now, too, and also available at the usual used and online outlets. (Beware of confusion between the two versions.)
Actually, "re-reading" the originals confirms that baseball stories tend to hold up the best, and the baseball books in the revised series reflect that. All Hilton nuts have their favorites, but mine always has been Clutch Hitter (above, picture cover version), about Chip playing summer baseball for a steel company team after his junior year of high school. Some don't like that because it takes him out of his more familiar Valley Falls High and State U. settings and his familiar cast of buddies is largely absent, but I'm willing to overlook that.
One of the reasons I enjoyed researching and writing March 1939: Before the Madness, which came out in 2014, was that Bee and his Long Island Blackbirds were a major part of the story. I even came up with the theory that Astoria, Oregon in many ways was his model for Valley Falls.
I wish they'd take one more shot at a new Chip series.
John R Tunis
As a kid, I also read the excellent series of books by John R. Tunis, who was best known as a tennnis writer, but had eclectic interests and had a far-reaching career as a freelance journalist and commentator. He got into writing for kids accidentally; in his autobiography, he confessed that he was crushed when he was told his novel about Harvard runner Jim Wellington — Iron Duke — would be published as "a juvenile." He ended up writing about 20 "juveniles" for various age groups, including a remarkable 1939 sequel about Wellington running in the 1936 Berlin Olympics.
Most of his books were terrific, and the best ones hold up stunningly well and frequently have been published in "classic" editions. The best-known are his books about The Kid From Tomkinsville — Roy Tucker — and the Brooklyn Dodgers, and one -- The Kid Comes Back -- even deals with Tucker's World War II service on a bomber crew in Europe and his return to the big leagues. Some of Tunis' "stand-alone" books were excellent, too, including A City for Lincoln and Go, Team, Go about high school basketball; All-American, about high school football; and the one he called his best, His Enemy, His Friend about soccer immediately after World War II. (It's hard to explain, but it's masterful.)
I've also collected some of Tunis "non-juvenile" books and got a kick out of his rants against the influence of alumni and boosters in college sports — and this was over 80 years ago! — and the threat to the purity of sports by the looming taint of professionalism. And I even found a copy of his first novel, American Girl, which came out in 1929. It's modeled after tennis star Helen Wills. The film rights sold about 20 years later, and this is what he says in his autobiography about the experience: "I made the mistake every writer does, and went to the picture. A professional author who sees his book made into a Hollywood film by persons whose one aim is to remain solvent has the same feeling as a mother who finds her son in prison garb: What have I done to deserve this?" I've remembered that in my limited dealings in the Hollywood world and it's one of the reasons I was more than willing to write adaptations of three of my books myself.
Many of my contemporaries have taken cracks at writing juvenile sports fiction -- and done it well. I've got half of a juvenile sports novel in this computer, too. Maybe someday ...