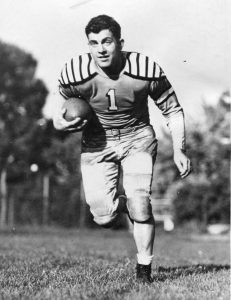 By 2020, or 75 years since the end of World War II, we've lost most of the Greatest Generation.
That includes members of the Colorado Buffaloes and Colorado A&M Aggies who played in the Rocky Mountain Showdown – before it was called the Rocky Mountain Showdown.
Most notably, the October 24, 1942 matchup between the Buffaloes and Aggies at Colorado Field on the A&M campus involved rosters full of men destined to leave school soon after the game – most already had enlisted and were awaiting callups -- and serve heroically in both the Pacific and European theaters.
One Aggies player paid the ultimate price.
* * *
Buffaloes' standout center Don Brotzman was a senior from Merino who later was a long-term U.S. Congressman. His teammates called him "Meatnose," because of all the shots he took to the nose as the center.
Several years ago, from his home in Alexandria, Virginia, he vividly remembered the 1942 game's opening kickoff, because he looked downfield and spotted his buddy, Aggies' star Lewis "Dude" Dent.
In the summer, Brotzman worked on a state highway department crew on the Western Slope. "We laid oil roads over there, and I was the night watchman for all the equipment," Brotzman told me. "I also drove a state highway truck."
Dent was driving a truck for an oil-drilling operation in the same area and living in Craig, his hometown. Their paths crossed. "Dude was a really good athlete and he had a hell of a lot of character," Brotzman said. "He kind of took me under his wing and we went to a lot of dances over there on the Western Slope."
All summer, they teased one another about their upcoming meeting on the field that fall, and they popped off about who was going to hit whom first -- and how hard.
When the kickoff dropped right into Dent's hands, Brotzman had a free run at his friend. "Man, I hit him a good shot," Brotzman said. On the ground together, they laughed about it.
The Buffs won 34-7. Sophomore halfback Carl Stearns, whose sons John and Rick later would star at CU, scored twice and Brotzman, playing a solid two-way game, was awarded the game ball.
Mindful he needed to be on the bus back to Boulder, Brotzman hurried to the Aggies' dressing shed and met with his pal, Dent. They had a nice talk. It was the last time they would see each other.
* * *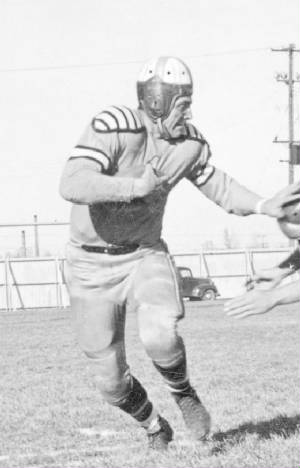 Dent starred in everything at Craig High, graduating in 1939. At A&M, Dent was the region's best fullback and he also played basketball and ran track for the Aggies. He worked as a busboy in a campus cafeteria.
A&M teammate Perry Blach, from the prominent Yuma family, told me of Dent, "We looked up to him, and he was always there when we needed him."
Aggies guard/fullback John Mosley was a Denver native who was A&M's first black player of the modern era, over a decade before CU integrated its program.
"I did a lot of blocking for him," Mosley said. "We had a great experience together. He was a great friend in showing that I didn't need to fight all my battles all by myself."
While at A&M, Dent married Mildred Bach, a fellow student from Denver. In 1943, when athletic directors voted Dent the best all-around athlete in the Mountain States Conference, he was in the Army reserves and serving as a physical training and commando tactics instructor on campus. He had taken field artillery instruction in advanced ROTC. When he was called to active duty in May 1943, he was four hours short of receiving his mechanical engineering degree.
"There's plenty of chances for glory in the armed services," he said in an Associated Press story. "As a matter of fact, if the Army looks as good to me from the inside as it does from the outside, and if I'm any good as a soldier, I'll probably make it my life career. . . . If the Army doesn't like me, or I don't like it, I'll come back after the war, make up the four hours and go on with my engineering."
Four other products of A&M's Advanced ROTC program - Wayne Seaman, Al Hoffman, Irv Ferguson, and Gordon Rutherford - went through training with Dent at Fort Sill, Oklahoma.
"After that, some of us got into a battery executive school for a month, and Dude and I were in that," Seaman told me from his home in Evans. "We'd had a lot of experience with live ammunition, more so than a lot of guys in the division we ended up with. After that, you had a list of choices where you could go, and the Fourth Armored Division was getting ready to go overseas, and we were kind of gung-ho. A bunch of us signed up for that, and they took the five of us from A&M. Dude, Al, and I went into the same battalion, the 94th Armored Artillery Battalion."
Ferguson was assigned to a tank battalion and Rutherford went to another artillery battalion.
The 94th Battalion arrived in Europe in late 1943. "Dude and I had one leave together in London," Seaman said. "We went our separate ways once we got there, but we went back and forth together."
Lieutenant Lewis S. "Dude" Dent was killed in action near Troyes, France, in August 1944.
A photo taken at the couple's northwest Denver home accompanied the vague news story in the Denver Post. It showed his widow, two-and-a-half-year-old son Richard, and infant daughter Cheryl.
Dent was in a pool of forward observers with the 94th Armored Field Artillery Battalion as the unit moved toward German-occupied Troyes. He was told the night before the battle that it was his turn in the forward observer rotation.
The next day, Dent and his driver were in an open jeep, ahead of the U.S. forces advancing toward Troyes over huge expanses of open ground. Those at the command center heard Dent give firing coordinates, then scream. He had been hit by German fire.
Wayne Seaman said, "I was in a tank. We were in what I call desert formation, spread out, going into this town. A German popped out of a foxhole and sprayed Dude across the stomach. I heard he jumped out of the jeep and said, 'Keep going.' But that was hearsay because I was nowhere near him at the time. We went into Troyes and I heard about Dude there."
In the Pacific, CU star Don Brotzman heard about Dude's death. "I just felt terrible," he said. "I felt like I had lost a great friend. I had lost some others, of course, but I thought about it a lot. I still remember hearing it, so precisely."
Among the original group of five Aggies in the Advanced ROTC program, Rutherford also was killed in action.
Ferguson later became A&M's baseball coach. Hoffman was killed in a plane crash shortly after the war. Seaman worked for the Colorado Game and Fish Department for thirty-one years, primarily as a fish biologist and researcher.
Dent first was buried in France. His remains later were brought back to the United States, and he was re-interred in the Golden Gate National Cemetery near San Francisco.
Virtually all the players on both teams in the 1942 "Showdown" served during World War II.
Salute them.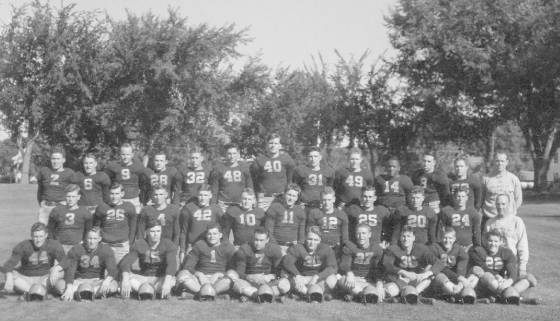 The 1942 Aggies. Dude Dent is #1 in the front row. John Mosley is #14 in the top row.