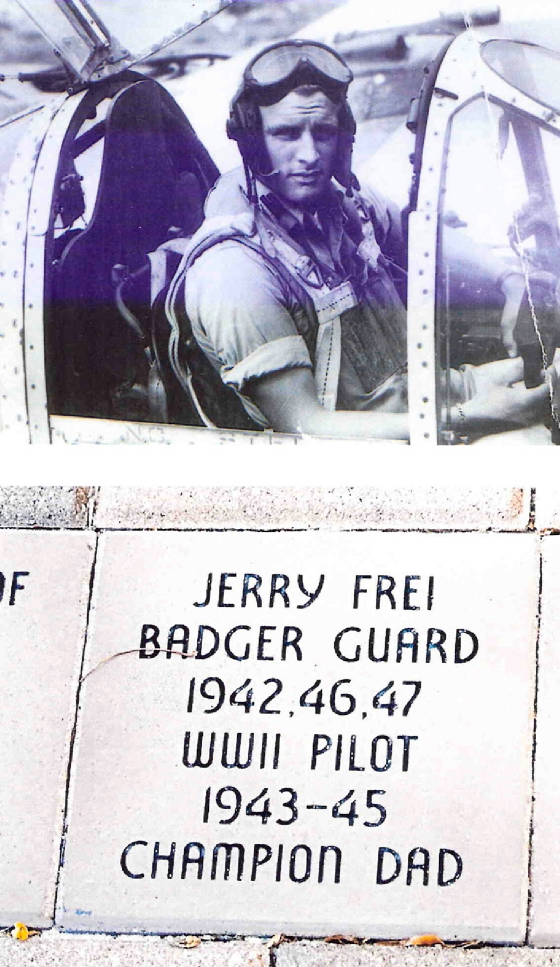 The brick is outside Camp Randall Stadium in Madison.
The Veterans Day 2000
story that led to Third Down
and a War to Go:
Grateful for the Guard
In November 2000, I finally sat down and, with a tape recorder (remember those?) rolling, asked my father, the former World War II pilot, former coach at the University of Oregon and a long-time NFL coach, scout and administrator, to tell me about his wartime experiences. I waited disgracefully long to do it, of course. But I did it in time. He died on Feb. 16, 2001, three months after the original version of this story ran. He was one of the youngest World War II veterans who had gone through full pilot training and flew a full tour of combat misssions. He would have turned 99 on June 3, 2023. There aren't many World War II veterans left. He is among the millions who have died since 2000.
This is based on my Nov. 12, 2000 Sunday Focus column in The Denver Post. I still am thankful to sports editor Kevin Dale and ace Sunday editor Obbie Harvey for allowing me to do the original story.
* * *
On one level, this is about a football player who became a high school, college and NFL coach and, at age 76 in late 2000, still is a scouting consultant for the Denver Broncos. But on a Veterans Day weekend 55 years after the end of World War II, it really is about all Americans who served in the conflict.
This is about my father, who has had a remarkable role in shaping the lives of a handful of famous coaches and players, and many more whose names you wouldn't recognize. But it is meant to represent all those who put on the uniforms in the fight against Germany and Japan.
Jerry Frei was a photo reconnaissance pilot in the Army Air Corps from 1943-45, flying alone in a one-man, twin-engine Lockheed P-38 fighter plane over Japanese targets in the Pacific in advance of the bombing runs. The guns on the P-38 had been replaced with cameras. The mandate was to take pictures and get the film back to the landing strip. Sometimes, he might be flying the only plane on the mission. Other times, there might be two in case cameras failed.
He later would say it was wrong to say he was unarmed.
He had a pistol. It was understood what it might be used for. That wasn't for self-defense.
His group consisted of 20 pilots at any given time, and about 35 pilots rotated through during his tour.
Last week, sitting in his den in Englewood, he flipped through the commemorative 26th Photo Reconnaissance Squadron book, pointed to pilots' pictures and counted, slowly and with remembrance, from one to eight. Eight killed in action. Eight fathers, or potential fathers, who didn't make it back.
Yet, he said, "we did not consider it a very dangerous profession. When I think of what people went through down there on the ground, and how they lived, and how they ate, and how they slept, and how they were in combat, we weren't in a dangerous profession."
Later, I discovered he was talking about his many Wisconsin teammates in ground fighting, both in the Pacific Theater and in Europe. A handful of Badgers were pilots.
He was trying to explain that he was "sheepish" about talking about this, especially for a story. He was no hero, he said, and he knows others had it worse. "I'm proud," he said, "but I don't claim a lot of credit for winning World War II."
That's the point. It was a group effort. His story is unique, yet startlingly typical at the same time. And so is something else, shamefully: Until last week, his baby boomer son never had really sat down and talked with him at length about his World War II experience. Or even said "thanks."
I had been to reunions of the football teams he coached, from the 1949 Grant High School Generals to the Vietnam War-era University of Oregon Ducks, hearing his players and assistant coaches such as Dan Fouts, George Seifert, John Robinson, Bruce Snyder, Ahmad Rashad, Norv Turner and Gunther Cunningham -- and many more -- tell me how important he was to them.
But this is different. This is something he never really talked about much over the years, with his players or with his children. And in this instance, he represents millions in his generation.He was 16 when he was graduated from high school in Stoughton, Wis., about 15 miles from Madison. He went to the University of Wisconsin to play football for coach Harry Stuhldreher, the quarterback in Notre Dame's Four Horsemen. He was a 185-pound lineman. When he was a 17-year-old freshman, he worked all night at Toby and Moon's restaurant, then was awakened by his roommate and fellow guard, Ken Currier, and told: "They bombed Pearl Harbor!" His response was typical on that Sunday morning. "Where's Pearl Harbor?"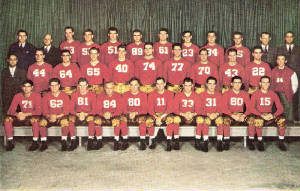 As the United States entered the war against the Axis powers, as the bad news poured in through 1942, Jerry Frei was a sophomore guard, the youngest player on the 1942 Wisconsin team that went 8-1-1 behind halfback Elroy "Crazylegs" Hirsch and end Dave Schreiner, losing to Iowa and tying Notre Dame.
The Badgers beat Ohio State, but the final Associated Press poll had the Buckeyes No. 1 and Wisconsin No. 3. The Helms Foundation got it right, naming the Badgers its national champion.
Stuhldreher arranged for Frei to sign up for an Army Air Corps reserve unit, because it was based in Madison. The Wisconsin coach told his guard that because he was so young, only 18, he probably wouldn't be called into the service until at least after his junior season. Instead, the induction notice came in February 1943. Frei had been in college three semesters.
"At that point, we all wanted to go," he said. "All your friends were going, and you were not going to stay in school." He was in the Army Air Corps/Army Air Forces, on his way to becoming a pilot, almost by accident.
"I had no inclination, no great desire to be a pilot," he said. "The first time I ever was in an airplane was my first lesson in training."
The Wisconsin Badgers scattered. Jerry Frei and Currier were among the Badgers who entered the Army Air Corps, the predecessor of the Air Force. (By the end of the war, they were the United States Army Air Forces.) "It was laughingly referred to as the Brown Shoe Air Corps," he said, "because we wore brown shoes with Army uniforms. The uniforms didn't turn blue until it became the Air Force."
As the war raged in Europe and the Pacific, he went through Army basic training in Wichita Falls, Texas; then Air Corps indoctrination and training in Arizona, California, Kansas and, of all places, La Junta, Colo. Ultimately, he ended up in Coffeyville, Kan., graduating with "44E" - the fifth group in 1944 to be trained in P-38 reconnaissance flights.
Frei and his buddies were assigned to a photo recon group in Europe, loaded onto a troop train and sent to Savannah, Ga., their stopping-off point for Europe. But when they got to Savannah, they were told they instead would be going to the Pacific - and were sent right back on the train, back across the country to San Francisco.
By then, a four-man group of buddies from "44E" was tight, and assigned together because of the accident of the alphabet -- Frei; Ed Crawford, from Texas; Madison Gillaspey, from Iowa; and Don Garbarino, from Oregon. That would turn out to be pivotal later.
They ended up with the 26th Photo at Biak Island, off the coast of New Guinea, in advance of the invasion of the Philippines.
They were told their tour would be for one year and 300 combat flying hours. When they arrived, they also were very popular among their peers, because they were the rare P-38 pilots who had flown B25s in training. Those planes, the "Fat Cats," were the only ones that could be used to fly to Australia for supplies - including meat, milk and beer - and the four new arrivals often did that duty, which didn't count as combat time.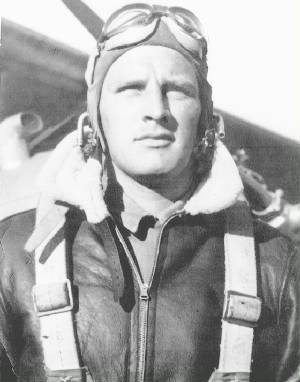 On Sept. 18, 1944, three months after his 20th birthday, Frei flew the first of his 67 combat recon missions. Let me say this again, for emphasis. He and perhaps one other pilot flew their planes, unarmed, over Japanese targets in advance of the booming runs. In a shoulder holster, he carried that .45-caliber revolver.
"They would pretty much leave you alone," he said of the forces of Japan. "You could get anti-aircraft fire, but as you looked out the back window, you could see it behind you. Most of the times, we were coming in high and staying for such a short period of time. You went down one direction, back over the target in the other direction and got out of there.
"As soon as you got back into radio range, you would tell 'em, 'Yeah, I got pictures, I'm on the way home, I'll be there about such-and-such time.' You'd get back and you'd buzz the home area, saying, 'Here I am, come and get me at the airstrip and get my pictures out of the cameras.'
"The newer you were and the younger you were, the harder you buzzed, because you didn't think you were going to live, anyway. But as soon as you got halfway through, you said, 'My God, I'm going to make it, maybe I'm going to last.' That's when you started flying more conservative, straight and level. One of the guys who came over with us and went to another squad got killed buzzing. He hit a palm tree with his tail, and that calmed down a lot of people."
The old hanging folder is Frei's flight record, and it sits in the top drawer of his desk at home, next to the video machine he still uses to look over college football prospects. You can picture a sweating clerk typing information onto the sheet after every mission 55 years ago, lining it up on the correct line, making sure the carbon paper is in place. The sheets list 67 missions and targets with names such as Davao, N. Halmeras, Mindanao, Lianga Bay, Babuyan Island, Cape Bojeador, Solvec Cove, Cagayan Valley, even Wenchou, China.
Twice, Frei was sent to Australia for rest leave. The second time, the squad moved from Biak Island to Lingayen, on the Lingayen Gulf to the north of Manila. When he finally caught up with his squadron, he got off the transport plane at Lingayen and noticed one of the 26th's planes taking off.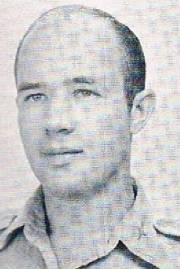 "I asked one of our people, 'Who's that?' " Frei said. "He said it was Madison Gillaspey (left), and he was going on a low-level mission to Ipo Dam. I went over to the squadron area, to the others' tent. It always was Ed Crawford, Don Garbarino, Madison Gillaspey and me. But while I was gone, they'd moved another pilot in with them when they got to Lingayen, so I was going to go get a cot and be the fifth."
He didn't have to get the cot.
"Madison Gillaspey never came back," Frei said. "No one ever knew what happened, but we lost two planes over Ipo Dam."
Hearing from Madison Gillaspey's fiancee: A WWII story of love and loss
The Iowan was one of the eight pilots killed. They were the victims of anti-aircraft fire or mechanical failure or ... who knows? Sometimes, like Gillaspey, they just didn't make it back. After the war, located dogtags and wreckage provided some answers. Other pilots' deaths never were explained.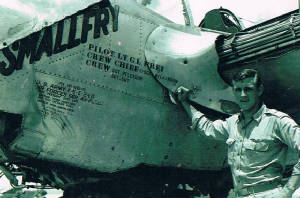 The P-38s each were painted with a pilot's name, but the planes were in a pool and used by others. This is "Jerry Frei's plane" after another pilot's mission left the plane heavily damaged.
The toughest days were March 22, 1945, when Frei flew two separate missions, to Northwest Manila and to the Cagayan Valley (the squadron received a group citation); and April 15, when he flew an eight-hour mission from Lingayen, to a guerrilla airstrip for refueling, then to Wenchou, the harbor port across the East China Sea from Japan. It was important work, much of it in support of the 6th Army, and short-term tension.
"But again," he said, "I emphasize the point that mine was a nice war, if there was such a thing. I didn't hurt anybody. I didn't kill anybody or shoot anybody. I didn't get shot at a lot, although we did go through (Japanese) bombing raids when we were on the ground. But I also know what other men were going through, and it was a lot worse."
The 26th was ticketed to move to Okinawa in July 1945, and the squadron had stopped flying to prepare for the move. Frei had flown 66 missions and 296 combat hours. But the operations officer said there was one mission available, to the Batan Islands, north of Luzon.
(The islands aren't to be confused with the Bataan Peninsula.)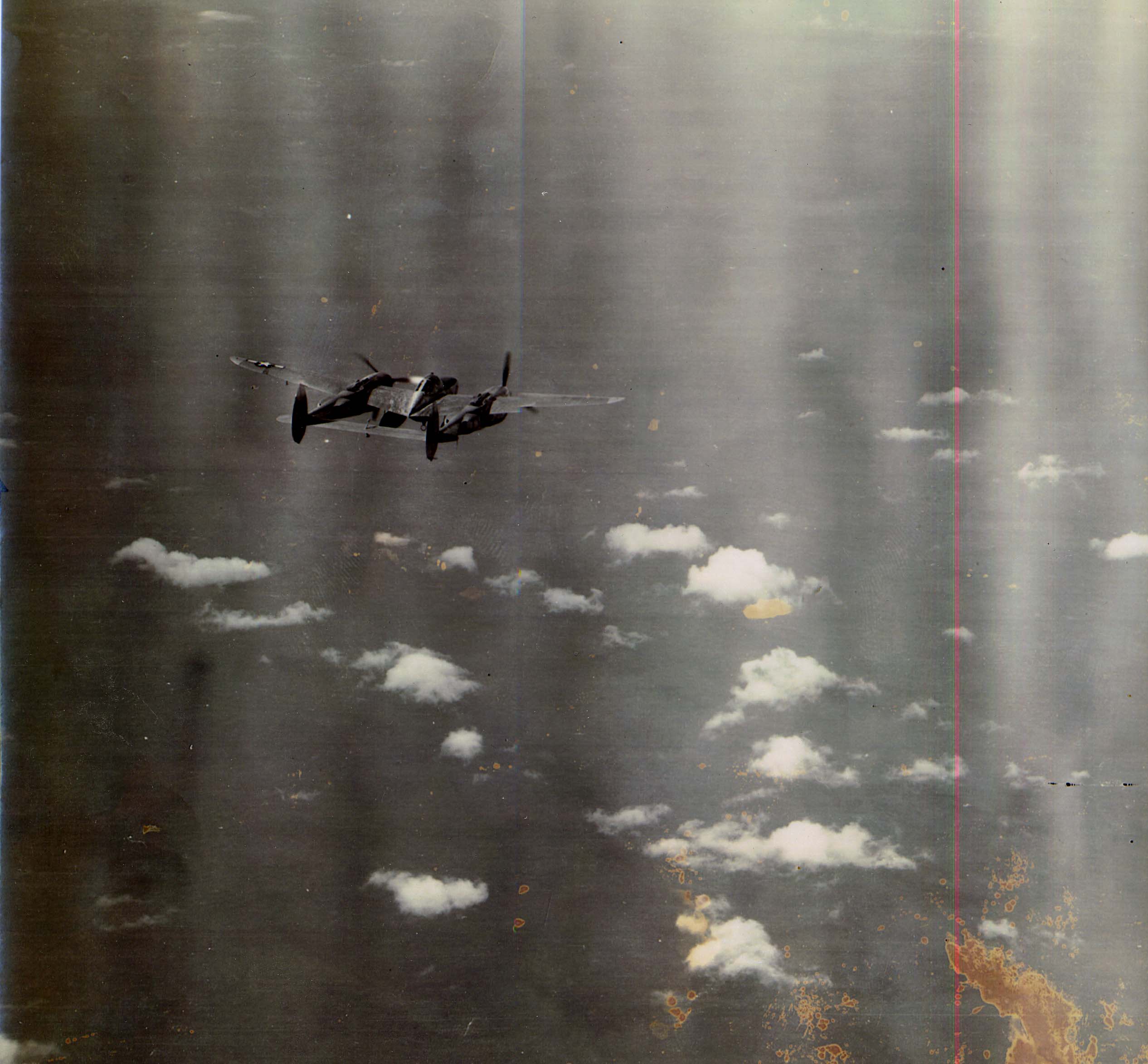 On June 28, Frei flew the two-plane mission, and his partner in another plane used the cameras to take a picture of him flying back to Lingayen. It is an innocent-looking picture today, a single plane above the ocean. Yet the pilot wasn't just heading back to the airstrip. Figuratively speaking, he was heading home. About that time, he heard the horrible news that two of his older Badger teammates — two-time All-American end Dave Schreiner and tackle Bob Baumann — had been killed in the Battle of Okinawa. Soon, he was on a troop transport, heading to San Francisco. Two days from the West Coast, the ship's speakers blared the news about an atom bomb and Hiroshima.
He married longtime Stoughton girlfriend Marian Benson on Dec. 25, 1945, re-enrolled at Wisconsin and was a regular on Stuhldreher's 1946 and '47 Badgers teams. He stayed in touch with pilot buddy Garbarino, who always had raved about Oregon.
"I had grown up where it was cold, really cold, and until I got in the service, I didn't realize the whole world wasn't like that," Frei said. So after he was graduated from Wisconsin - thanks to football, the GI Bill and his wife's right-out-of-college teaching salary - the couple loaded up the car and drove to Portland.
"Don Garbarino hadn't told me it rained a lot," he said.
Within a week, he had a job as an assistant coach and teacher at Portland's Grant High, notable now as the school where "Mr. Holland's Opus" was filmed. Frei soon was the head coach at Portland's Lincoln High, was an assistant at Willamette University in Salem and then joined the the University of Oregon staff in 1955. He was there 17 seasons, first as an assistant to the legendary Len Casanova from 1955-66, then as head coach from 1967-71.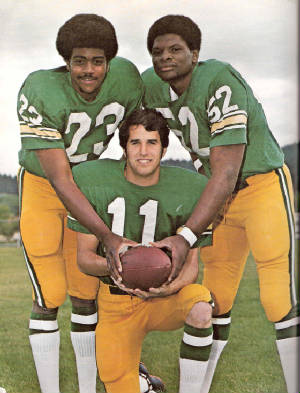 Ahmad Rashad, Dan Fouts, Tom Graham
During the Vietnam era, many Oregonians claimed his program didn't have "discipline" because he allowed players such as Bobby Moore (now Ahmad Rashad) and Tom Graham to wear their hair as they pleased; or didn't tell his players to stay out of campus politics and the antiwar movement. He refused to call his players "kids." They were "young men." One of the reasons, among the many, was that at age 20, he had been flying over Japanese targets, and he wasn't going to treat 20-year-olds as children. I know they appreciated it, because they've told me that over the years, including at a tribute weekend in Eugene organized by Fouts.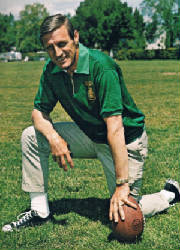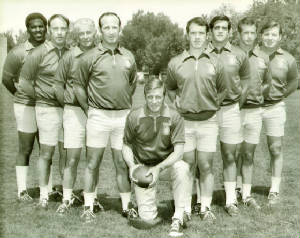 Left: Jerry Frei, 1971. At right, the 1970 Oregon staff: Ron Stratten, John Robinson (later USC and Rams head coach), Jack Roche, Norm Chapman, Jerry Frei, Bruce Snyder (California and Arizona State head coach), John Marshall (long-time NFL defensive coordinator), George Seifert (49ers and Panthers head coach), Dick Enright. Not pictured: Gunther Cunningham (Chiefs head coach).
The Oregon campus, as many were around the nation, was a cauldron of dissent. Dr. Charles Johnson, the school's president, was a conciliator caught between rebelling students and irate Oregonians. While being treated for depression, he drove his Volkswagen head-on into a lumber truck, and most considered it suicide. Amid the tumult, the Ducks finished second in the Pacific 8 in 1970, beating both USC and UCLA and ninth-rated Air Force. Jerry Frei was UPI's national coach of the week twice that season.
As it turned out his last game at Oregon was the 1971 Civil War. The Beavers won 30-29 and Dan Fouts years later told a story about that game at Jerry Frei's memorial gathering in Denver, at which Tom Graham officiated. With Oregon hoping to drive for a game-winning field goal, but still out of range, Fouts turned the wrong way to make a fourth-and-short handoff and came off the field in tears. He said (incorrectly) that he had lost the game. He told those at the memorial that my dad immediately and decisively, with everything going on, gave him a pep talk told him to keep his head up.
After the game, Tom Graham grabbed the microphone during the introduction and honoring of the seniors and declared: "I'm going to be a Duck until the day I die."
(He was.)
I was sitting in the tiny coach's locker room when my dad met the press and said, among other things: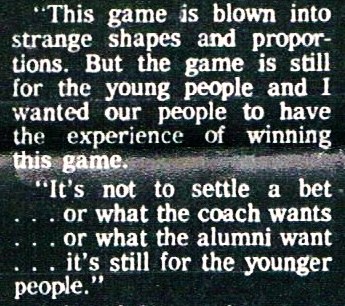 When Frei quit two months after that 1971 season, after much behind-the-scenes political maneuvering that unfortunately still is common in college football, the radical student body president issued an eloquent statement of support, the newspaper publisher came to our house, and the Eugene Register-Guard ran letters to the editor saying his battle with some boosters -- and not just over winning and losing -- shouldn't have been allowed to cause his departure. (Note: Eventually, my 2009 roman a clef novel, The Witch's Season, was the thinly veiled story of that campus, that team, and those times.)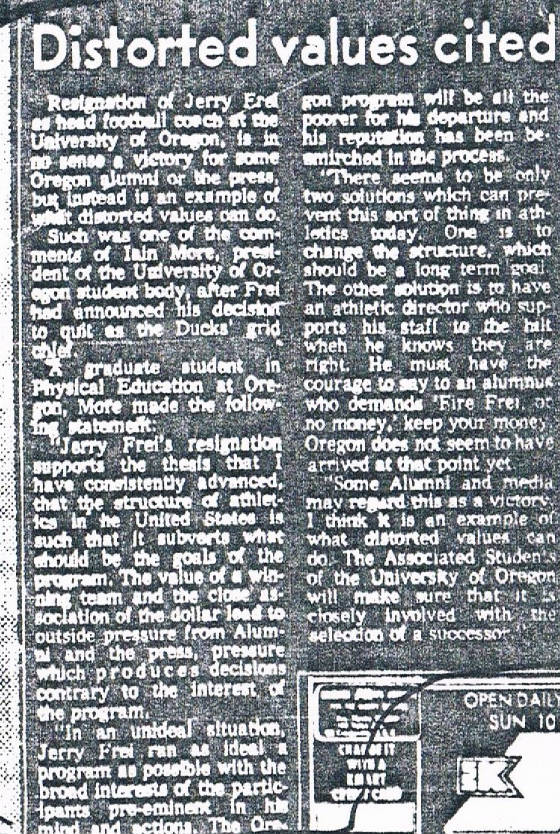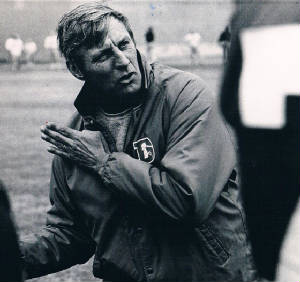 Stanford coach John Ralston was moving to the Broncos, and he hired Frei as his offensive line coach. He moved on to Tampa Bay and Chicago before returning to the Broncos when Dan Reeves became head coach. He has been a coach, a scout, the director of college scouting and - now - a consultant who still loves to watch practice and scouting tape, especially of the offensive linemen.
Around him, he heard the talk about the overdue gratitude and acknowledgment of what his generation did for us. And there's no other way to put it: We're not all that sure we could have done it, or that today's youth would be as courageous. Maybe it was about naivete. Maybe knowing the horrors of war, in a time of more destructive weaponry, is a good thing. But maybe we're just not as brave, either.
"I think all of us didn't feel like were being different," he said. "Or that we were doing anything spectacular. Everybody did it. It wasn't, 'Look at me, I'm a soldier.' I don't think anyone was concerned about memorials or anything like that. I think everyone was looking at it like, 'I did what I had to do.' Everyone who survived gave a big sigh of relief, and felt sad for those who didn't."
The least we can do is say "thanks."
To them all.
Postscripts: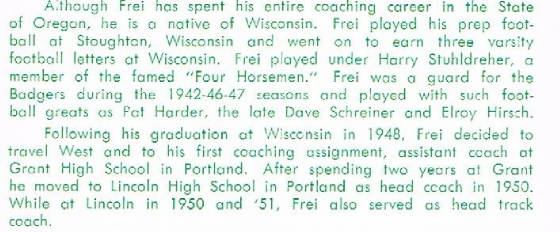 Notice anything missing from this coaching bio in the Oregon press guide? Yes, his World War II service wasn't even mentioned. Also, the reference to the "late" Dave Schreiner doesn't explain that the two-time All-American end, winner of the Chicago Tribune's Silver Football as the Big Ten MVP in 1942, and No. 11 overall choice in the NFL draft, was killed in action.
I heard from a lot of readers about this story, including from Madison Gillaspey's fiancee, who filled in some gaps about his death, and others who belittled my naivete about how dangerous unarmed reconnaissance flights, often flying solo over Japanese targets, were and about how coveted P-38 duty -- in any form -- was. "Oh, we all wanted to fly that plane," former Arkansas congressman John Paul Hammerschmidt, a decorated World War II pilot himself, later told me.
When my father died, his former players told me they were astounded to read of his World War II service. He never mentioned it to them and, as noted, it wasn't mentioned in his Oregon media guide biography.
My mother later pointed out another omission: He hadn't told me that he had been awarded the World War II Air Medal three times -- the medal plus two Oak leaf clusters.
Also, I realized that everyone on that 1942 Wisconsin team, in the picture on his wall, had a story, and I set out to tell it. I discovered that distinguished military service was common up and down the roster, among stars and scrubs. And I realized I could have done a book like that on any team -- any team -- in the country and discovered much the same thing. That led to Third Down and a War to Go, and it's why I have the picture wallet Schreiner was carrying when he suffered his fatal wounds on my desk as I type.
Once more, with feeling: Thanks to them all.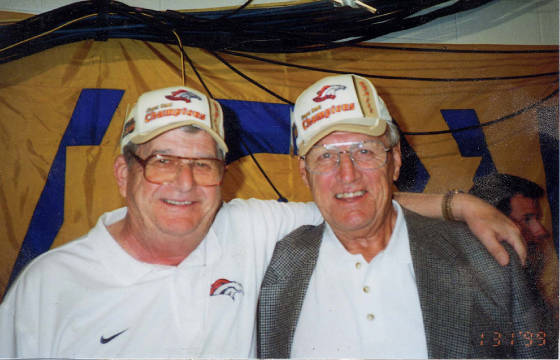 Jack Elway and Jerry Frei, who shared an office at the Broncos' Dove Valley headquarters, in the winning locker room after the Broncos beat Atlanta in Super Bowl XXIII in Miami. They died three months apart in early 2001.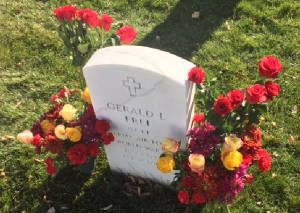 Jerry and Marian Frei