(This is a secure web site in process of being transferred to a newer, updated platform.)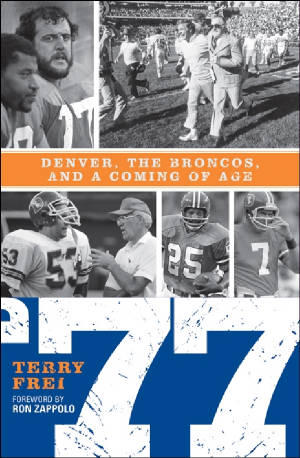 Not many professional sports teams can claim to have
changed a city forever. The 1977
Denver Broncos, coached
by firebrand Red Miller and led by the
stellar "Orange
Crush"
defense, can—because they did.
In '77, Terry Frei compellingly argues that the AFC champions of that season were the tipping point for the transformation of Colorado's capital from an outpost with an inferiority complex to today's sports and entertainment mecca.
As in his acclaimed earlier books, Frei displays a historian's ability to place sports within the context of evolving politics, culture, and society.
Drawing from voluminous research, many hours of interviews, and firsthand knowledge of both the city and football, Frei profiles such legendary '77 Broncos as Randy Gradishar, Lyle Alzado, Louis Wright, Billy Thompson, Tom Jackson, Craig Morton, and Haven Moses—but he doesn't stop there.
As the often groundbreaking narrative of that Denver season continues, even the most fervent of Broncos fans from that era will come to more intimately understand both the stars and the lower-profile players they thought they knew, and the uninitiated will marvel at these compelling stories up and down the roster.
It's all here: Tom Jackson's notorious taunt of Oakland coach John Madden ("It's all over, fat man!"); the journeymen quarterback and receiver, Morton and Moses, becoming the "M&M Connection," and Morton's amazing courage to even make it on the field for the AFC Championship Game; and Gradishar and Wright again experiencing the sort of stellar seasons that should have landed them in the Hall of Fame.
Of course, it didn't happen in a vacuum. Frei describes Denver's transformative politics that year—when Richard Lamm was a young and controversial governor and Bill McNichols was one of the last machine-style mayors—plus the metro-area culture in the late 1970s as the Broncos, for so long one of the NFL's most downtrodden franchises, progressed toward their first Super Bowl.
The portrait emerges of a football team as uniquely influential in the transition of a city still smarting over the decision not to host the 1976 Winter Olympics—a campaign Lamm led as a self-proclaimed "hippie" legislator. Certainly there have been many other teams in many sports that generated and earned fanatical support, won a lot of games in glorious seasons, and fleetingly brought a city together, but after this season Denver would never be the same again. And although the '77 Broncos came up short of an NFL championship, they were part of an atmosphere that was far different than the Denver of the late 1990s, when the Colorado Avalanche won the Stanley Cup and the Broncos won back-to-back Super Bowls.
Maybe you had to be there to truly understand it. So if you weren't, Terry Frei takes you there. If you were, '77 is a replay from countless heretofore unseen angles. As unique as this tale is, it also has its elements of universality for readers—not just sports fans—anywhere.
The hardback of '77 was released in late 2007. It was on the best-seller lists in both Denver newspapers for several months, and as late as February 24, 2008, was No. 3 on the non-fiction list, behind Michael Pollan's In Defense of Food and Peter Brown's and Kent Haruf's West of Last Chance.
The paperback edition was released in October 2009.
Both the hardback and paperback remain in print and available.
Terry Frei's August 2020 appearance on Sandy Clough's Mile High Memories Podcast
Excerpts
"I was in my second season with the Browns in '77, but as a Colorado kid - and a long-time Broncos fan - I followed this Denver team and was both proud and envious when I attended both playoff games in Mile High Stadium. Terry Frei has taken me back, reminding me of many things I had forgotten or telling me things I didn't know, both about that team and my hometown's growing pains and identity crisis. I especially enjoyed his in-depth looks at the '77 Broncos' interaction and relationships during that landmark season, and I found that especially fascinating because I have gotten to know so many members of that team over the years. This is more than a football book: With all due respect to those who lived in Denver prior to '77, this is about a birth of a city." -- Dave Logan, former U. of Colorado All-American, NFL player, voice of the Denver Broncos, and co-host of KOA Radio's Lewis and Logan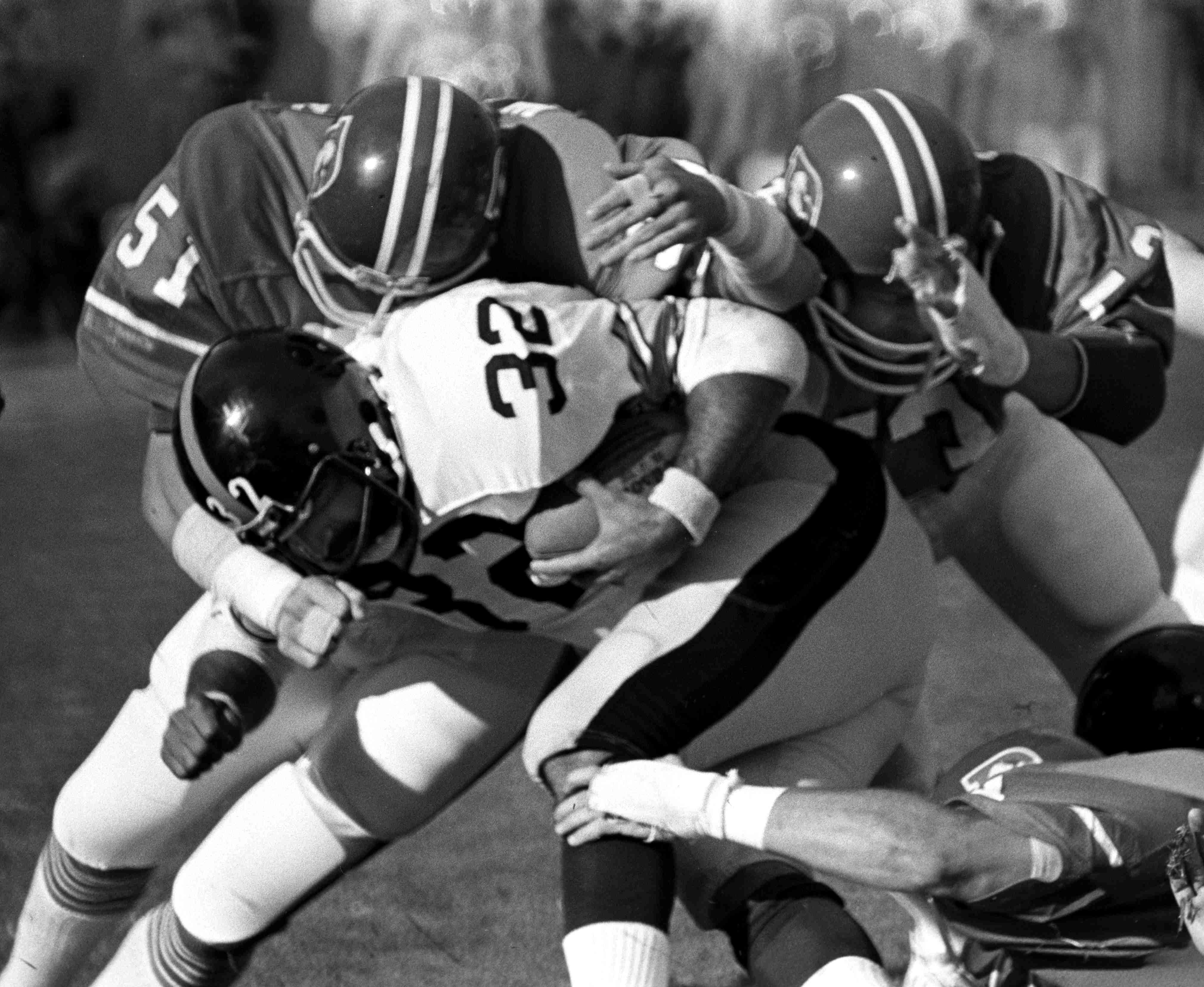 "No one knows more about Denver and its sports than Terry Frei does, and here in '77, he describes nothing less than the transformation of a city with a special focus on Denver's most magical team. To know why and how the Mile High City exists as it does today, this is essential history." -- Sandy Clough, sports talk host, FM Sports Radio 104.3, The Fan
"The games, the politics and the culture with which Frei deals here unfolded 30 years ago, but they're brought to life again in this book with a clarity and a luster that makes the story of Denver and the Broncos seem as fresh as the upcoming football season. It's a rite-of-passage tale for a city and a team as they reach and pass the cusp of the 'Big Time' in tandem. Would one have happened without the other? Maybe. But Denver and its football team grew up hand-in-hand during this extraordinary season, making this history a must-read for fans of the NFL, of the 1970s and of the American West. You didn't have to live through it in Denver to appreciate this account of the flowering of a franchise and its love affair with a town, but this book takes those of us who did straight back to those thrilling days of yesteryear in unforgettable fashion. Frei has written Denver's version of `Ladies and Gentlemen, the Bronx is Burning.'" -- Michael Knisley, Senior Deputy Editor, ESPN.com
"Ahh the memories. And they all happened right here in the forgotten time zone. Those magical moments came back with a rush last week reading '77: Denver, The Broncos, and a Coming of Age. What a fantastic read...'77 is more than just a Bronco football memoir. It was a time when our Centennial State exploded on the national scene...Thanks to Terry Frei's wonderful work, we get to live that magical moment all over again." -- Dick Maynard, Grand Junction Sentinel