Christmas Eve 1944:
Marines' Mosquito Bowl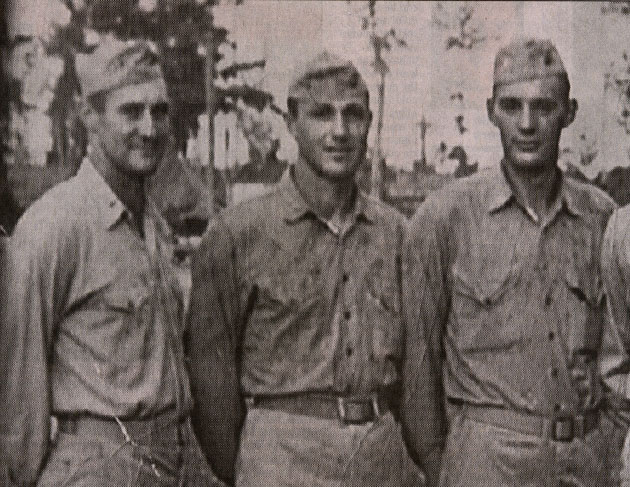 Tentmates George Murphy of Notre Dame, Dave Mears of Boston University, and
Walter "Bus" Bergman from Denver North High and Colorado A&M/State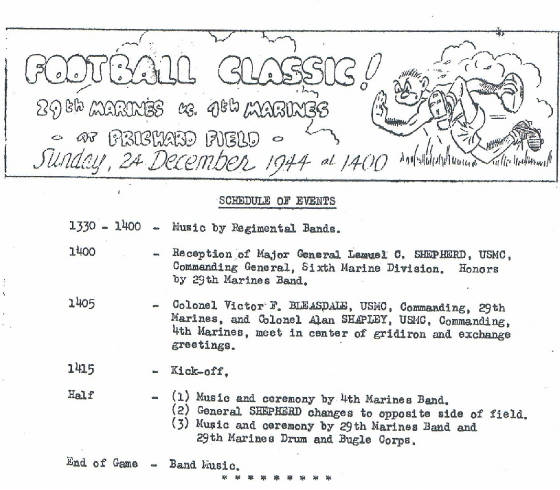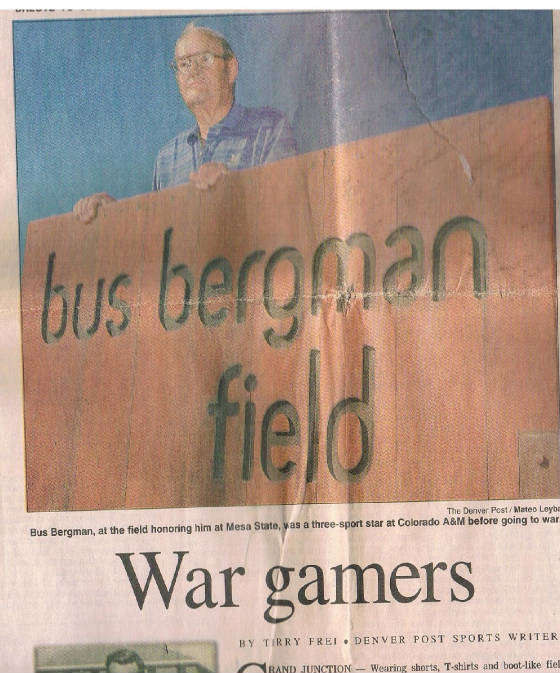 (Denver Post: November 2, 2003)
Prologue
In 2002 and '03, while researching the book Third Down and a War to Go, about the 1942 Wisconsin Badgers winning the Helms Foundation national championship in a final-fling campus atmosphere, and then serving with great distinction in both the European and Pacific theaters, I came across the fact that three members of that team -- Marines Dave Schreiner, Bob Baumann and Bud Seelinger -- all played in a notable Christmas Eve 1944 touch football game on Guadalcanal.
I also noticed that two other Marines in what was originally billed as the "Football Classic" had played collegiately in Colorado. One was well-known to me -- long-time Mesa College football and baseball coach Walter "Bus" Bergman, who had been a star at Denver North High and Colorado A&M. The other was former University of Colorado football and baseball standout Bob Spicer.
I contacted Bergman and Spicer as part of my overlapping research for both a Denver Post story and the book. In October 2003, I found myself sitting in Bergman's living room in Grand Junction, talking with him for several hours. He was 83. At the time, his daughter, Jane Norton, was Colorado's lieutenant governor. After that conversation and the resulting story, I became increasingly fascinated with the Marines' football game -- which came to be known as the "Mosquito Bowl" -- and the men who played in it and in many cases were killed in action a few months later in the Battle of Okinawa. One of those was Bergman's tentmate, former Notre Dame star George Murphy. I also knew that ex-Badgers Schreiner and Baumann died in the fierce fighting, too.
The Post story ("War Gamers") ran on November 2, 2003. It featured Bergman and Spicer, but touched on others in the wider tale.
An even more expansive version, this time with the '42 Badgers at the forefront, was woven into my book -- first in the 2004 hardback, then with additional material added for the 2007 paperback.
I also wrote a 2004 Veterans Day column on it for ESPN.com.
I was able to contact and interview many other veterans of the Sixth Marine Division who served with Schreiner and Baumann in the Pacific. The Sixth Marine Division Association Directory, listing survivors' units and current contact information, was invaluable. Schreiner and Baumann both were in the 4th Regiment's Company A. It also became almost a chain communication, with the Marines providing me with numbers for many not listed in the directory. Unless noted, any quotes from the Marines in what follows are directly from my interviews or communication with them. They were at least in their late 70s at the time. It might be best to look at the book's page on this site -- linked above -- for background.
The Denver Post version mostly is the basis of the web site version that follows. I consider it among the best stories I did in 30 years at the paper. It was one of many examples of my book research leading to offshoot Post stories. My passion for telling World War II veterans' stories, including my father's, and from both the Pacific and European theaters, was on record. Feedback confirmed that readers appreciated it, especially as the Greatest Generation sllpped away from us.
The Story
On Christmas Eve 1944, Bus Bergman and his fellow Marine lieutenant George Murphy warmed up with the 29th Regiment's team on Guadalcanal, the island in the Solomons taken by U.S. forces in late 1942.
The tentmates and buddies had been college team captains during their senior seasons – Murphy in 1942 for the Notre Dame Fighting Irish, Bergman in 1941 for what then were known as the Colorado Aggies.
Among the military men ringing the field, the frenetic wagering continued. Bergman and Murphy knew that if the 29th lost to the opposing 4th Regiment, many of their friends would have lighter wallets, or have to make good on IOUs.
Pressure?
Not compared to what was ahead.
They knew that if they survived the island fighting in the Pacific theater, they would consider themselves fortunate. For the rest of their lives.
"They say certain guys are heroes because they did this and that," Bergman told me. "I say the heroes are those guys who never came back. I've thought about that a lot. I think about the 60 or 70 extra years I got on them. I know I was lucky."
Bergman for years didn't volunteer much information about his combat experiences, even to his children – Judy Black of Washington, Walter Jr. of Grand Junction and Jane Norton of Englewood, elected Colorado's lieutenant governor in 2002. His wife, Elinor, also a Denver native, at times was compelled to point out things Bus neglected to mention.
Little things, such as the citation that accompanied his Bronze Star.
Raised near the original Elitch Gardens in northwest Denver, Bergman was a three-sport star at Denver's North High School. At Colorado A&M, he earned 10 letters in football, basketball and baseball, and also was student body president.
In February 1942, Bergman and Aggies teammate Red Eastlack drove to Denver to enlist in the Marines. The Marines' preference was for upperclassmen to stay in college long enough to graduate. To publicize the officer training program, the Marine brass had the star athletes "sworn in" a second time at midcourt during halftime of an A&M-Wyoming basketball game. Bergman and Eastlack were playing for the Aggies in Fort Collins, so they toweled off the sweat and raised their right hands.
As he finished his classes, Bergman didn't respond to an eye-popping $140-a-game contract sent by the Philadelphia Eagles. After receiving his degree, he went to boot camp and Officer Candidates School, then joined the 29th Regiment at Camp Lejeune, N.C. By August 1944, he was on Guadalcanal. There, the 29th Regiment became part of the newly formed Sixth Marine Division.
Bergman, George Murphy and former Boston University tackle Dave Mears were the platoon leaders in D Company of the 29th Regiment's 2nd Battalion. The three lieutenants shared a tent, trained and waited.
"We built our own shower at the back of the tent with a 55-gallon drum," Mears, a retired CPA, told me from his home in Essex, Mass. "We got a shower head someplace, and we were all set. We were living high!
"Bus was a very easygoing person and very friendly, but when it came to doing his job, he was pretty serious. George was more serious than either of us, though. At the time, he was married and his wife, Mary, had just had a baby. So he was further ahead than us that way."
Murphy showed off pictures to Bergman and Mears of his and Mary Katherine's newborn daughter, Mary Grace, born in July 1944. Murphy hadn't seen her yet. He hoped he would when ... well, when it was over.
Looming over the tentmates and all the other Marines was the likelihood that they were headed for fierce battles ahead. Some already had been in battle before arriving on Guadalcanal, which American foces had retaken in late 1942.
"We didn't know where we were going," Bergman said. "But we knew it was going to be close to the (Japan) mainland. Football and little things kept us away from all that talk. Plus, which American forces had we spent a lot of time in that tent censoring the mail."
He laughed.
"Marines had girlfriends all over the world, and they wrote to all of 'em," he said. "We had to read it, and we were supposed to cut things out, but nobody really said anything we had to worry about that way."
After several pickup games on Guadalcanal, and many beer-fueled debates among Marines about which regiment had the best players, the "Football Classic" on Christmas Eve was scheduled. Organizers mimeographed rosters and lined up a public-address system, radio announcers, regimental bands and volunteer game officials. The field was the 29th's parade ground, which had as much coral and gravel fragments as dirt, and no grass. It was christened Pritchard Field after Cpl. Thomas Pritchard, a member of a demolition squad killed in a demonstration gone array shortly before the game.
Crowd estimates ranged from 2,500 to 10,000. With no bleachers, Marines scrambled to stake out vantage points.
Bergman started in the 29th's backfield, lining up with former Wisconsin halfback Bud Seelinger; fullback Tony Butkovich, the nation's leading rusher in 1943 at Purdue and the Cleveland Rams' No. 1 draft choice in 1944; and quarterback Frank Callen, from St. Mary's of California. Murphy was one end and player-coach Chuck Behan, formerly of the Detroit Lions, was the other. Behan captained the 29th Regiment squad. The 4th Regiment team captain was Schreiner, Wisconsin's two-time All-American and winner of the Chicago Tribune's Silver Football as the Big Ten's most valuable player in 1942.
Spicer, who was from Leavenworth, Kansas and had played guard for CU in 1942, was the 4th Regiment's starting quarterback.
The game was spirited, violent and inconclusive.
Neither team scored.
Spicer intercepted a pass on the last play of the game.
"It was two hands above the waist," Spicer said of the rules from his home in Park Ridge, Illinois, "but it could be a two-handed jab to the shoulder, guts or knees. It was fun!"
Bergman said, "We hadn't gotten to practice much, and that's why it was a 0-0 game, even with all the talent we had."
John McLaughry, a former Brown University star and ex-New York Giant in the 4th Marines, served as a playing assistant coach and played next to Spicer in the backfield. He and his 4th Regiment teammates wore light green T-shirts and dungarees, a better choice than the 29th's shorts.
"It didn't get out of hand," McLaughry told me from his home in Providence, R.I. "But it came pretty close."
McLaughry wrote to his parents the day after the game.
"It was really a Lulu, and as rough hitting and hard playing as I've ever seen," he said in the letter. "As you may guess, our knees and elbows took an awful beating due to the rough field with coral stones here and there, even though the 29th did its best to clean them all up. My dungarees were torn to hell in no time, and by the game's end my knees and elbows were a bloody mess."
In the letter, McLaughry said the stars were Schreiner and Bob Herwig, a lineman at California in the mid-1930s. Bergman said Herwig was best-known among the men for being the husband of Katherine Windsor, author of the controversial, banned-in-Boston historical novel, "Forever Amber." Herwig originally was ticketed to be one of the two game officials and was listed as such on the program. He couldn't resist playing.
Sgt. Harold T. Boian, a Marine Corps combat correspondent who later became advertising director for the Denver Post, wrote a dispatch that was distributed by United Press and ran in many newspapers. Because of wartime secrecy, his story began:
"SOMEWHERE IN THE SOUTH PACIFIC – (Delayed) – (U.P.) – Tropical heat and the lack of equipment failed to stop the leathernecks of the Sixth Marine division when they decided it was football time back home. They arranged the Mosquito Bowl football classic."
Boian listed many of the well-known players in the game. He didn't mention Hank Bauer, who spelled Spicer at quarterback, a blocking position in the single wing. Bauer came to the Marines from East St. Louis (Ill.) High School and would go on to fame as a major-league baseball player, and as a manager.
Survivors don't remember it being called the "Mosquito Bowl" at the time, and that name wasn't used on the program.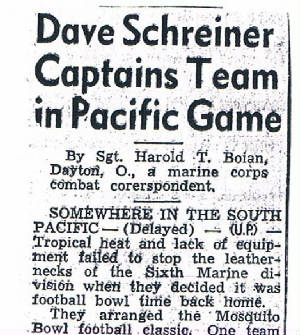 Because the game was a tie, all wagers were "pushes."
Bergman and the Sixth Division continued training, then left Guadalcanal for Okinawa, in the Ryukyu Islands, about 400 miles south of Japan.
"I remember that just as we were getting ready to load on our landing craft, one P-38 (fighter plane) flew over us and I felt like I could reach up and touch it," Bergman said. "I've never forgotten that."
Part of a multiservice command operating as a Tenth Army expeditionary force, the Marines went ashore on the western beaches of Okinawa on Easter, April 1, 1945. The landings were unopposed. The Japanese forces would make their stands elsewhere.
The 29th Marines first moved up to the northern end of the island, roughly 65 miles long.
"The only men we lost were from mines and booby traps in caves," Bergman said. "We lost our machine gun officer and mortar officer going in one of the caves. But then we came back to the lower third, and that's where all the trouble was."
In the battle for Sugar Loaf Hill, Murphy and Mears both were hit on May 15.
The Tenth Army's official Okinawa combat history, published three years later, said Murphy first ordered "an assault with fixed bayonets" against Japanese forces.
"The Marines reached the top and immediately became involved in a grenade battle with the enemy," the combat historians wrote. "Their supply of 350 grenades was soon exhausted.
"Lieutenant Murphy asked his company commander, Capt. Howard L. Mabie, for permission to withdraw, but Captain Mabie ordered him to hold the hill at all costs. By now the whole forward slope of Sugar Loaf was alive with gray eddies of smoke from mortar blasts, and Murphy ordered a withdrawal on his own initiative. Covering the men as they pulled back down the slope, Murphy was killed by a fragment when he paused to help a wounded Marine."
A Marine correspondent wrote of Murphy's death at the time. That story was carried in many U.S. newspapers in May. It had Murphy making multiple trips to help carry the wounded to an aid station before he was hit as he rested. It added: "Irish George staggered to his feet, aimed over the hill and emptied his pistol in the direction of the enemy. Then he fell dead."
Said Bergman, "One of the men in his platoon told me he pulled out his pistol and unloaded it."
In the battle, 49 of the 60 men in Murphy's platoon were killed or wounded.
Also on May 15, Mears' platoon was approaching Sugar Loaf when he felt a flash of pain.
"They said it was a machine gun, and it was one bullet through my thigh," Mears said.
Mears was evacuated to an airfield that night, then flown to Guam the next day, where he heard of Murphy's death.
"Oh, that one was really bad," he said. "He was just such a terrific guy. That was a real low blow."
Mears paused, then added, "But there were so many of them …"
Suddenly, Bergman was the only tentmate remaining in the battle.
"Then all the outfits got hit pretty hard," Bergman said. "Our company went up with others on the 18th and 19th (of May), took the hill, and stayed there. . . By that last night on Sugar Loaf, I was the executive officer. I organized a couple of guys to carry ammunition and stuff to different companies up there that night. We took guys down to the first-aid tent, not so many of the wounded, but several who cracked up from the stress of the whole deal."
In the Bronze Star citation, Maj. Gen. Lemuel C. Shepherd Jr. said the Coloradan "organized carrying parties and supervised the distribution and delivery (of supplies) to all three companies throughout the night. When time permitted, 1st Lieut. Bergman visited the troops on the line, exposing himself to enemy fire, speaking to many, reassuring and encouraging them during the enemy's intense counterattacks."
U.S. forces held the hill.
Spicer, the former Colorado player in the 4th Regiment, was wounded twice on Okinawa. He suffered a shrapnel wound in the arm, but was back in the battle at the end.
"We were coming north after cleaning up the bottom of the island," he said. "I jumped over a ditch and found a bunch of Japanese soldiers lying there. I guess somebody threw a grenade at me. That's how I lost my eye."
Spicer said that so matter-of-factly. "That's how I lost my eye."
By July 2, when the campaign was declared over, 15 players in the Football Classic had died on Okinawa.
"It was just part of the game plan," Bergman said, shrugging and summoning a sports analogy for war, reversing the usual practice. "We knew it was going to happen, and it did happen."
After the island was secure, Bergman visited Murphy's grave at the Sixth Marine Division Cemetery.
"It was real tough," Bergman recalled softly. He struggled to say something else, then settled for repeating: "It was real tough."
On that visit, he took a picture of Murphy's white cross and grave. He still has a tiny print.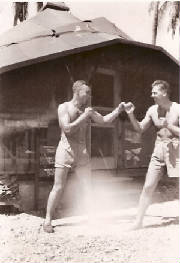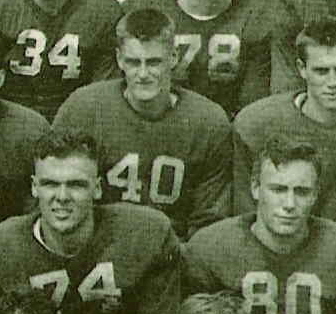 Left: Wisconsin teammates Dave Schreiner and Bob Baumann
as Marines in the Pacific Theater. Baumann sent this to his
girl/fiancee, Arlene Bahr, with his handwritten note on
the back: "Junior (Dave) and I putting on a show." They
died 15 days apart in the late stages of the Battle of
Okinawa.
Right: Baumann (74) and Schreiner (80) in the 1942
Wisconsin team picture. That's Crazylegs Hirsch (40)
behind them.
Like Murphy, the two team captains in the game, Schreiner and Behan, both died in battle. So did Schreiner's Wisconsin teammate, former tackle Bob Baumann, who served in the same company as Schreiner.
RELATED: The death of Dave Schreiner
RELATED: The death of Bob Baumann
Behan, born in Crystal Lake, Illinois, also was called both Charlie and Chuck, and he had played end at Northern Illinois State Teachers College and as a Detroit Lions rookie in 1942 before going into the Marines.
On Okinawa on the the morning of May 18, shrapnel struck Behan in the mouth. Behan's "runner," Bill Hulek, wondered if the severely bleeding lieutenant would head back to the aid station.
Behan insisted on staying on the front lines.
"He kept changing cotton in his mouth," Hulek told me from his home in Castleton, N.Y.
Behan had a last charge to make.
"We went up Sugar Loaf and got up there all right," Hulek told me. Behan tossed grenades at a Japanese machine gun nest. Next, Hulek said, "Lieutenant Behan kneeled there with a little carbine. That jammed, so he took my rifle and started shooting again."
Behan was hit by machine gun fire.
"The bullets came right out of his back," Hulek said, "and you could see his jacket raised - plink, plink, plink."
Behan posthumously was awarded the Navy Cross.
In addition to George Murphy, Dave Schreiner, Bob Baumann and Chuck Behan, the other Football Classic players killed in action were:
– All-American halfback Tony Butkovich, formerly of Illinois and Purdue..
-- John Henry "Red" Anderson, who had played high school football in South Dakota.
–Bob Fowler, who attended Michigan.
–Lehigh tackle John Hebrank.
–Southern Methodist tackle Hubbard Hinde.
–Marquette halfback Rusty Johnston.
–Wake Forest and Duke halfback Johnny Perry.
–Amherst end Jim Quinn.
–Cornell tackle Ed Van Order.
-- James John Brennan, who had played high school football in Yonkers, N.Y.
-- Don Lee Jones, who had played high school ball in Alabama.
They were "only" 15 among 2,938 Marines killed or missing in action on Okinawa. U.S. Army dead and missing numbered 4,675.
Many of the survivors, including Bergman, were ticketed to serve in an invasion of Japan. Bergman was given a "G-2" summary of the Sixth Marine Division's strategy on Okinawa. In the letter on the first page from Maj. Gen. Shepherd, dated Aug. 1, 1945, the Sixth Division's commanding officer declared: "I believe that the lessons learned at so dear a price on (Okinawa) should be published and distributed for the benefit of combat units who will land again on Japanese soil."
New President Harry S. Truman approved the use of atomic bombs against Japan, and they were dropped over Hiroshima and Nagasaki in early August.
"We were real happy it was going to end the war," Bergman said. "Before that, we knew we were going to go to the mainland."
Instead, the invasion of Japan was unnecessary after the September surrender, and Bergman's unit drew occupation duty in China.
Spicer returned to Boulder, lettered three more seasons for the Buffaloes at guard and was the team captain in 1948. Incredibly, he did it with one eye. After a long career in the banking business, he retired in 1989.
After the war, Dave Mears returned to Massachusetts and became a CPA. When I spoke with him in 2004, he was 83 and still was cutting firewood and annually using a season ski pass in New Hampshire.
The daughter George Murphy never met, Mary Steele, was invited to speak at the Notre Dame Class of 1943's 50th reunion. Murphy posthumously was honored with the Father Willliam Corby Award, saluting "Honor, Loyalty, and Notre Dame.'" (Mary passed away in 2000.)
In 1946, Bus Bergman returned to Fort Collins and earned his master's degree. He went into coaching at Fort Lewis College in Durango, then moved to Mesa College in Grand Junction in 1950. He coached the Mesa football and baseball teams, and the baseball team three times was the runner-up in the national junior college tournament – an event Bergman helped Grand Junction land as the annual host. He retired from coaching in 1974, and from the faculty in 1980. He was inducted into the Colorado Sports Hall of Fame in 1995.
Bergman told me he often thought about his Marine buddies.
About those who survived the war. And about those who didn't.
Bob Spicer died in April 2006. My Denver Post obit.
Bus Bergman died in March 2010.
Dave Mears died in November 2017.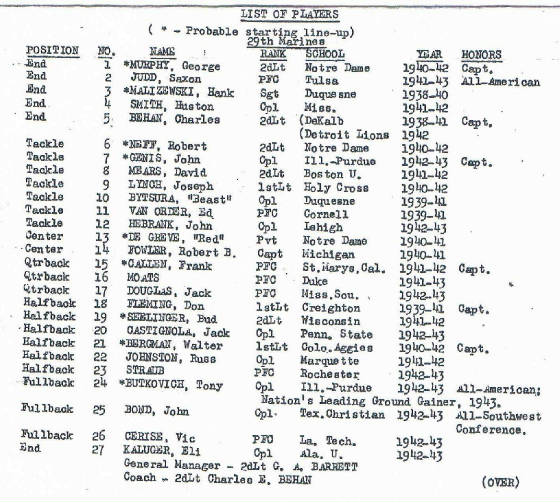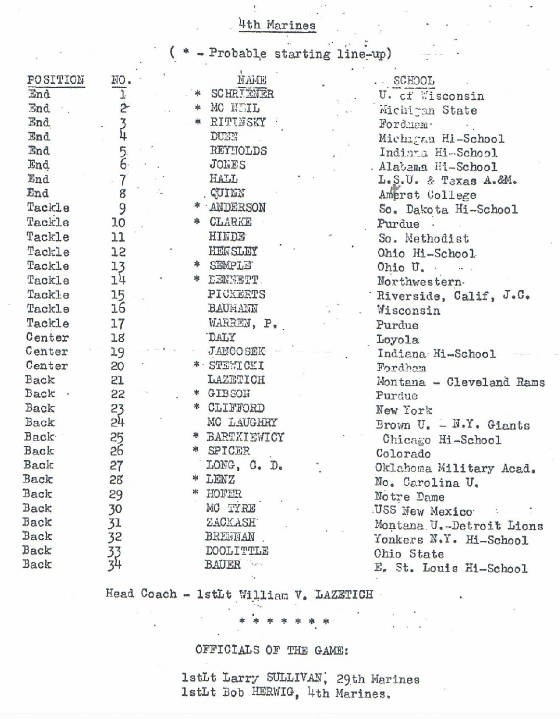 Postscript
In 2021, I heard from Bob Baumann's niece, Patti Bauman Margaron, and her children, Matt Margaron and Hana St. Gean. Patti is the daughter of Bob's younger brother, Frank Bauman, who had played at Illinois and also was a Marine. I had been unable to reach Bob's family when researching Third Down and a War to Go, both originally and then in the second wave for the paperback after communicating with Bob's college girlfriend, Arlene Chandler. Different spellings of the last name, plus the current family name of Margaron, complicated the matter. Bob went by Baumann in all things at Wisconsin -- including programs, roster and newspaper coverage. He still was listed as Baumann in the Mosquito Bowl program above, but was Bauman in Marine records. The rest of his family used Bauman. For the sake of consistency, I called him Baumann throughout my book and in the other pieces I've done about him.
As it turned out, the Margaron family had a treasure trove of Bob's belongings and letters and also other material, including his Bronze Star medal and citation and the 1942 Wisconsin-Great Lake game ball. I have added other information passed along by the family.
I asked the Wisconsin Historical Society Press if it could put out a new paperback or Kindle edition with the additional Bob Baumann information and updates for all the Badgers and others I had interviewed. I understood when the WHS said it wasn't possible. The WHS did a terrific job with and showed faith in the project. It also already had allowed me to do a lot of rewriting and updating for the 2007 paperback edition, including with information from Arlene Chandler.
If I ever have a chance, though, I'd love to do another updated edition. The screenplay adaptation, written in 2010, is back out there, to
I did put author Buzz Bissinger in touch with the Margaron family. Buzz contacted me, letting me know he was doing a book on the Mosquito Bowl, focusing on those who played in the game and soon died on Okinawa. Of course, that included ex-Badgers Dave Schreiner and Bob Baumann. Buzz had seen Third Down and a War to Go. Most of the former Marines and others I interviewed about Schreiner and Baumann, and for my separate stories on the Mosquito Bowl, had passed away.
Out of professional courtesy and respect, I agreed to give Buzz access to my notes and other material, including interview tapes. Later, with permission from the Margaron family after the contacted me, I gave Buzz their contact information.
Our books were -- and are -- different. The Mosquito Bowl, the game itself, is part of my Third Down and a War to Go narrative about one great college football team. .
The Mosquito Bowl
is Buzz's focal point -- plus his title.
His extensively and impresssively researched book came out in 2022.
Buzz was able to confirm that 15 of the Marines who played in the Mosquito Bowl and were listed in the program died on Okinawa. The total previously was believed to be 12. I have corrected that here.
From Bissinger's The Mosquito Bowl: