email: terry@terryfrei.com
Twitter: @TFrei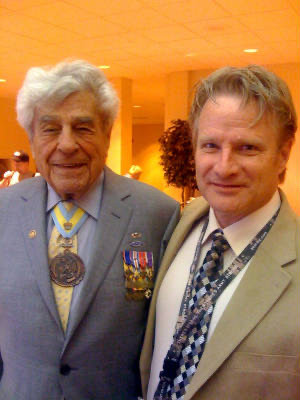 2010 World War II Glider Symposium keynote
speakers James Megellas, most decorated
officer in 82nd Airborne history, and Terry Frei.
Megellas died on April 2, 2020. He was 103.
Terry Frei is a Denver-based writer. He's a graduate of the University of Colorado with degrees in journalism and history. At CU, he has served as vice chair of the History Department Advisory Board and chair of the International Affairs Studies Advisory Board.
During his newspaper career, he was named a state's sports writer of the year seven times in peer voting conducted by the National Sports Media Association -- three times in Oregon and four times in Colorado.
His two novels and five non-fiction books, mostly combining sports and history, have drawn considerable praise from former presidents, Pulitzer Prize winners, prominent journalists, reviewers and the public. (Here)
On the heels of his critically acclaimed fact-based novel, Olympic Affair (2012), about Colorado native and 1936 Olympic decathlon champion Glenn Morris and his belatedly disclosed toxic relationship with notoriously exploitative and opportunistic filmmaker Leni Riefenstahl, Frei returned to non-fiction.
March 1939: Before the Madness (2014) is the story of the first NCAA basketball tournament, its plucky champions, and the backdrop of stormclouds in advance of World War II.
Frei's earlier non-fiction books are: Horns, Hogs, and Nixon Coming (2002); Third Down and a War to Go (2007) (foreword by David Maraniss); '77: Denver, the Broncos, and a Coming of Age (2007); and Playing Piano in a Brothel (2010).
The Witch's Season (2009) was his first novel.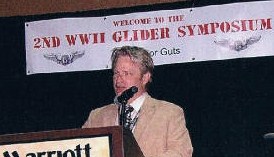 Frei late in his career turned to researching athletes' (and others') contributions to the U.S. effort in World War II for both book and journalism material, but tried to make up for lost time.
In addition, Frei's collaborations include They Call Me "Mr. De" The Story of Columbine's Heart, Resilience, and Recovery (2019),by former Columbine principal Frank DeAngelis ; and Save By Roy (2014), with Adrian Dater.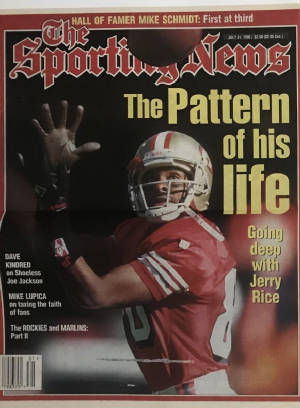 He spent his early years in Eugene, Oregon, where his father, Jerry, was an assistant, then head football coach at the University of Oregon. As a high school junior, Terry moved to the Denver area with his family when his father moved to the NFL with the Broncos. Terry is a graduate of Wheat Ridge High and began writing for the Denver suburban Sentinel weekly chain while in high school, contributing a youth column and covering high school football in a hip-to-toe cast after undergoing knee surgery and not playing as a senior.
After writing for the Rocky Mountain News while attending CU, Frei joined the Denver Post after graduation for the first of his two stints there, mostly as a hybrid reporter / feature writer and columnist.
He also was a sports columnist at the Portland Oregonian and a national football and basketball writer for The Sporting News, the legendary weekly then based in St. Louis.
His stories for The Sporting News included a definitive year-long look at Nick Saban, plus profiles of NFL Hall of Famers Jerry Rice, Tony Dungy, Emmitt Smith, Aeneas Williams, Michael Irvin, Larry Allen, Charles Haley, Richard Dent, Thurman Thomas, Shaquille O'Neal and Gary Payton.
He covered the NBA, NHL, MLB and NFL as a writer and/or columnist and in those roles has attended many World Series, Super Bowls, NBA Finals, Stanley Cup Finals, Final Fours, major bowl games, Olympic Games and major boxing events. (Credentials.)
Frei also was a long-time vice president of the Professional Hockey Writers Association and chairman of the organization's Colorado chapter. He remains a member. Simultaneous with his newspaper work, he was an ESPN.com hockey columnist for nine years.
Frei has been a frequent guest speaker, most notably at veterans-oriented events. He was honored to deliver the John Paul Hammerschmidt Lecture in Harrison, Arkansas, the hometown of the World War II pilot, longtime Congressman and close friend of another HHNC figure who contributed his memories for the book -- former President George H.W. Bush. Frei also has spoken at the Wisconsin Veterans Museum, the Wisconsin State Historical Society, and Lambeau Field; and was a keynote speaker at the World War II Glider Symposium in 2010, when he appeared with many surviving heroes, including Lt. Col. James Megellas, the most-decorated officer in the history of the 82nd Airborne.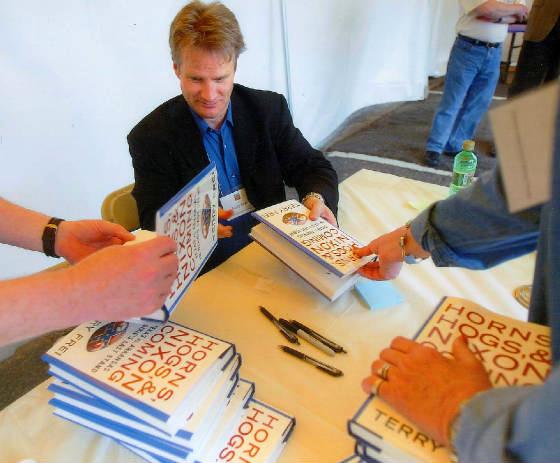 Arkansas Literary Festival, Little Rock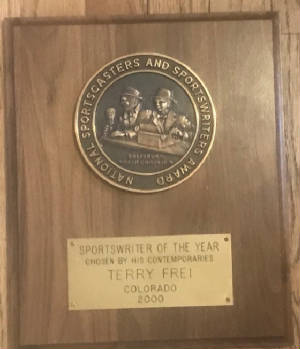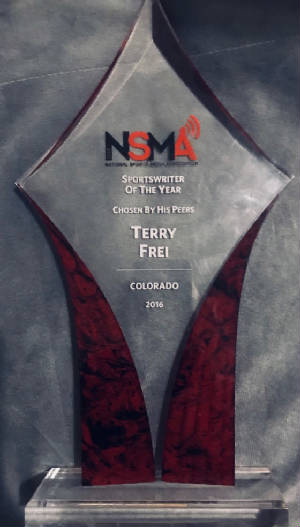 Two of Terry Frei's seven state Sportswriter of the Year Awards, awarded in peer voting by the National Sports Media Association. These are for Colorado in 2000 and 2016.