(This is a secure web site in process of being transferred to a newer, updated platform.)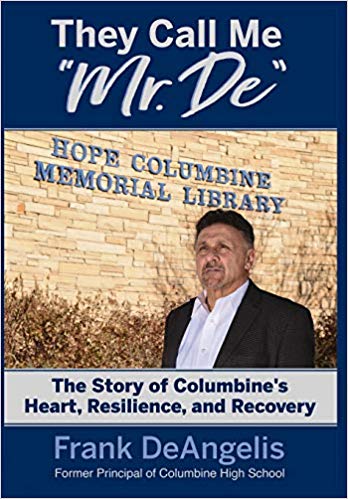 From Terry Frei:
I'm proud to have collaborated with Frank DeAngelis on this book. We go back to being opponents in high school baseball -- him at Ranum, me at Wheat Ridge in the Denver area. (He's much older than I am.) I in no way was a "ghost writer" on this, though. It's Frank's book, with taped interviews and research forming the foundation before we passed the manuscipt back and forth and Frank dove in to additionally give it his voice and touch. He really didn't need me. But I'm grateful he allowed me to be part of it. -- TF
From Frank DeAngelis:
I was the principal at Colorado's Columbine High School on April 20, 1999. I remained principal for fifteen more years.
Virtually every day at the school, I heard variations of How can you do this? How can you go back? How can you walk those same halls? How can you stand to be reminded every day?
Many friends and colleagues urged me to move on. I refused to seek or accept a transfer to another school or move to the Jeffco Public Schools central administration. I needed to be at Columbine. I wanted to be there. I couldn't walk away—not from the kids, not from the high school, and not from that community. I wanted to make sure that those who were murdered that terrible day were never forgotten. Beyond that, I wanted Columbine to become a story of courage, love, heart, resilience, and recovery. I wanted to lead the way to that healing.
REACTION
"This book is a testament to the power of compassion in the face of crisis and the age-old belief that leaders are not born but made."
—President Bill Clinton
"Frank DeAngelis offers us a rare window into a personal journey few have traveled and fewer have paved."
—Kristina Anderson, founder, The Koshka Foundation for Safe Schools
"An incredible book written by an incredible human being."
—Scott Bemis, retired president and publisher, Denver Business Journal
"Tempered in the crucible of unimaginable tragedy, DeAngelis's voice emerges as optimistic and inspiring. Please read this book. We need its message now more than ever."
—Steve Farber, author, The Radical Leap; founder and chairman, The Extreme Leadership Institute
"This book is for every leader in every profession; it is the truth about trauma, recovery, and moving forward while never forgetting."
—J. Kevin Cameron, executive director, North American Center for Threat Assessment and Trauma Response
"They Call Me 'Mr. De' should be required reading for every educator, school resource officer, and parent."
—Theresa Campbell, president, Safer Schools Together
Terry Frei interview with Frank DeAngelis, April 2023: "It's got to stop."