February 19, 2023
To read about the work of the JoAnn B. Ficke Cancer Foundation and Bill and JoAnn's love story, click here.
To read about the path that took Dan Ficke to MSU Denver and Big Bill's induction into the Belmont Abbey College Hall of Fame, click here.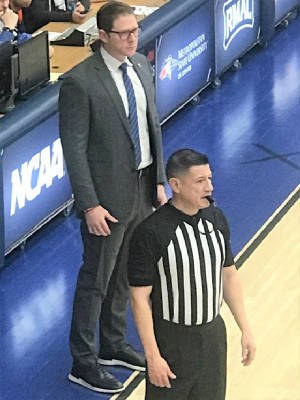 Dan Ficke working from the bench during the
Roadrunners' OT win over Colorado Christian
I enjoyed attending MSU Denver's 75-73 overtime win over Colorado Christian University Saturday night at the Auraria Events Center, and it was great to check in with the Roadrunners' men's program as Dan Ficke's first season as head coach winds down.
Sports Information Director Rob White's game story
With two league games remaining, both on the road next weekend, the Roadrunners are 11-15 overall and 8-12 in the Rocky Mountain Athletic Conference. While there have been struggles this season, Dan soon will have MSU Denver back among the league and national Division II powers.
(The legacy: Under Mike Dunlop, the Roadrunners won the Division II national championship in 2000 and 2002, taking advantage of a pipeline that brought talented Australian prospects to Denver.)
In the Denver area, it would be great if the RMAC rivalry between MSU Denver and Colorado Schools of Mines reheats. Pryor Orser has done a terrific coaching job at Mines for 22 seasons and in 2022-23 has the Orediggers at 16-4 in the league, in third place, behind Fort Lewis and Black Hills State.
Or it would be invigorating if the four Denver-area RMAC schools, also including Regis and Colorado Christian, draw more attention and make this a multi-sided metro area rivalry. (Also, in basketball, 10 of the 15 RMAC schools are in Colorado.) Current RMAC standings.)
So how does MSU Denver take a jump under Ficke?
Dan has emphasized trying to mine Colorado prep talent, and that has to be the cornerstone. That's true, even if it means keeping tabs on top Colorado players who start out elsewhere, including in Division I, and are amenable to coming home to finish their careers. In fact, that's how it worked for senior guard Tyrei Randall and sophomore forward Caleb McGill, the top two players on this season's roster.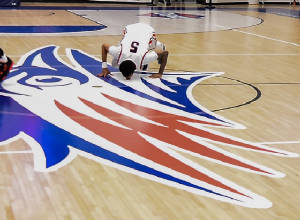 Tyrei Randall kisses the floor after his final home
game for MSU Denver (Photo by John Leyba.)
Randall had 25 points in the win over Colorado Christian. He was a first-team All-State choice at Rangeview High and played at Division I Rider and St. Thomas More before returning to Colorado for his two seasons with the Roadrunners. He and forward Chandler Bevans were the two seniors honored before their final home games Saturday night.
McGill is from Grandview High and played two seasons at D-I UC Davis (one under a COVID waiver, so he used only one year of eligility), and can be with the Roadrunners two more seasons. That said, as Ficke takes advantage of the Ficke family's many connections in the Colorado basketball community, true local four-year prospects can help the program progress. (The near D-I misses, in other words. D-II does give scholarships.)
The Roadrunners' entire athletic program remains one of the underplayed attractions in Denver sports. The Regency Athletic Complex, adjacent to the south side of campus, is a gem for baseball, softball, and soccer, and the Auraria Events Center, on the Auraria campus, is fine for hoops and volleyball. Colorado sports trailblazer Tanya Haave's career turns brought her to MSU Denver in 2010, and she is entrenched with the women's hoops program.
A frustrating part of it all involves the continuing battle to catch on with the commuter school's student constituency and draw better. That's not just for basketball, but especially also for the successful national power women's volleyball program -- and others. The strong D-II baseball team can be an attraction in the area baseball scene, for both area prep players and fans, as neither Colorado nor Colorado State has an NCAA baseball program.
Yes, MSU Denver is a commuter school, but student housing has gone up at the campus area and the Regency complex now is a North Denver area alternative for Auraria students. (Ahem ... When it was a hotel, I once interviewed Muhammad Ali there.) Also, the entire Roadrunners athletic scene gets terrific coverage from talented student journalists and the sports information department, and games and events are streamed for live coverage on Roadrunners TV. That's a way of saying that while local mainstream media and online outlets tend to overlook or underplay the Roadrunners and the local and state D-II scene, MSU Denver provides examples of effective in-house coverage in the evolving media scene. (The MSU Denver Athletics site is easily navigatable.)
A final aside: The MSU Denver name -- and that's what the school now prefers, even on first reference, especially instead of Metro State -- sometimes draws quibbles and criticism. In the transition to university status for the former Metropolitan State College and as the three-school Auraria complex took root on the site adjacent to downtown, the attempt to make MSC into Denver State University failed, mainly because objections from the University of Denver. That was -- and is -- ridiculous and DU should have been told to pound sand. MSU Denver should be Denver State today. Instead, it's officially Metropolitan State University of Denver.
Confusion if it was Denver State? The other examples of similar situations mostly involve smaller Catholic universities in the same markets as larger commuter universities. San Francisco and San Francisco State. San Diego and San Diego State. Portland and Portland State. They get along fine. At least the emphasis on the city in calling it MSU Denver helps.
The Denver State Roadrunners -- we wish -- finish up against league-leading Fort Lewis at Durango Friday and Adams State at Alamosa Saturday. They have a longshot chance of making the eight-team league tournament.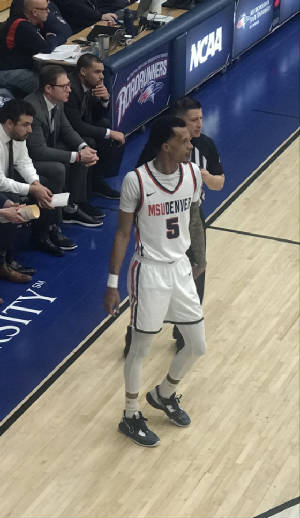 Tyrei Randall during his 25-point game against CCU.