August 11, 2022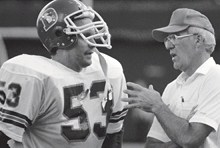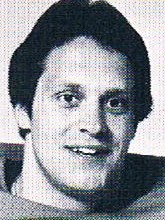 Left: Randy Gradishar and genius defensive coordinator Joe Collier.
Right: Gradishar in 1977 Broncos media guide.
Please read: '77 Gradishar excerpt: It All Stops Here
That link above gets you to the chapter in '77: Denver, the Broncos, and A Coming of Age that introduces you to Randy Gradishar, taking him from his youth as the son of a World War II vet-turned-grocer in small-town Champion, Ohio, to Ohio State, and through his early, pre-'77 seasons with the Broncos.
In 1974, Broncos' GM-coach John Ralston contacted Ohio State coach Woody Hayes and asked about the scuttlebutt being spread via a Lions trainer that Gradishar had a bum knee that would limit his effectiveness. Hogwash, said Hayes. (Close enough.) The Broncos took Gradishar with the 14th overall pick in the 1974 draft. Playing 10 seasons, he was the top short-yardage, run-stuffing linebacker in the game and was a leader of the famed Orange Crush defense.
In the epilogue section that closes the book, I wrote: "That [Gradishar] isn't in the Hall of Fame highlights the ridiculous cronyism and maneuvering in the voting among media members at the Super Bowl site the day before the game."
The worst part of that?
The book was published in 2008.
Fourteen years later, the Hall of Fame's seniors committee has a chance to get it right next Tuesday, when it can select for induction up to three of the 12 senior player finalists. The full selection committee would have to sign off on the three choices in January, but that's a rubber stamp rather than a suspenseful vote.
Gradishar should be among the three.
The major roadblock now is that what I would peg as the top four candidates -- Gradishar, Tommy Nobis, Maxie Baughan and Chuck Howley -- are all ex-linebackers. So if seniors committee voters feel obligated to try and spread out the choices by position, at least a couple of worthy linebackers could be left out. Yes, including Gradishar.
The other eight finalists:
QB Ken Anderson.
TB-HB Cecil Isbell.
DL Joe Klecko.
LG Bob Kuechenberg.
LB Eddie Meador.
CB Ken Riley.
WR Sterling Sharpe.
CB Everson Walls.
Appropriately clad in an orange golf shirt, Gradishar -- who was first eligible for induction in 1988 -- was at the Broncos' joint practice with the Cowboys Thursday. I was gratified to be able to catch up with him with Sandy Clough of The Fan, both before and after it turned into a larger scrum.
"I'm just very grateful and feel blessed that my name comes up for that finalist list, and I know that there's three that are going to be chosen," Gradishar, now 70, told me. "I've been through this before. This is the first year in a long time that I've felt there's a real possibility of getting into the Hall of Fame. It's just an internal feeling. You go through it, I think it's been 30-some years and so it kind of wears off after a while. But with this opportunity to be considered a finalist, I've looked at some of those names. And some of those names I can even remember. It'll be exciting to see how it's going to turn out."
I asked Gradishar how important the Hall of Fame issue is to him an an ultimate definition of his career.
"I believe it's all in God's timing," he said. "Whether I get in or don't get in is not going to change my life. . . I just kind of keep waiting and depend on people to see what my statistics were and are for when I played. I've heard what I called a lot of excuses over the years. That's my own personal feeling about that. When I look at my statistics compared to some of the guys that are already in, mine are a little bit better."
It's no secret that one prominent and unfortunately influential voter effectively blackballed Gradishar, claiming the Broncos inflated their tackle statistics during Gradishar's career.
"I don't resent that," Gradishar said. "I usually don't resent anything. But what are people looking at, what is the committee looking at? Again, going back to the excuses, they didn't even know who the Denver Broncos were, you played in the wrong time zone, all those excuses. That doesn't make any sense to me because when you put your statistics out there, again, a lot of my statistics were better than some of the guys already in there."
The Steelers' Jack Ham and Jack Lambert, Gradishar contemporaries and no better than on a par with him, both have been in for many years. So is ex-Giant Harry Carson, a terrific player and leader, but who also greatly benefited from East Coast tunnel vision among those evaluating NFL players.
"Again, whatever those excuses are, the Steel Curtain, the Purple People Eaters, (the Broncos) had the Orange Crush defense," Gradishar said. "Statistics say something ... I don't know what else to call them besides excuses. We knew because we beat those Steel Curtain guys in the first divisional playoff game in '77."
Clough asked Gradishar if he was gratified that the Broncos' new part owner, Condoleezza Rice, mentioned at the Wednesday introductory news conference that she had been a member of Colorado's Orange Crush generation, getting caught up with the upstart Broncos when she was a student at the University of Denver.
"Condoleezza certainly must have followed it back then," he said. "I heard about it in the news yesterday. That was just real nice because that was a great era for the Broncos. . . The people in Colorado were going crazy, and you really couldn't go anywhere if you weren't a (Bronco fan) and there was a lot of great history for the Bronco organization."
After retiring from football, Gradishar ran the Broncos Youth Foundation until 1992, worked with Bill McCartney's Promise Keepers organization, and then joined the Phil Long automobile dealership group in 1997 and has served as corporate communications director. He's still with the Long group.
If Gradishar is voted in the Hall of Fame, the next Bronco senior era candidate to follow should be the Orange Crush's Louis Wright, a shutdown corner before there were shutdown corners.