December 24, 2022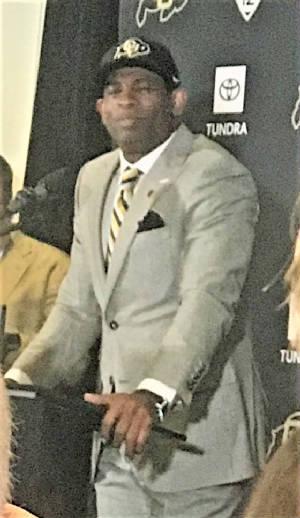 Deion Sanders is off to a flashy start -- surprise! -- as Colorado's head coach.
As an alum, I remain on board the bandwagon. As NIL, the transfer portal, social media and programs' self-coverage and promotion tighten their revolutionizing grips on the college game, Sanders seems the right man with the right approaches for the times. Or at least worth a try for a program that was about to careen over a cliff -- if it hadn't already.
I won't run through the Buffs' haul in the early national signing period. You've heard it, and it's impressive. So is Sanders' success at assembling a formidable and in many cases "overqualified" staff. See it here. Coach Prime (it's a rule: you have to call him that at least once in every story) seems to be taking the smart CEO, face-of-the program route.
Yet it's not out of line or disloyal to at least have misgivings or uneasiness about some elements of the transition. I realize that bringing that up causes some to equate it to a full-scale rejection of the Sanders approach. That's the "either-you're-all-in-or-you're-not" attitude that is one of the major obstacles for intelligent discourse, whether about college football or anything else.
But the way CU handled many of the "commits" lined up by the Karl Dorrell staff was unfortunate. That's being too nice. It stunk.
When Sanders was hired, 20 high school prospects had said they planned on attending CU and had accepted "offers." Thirteen ended up on the outside after CU yanked their scholarship offers as the national signing date approached. What's objectionable is not so much the decisions and actions themselves as the way it came down.
In the limbo period following Dorrell's firing, we heard interim coach Mike Sanford and remaining staff members praised -- both internally and among CU fans -- for mostly holding together the tentative recruiting class. Rick George and perhaps others either told prospects, or created the impression in discussions with them, that existing scholarship offers would be honored.
For the majority, they weren't.
I'm not naive. Neither are most of the young men in this college football era after the "x"-star, recruiting rankings experience as high school prospects. They pick out a hat from the stack, they disclose their visits and offers on social media, they ask about NIL opportunities, and at some point -- as hard as this is to believe -- they might even ask about the business school. CU ended up signing six of the previous staff "commits" including one Dorrell staff recruit from Colorado, offensive lineman Hank Zalinskas of Cherry Creek. That's especially significant because he played for Dave Logan.
Even if the Sanders staff is going to be recruiting the state more selectively than previous staffs (which were criticized for that), it's smart to try to stay on the good side of Logan, the state's top high school coach -- who also is a former CU All-American and NFL wide receiver who pronounced himself as "all in" on the Sanders hiring. The Buffaloes also stayed in the hunt for Cherry Creek linebacker Blake Purchase, who stuck with Oregon, his previously announced choice.
CU should have conceded or emphasized that all bets were off, and it would be up to the next staff about which offers remained in force after the next hire. (Again, without being part of the communication, I won't pretend to know exactly what was said in all discussions with the prospects.) Or at the very least after the fact, George could have said all these events underscore that it's a business, even a greasy one, and he believed what he said when he said it. But remember, talks with Sanders didn't start the week the news of his acceptance of the job broke, either. They had been ongoing.
Part of the problem, of course, is the inaccuracy of the recruiting vernacular. "Commit," "commitment," "de-commit" and even "offer" all are at least misleading, considering there is no commitment until signing -- and even that can be shaky. "Flips" are common and continued recruiting of prospects who have announced their choices can be relentless. I'm more arguing here for disclosure and candor than I am for unconditional guarantees that scholarship offers will remain in force until signing day. After the splashy hire of Sanders, the Buffs recalibrated their recruiting standards, and that followed Sanders' greeting of the holdover players with not-so-subtle implication that they weren't good enough and they were welcome -- or more than that -- to leave.
I wish we could at least try to balance traditional idealism with that "it's-a-business" realism. At the most powerful of programs, not everyone on the roster can be or should be NFL prospects, and you've still got to be hoping that many of your players will seek and get degrees and end up as -- among other things -- businessmen, educators and community leaders. Sanders didn't disown those concepts, of course, emphasizing discipline and respect, but I'd prefer that CU at least step away from the impression that this is all -- only -- about winning and NFL prep.
I'm also struck by how flat-out stunning it is that the university with an allegedly shaky commitment to football did a sudden and complete, 180-degree reversal, including on the process of transfering credits. Chancellor Phil DiStefano's about-face soundbites drew national ridicule. It was a cutback worthy of Sanders. Barry Sanders. CU was on the hook for roughly $13 million* for the fired Dorrell and his staff before Sanders and his impre$$ive staff signed on. And we were remiss in not more pointedly asking why CU wouldn't remove the transfer credits and academic issue barriers for Dorrell, but couldn't do it fast enough for Sanders. (In other words: What took you so long?)
This is relatively trivial, but the disdainful reaction from so many after outgoing CU regent Jack Kroll voted against approving the Sanders contract was silly. The vote was 8-1. If one regent voted no -- as Kroll tends to do on all football contractual matters -- so what? Clearly, he was showboating after giddily posing with the other regents and Sanders at the introductory press conference-turned-pep rally. And we obliged, focusing the spotlight on him. But also, was it preposterous to vote against a contract that led to CU having to pay a roughly $8.7-million* buyout for Dorrell? Yes, market value and all that, but George seemed to get a pass on the choice made under unique circumstances following "Midnight" Mel Tucker's departure.
I'll concede the public -- even the CU constituency -- will say it doesn't care about this, but the letter of intent signing date underscored that the Sanders staff will back away from traditional media and coverage norms. Sanders was not made available to the media. Signings were announced on the athletic department web site and through social media. I'm expecting Sanders' own social media machinery will be prominent as spring practices or fall camp begin. He will be coaching as if the camera is on him. In this era, all coaches do that, anyway. The camera will be on him, even under his own imprint. There's nothing "wrong" with that, but I'm wondering if there will come a time when fans will ask why pressing questions aren't being asked -- or answered. Whether that's at post-practice availabilities or at the CU staple, weekly media luncheons.
Finally, it seems almost impolitic to point out that in addition to his sons, Shedeur and Shilo, Sanders is bringing a long list of players from Jackson State. As impressive as the Tigers were in the SWAC under Sanders, and while the talent level (including Shedeur at quarterback) was exceptional for an FCS program, it IS an FCS program. At least in theory, it's on the same level as Northern Colorado or North Dakota State. The jury is out on whether Sanders initially will over-rely on those transfers. No, CU couldn't be any worse than it was last season, but I'll ask that anyway. The comparison around here was Colorado State's Jay Norvell bringing roughly a dozen players with him from fellow Mountain West (and Group of Five/FBS) program Nevada ... with mixed results.
Sanders was -- and is -- a bold choice. But that should't give him immunity from all scrutiny or skepticism on some points.
* The buyout figures for Dorrell and his staff have varied in media reports since his firing. CU has said it expects the Dorrell buyout to wind up less than the $8.7 million originally quoted from the contract. And assistant coaches will be owed less if they take other jobs.
December 4: Welcome, Coach Prime