December 4, 2022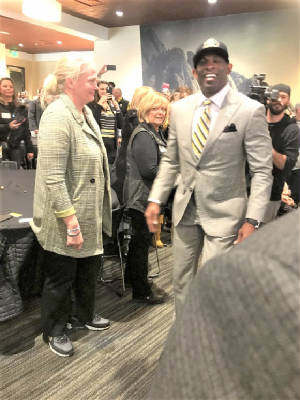 Deion Sanders arrives at the Arrow Touchdown Club Sunday to a
tumultuous response from fans, boosters, ex-Buffs and others.
BOULDER -- This is not a value judgment. This is not raining on the parade.
Absolutely, new Colorado Buffalo coach Deion Sanders' introduction to the CU constituency Sunday at the packed Arrow Touchdown Club in the Dal Ward Center at Folsom Field was a spectacular success. I'm an alum, too, and there were times Sanders had me looking for a wall to run through. (Anywhere nearby would have worked except for the Muenzinger Psychology Building; I swore the day I graduated to never set foot in that hall of horrors again.)
But let's be real.
It was a pep rally, not a news conference, with prefatory remarks from Chancellor Phil DiStefano and athletic director Rick George before it was Sanders' turn at the podium and microphone. To say that "Coach Prime" was a hit with the assembled boosters, staff, fans and alumni -- and, yes, members of the media -- was an understatement. I'm not going to run through the particulars because I suspect if you're looking here, you earlier heard or read his impressive spiel.
The limited post-remarks questions from the small pool of media selected in advance by CU to ask one apiece were softballs. Time constraints made that format necessary. And again, I get that: I've been a part of similar coach introductions at both CU and CSU when anything but "Go Team Go" questions drew groans and boos from the crowd.
Of course, there have been instances when the fans who cheered the loudest at the introduction wanted the coach fired two years later.
Actually, the most significant comments made at the podium arguably came from DiStefano, who confirmed that after lagging behind most other Pac-12 schools -- or even Power 5 programs, period -- in immediately accepting credits through the transfer portal, CU was loosening up on that point. (The fans and boosters in the crowd cheered as if the Buffaloes had just scored on a 82-yard punt return.)
The question should have been: What took you so long? And I'm amused that nobody seems to realize that Karl Dorrell and to a lesser extent Mike MacIntyre in different times weren't allowed to take advantage of the flexibility that will help Sanders get his program off the ground in Boulder. I'm reasonably certain he would not have accepted the job without an assurance that the overdue and reasonable changes were coming at CU in the new era's transfer portal / unrestricted free agency / NIL landscape.
In December 2012, I attended a similar pep rally that introduced MacIntyre as CU's head coach. At the time, there was considerable discussion about whether the Buffs' pool of hot-prospect head coaching candidates would heve been larger if CU lowered what for then were relatively tight admission standards for athletes. Here's what DiStefano told me then: "I don't think what we want to do is change the standards. What we've done in the past is make sure the student-athletes we bring in are capable, with assistance from the athletic department, of being successful here."
At the same coach introduction, CU President Bruce Benson was adamant that his school was sufficiently flexible in making admissions decisions for all prospective incoming students -- not just athletes.
Sanders is the right man in the right place, a superstar athlete who came later in life to coaching.
I expected the New York tabloid headline to be:
COLORADO U.
TAPS EX-YANKEE
NEON DEION
He already has proven himself in the coaching craft, at the FCS level. Clearly, he is an exceptional and inspirational motivator and a straight shooter about what he expects from his players and those connected to his program. That's not particularly rare, of course. Many didn't notice it, but Dorrell was offended by the sense of entitlement that was common in the program he inherited from Mel Tucker.
The Sanders hire is a great one, though it has raised eyebrows within the Pac-12 and even nationally because of its perceived theatricality. Sanders revels in the spotlight and refuses to pretend differently. He is what CU needs in these times of conference realignment positioning and the year-to-year revising of rosters, plus -- above all -- the challenge of digging out of a 1-11 hole. I'm of the view that it's harder than ever because coming up with the magnitude of NIL income to entice the difference makers to join a downtrodden program would be monumental.
But Coach Prime might change the formula.
I admit I was skeptical when Sanders' name came to the forefront of the search last week. My experience in other coaching searches has been that "offered the job" can be a matter of semantics, with search firms and agents involved to be vehicles for plausible deniability. But Sanders scoffed at that, too, conceding he had an offer on the table.
Closing notes:
-- This is NOT the same. But it's at least worth thinking about. Colorado media gushingly praised Nathaniel Hackett after he was hired, and in his early days on the job with the Broncos. He travled to England for a concert with Russell Wilson! He took handoffs from his chum, the quarterback! He was one of the boys, quite a change after the sometimes surly Vic Fangio. And then what happened? Might it be reasonable to let this play out a bit?
-- And even the fact that Sanders' quarterback almost certainly will be his son, Shedeur, should mean it's not impolite to at least bring up similar situations. Neither Cody Hawkins playing quarterback for his dad, Dan, at CU; nor one-time Michigan QB Dylan McCaffrey eventually playing quarterback for his dad, Ed, at FCS Northern Colorado worked out. Whether you'd argue that's a silly concern because Shedeur is better than Cody Hawkins is almost irrelevant. (And remember, it is NOT rude to note that Jackson State is an FCS program.) Cody, who actually had a decent freshman season and decent career numbers, was supposed to be a one-year bridge until his dad could bring in an elite pospect. Dan Hawkins never could or did. The biggest issue was in-house because of the grumbling about nepotism the son QB-dad coach caused. Plus, whether justified or otherwise, the presence of the coach's son at QB tends to scare off elite QB prospects. In other words, Shedeur better be so good, there's absolutely no rational questioning that he's the best quarterback on the roster.
Youtube: Deion Sanders meets the CU players for the first time
-- In the above, Sanders at one point tells the players: "Some of you sitting in those seats won't have a seat soon." The idealist in me is bothered by that candor, but it's also the undeniable truth. Scholarships are year-to-year renwable. This team went 1-11. The transfer portal has changed the game -- and the business. I can live with a survival of the fittest mentality. There's a line, though. Subjecting players to unaacceptable conditions to run them off is not in line with the type of program culture Sanders outlined.
-- I recoiled a bit when Sanders mentioned NIL, then added he wished the players instead could focus on "NFL." No question, the difference-makers end up in the NFL, but you also need impact players who go on to be educators, businesssmen, entrepreneurs, musicians ... you name it.
CU will hold a more conventional media availability for Sanders soon.