August 7, 2022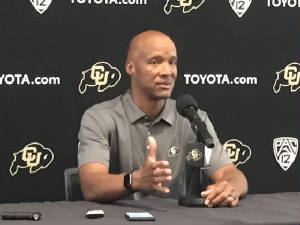 Karl Dorrell at CU's Media Day
BOULDER -- On Saturday's CU football Media Day, I asked Karl Dorrell if speculation about the Buffaloes' uncertain future conference affilation can be a distraction this season. I prefaced it with a concession that his team's major concern is 2022 and not beyond. But still ... its out there.
"Not really," Dorrell said. "Because our schedule's not changing for two years, whether we have more coming into our conference or whether we're leaving the conference, any of those things. It doesn't really matter. . . Nothing's going to change until 2024. We're living in the moment. We're living in what's going on in front of us right now. Our season. Getting ready for TCU. Understanding the challenges that are set before us right now. That's where our focus really is as a program.
"We did talk about that at the initial meeting, about the conference and realignment and things like that. We have as coaches no control over that. It's people making decisions that don't deal with me. We'll try and keep in our own wheelhouse about being the type of program and meeting the expectaions this year and letting that kind of be the focus. The focus for us is gaining respect, being in contention, being relevant. We have plenty on our plate to be thinking about and working towards."
As Dorrell mostly responded to questions about roster and position battle specifics, Sean Keeler of The Denver Post reasonably asked about the Buffaloes being picked to finish last in the Pac-12 in a preseason media poll of those who cover the league.
Do the Buffaloes shrug that off?
To his credit, Dorrell didn't whine about the poll or complain that the scribes and others don't know what they're talking about.
"They've looked past it, I've looked past it," Dorrell said. "But we're at his point. They understand. Colorado hasn't been relevant in a while. We speak the truth in our room, when it's just us, the team and the coaches. The bottom line is, whatever we want, you have to earn it. You have to earn respect, earn wins. You have to prove that each and every week. This team has accepted the challenge. They accepted the challenge of what's been provided for them and are eager to prove differently from what the prognosticators say."
Saturday commentary from Media Day: CU tackle Tommy Brown harbors no hard feelings for Nick Saban and Crimson Tide