August 6, 2022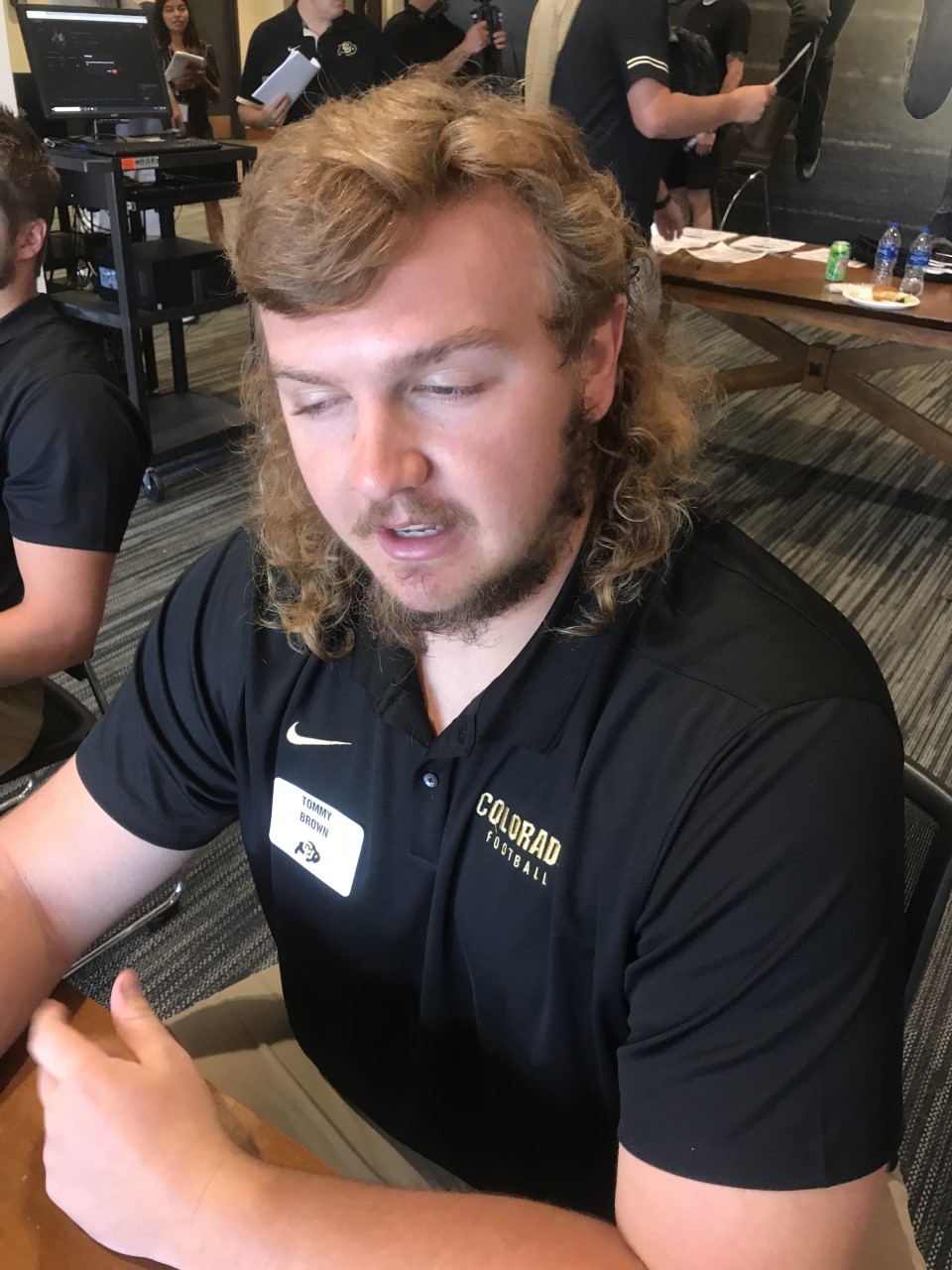 Ex-Alabama tackle Tommy Brown at CU Media Day Saturday
BOULDER -- Early in the week, as I pondered which player to request for an interview at the Colorado Buffaloes' Saturday Media Day, I quickly settled on offensive tackle Tommy Brown.
I'm an offensive line geek and my father, Jerry, coached the position group in the college game and with three NFL teams.
Plus, Brown was intriguing, clearly a story waiting to be told.
The transfer from Alabama hadn't been made available to the media during spring ball after leaving Tuscaloosa and joining the CU program. Nearing his clearance to take part in preseason practices following a minor knee procedure, the hope was that he would be allowed to field questions for the first time on Saturday. And, as it turned out, he was.
The short version: Brown is from the Los Angeles area and was a much-recruited graduate of one of the area's traditional high school football powers, Mater Dei in Santa Ana. He journeyed to Alabama to spend four seasons -- one as a redshirt freshman and three as a backup who at least logged significant playing time -- in Nick Saban's gold-standard Crimson Tide program.
As we talked Saturday, Brown quickly made it clear he wouldn't knock Saban or his program, nor even play along for a second with the Crimson Tide coach's ice-man image.
"I just felt like it was my time to leave Alabama," Brown said. "I don't regret it whatsoever. Some of my best friends I've ever had, I met there. I'm glad I had the experience. There's no hard feelings. My last meeting with coach Saban, he said I was forever a part of the Tide because I have a degree from there. He said I did everything right. So I'm very happy with that.
"It was an unbelievable time. I played my role there. We had different views on how much playing time that I should have got. We just mutually agreed that it would be great if I had the opportunity to go somewhere else ... I had graduated. I have a degree from Alabama, so I have no regrets whatsoever. Winning the national championship? There are worse things."
Because of Covid flexibility, Brown still has two seasons of eligibility remaining, and he enrolled at CU for the spring term and participated in spring practice. After undergoing that knee procedure following spring ball, the goal is to have him ready for the Sept. 2 opener against Texas Christian, and most likely as a starting tackle.
He's a graduate student at CU and might end up with two master's degrees -- one from Alabama and one from Colorado.
"I got my [bachelor's] degree in three years and I think I'm only five classes away from my master's degree at Alabama also," Brown said. "My plan is to go back there. I'm very close with the head of the marketing department at the University of Alabama. He and I e-mail all the time. I really do like the marketing side of business. I'll send him something and he checks in on me. I probably will go back eventually. I don't know when.
"Here I'm working on the master's in leadership. It's been great so far. I took one class the first summer session and then I didn't take a class in the second summer session because it went into fall camp. My priority is football. I understand this is an institution for school and I do hope to get that degree, but it's not my main priority right now."
I asked CU coach Karl Dorrell about his outlook and hopes for Brown.
"We expect a lot out of Tommy Brown," Dorrell said. "He was running with our first and second groups [in the spring]. We weren't really doing starters and things. He had a lot of signficant reps. He's really done a great job of adapting with our system here. He's become a very positive leader in a short period of time. ... We're encouraged with what he's done. He's a player that has some experience and he's going to help us with our depth offensively."
How did a Southern California kid end up at Alabama in the first place? The Tide's appeal and prominence is national, of course, but there was more to it.
"I was an Alabama fan growing up my whole life," Brown said. "My father [Vince] threw the shot put at Alabama on scholarship. My first college football game that I remember was just going to the tailgate. We didn't even go into the game. It was the 2009 Alabama vs. Texas in the Rose Bowl, for the BCS championship. We were walking down the hill to go to the tailgate and someone said 'Roll Tide' to my dad. Ever since then, I've been hooked. I said, 'What was that?' and once my dad explained it to me, it was a great time."
Tommy was 9 at the time. A few years later, he was a much-sought recruit and agreed to play for his father's alma mater.
He played in four CFP playoff games for the Crimson Tide, and two of them were championship games. So Brown always will be a part of the Tide's national championship in the 2020 season, when Alabama routed Ohio State 52-24 in the title game.
"Playing for Coach Saban is a dream come true," he said. "My locker at Alabama had a picture of me as a child, and that's because I was living that childhood dream. He's an unbelievable coach and obviously knows what he's doing. To the public, yes, he's very much ice in his veins. Spending time there, I went to his house for Thanksgiving, I think every year. I don't remember if I went during COVID, but he knew my family was in California and I went to his house for Thanksgiving. And going out on the boat on the lake when we were freshmen. Getting to know him as a person outside of football, he's a great man and he's really funny, too."
But the 6-foot-7, 330-pound tackle saw the writing on the wall: His best chance to start in the stretch run of his collegiate career and enhance his pro prospect status would be somewhere else.
"Colorado was a great opportunity for me," Brown said. "I felt that if I came here, there was a good base, new coaches coming in, the players that already are here. I think it just needed a few more pieces. I think we have those pieces, I'm excited for the season to see what's going on. Practice has been great. I'm excited."
I asked if he intended to use both of his remaining two seasons of eligibility -- or just one -- at CU. After all, he already is 23.
"It's all based on this season," he said. "I just want to focus on this season. Once it comes around to Week whatever it is, and I start to be hearing and getting reports on my draft status and all that, there are a lot of factors."
CU's Saturday practice was its fifth of the preseason drills. Because of his knee procedure, Brown didn't participate in the first week. On Saturday at Media Day, he had just come from a doctor's appointment to assess his knee's progress. The news was good. "I'm very excited to get out there and start working on the field," he said. He was optimistic about being ready for the TCU game. "That's the goal," he said. "I feel confident I can."
I asked if he noticed cultural differences between Alabama football and Colorado football.
"You know, not really," he said. "In complete honesty, when I came here, I wasn't expecting much, and I was very surprised by the guys on this team and how much they want to win. I see it. I see them practice every day. It's a good team. These guys want to win. I'm excited to go out there and fight with them."
Also: Karl Dorrell on possible impact this season of uncertain conference future and of low expectations for Buffs
Here's my 1995 Sporting News story on Saban, when I chronicled his first year at Michigan State as a case study of a major program's coaching transition. This was Nick Saban before he was NICK SABAN. And before Tommy Brown was born.