September 24, 2022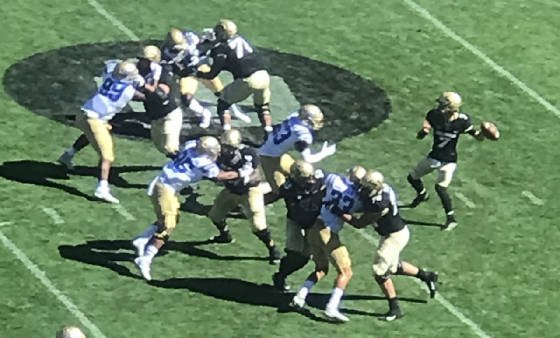 True freshman Owen McCown (7) got his first collegiate start at quarterback.
BOULDER -- There's a scene in the underrated 1982 comedy, "Night Shift," in which Henry Winkler lectures Michael Keaton into a tape recorder: "Hello, this is Chuck to remind Bill to ... shut ... up!" And then Keaton plays it over and over -- as he lounges in a body drawer in the morgue.
OK, maybe you must have butter on your popcorn and be a "Night Shift" devotee to appreciate that.
But the point is, this is starting to sound like a somewhat grating replay every week, with the 0-4 Colorado Buffaloes lamenting yet another lopsided loss while attempting to find something positive -- anything positive -- about it.
It's as if we can have a template going in and fill in the blanks. Or take a digital recorder or Smartphone, record, rewind, play again.
Unsurprisingly, after the 45-17 home loss to UCLA at Folsom Field Saturday, some fans booed or derided CU coach Karl Dorrell and expressed their displeasure to the players.
CU's cumulative score for the season now is 173-47.
That's ugly.
It raised the tongue-in-cheek question of whether athletic director Rick George was going to issue another statement on the state of the football program Sunday, as he had after the 49-7 loss to Minnesota the previous week. But that statement probably was counterproductive, and another one would seem right out of The Onion. After all, George essentially hired Dorrell in the first place, with buyout figures in line with the standards of the (absurd) modern market. They now will be, um, challenging to implement if CU decides it must be done. And George will have to face the music, too.
I'm on record: Firing a college coach in midseason might placate some boosters/fans, but it does little good in the football sense. You ride out the season with an assistant serving as interim head coach and running the same staff. You at least avoid making the coach's job security the story after every game. ("This is Chuck...") But it does nothing to stop the bleeding.
The most curious thing about the loss to UCLA was NOT that Dorrell decided to turn the page and go with true freshman Owen McCown as his starting quarterback, leapfrogging sophomore Brendon Lewis and junior transfer J.T. Shrout. McCown was 26-42, for 258 yards, with one interception and one touchdown.
His ascension to the No. 1 job was inevitable at some point, but that point generally was thought to be 2023 or '24.
What was striking, though, was how Dorrell implicitely seemed to be using McCown's installation as the starter as the centerpiece in a calculated plea for patience. Hey, not only is this a strikingly young roster, but we're going with the highly touted, green freshman QB who at this time last year was planning for the homecoming dance -- Covid permitting -- in Rusk, Texas.
"I felt he did some positive things overall and he did some rookie things as well," Dorrell said of McCown. "But I was encouraged by his poise. I'm sure he'll look at the tape and say there was a lot of stuff he definitely could improve on. We didn't help him at times, particularly early. We had some dropped passes that probably could have given us some consistency early. We lost some opportunities to put points on the board early."
Which brought Dorrell to this: "We just want to encourage everybody to hang in there. Just hang in there, we're going to keep battling. . . We understand frustration, believe me, and that's why we've been working pretty hard."
He characterized the Buffs as "a young team that's going to continue to get better. . . I want our fan base to understand that we're putting a lot of work and effort into trying to get this thing adjusted to be more productive, to be more of an improvement for everybody. I have one example and it's kind of similar."
At that point, he mentioned leaving the CU staff in 1994 to go to Arizona State.
"That's when Rick Neuheisel came here with Bill McCartney," Dorrell said. "That team that I was coaching on at Arizona State was a sophomore-freshman team. We had a young quarterback in Jake Plummer, so we took our lumps that year.
"Obviously I came back here because that's when Rick got the head job. I think a year or two later, (the Sun Devils) were in the Rose Bowl and they won the (Pac-10) championship. Some of it's just the youth. I hate to use that as an excuse. They have to learn. It's like what Owen is going through. He's playing, he's going to see some things and learn from them as he continues to play and get experience. That's really at every position."
It is true that Plummer, later the Broncos' quarterback, became the ASU starter early in his freshman year. But that was in 1993, a year before Dorrell's brief stint on respected head coach Bruce Snyder's staff. (Snyder had played and coached under my father at Oregon.) At the time, also, Snyder was early in his tenure at ASU, but he had been highly successful in his previous stop, California.
In that 1994 season, with Plummer entrenched as the starter, the Sun Devils were a disappointing 3-8. Dorrell returned to CU and in Plummer's final two years, ASU was 6-5 in 1995 and 11-1 in 1996, losing only a heartbreaker to Ohio State in the Rose Bowl.
None of that renders Dorrell's point invalid. The Sun Devils did ride it out with Plummer and were rewarded for it. But that 6-5 record in Plummer's freshman year is going to be considerably better than the Buffs' record this year. That's regardless of how promising McCown looks. No decision on Dorrell's status should be made based on hopes for McCown, the son of longtime NFL passer Josh McCown.
So the issue now is how CU can dig out in the era of the transfer portal and NIL, and with CU -- the university itself, the athletic department and the booster/contributor support system -- being more prone to talk than act. Yes, everyone is playing under the same system (well, except Air Force), and CU is getting drilled. But looking forward, the way to turn a program around is to get money into the NIL pipeline. Buy the best players. Period. It doesn't come from the schools, but the system has to be worked. Those insisting for years that the exploited players should be paid beyond COA stipends and full scholarships got their way. See what it has reaped?
Sandy Clough, not a retiring fellow, brought up Dorrell's ASU example and asked if that kind of turnaround is harder under these conditions.
"It's hard to do that nowadays with transfer portals, changing of rosters, all that stuff," Dorrell said. "There's much more balance, a lot more vision of how you're going to be in two years, or a year or so. I think every year now in college football there's going to be a change."
How CU got in this mess is almost beside the point now because the task is to recover. Dorrell did a terrific job in the truncated 2020 Covid season under trying circumstances. That shouldn't be forgotten, even after the rush to the portal. In the crazy high-turnover, transient college game, a major coaching challenge is to what degree do you try to keep everyone happy ... because if they aren't, or they can get better deals in Los Angeles, they're gone. Mel Tucker's approach led to the absurdity of a recruit being told CU would unretire Byron "Whizzer" White's No. 24 so the recruit could wear it as a Buff. Dorrell reversed that ... and the one-time recruit has transferred since.
It's not always simple.
I've also long believed that head coaches, barring egregious conduct, should get five years to go through a full recruiting cycle and have their "own" players in the program.
This CU team? Judging from how it has looked the first four weeks, it could go winless. There were no FCS teams on the schedule. If the conclusion is that the Dorrell program is unsalvagable, yes, a change will have to be made. I may be an idealist, but I'm not in Fantasyland.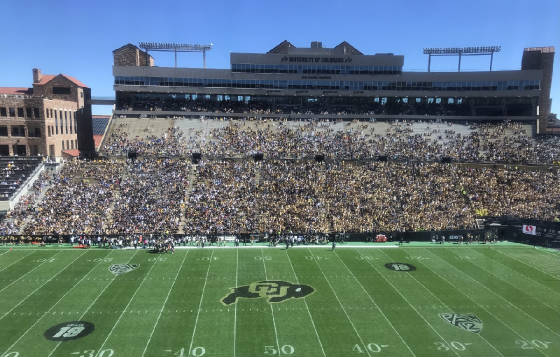 Early in the game, plenty of good seats remained available in the upper deck, while the CU student section remained essentially full.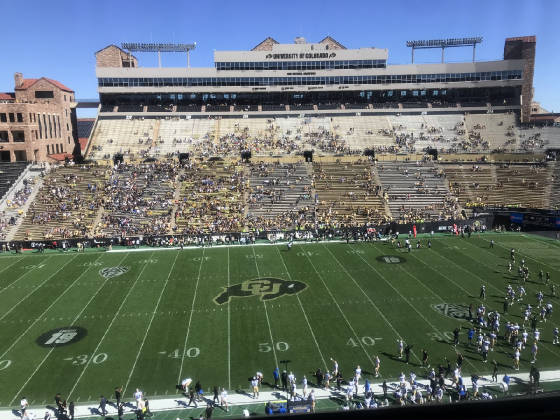 But by the end of the third quarter, most of the CU students had departed.