October 16, 2022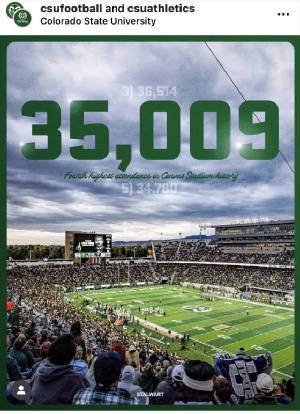 CSU Saturday night sent out this shot of Canvas Stadium.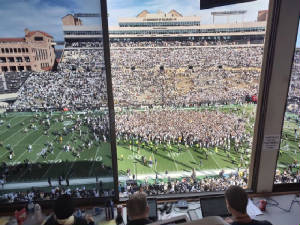 CU SID extraordinaire Dave Plati took this post-game,
rushing-the-field shot from the Folsom Field Press box.
On Saturday afternoon, Sandy Clough and I were on the way to Fort Collins for the Utah State-Colorado State game, congratulating ourselves on trusting my cell phone GPS to know of and get us around the accident that closed Interstate 25 at the Thornton Parkway.
We listened to Mark Johnson, Gary Barnett and the sharp-eyed Andy Lindahl describe the final stages of the fourth quarter and the overtime that resulted in Colorado's 20-13 overtime victory over the California Golden Bears and set off a rush-the-field response from the CU student section -- and from a few other Buffs fans.
We also heard CU interim coach Mike Sanford gush on the field to Lindahl about the crowd support, both in terms of enthusiasm and numbers (announced as a near-capacity 50,471), for a team that came into the day with an 0-5 record.
Whether it's the case or not, Sanford -- who had a two-season stint as head coach at Western Kentucky -- likely considers himself to be going through an audition as a longshot candidate to succeed Karl Dorrell. Or to perhaps at least remain on a new coach's staff as offensive coordinator, especially since he will remain under contract.
But let's be real. This was a case of stunning improvement during the two-week break, yet it wasn't a "new" staff, but the holdover staff with a shuffling of roles and the departures of Dorrell and defensive coordinator Chris Wilson.
Addition by subtraction?
Gerald Chatman slid into the defensive coordinator role, and that side of the ball was where the turnaround took place.
The CU offense again struggled, clearly in part because the door continued to revolve at quarterback. But that's Sanford's bailiwick, since Dorrell brought him in during a staff overhaul in the offseason.
I alluded to this earlier, but it's common for an interim coach to benefit from a honeymoon period and from overreaction to even marginal improvement. But there's no denying that was a praiseworthy performance from a previously disappointing -- even to the point of embarrasment -- team and Sanford must be given at least some credit for that.
The crowd? Many of us remember when fans simply stopped showing up in Boulder during bad seasons. The fact that it was Family Weekend at CU doesn't diminish the fact that the attendance was surprising. Yes, there were no-shows for seats sold, but surprisingly few. I truly believe it was a demonstration that the CU constituency is going to be less prone to abandon the Buffaloes in these trying on-field times than before. With 2022 home games remaining against Arizona State, Oregon and Utah, the picture could change and patience can be tested even more, but at least on Saturday, the attendance figure helped set a tone.
And 50 miles to the northeast?
CSU came in at 1-4, following a road win over Nevada. Jay Norvell's enthusiasm and energy in promoting the Rams' program was undiminished. But I expected a repeat of what has happened in the five previous seasons of the Rams' residence in the on-campus Canvas Stadium, albeit often because of ridiculously late kickoffs for games dictated by third-tier cable networks. When you're looking for reasons not to go, weather, start time and on-field ineptitude provide easily grasped excuses. So at some point during most CSU home games the past few years, the press box denizens all would tweet their own shots of the mostly empty seats on the east side of the stadium. (Yes, me too.)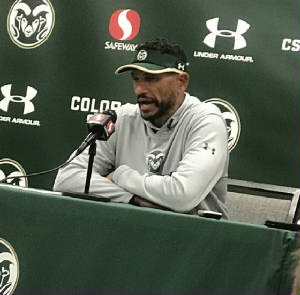 Jay Norvell in the interview room.
But the announced crowd of 35,009 for the Rams' ugly 17-13 loss to USU -- and I mean ugly for both teams -- was legit and the fourth-highest in the history of the stadium. (The seating capacity is 36,500, with overflow capacity at 41,000.) It was Homecoming, but that still counts.
In this instance, Norvell's Ramnation / PR campaign has paid off. CSU fans, while grumbling, seem more prone than in the Mike Bobo and Steve Addazio tenures to give Norvell the benefit of the doubt, even in the evolving landscape and increased professionalization of the college game.
CSU had a handful of opportunities to take control of this one, but couldn't pull it off, and it didn't help that the Rams were down to their third freshman quarterback, Giles Pooler. (The difference at CU was that when freshman Owen McCown was struggling with abdomen muscle issues Saturday, the Buffs could go with sophomore J.T. Shrout, a Tennessee transfer. He's no graybeard, but at least has some experience.)
"First, I just want to mention that I thought the crowd was amazing," Norvell said after the game. "Great atmosphere. Homecoming. I think we're playing extremely hard. We have a lot of kids doing the things that we want them to do. Obviously I'm very impressed with our defensive effort tonight, forcing the turnovers to get us in position where we can score. I think we're building on some understanding defensively and building on some guys that are performers on that side of the ball."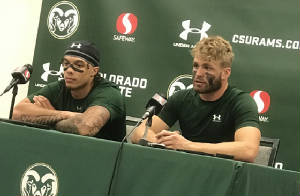 CSU junior running back Avery Morrow and
sophomore safety Jack Howell.

Safety Jack Howell, from Fort Collins, has been the Rams' best player through the first half of the season.
"I don't think that eveyone realizes how much that helps us," Howell said of the near-full house. "We feed off that energy, especially in the first half ... There were 35,000 people tonight. That does a lot to an offense and helps the defense out a lot. If the fans keep showing up and supporting us like that and being with us, whether we're winning or losing, that's going to help us a lot."
Avery Morrow, one of the Rams' Nevada transfers, has taken over the featured ballcarrier role for CSU. He had 116 yards on 27 carries against the Aggies.
"It's amazing to have that support," he said.
Again, the fan constituencies have been bitterly disappointed this season. They have't been reluctant to say so. But it could be a lot worse. They could be abandoning the programs.