December 30, 2022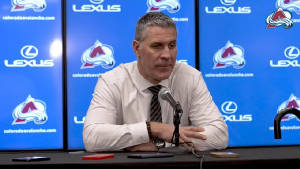 In the immediate years after the NHL went to 3-on-3 in its 5-minute overtimes, for the 2015-16 season, the result was exciting, wide-open, edge-of-the-seat, could-score-any-second hockey.
It still can be.
But it used to be more enjoyable before coaches and conventional strategy dulled it down, introducing more of a defensive component to the 3-on-3 proceedings.
Those guys aren't any fun at all.
This all struck me and others Thursday night, when the Avalanche ended up losing 5-4 to the Kings in a shootout at Ball Arena. Both teams played it relatively cautious in the 3-on-3, leading the most talented team in the NHL -- yes, even with a long list of injuries that isn't as problematic after the benches shorten -- carrying the puck back out of the zone to regather and reassess. So did the Kings. That's distressingly common now.
Yes, Cale Makar had a terrific chance in OT. I'm not saying the entire OT was glacial. I'm just saying it was relatively so, compared to the more frenetic, no-conscience play in the earlier seasons of 3-on-3.
What a change. I'm not sure if it sneaked up on us or just happened. Before it did, you'd (generically speaking) watch the open-ice show, thinking it would be a miracle if the game made it to a shootout. Or if it did, you'd gotten your money's worth in the OT alone and it was a genuine attempt to use the shootout only as a last resort. Plus, while purists held their noses and belittled the shootout as a contrivance not resembling the "true" sport at all, truth was -- and is -- that realistic fans get it, realizing this isn't painting a mustache on the Mona Lisa. It's a regular-season hockey game, with paying customers deserving a winner and a loser before they head to the parking lot or turn off the television at a reasonable hour, if they're savvy or lucky enough to get the broadcast.
My biggest objection is how guaranteeing the loser one point skews the standings with both two- and three-point games. I'd either make every game worth three points, with three going to the winner in regulation, two to the winner in OT or a shootout, and one to the loser in OT or a shootout; or simply get rid of points and have a winner and a loser, with standings resembling baseball and basketball.
There are a couple of things involved in the discussion that are rarely raised or completely forgotten.
One, the NHL had a 10-minute sudden death OT until 1942, when World War II reassessments and restrictions led to scrapping that and instead ending every game after 60 minutes -- win, lose or tie.
Two, that led to a maddening number of ties. Colorado NHL fans saw this up close and unsatisfyingly: In 1977-78, my first season as a young NHL beat writer, the overachieving and gritty Rockies went 19-40-21 -- yes, they had twenty-one ties -- and made the playoffs as the No. 12 seed in a 17-team league. They threw a scare into the Flyers in a best-of-3 mini-series. I know I got sick of writing about ties, and it was worse for fandom, often watching the Rockies trying to hold on for a point.
The 5-minute OT was implemented in 1983-84, but it had only a limited impact, given the result still was a tie if neither team scored in OT.
Back to the present: The loss to the Kings left the Avalanche 3-2 in games that went to a shootout this season. They're 4-1 in games that end in OT, a contrast to recent seasons when Colorado inexplicably struggled in OT. (How can that be?) That might seem to be proof that tightening up just a bit in the OT has been wise, as long as the skilled Avs manage to score or win the shootout. And, yes, opponents sometimes look as if they're just trying to pick their spots to attack and otherwise just make it through the five minutes and take a roll-of-the-dice chance in the shootout. And by the way, this at least isn't as bad as deciding the world's top sporting event on penalty kicks, with the goalie initially frozen and then left to guess.
That's a joke.
After the Kings-Avalanche game Thursday, the press corps batted around some of this as we waited for Jared Bednar to come to the media lounge for his post-game presser. I think by the time he showed up, the younger scribes actually believed me when I said the Rockies had 21 ties in one season -- and, get this, made the playoffs for the only time in their six-season stay in Colorado. Among other suggestions, Darren McKee of The Fan brought up making it a penalty to carry the puck out of the zone in the 3-on-3 OT. Then, as Bednar was finishing up his session, I asked him about how if memory served me, 3-on-3 used to be more breathtaking and wide-open, and if coaches have injected that defensive component more into the proceedings and slowed down the OT.
"Yeah," said Bednar.
How so?
"Just the personnel you're putting on the ice," he said. "The importance of checking. You have to check 3-on-3. If you don't check, you have no chance of winning. It's going to be a track meet, flipping a coin. Strategy's not to drive the puck into dangerous areas and take chances that may not lead to anything. Most teams and most coaches are coaching their teams to take the obvious chances that you create with your speed or outnumbered situations. You're not going to drive the net on a 1-on-1 and have the guys stop you and then turn it the other direction. You're generally losing a guy or two going to the net. It's strategy, it's coaching. That's why you see teams ragging the puck, taking it out all the time. They don't want to take it into trouble. It's managing the puck, trying to play with the puck and see if you get an opportunity or two."
I'm not here to crunch the numbers and display graphs and charts about the trends. Again, this is not so much second-guessing strategy, given the Avs' OT record. Of course, ending it with a goal in OT is preferable to letting it be decided in the capricious shootout. I know what I'm seeing. I say go for it. Don't be so concerned about relative recent caution in search of the second point.