July 31, 2023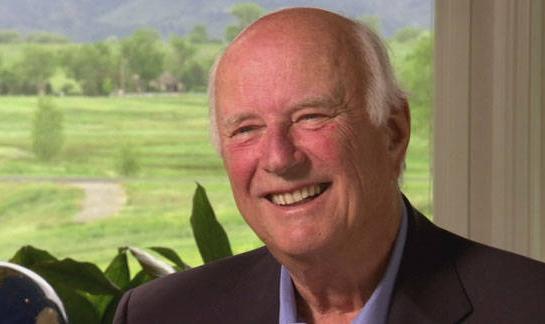 On Sunday, I caught up with longtime friend Chuck Neinas to see what he thought of the ongoing revolution in college sports, especially in football.
Why should his views matter?
The long-time resident of Boulder, now a vibrant 91, has an impressive resume in sports administration -- a past I became even more familiar with when I worked with him to craft his memoirs. He has been:
A Korean War-era submariner;

The radio voice of the Wisconsin Badgers;

An NCAA executive under Walter Byers when the organization's office was about the size of a family insurance agency and Neinas' duties included running the national basketball tournament;

Commissioner of the Big Eight, eventually known as the Big 12;

Executive director of the trailblazing College Football Association;

Owner of Neinas Sports Services, a search and consulting firm;

Acting CEO of Ascent Entertainment Group after a sale of the corporation's properties, including the Nuggets and Avalanche, fell through;

Big 12 interim commissioner, shepherding the league through challenging times in 2011-12.
That's all. Unless I've forgotten something. Exhale.
An indefatigable, if unlikely, hockey fan, he got in the same question on Sunday he always has for me.
"What do you think of the Avalanche?" he asked, meaning offseason maneuvering.
I answered, but I'll leave that for another day.
Unapologetically, this will be a virtual transcript of Neinas' remarks, including about the Colorado Buffaloes' departure from the Pac-12 and move to the Big 12 in 2024.
Was that a wise move for CU?
'Well, of course," Neinas said. "This was before, but I always told people that Patty (Pacey, Neinas' economist wife) and I might be the only two people in Boulder to miss K-State. I like the fact that they're coming back."
As the Buffs prepare for their final season in the Pac-12, the impactful hire of Deion Sanders continues to draw national attention.
"Number one, he's paid for himself," Neinas said. "Number two, he's turned the program around in terms of interest. Number three, don't expect oo much the first year. The second year is when you'll see more improvement."
We turned to the painfully protracted grant of rights negotiations between broadcastIng outlets and the Pac-12 -- involving delays that might have been the last straw for CU. Neinas brought up the possibility that the Pac-12 package eventually could involve streaming.
"The money issue is paramount," Neinas said. "You know and I know what the Pac-12 is getting in terms of grant of rights, or at least have a damn good idea. I've heard [the schools] have heard about that. You know they know what the situation is and I think everybody's worried that the money will come from streaming. The coaches don't like that. People don't watch it. You and I are good college football fans and we can turn on Oregon State playing Washington and watch it. You have to make the effort to get to the streaming service and watch it. If you're a hard-core fan, that's one thing. I'm just somebody who likes to watch college football. I'm not going to turn that game on. I can watch somebody else. I'll watch Arkansas play Mississippi State or something."
One of the ironies here is that in his time as executive director of the CFA, founded in 1977, Neinas was instrumental in the eventually successful lawsuit that challenged the NCAA's monopoly on teleision rights and led to leagues being able to separately negotiate deals with networks. The number of televised games skyrocketed, changing the backdrop of these current and future conference grant of rights. The CFA folded in 1997, primarily because the perception was it had accomplished its mission. The CFA essentially had challenged the notion that disparate NCAA members across the board could have the same voting power to set the rules for football.
Neinas clearly is a Big 12 proponent, so take this with a grain of salt. He said the move of CU to the league is only part of its momentum. With Texas and Oklahoma on the verge of departing, Cincinnati, Houston, Brigham Young and Central Florida previously were lined up as new members.
"I have contacts there," Neinas said. "These are the guys who have been at the institutions -- the Kansas States, the Iowa States, the TCUs, the Baylors. They tell me there is more interest and excitement in the conference than there ever has been. The four schools coming in are very energetic and excited. Everybody liked Oklahoma but now everybody has a chance to be the football champ. And no one will miss Texas in the meeting room."
Why not?
'"Well, Texas always is trying to throw its weight around." he said.
Given that the CFA was founded with the goal of realistically transforming D1 football, Neinas' idealism and attitude about NIL and transfer portal innovations might be a bit surprising.
"It's not in the best interest of the game," he said. "You're buying players. Number one, education has been forgotten. People are only interested in NIL. The transfers are good to play football, but the idea is to go to college to get a degree. Graduation rates are going to plummet. The basic reason you wanted to get young people to come to college to participate in college athletics now is a very secondary matter. You talk to anybody behind closed doors, they say a coach has to recruit his own team every week. They're buying players. You know what NIL stands for?"
I played along and said no.
"Now It's Legal," Neinas said.
I again remarked that for someone who has been around the college game for years, he was sticking to idealism about academics and everything else tied to football.
"Because one of the things the CFA did was come up with the academic triple crown," Neinas said. "There were no requirements and you could get a scholarship and would be immediately eligible. We did a long study on it and came up with the idea that if you wanted to be a success in college, you had to have three years of English, two years of math and a certain grade point average or test score. Well, nobody cares about that any more. Isn't that why you have college athletics? That's not idealistic. The foundation of college athletics is to combine academics and athletics so young people can prosper."
Neinas said he's concerned the redirection of financial resources could shortchange the non-revenue programs, even with Title IX guidelines among the standards in play.
"The athletic directors have been talking about the fact that if they are forced to share the money with football and basketball players, guess what, swimming, golf, track, all those become club sports," Neinas said. "Football has been picking up the tab for those. There will be no money to fund another dozen or 15 sports. Plus, people forget that current athletes get room and board, books, tuition and money to cover the additional cost of attendance."
With league membership rosters in flux, Neinas' perspective is that during his interim run at the troubled Big 12, the league decided against expanding beyond adding TCU and West Virginia to replace the departing Missouri and Texas A&M. Now the Big 12 is up to 13, on paper, as other changes shake out both there and around the country. That includes the three pending Pac-12 departures -- CU, USC and UCLA.
Closing the conversation, we agreed we were due for a lunch.
"Let's do it," Neinas said. "Then we can talk hockey."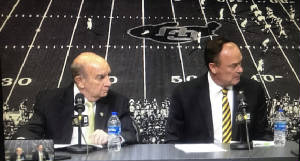 Previous: Institutional Knowledge on CU's move to the Big 12