October 9, 2022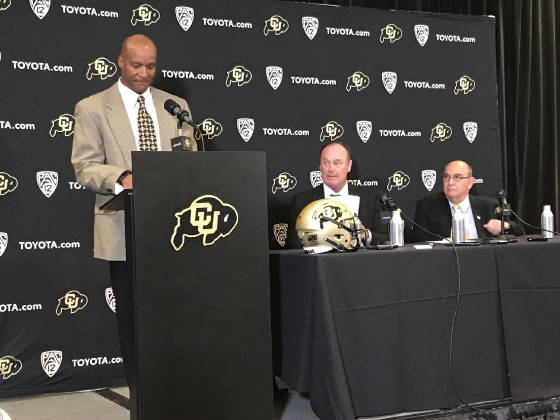 From different times: Karl Dorrell, Rick George, Phil DiStefano at Dorrell's
introductory news conference in 2020.
It has been a week now since the firing of Colorado coach Karl Dorrell.
The Buffaloes, dreadful and winless through five games, made it through the bye week without suffering another loss, and next have California on Saturday at Folsom Field.
I know I'm in the minority on this: I believe firing a college football coach during the season accomplishes little except throwing red meat to the predators.
In this case, CU dumped Dorrell, who was due an $8.7-million buyout. It made offensive coordinator Mike Sanford the interim head coach. CU also fired defensive coordinator Chris Wilson and additionally shuffled the staff. Some of the assistants are under contract beyond this season, underscoring the magnitude of the likely financial disaster involved.
So now the Buffs are going to finish the season with an interim coach Dorrell himself hired in the last offseason as he progressed with a shakeup; and also with a rearranged and thinned-out staff likely to be dismissed en masse at the end of the season.
I've seen this story play out before.
If the Buffs show any life at all under Sanford, the former coach at Western Kentucky, there will be a bit of a honeymoon period and Sanford briefly might even be taken seriously as a candidate for the "permanent" position. But that won't last and between now and when CU hires Dorrell's successor, approximately 894 names will be "mentioned" as possibilities, whether because of genuine candidacies leaked through agents or insiders, or because of media dart-throwing. (That's always a lot of fun.)
With CU and CSU at the top of the Bottom Ten -- at least until CSU broke through with a Friday win at Nevada -- it doesn't really matter why or how this happened in Colorado.
Now, the issue is how much NIL money would it take for Buffaloes and Rams to land enough relatively difference-making recruits in a rebuild? Digging out is harder than ever. Will alums/boosters step up to outspend supporters of at least all other teams in their leagues? No? Then don't gripe. It's now quite simply buying the players. We got what we wanted ("pay the exploited players beyond scholarships and COA stipends!") ... and it stinks.
After hearing of the Dorrell firing, I asked a friend, a well-known member of the Institutional Knowledge cadre: "Who should CU hire?"
His answer: "Does it matter?"
Therein lies the problem.
A portion of CU athletic director Rick George's opening statement at the Dorrell-firing news conference last Sunday was underplayed. In it, George acknowledged the task ahead. Unlike the NFL, NBA and NHL, there is no salary cap in major college football. The Flatirons setting isn't the top recruiting weapon; cash is. Only a few of you will nod at this, but it's somewhat of a throwback to when CU had a cozy relationship in recruiting with what then was a major airline with hubs in Houston, Los Angeles and Portland.
"Over the past several months, I've heard a lot from many of you in Buff Nation that the current state of the football program is not good enough," George said. "I agree. We need to get better and we will. But I also want to challenge all of you that building this program back to national prominence will take all of us. Not one person will be able to get us back where we want to be. Every fan, supporter and donor will need to step up. Buy tickets. Donate. Get involved in NIL. We know that the current landscape of college athletics is turbulent. But we have to embrace it. We need to get more people involved in what we're doing, particularly in the NIL space. If you're a small business, a donor, group of donors, we want you involved."
One of the most surprising aspects of the Dorrell firing was that George at least seemed to escape major accountability for hiring a football coach -- Dorrell -- who was deemed so deserving of firing two and a half years later, with that $8.7-million buyout. George seemed to rationalize the choice of Dorrell in the first place, alluding to limited options, the timing and the situation following "Midnight" Mel Tucker's February 2020 bailout. That wasn't out of line, especially because George at least acknowledged his "ownership" of the Dorrell hire, but at no point did George seem on the verge of being swept out the door with Dorrell.
A couple more asides about Dorrell:
1, Under unprecedented circumstances in 2020, he did a terrific job in his first season. The Buffs had no spring practice. Dorrell inherited an atmosphere of entitlement in the Tucker program. (You want Whizzer White's number? It's retired. All he was, was an All-American in football and a three-sport star, a Rhodes Scholar, an NFL standout and a Supreme Court justice ... but sure! You got it!) Dorrell quashed that approach, thus offending many Tucker recruits, some of whom transferred. The Pac-12 waffled on whether to play at all. But the Buffs won their first four and went 4-2, losing to Utah and then Texas in the Alamo Bowl. I don't think that should be just waved off.
2, CU was 1-10 in Bill McCartney's third season. Under today's standards, he would have been fired. During the season. Sometimes patience is rewarded. I'm assuming some boosters wanted him out.
When I intermittently checked in with Nick Saban during his first year at Michigan State for a Sporting News story on a college football program's transition following a coachng change, I noted that Saban was getting big money right off the bat: $135,000 a year. Things have changed since, as evidenced by Ed Orgeron's reaction after he was fired at LSU. "They said 'Coach, you got $17.1 million dollars on your contract, we're gonna give it to ya.' I said, 'What time you want me to leave and what door you want me to go out of, brother?'"
So, no, I don't feel bad for Dorrell and his family. Or the other in-season firings, including Scott Frost at Nebraska and Paul Chryst at Wisconsin. The last time I could feel that sort of sympathy, I was driving a yellow Pacer.
But this system is nuts. CU thought it necessary to trot out chancellor Phil DiStefano to emphasize that the Dorrell buyout isn't coming from general university funds or student payments. Whew. That makes it all fine.