September 10, 2023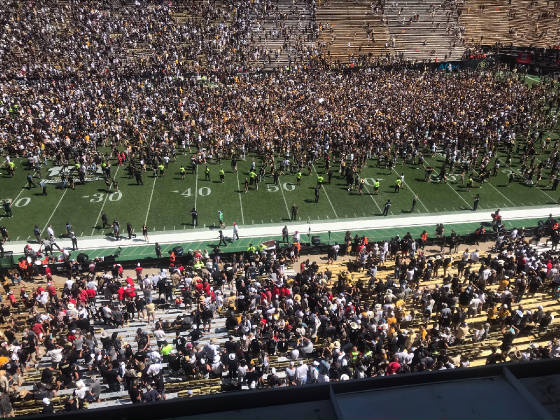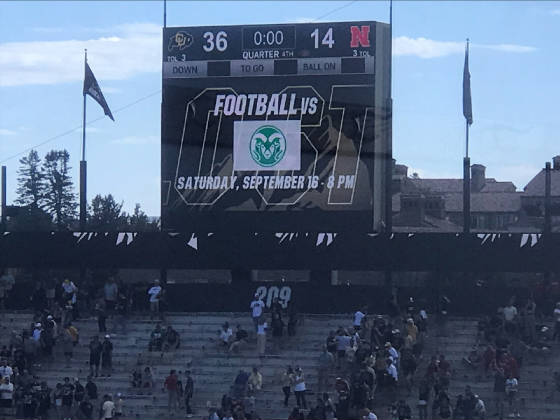 Post-game Saturday at Folsom Field. Big surprise: The public address announcer's plea to stay off the field -- even with an alleged endorsement of the request from Deion Sanders -- didn't work.
As I understand it, in the wake of the Colorado Buffaloes' astounding 2-0 start under Deion Sanders, every showcase network gameday show except NFL Today is going to be on the Boulder campus Saturday for the Rocky Mountain Showdown against
Colorado State
. After consecutive appearances on Fox's spotlighted "Big Noon" game, the Buffs again will get national exposure, this time in the late slot ESPN game that might or might not end before last call in Times Square.
I'm in the minority, but as I watched at Folsom Field Saturday, I thought the 36-10 rout of the Nebraska Cornhuskers was more impressive than the opening-week 45-42 win over TCU. The Buffaloes -- and even the electric Shedeur Sanders -- struggled offensively in the first half against a Nebraska defense that is far better than TCU's, but eventually got it going. Nebraska's paleolithic offensive approach under Matt Rhule helped, but the Colorado defense made plays. Plus, with TCU going from last season's national championship game to No. 17 in the preseason polls, the (correct) perception was that the Horned Frogs had regressed. By the end of the season, the opening-week win might not seem as monumental.
An asterisk is the reminder that the Buffs will keep playing the tiresome "disrespect" card as a transparent but relentless motivational ploy -- and bringing along their fans in the jetstream. Why not? It worked for the Nuggets, didn't it? That mostly targeted the allegedly dastardly and ignorant national media. In this case, the media reaction to Sanders' initial miracle working has been mostly giddy praise. The "disrespect" quibbles have been more about reacting to the jealousy from many, involving Sanders spotting what had to be done, how to do it in the revolutionized college game, and doing it; plus of his star power and ability to attract elite talent. That includes putting together a terrific staff. The "disrespect" mostly is resentment and sanctimony. It's real, but Sanders could add to his aura by shrugging it off ... and not making it a weekly topic.
After holding back on adapting to the new college football era, CU —a fine state-supported (well, kind of) university—reversed course and has gone all in. Chancellor Phil DiStefano, among others, was on the record, both before and after the introduction of NIL and the transfer portal, that idealism did't rule out winning. On the verge of calamity, he changed direction more adroitly than another Sanders … Barry Sanders.
Anybody notice how it's going at holdout Stanford — yes, elite and private, yet still facing the same football challenges? Other highly regarded private schools are more football-friendly, "flexible" and adaptive, as are many of the nation's top public universities.
Don't misunderstand me. I've said this before and I'll say it again. CU did what needed to be done as the program was about to go off the cliff. In some ways, it seemed that it already had. So far, this is one of the most amazing things I've seen in college sports. Deion Sanders has been brilliant. But I guess I'm the only one who has SOME sympathy for Karl Dorrell, who in retrospect especially had no shot.
During the offseason, as the CU roster underwent unprecedented turnover and Sanders made no apology for what unmistakably was his ruthlesness -- though he won't call it that -- other coaches, including those taking over programs, indeed were hypocritical. We heard -- and still are hearing -- a lot of malarkey. Why, we'd never do that! In most cases, of course, they didn't need to. The commitment involved in offers made in living rooms on the behalf of universities should be honored as much as possible! (And, yes, that concedes that scholarships are renewable year to year.
Mega-salaries for coaches came with accelerated and relentless pressures to win -- however that's defined in each situation -- and those playing the holier-than-thou rhetoric game generally are hypocrites. When they walk out the door, it's usually with an obscene golden-parachute buyout.
I much preferred -- and still do -- the era when a coach and staff could earn life-long loyalty from players who rarely got on the field, but were on the varsity roster and on scholarship for three to five seasons, depending on the eligility rules at the time.
But those days aren't coming back.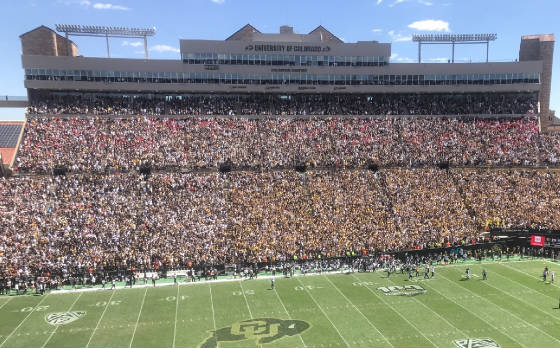 Here's what the east side of Folsom Field looked like Saturday.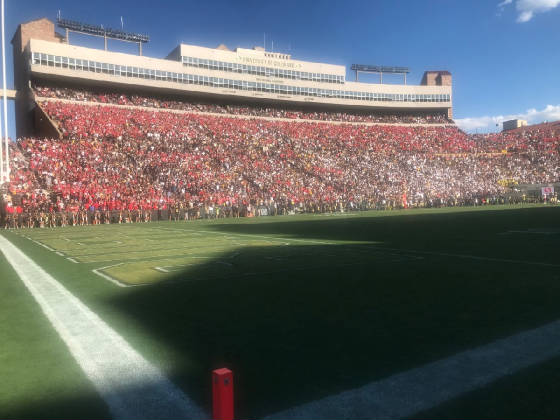 Compare that to what the east side of Folsom looked like at the 2019 Nebraska game. And the official visiting fan area was on the west side.