December 8, 2022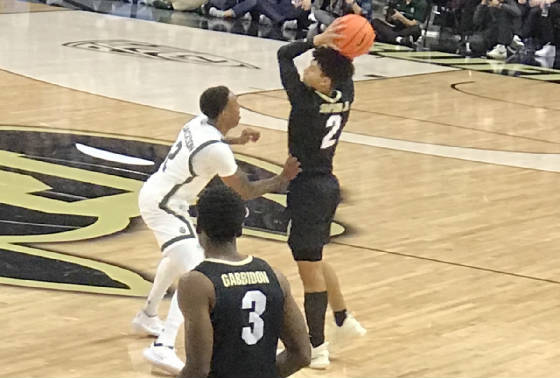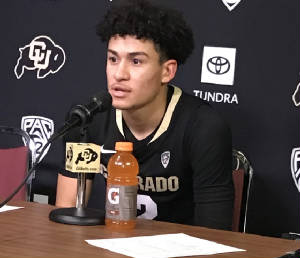 Buffaloes guard KJ Simpson had 27 points and 3 assists against the Rams.
BOULDER -- Colorado State and Colorado Thursday night staged a men's hoops Rocky Mountain Showdown for the first time since 2019. The CU Events Center seats were nearly full, and the crowd was energetic long before Deion Sanders and an entourage emerged from the tunnel behind the north basket early in the second half and took in most of the rest of the game.
CU's 93-65 rout of the Rams was surprisingly easy, with guard KJ Simpson (27 points) and forward Tristan da Silva (15) leading the way. Beyond that, what I came away thinking was that this should have been the first or second game of an annual home-and-home set that would be a shot in the arm for college basketball in the state.
(As aside: CSU was coming off a home-court loss to Northern Colorado, and the Bears often at least can be competitive against their state school rivals. That helped Tad Boyle make the leap from UNC to CU.)
Boyle had a ready explanation for why CU and CSU hadn't played in three years.
"We were supposed to play during the COVID year," Boyle said. "They got COVID, the game was canceled, we picked up the Tennessee series and got a 2-for-1 deal. Last year we were in the same tournament (as CSU), and I didn't want to play them twice so we just pushed it off to this year. I think it's good for our state.
"I've always said if we're not selling out our arena, why the heck are we playing Colorado State? And our fans really showed up tonight and provided a great atmosphere, and that's the way it should be. If we go back to Moby Arena, it should be packed. But I think our place should be packed every night. If our team continues to play the way they're capable of playing, we're going to have some really fun nights in this building moving forward."
Notice he was talking about it as perhaps one game a season. That would have been a calamity if CSU and CU had played twice last season -- in the regular-season and also in the eight-team Paradise Jam tournament on the Virgin Islands? Sorry, I don't buy that. I'm aware the Buffaloes and Rams are in different leagues, but it's nothing short of silly to go along that a an annual home-and-home is an outlandish idea because of that. Each team has cupcakes on their schedules and the positive of the twice-a-season rivalry attreaction more that compensates for a hit to the non-conference records and possibly RPI.
Boyle conceded it was a fun night.
"We have three kids from Colorado ... on scholarship," Boyle said. "Julian Hammond, Luke O'Brien, and Nique Clifford. So I know it was big to them and we know UNC had gone in and beat CSU so we knew they were a little bit vulnerable. Sometimes the most dangerous animals are the wounded dog and they were a little bit wounded tonight. So we did not want to take anything for granted."
Simpson, who outplayed the still-healing CSU star point guard Isaiah Stevens, is a sophomore from West Hills, California.
"We felt like we know we were playing for the state of Colorado," said Simpson. "That was my first time playing a rival in college and the atmosphere, the fans, the experience was crazy. It was really big and really important, it was almost like a Super Bowl, I guess because it's Colorado. CSU versus Colorado. You want to come out on top for the state."
It should be an annual home-and home series.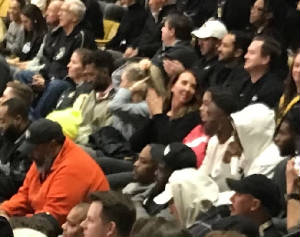 Deion Sanders, in white at right, arrived during the second half.