January 27, 2023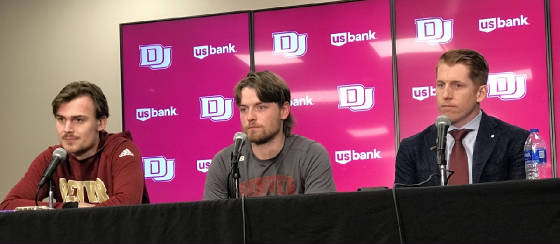 Postgame: DU goalie Magnus Chrona, captain Justin Lee, coach David Carle
The official attendance Friday night for the Colorado College Tigers-University of Denver Pioneers matchup at Ball Arena was 17,952 -- just short of a sellout. (To be honest, that appeared to be a bit of a stretch, even allowing for unused tickets ... but who's complaining?) And it might have been part of the first time a defending NCAA champion and a reigning Stanley Cup champion played in the same arena only 18 hours apart.
The crowd and the giddily collegiate atmosphere Friday night more than validated DU's decision to move its home game -- the first of four meetings in the Gold Pan rivalry this season -- to Ball Arena.
It was a Big Night for Colorado hockey. The Pioneers' home building, the on-campus Magness Arena, seats 6,315, and is the "right" size for college hockey intimacy. But playing in Ball one night a season can be an annual blast.
In November, DU coach David Carle and I talked about the Pioneers' stature in a top hockey market -- especially in the wake of the Avalanche winning the Stanley Cup and DU winning the NCAA title -- for the Mile High Sports Magazine story naming "Hockey" as the Sportsperson of the Year for 2022. (It's a stretch, but appropriate.)
After the Pioneers' 2-0 victory Friday, behind DU goalie Magnus Chrona's fifth consecutive shutout against CC, I asked Carle a two-part question about whether the big night in Ball Arena highlighted the sport's stature in the state, or even amped it up.
"I take a lot of pride in what the night was," Carle said. "That's not even on the ice, but just the event that it was. It was excellent from start to finish. I thought our people in our athletic department at our university did an unbelievble job, on short notice, too. We found out about the signed contract the first of December and for them to put on this kind of event, it's really impressive.
"To your second question, I think it goes to show the support and the following of the brand that Denver hockey has within the community. None of us take it for granted. It's been around for 70-plus years. We didn't create this, but we're certainly trying to add to it the best we can. Just an immense amount of pride tonight for the hockey community, and specifically for our fans and the following we have in the state and the city of Denver."
Senior defenseman Justin Lee, from Waskada, Manitoba, is the Pioneers' captain.
"It's a pretty cool atmosphere," Lee said. "We're lucky to have the fan support and all the alumni support that we have."
CC coach Kris Mayotte is in his second season with the Tigers, and the program definitely is on the upswing. Part of that is because freshman Kaidan Mbereko, from Aspen, has played for the US World Juniors team twice and showed why in making 39 saves against the Pioneers. He left many in the arena asking, "Who is that guy" ... before Googling him on their phones.
"I thought he was the best player on the ice, no questions asked," Mayotte, himself a former Union College and pro minor-league goalie, said of Mbereko.
I asked the Michigan-born Mbereko what it was like to play in that building in what he considers his home state -- and to play that well.
"I was just trying to give us the best chance to win," said Mbereko. "That's all you can do. Obviously it's a great crowd, good atmosphere. Being from Aspen, it's special and a memorable moment. You cherish that one, but on to the next."
Mayotte labeled the atmosphere "awesome. It was a great night for college hockey and a great, great setting. Great crowd. It was a ton of fun." He added, "I've been in a lot of places. I've been out east, where the (Boston) Beanpot is the thing. I've been in Michigan, where the GLI (tounament) is the thing. They all have four teams. Two teams brought this crowd here. I think it's the best in the country."
Can it happen again?
Carle's answer: Maybe.
"It has to line up properly, to be quite honest, with probably a single game," Carle said. "It's not on the schedule for the next two years. I can tell you that. But if it's something that we can get a single game type of event, whether it's against CC or another team with an opportunity to bid on a certain game, we are looking at that. It's something that we want to do. It's hard to do it every year, but it's something we definitely want to do again."
I admit I don't completely understand the complications. Pick one home game -- against CC, against a National Collegiate Hockey Conference rival (North Dakota?) or against a major non-league opponent (Wisconsin?). I'd argue for CC, making it a celebration of Colorado hockey. Some of those fans in the building Friday were CC alumni, partisans or students who made the drive from Colorado Springs or live in the Denver area. Negotiate with KSE to hold it in Ball Arena. Close the deal and make it a college night in the home of the Nuggets, Avalanche and Mammoth.
One catch: It must be when DU is in session, and not during its long between-terms Christmas break, to guarantee a great student turnout. For the record, too, this isn't completely unprecedented: DU played home games in the Denver Coliseum and McNichols Sports Arena for two seasons in the late 1990s while Magness Arena was under construction following the razing of the old barn, the DU Arena.
Friday showed an annual one-night stand can work.