October 30, 2022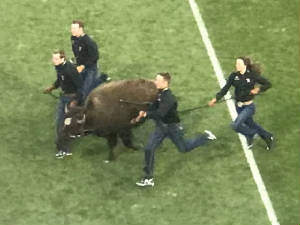 Ralphie VI, in her pre-game run Saturday, is in her second
season, so she's as green as many of the two-legged,
football-playing Buffaloes.
BOULDER -- Serving as the interim head coach in a collegiate football program is a mixed challenge.
Whether at Colorado or somewhere else, it's minus crushing pressure. Expectations are low.
Even slight improvement registers as a positive among those in the school's athletic administration, especially if the interim coach is perceived to have held the program together, avoiding complete disintegration, regardless of the record.
That's harder than it sounds. Why should the players consider an interim coach a credible voice of authority?
As is the case with CU interim coach Mike Sanford and other members of the deposed Karl Dorrell's staff, contractual security for at least another season provides a small financial safety net. There was a lightning-strikes possibility of the Buffs doing well enough under Sanford -- who served a two-season stint at Western Kentucky before he was fired -- to get him in the running to succeed Dorrell, but it seems even more obvious now that that's not happening.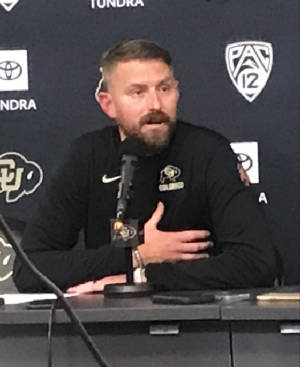 Mike Sanford
After the head coach is fired during a season, the closest thing to a certainty is that there will be a staff housecleaning after the hiring of a new coach, it doesnt take brilliance to read the writing on the office wall: You're going to be gone, too -- and in Sanford's case, after only one season at CU. Yes, in part because of financial concerns, it wouldn't be shocking if CU tries to find a way to bring Sanford back as, say, quarterbacks coach. But that's a big "if" in a coaching staff transition. Attracting a big-time candidate will be more difficult if one of the conditions is retaining a Dorrell staff assistant or two who still will be under contract in 2023.
My ears perked Saturday night after the Buffs' 42-34 loss to Arizona State when Sanford alluded to coaching the Buffs the rest of the season while making decisions based both on the present and the good of the program in the future. (The major issue involved was the likely redshirting of banged-up freshman quarterback Owen McCown.)
So when the microphone was handed to me, I asked Sanford about that challenge -- being judged short-term with a staff in an uncertain and unsettled situation. And balancing the now with the concern for that future that Sanford and the post-Dorrell reshuffled staff most likely won't be a part of. (Yes, son, we're going to have to move again.)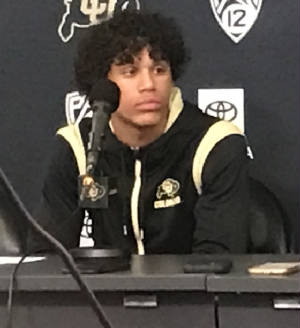 Bright spot: Freshman Jordyn Tyson had a 58-yard
touchdown reception and an 88-yard punt return
for another score against ASU.
"I think what I said when I stood up here on the Sunday that I was put in this position was that it was just about the players now," Sanford said. "These are our players. I'm going to continue to do everything in my power to love these kids, to put them in the best position, to create some more memories. Four games left, we're going to create some memories out there on that field. We just found out that the kick time for Oregon will be 1:30, we look forward to a packed house again. The student section today was fabulous. Even at the tail end it was awesome, those who stayed for what would have been one of the most incredible comebacks in history, but it fell short.
"I want to care for these players, their presents and their futures."