May 2, 2023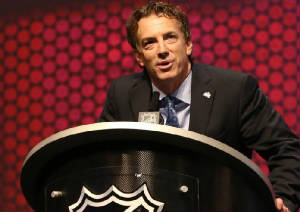 I enjoyed watching and following, rather than covering, the Avalanche's 2023 playoff run.
I thought it was going to last longer.
I had covered the NHL's postseason as far back as the Rockies' first -- and only -- playoff series against the Flyers as a green, fresh-out-of-college beat writer in 1978. And I covered the Avalanche's postseasons, starting with the 1996 run to the Stanley Cup and going through the 2022 Final aginst Tampa Bay. Plus, in a time when newspapers still were ambitious about covering national, out-of-market events, I was at many NHL series and Stanley Cup Finals not involving the Avalanche. (One of my informal duties as a Professional Hockey Writers Association vice president was to run the winning goal pools.)
I also have covered Super Bowls, World Series and NBA Finals (sampling of credentials), so I can credibly attest that the NHL indeed has the best postseason in sports. I still enjoy covering it all ... when it's writing and storytelling, not tweeting line rushes from the morning skate.
Perhaps part of this is 20-20 hindsight. If so, so be it. This week, this has come into focus: The Avalanche's late-season rally to win the Central Division and enter the playoffs as one of the favorites was illusionary.
Even if the Avs had gotten past the Kraken, they were living on borrowed time. That post-ouster realization actually seems to have lessened some of the sting.
The bizarre and demoralizing departure of Valeri Nichushkin was the final nail. A team lacking scoring depth -- Nathan MacKinnon and Mikko Rantanen can't do it all up front -- lost another top six forward. But more important, the karma turned toxic. What happened with Nichushkin, no matter what else comes out, was betrayal. The Avalanche's clumsy handling of it did't help. They needed to make Joe Sakic or Chris MacFarland available early and declare they would speak for the franchise on this. They wouldn't have been able to say much, perhaps, but it would have gotten it mostly off Jared Bednar's plate at his series availabilities.
Ninety percent of the time, "distraction" questions are time-filling silliness, right up there with the "were-you-surprised-that..." or "can-you-talk-about..." questions.
This was a distraction.
Winning the Cup involves resilience in the relentless mental and physical test. The Avalanche's first two Cup teams both had their playoff stumbles along the way, but rebounded and had the required short memories.
Also, every Cup champion has good fortune. Note I didn't say "luck." That's not what it is. The Avalanche community (including media and broadcasters) harping on the run of injuries at times crossed the line in seemingly portraying Colorado as the only team in NHL history to have injuries. If you stop short of that, I'll agree that the Avalanche lost key players for significant amounts of time and Gabriel Landeskog's season-long absence, and especially his playoff unavailability, was a major problem.
The offseason reconstruction job around the contractually tied-up core will be major. One of the positives is that Alexandar Georgiev for the most part was at least on a par with Darcy Kuemper, and that might not be giving him enough credit.
Pierre Lacroix didn't talk about it much, but his major regret about the early glory years was that the Avalanche didn't win the Stanley Cup more than twice (1996 and 2001). The major missteps came when they lost Game 7s in the Western Conference Finals two years in row.
"When we look back now, it's like we left a couple on the table," Sakic told me in a 2021 omnibus interview. "(In 2002), we lose Game 6 at home to Detroit. We lose two Game 7s to Dallas [in 1999 and 2000]. We won two Stanley Cups, but when we talk about it now, we had some real good teams. But, you know, we lost to some real good teams, too. There were three or four teams then in that mix -- us, Detroit, Dallas, New Jersey -- and it could have gone to any of them. But we certainly feel with the teams that we had -- well, I shouldn't get greedy, but we should have at least had one more."

Going into these playoffs, I was thinking that if the Avalanche fell short of repeating, it might be considered a case of letting another one get away, so to speak.
Nope. This just wasn't a Stanley Cup team.
AVALANCHE CONTRACT STATUS
Under contract
Mikko Rantanen (through 2024-25)
Nathan MacKinnon (through 2030-31)
Valeri Nichushkin (through 2029-30)
Artturi Lehkonen (through 2026-27)
Logan O'Connor (through 2024-25)
Gabriel Landeskog (through 2028-29)
Cale Makar (through 2026-27)
Samuel Girard (through 2026-27)
Josh Manson (through 2025-26)
Devon Toews (through 2023-24)
Kurtis MacDermid (through 2023-24)
Alexandre Georgiev (through 2024-25)
Pavel Francouz (through 2023-24)
Unrestricted free agents
J.T. Compher
Lars Eller
Evan Rodrigues
Andrew Cogliano
Darren Helm
Matt Nieto
Erik Johnson
Jack Johnson
Restricted free agents
Alex Newhook
Denis Malgin
Bowen Byram
Detailed contract status at CapFriendly.com