June 19, 2023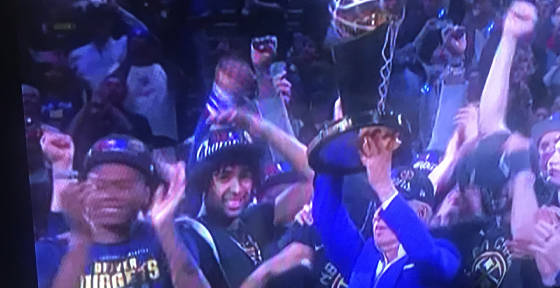 Stan Kroenke holding aloft the Larry O'Brien Trophy. It's becoming old hat for him as an owner.
In the past 12 months, as Colorado twice celebrated championships, the owner of the Avalanche and Nuggets, Stan Kroenke, didn't speak in either celebration at Civic Center Park.
At least publicly, Kroenke is not garrulous under any circumstances. Not going to the podium arguably can be considered an extension of Kroenke Sports and Entertainment's successful strategy of generally avoiding the spotlight, hiring competent personnel and staying out of their way.
Stan's son, Josh, is president and governor of the Avalanche and president/governor of the Nuggets, but especially with the Avalanche, Josh is more comfortable with signing off on decisions than he is mandating them. He didn't speak Thursday, either.
Regardless of titles and front-office structures, the same rough formula of ownership style mostly also has worked with the Los Angeles Rams, Colorado Mammoth, Colorado Rapids and Arsenal FC.
Maybe the Kroenkes would have avoided the microphone anyway.
Yet it also seems possible it was a conscious decision -- based on input from others -- to avoid giving some fans among the throng the chance to boo them and express their frustration with the long-standing Altitude stalemate with Comcast, which has led to limited availability of Nuggets and Avalanche regular-season broadcasts in the Denver market.
I've written about the Altitude vs. Comcast fiasco many times, and
this commentary from last October
for the most part stands. Bottom line: It's a business dispute among multi-billionaires and a mega-corporation in an evolving marketplace and if "blame" must be apportioned, it goes to both sides.
The major changes now are:
-- The two entities recently settled Altitude's lawsuit against Comcast. That legal settlement came minus a resolution of the dispute, though.
--
It now seems clear that the Altitude-Comcast rift won't ever be mended and that Altitude either has moved on or should move on in attempting to make its regular-season broadcasts available more ways as the cord-cutting market evolves. It seems that a new streaming method, pirated or "legal," becomes available every 15 minutes. An extreme longshot is a return to "free" over-the-air broadcasts, as the Stanley Cup champion Vegas Golden Knights are planning to do.
Amid the ongoing drama, it continues to be striking that so many have made the cable dispute the major identity of the Kroenke ownership, rather than its delivery of winning franchises to Colorado. Or even its role in bringing at least four elite players to Colorado -- Nikola Jokic, Jamal Murray, Nathan MacKinnon and Cale Makar. (And depending on definition of terms, you could keep going with additions to that list.)
That's unfortunate.
If the teams go into next season still minus widespread Denver availability of Altitude broadcasts, the bitterness will remain.
Yes, even if the Nuggets and Avalance threaten to claim championships again.
Think of what it would have been like around here if the Avalanche had been healthier and made the Cup Finals and the schedules worked out the same. In theory, Ball Arena would have been playing host to Finals games in the two leagues on back-to-back days. This is even more of a stretch, but if the Nuggets closed out the Heat in five games and the Avalanche finished off the Panthers in five games, the championships would have happened on consecutive nights -- and perhaps the parades for the KSE teams would have been merged. But not even that, it seems, would have made Stan Kroenke as popular aand respected as Pat Bowlen was around here.
The only major contractual issue the Nuggets have to tackle is Bruce Brown's player option. Most important, Nikola Jokic isn't going anywhere.
The Avalance will be without Gabriel Landeskog again, but with him on long-term injured reserve, they will be able to use his $7-million annual cap hit to go above the cap.
"There's no ongoing investigation ...," Daly said. "We know exactly what happened. It was handled appropriately both at the club level and I think at the league level. He's eligible to play in the league."
At this point, though, the bigger issue is whether the Avalanche -- from the front office through the players -- can count
on or regain trust in Nichushkin following his bizarre bailout on the day of Game 3 against Seattle.
I haven't been able to see or read everything out there, so feel free to correct me if I'm wrong on this point: My impression is that with the exception of 9News, which posted the recent additional bodycam video from Seattle first responders that raised additional questions, the Denver media generally seem willing to consider Daly's statement and the Avalanche's ongoing refusal to address Nichushkin's situation as closures.
They shouldn't be. Nichushkin is under contract through 2029-30, with an annual cap hit of $6.125 million. The Avs this season were accustomed to plowing on minus Landeskog. Nichushkin's bailout ultimately was a distracting shock, in part because it was so sudden. Jared Bednar had to cope strategically and also was given no help in fielding the inevitable ongoing questions about the mess. It was different and more disrptive than if Nichushkin suffered a broken arm on his first shift in Seattle. (To be fair, he was playing hurt, anyway.) "Personal issue" didn't hack it and the front office -- Joe Sakic and Chris MacFarland -- should have taken at least one shot at making statements of record on behalf of the franchise. That comes with the additional concession that the league and NHLPA dictate tight lips in delicate issues, but sparse comments have been made in the past when players enter the player assistance program. (I'm not saying that's going on here. I don't know.)
The test will be whether MacFarland can make effective augmenting moves to compensate for Landeskog's absence and address last season's depth issues.
Realistically, the odds are long of the Nuggets repeating
and
the Avalanche winning a second NHL championship in three seasons in 2023-24.
But if it happens, even with the regular-season broadcast issues continuing, the Kroenkes should proudly take turns at the microphones in Civic Center Park.