February 5, 2023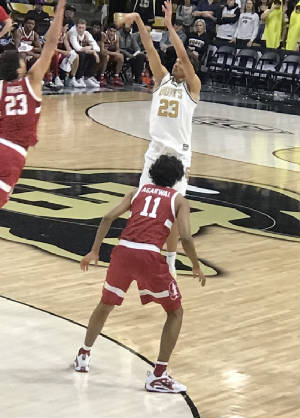 Tristan da Silva nails an outside jumper against Stanford.
BOULDER -- Because of the pandemic and the fact that he's from Munich, Tristan da Silva signed a letter of intent with Colorado without ever having been to Boulder. After he made the 5,000-mile journey from Germany to Colorado, his cultural and academic transitions were aided by his dexterity in English.
(If you didn't know, you'd think he was from Kansas City.)
But it wasn't easy, either, and da Silva's freshman basketball season and academic year in 2020-21 were successions of weird experiences of playing in empty arenas and taking on-line classes.
After da Silva had 25 points in the Buffaloes' 84-62 win over Stanford Sunday night at the CU Events Center, I asked CU coach Tad Boyle about da Silva's transition to North American college life and hoops.
"Tristan da Silva is a great student, that was one of the reasons why he wanted to come to Colorado," Boyle said "His first season there were no fans in the stands. So he didn't even know what Colorado basketball was all about. We (went) to the NCAA tournament and it was sparsely populated, so last year [2021-22] was kind of like his freshman year and now this is like his sophomore year.
"He's a special player."
This season, the Buffs have been maddeningly mercurial, and it goes beyond just struggling on the road. After the win over Stanford, CU is 14-11 overall and 6-8 in the Pac-12 with three straight road games coming up at Utah, Arizona State and Arizona. da Silva and sophomore guard KJ Simpson have had to lead to a greater extent than expected following Jabari Walker's surprising decision to enter the 2022 NBA draft after his sophomore season -- he's now a seldom-used reserve with Portland -- and the expected depature of Evan Battey, who had a terrific four-season carer for the Buffs. This became more of a transition season as Boyle awaits the arrival of a touted recruiting class for 2023-24, and da Silva has been especially impressive since 2023 dawned.
Boyle said the 6-9 forward "is coming into his own and that's what's so fun about recruiting freshmen. You don't get that when you recruit a transfer portal guy. I love Jalen Gabbidon (transfer from Yale), and I love Ethan Wright (transfer from Princeton) but we are just trying to just get the most out of them we can for one year. Give us the best you got and we'll take it. But with Tristan da Silva and KJ Simpson you see these guys come in as freshmen and they grow, but there's some growing pains. There's been growing pains with Tristan da Silva, but I couldn't be prouder of him. Now he's reaping the rewards of all his hard work and all the school of hard knocks, so to speak.
"He's playing with unbelievable confidence and unbelievable poise. He's got a great pace about him. He doesn't get sped up. He's unselfish. He knows he needs to score for our team, but he doesn't force it. He doesn't take bad shots, he's finished, and he can play inside and play outside...Tristan is so smart. His basketball IQ is off the charts. You don't have to tell him a lot of things."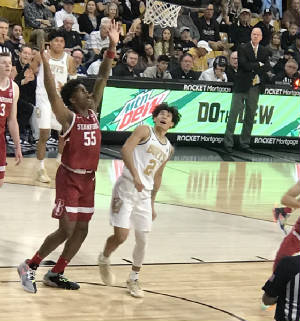 KJ Simpson and Tad Boyle watch Simpson's
driving second-half shot go in
A fairly lofty goal for the Buffs would be to go 4-2 in the final six conference games -- they finish at home with USC, UCLA and Utah -- and end up 10-10 in the Pac-12. As awful as they have been at times, they don't seem to have been beaten down.
"I don't really think we lost confidence that much," da Silva said when I asked about the Buffs' resilience. "It's obviously a little devastating and frustrating to lose that many close games and not be able to win on the road against good teams where we've been right there. We're a tight group and we trust each other. We know what we can do when, and what we're capable of. So, we kind of emphasize that more than the frustrating parts. We just had to get back to who we are and what we do."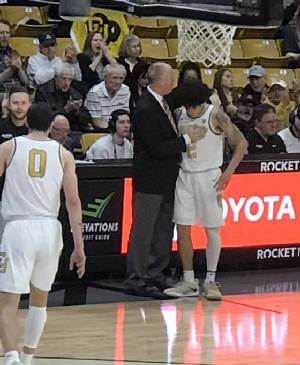 As KJ Simpson leaves the game in the final minutes,
Tad Boyle holds him up for a private chat.
Simpson, averaging 16 points a game after he had 21 against Stanford, missed one game recently because of an ankle injury and missed practice time, said his strong play since involves 'just being more patient, not rushing anything, and letting the game come to me."
What's also striking about the Buffs' two leaders is that da Silva doesn't speak just German and English, but also Portuguese, Spanish and French; and Simpson also is fluent in Spanish.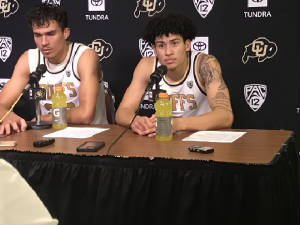 The multi-lingual Tristan da Silva and
KJ Simpson after the win over Stanford