May 2, 2021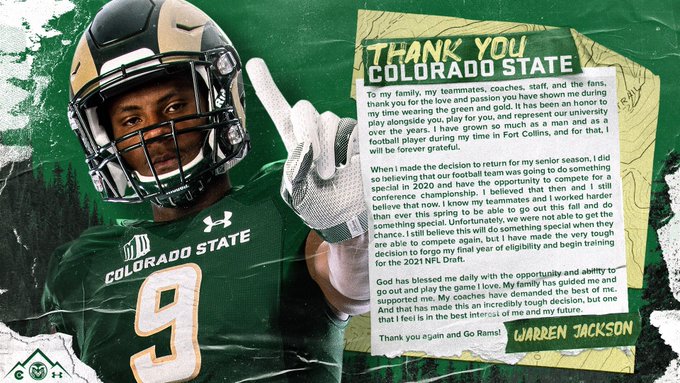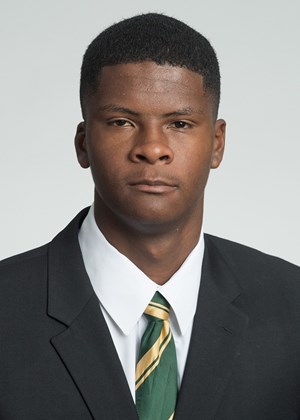 Colorado State wide receiver Warren Jackson opted out of what turned out to be the Rams' abbreviated and troubled 2020 season to prepare for the draft, but -- surprisingly -- he went unclaimed over the three days.
The Broncos have signed the 6-foot-6 wideout from the Los Angeles area as a free agent, and I'll go on record here as saying he'll make the 2021 opening-season roster.
Why?
Only so the guys in the booth can say after every catch that he was an undrafted free agent who played his college football just up the road in Fort Collins.
During the 2019 pre-season practices, I met with Williams and did a commentary/profile on the Rams' latest marque receiver.
At the time, the roll call of former CSU wide receivers in the NHL included Rashard Higgins of the Browns, Michael Gallup of the Cowboys, Preston Williams of the Dolphins and Bear Creek High's Bisi Johnson, who was destined to make the Vikings (with George Paton watching) as a 2019 seventh-rounder.
Jackson, then a junior, and I talked about the outlook for the 2019 season, which would turn out to be Mike Bobo's last with the Rams. Then we talked about his background.
In Jackson's recruiting profile updated after he signed a national of intent with the Rams in early 2017, ESPN.com listed him with scholarship offers from CSU, Arizona, Colorado, Fresno State, Hawaii, Massachusetts, New Mexico, Oregon State, San Jose State, Washington State and Wyoming.
Jackson attended Redondo Union High School in Redondo Beach and played football there his sophomore and junior years before transferrring to Bishop Alemany High in Mission Hills, about 35 miles north, midway through his junior year.
At the end of his stay at Redondo Union, his father, Ron, had been taking him to Redondo Beach, though Ron lived and worked in the San Fernando Valley.
"I lived in the Valley and was driving to the South Bay every day," Jackson told me. "It was tough on my dad, going that hour and a half every morning. We just decided I'd go somewhere that was five minutes away, great school, Catholic school with a pretty good football team."
He said that on the day he transferred to Bishop Alemany, he had just taken an entrance test when the school's football coach found him and announced that CU assistant coach Darian Hagan wanted to talk with him.
"They offered me on the day I transferred," Jackson said of the Buffaloes.
Jackson called Hagan "a real good dude. He came out and said, 'We've been watching you, you have a scholarship,' and I was really shocked. I had never heard from them until that day. I was, 'Wow!'"
After finishing his junior year at Bishop Alemany, Jackson announced via his Twitter his "commitment" to Arizona. But as is so often the case, he changed his mind by the national letter of intent signing date about eight months later and instead signed with CSU. (The use of the term "commitment" at that point of the recruiting process -- even when qualified as "verbal" -- continues to be a joke, but remains the norm.)
Jackson said the CSU staff was recruiting him early and that the Rams offered him a scholarship during his sophomore year at Redondo Union.
"I didn't know too much about them," Jackson said. "I'd seen Rashard. watched his tape and said, 'Man, he's really good,' so I kept tabs. They kept recruiting me that following year, but then I had the commitment to Arizona. I was set to go to Arizona, but then I took a visit there. I liked Arizona a lot. It was a great environment, great team, great teammates. But then I took a visit here and it was something I never had experienced before. I loved the atmosphere, I loved the team, I loved my soon-to-be teammates. The staff was amazing and builing that new stadium helped too."
Two weeks after his official visit to Arizona, he announced his "decommitment" on Twitter.
Following his visit to Fort Collins, he signed with the Rams in February 2017.
Why not CU?
"I don't know," Jackson said. "Me and the coaches didn't have that relationship. We talked once in a while, but it wasn't as much as we talked here and with Arizona."
At6 CSU, Jackson didn't redshirt and played as a true freshman in 2017.
"I'm glad I got my feet wet," he said. "I'm glad I got an opportunity to learn this offense by playing it. You learn better when you're actually doing something. I'm glad I didn't redshirt, I'm glad I had the opportunity to play with these guys. Mentally, I've gotten a lot tougher. Physically, I got a lot stronger. I've gained probably 25 pounds since I've been here. I got faster as well. It's just the mental things, the Xs and Os of football. I've learned a lot more of the playbook, and watching film and watching my opponent.
"I learned every (receiver) position by being here and watching those guys, watching how they ran certain routes. I watched the route the ran, and now it's the routes I have to run because I'm in that position now."
In his three-season career with the Rams, he finished with 124 receptions for 1,789 yards and 14 touchdowns.
Now he's got a free-agent shot with the Broncos.