November 7, 2020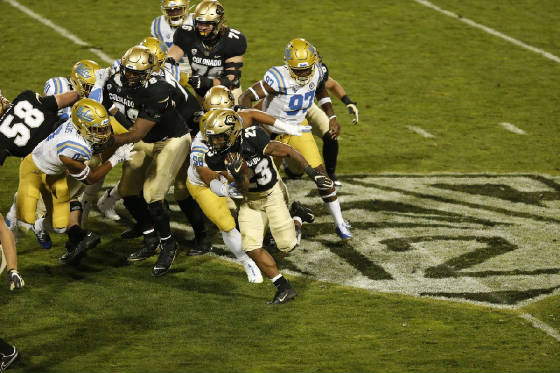 Jarek Broussard on one of his 31 carries against UCLA. (CU Athletics)
No spring practice. Changing head coaches in February, from Mel Tucker to Karl Dorrell. No holdover starting quarterback and a mix at the position that led to giving the job to Sam Noyer, a graduate student who hasn't started at QB since high schoool ... five years ago. And the all-around trying circumstances that are fairly universal this bizarre year for college football (and everything else), but still testing for Dorrell's Buffaloes.
Is it any surprise that Colorado finally opened its 2020 season Saturday night, there was a bit of mystery enveloping the program?
That included an uncertain answer to the issue of whether the Buffs would be able to be competitive in the Pac-12 South ... or struggle to win perhaps three games?
Well, the 48-42 win over UCLA in front of an intimate family night gathering of 554 at Folsom Field provided, to a surprising extent, reassurance.
With Noyer throwing for 257 yards and a touchdown and running for 64 yards, plus sophomore tailback Jarek Broussard piling up 187 yards and three TDs on 31 carries, the Buffs were startlingly efficient and explosive offensively. Noyer's mobility and elusiveness helped, but when you get 264 yards on the ground as a team and don't allow a sack, considerable credit must go to the offensive line ... even if saying that sounds like you should get a five-yard penalty for illegal use of cliches.
As much as the Buffs, and Noyer himself, tried to make this no big deal, it actually was quite astounding. Backing up Sefo Liufau and Steven Montez, sparingly playing safety a year ago, and then graduating and thinking he was done at CU before the hybrid holdover-and-new staff asked him to come back? That's not a path conducive to stardom -- unless it's a Disney movie. Even being a competent placeholder at the position for one season seemed an unrealistic expectation.
But all the evidence Saturday seemed to indicate that Noyer, given the chance, can pull it off.
"It felt great," Noyer said. "Getting the first start under my belt for the win, it was a fun game for sure."
After five years of not starting a game at quarterback, how long did it take to get comfortable?
"I'd tell you the first snap, to be honest," he said. "I know that's pretty cliche to say but I've learned under two pretty great quarterbacks, with Sefo and Steven, and then I learmed under some good players last year on the defensive side of the ball. So right as I got out there, obviously you're going to have a couple of jitters, but with a great O-line like we have, and the great weapons that we have, it really helps a quarterback and helps me feel a lot more comfortable out there."
Do I need to point out that he also knows how to play the role of the quarterback?
Then there was Broussard, the sophomore from Dallas who didn't play his first two years with the Buffs because of knee issues, leaving CU fans -- the few in the stands and those watching and listening elsewhere -- asking out loud: Where'd this guy come from?
"It means a lot to us," Broussard said of the win. "There were a lof of things we had to go through with the Corona virus, and getting canceled our paused. It really felt good to just come out here and get the 'W' tonight." He said his previous struggles "are just motivation for me, honestly," and added of Noyer: "Early in the game, we told each other that we were going to depend on each other. We just got comfortable with it and did our thing."
I conceded to Dorrell that he wasn't around to witness Noyer and Broussard's struggles, but then asked if he felt the two had common threads of redemption and resilience.
"I would think so," Dorrell said. "Perseverence fo sure, for Broussard. He hasn't played in a while and for him to have the game he had and the confidence, and how hard he ran, that just tells you a lot about what I've expressed to you guys in training camp. He was having a great training camp, so consistent, so efficient, so effective and you saw that today.
"And then with Sam, I would say, yeah, this is definitely vindication for him. He believed he was a quarterback, but he did a team unselfish thing a year ago and moved to safety. And then finally he's back playing a position he wants to play and wanted to play at the very beginning. For him to play the type of game he played today in his first start, I'm very proud of him, too."
I asked Dorrell if, if this situation -- noting that team and those colors on the otther sideline -- added to the emotion for him in his return to the college game and to head coaching. A former UCLA receiver and head coach, he was fired in Westwood after the 2007 season. That wasn't a pleasurable experience, but he also might still know the words to the alma mater.
"It wasn't any emotional experience for me until at the end of the game for our players," Dorrell said. "You know what? I'm just so proud of them and what they accomplished today. It gives us a start for people to recognnize that we're an up and coming program. We didn't have many practices to get ready for our season, no spring and a new quarterback. It tells you a lot about our coaches, how hard they worked and how our players worked to create the production that you saw today.
"So there's a lot that we're looking forward to moving into our future. I'm proud of these players. For me personally, I haven't been on the UCLA sideline in over 13 years. I've been in four or five different stops since then, so there wasn't any emotional reaction from my standpoint because o me being an alumnus there. We play UCLA every year. We're in the South Division, so it's all about taking care of business and taking care of the things right in front of you. The next one is Stanford."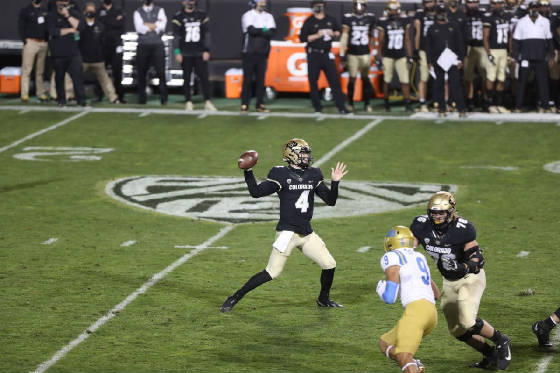 Sam Noyer was 20-31, for 257 yards and one TD against the Bruins (CU Athletics)
terry@terryfrei.com