"Third Down and a War to Go"
Adapted from the book of the same title
Both: By Terry Frei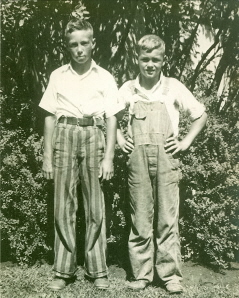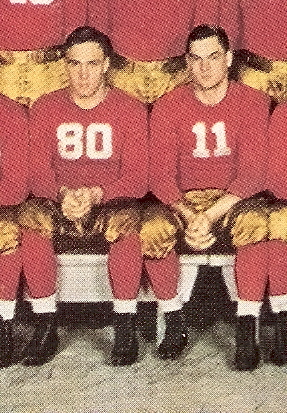 EXT. OVER THE SKIES OF HUNGARY, 1944 – DAY
Above the clouds, we see soft blue skies. Nothing else. Pretty stuff. Serene. Soft. Skies suited for piano music. POV is moving, as if we're floating -- or looking for something.
Briefly on screen:
Hungary, 1944
Suddenly, a RAT-TAT-TAT of a fighter plane's guns and a WHOOSH of searing FLAMES, an instant before we lock in on . . .
A United States Army Air Forces B-17 bomber is going down. Its right engine is on fire and the flames are a long and ominous trail as the plane falls through the sky. The voices are frantic and overlapping, up to 10 men yelling at once. More than below is unintelligible or improvised.
GUNNER (v.o.)
Shit!
BOMBARDIER (v.o.)
Bastards!
NAVIGATOR (v.o.)
Hail Mary, full of Grace.
BOMBARDIER (v.o.)
Torn up!
BALL TURRET GUNNER (v.o.)
Danny's hit!
TAILGUNNER (v.o.)
Kraut's still there!
HOSKINS (v.o.)
Engine's gone!
TAILGUNNER (v.o.)
Son of a bitch!
BALL TURRET GUNNER (v.o.)
Jesus, Danny!
REAR TURRET GUNNER (v.o.)
Breaking up!
CAPTAIN (v.o.)
Abandon ship!
The alarm bell RINGS -- the one long ring that is the abandon ship signal.
INT. B-17 BOMBER – DAY
MARK HOSKINS, the co-pilot in the right-hand seat, unstraps. He rushes slightly forward to the left side of the nose, joining the NAVIGATOR and BOMBARDIER, who are tugging and pushing on a hatch that doesn't budge. They're yelling. Hoskins pulls them away. He takes a couple of steps back and charges. He barrels into the hatch with his right shoulder. It flies open. Hoskins suddenly finds himself in . . .
EXT. SKIES OVER HUNGARY – DAY
Hoskins yanks on his ripcord. The opened chute pulls Hoskins up, and then he begins drifting. He looks down. A noise catches his attention and he redirects his gaze.
Hoskins' POV. A German fighter plane approaches.
We see one of the guns and then the German Pilot, focusing on the drifting Hoskins and his parachute.
As the plane closes in, Hoskins stares straight at the German Pilot and then flinches at the apparent last second.
EXT. GUAM, MARINE BIVOUAC – DAY
Marine LT. DAVE SCHREINER is cross-legged on the ground. About 20 Marines, including LT. BOB BAUMANN, are with him. Many have mail in their hands.
Briefly on screen:
Guam, 1944
Schreiner reads a letter. He looks increasingly crushed with each line. He says nothing. He drops the letter to his right and opens up a newspaper clipping that was underneath it. We get a quick look at the headline:
FORMER UW STAR HOSKINS
MIA AFTER BOMBING MISSION
Baumann reads his own letter. He briefly looks up at Schreiner, looks down, but quickly looks again.
BAUMANN
Dave?
SCHREINER
It's Mark.
(now reading)
"The sad news is that Army Air Forces Lieutenant Mark Hoskins is missing after his B-17 was reported shot down in Nazi-controlled Hungary. It was the co-pilot's 34th mission over enemy territory. He was the same quiet, efficient officer as he had been a University of Wisconsin football star."
Schreiner, red-eyed, gathers his legs under him, reaches back with one hand to push himself up as he holds the clipping in the other hand. He takes a step, pauses and tosses down clipping on top of the letter, and then leaves. Baumann gets up, too, and follows.
With Schreiner and Baumann out of our view and the Marines' earshot, PFC JAMES SINGLEY reaches over, picks up the clipping and scans it.
SINGLEY
(to the rest, just loud enough)
He didn't read it all.
(now reading)
"Hoskins was co-captain of the Badgers' famed 1942 squad, along with his best friend, end Dave Schreiner, a two-time All-American and the Big Ten Conference's most valuable player in his senior season. Hoskins and Schreiner had been pals since childhood in tiny Lancaster, Wisconsin, and it took Uncle Sam to separate them. Schreiner and '42 Badger tackle Bob Baumann are lieutenants in the same Marine unit in the Pacific fighting, and their teammates are posted around the world in the struggle against the Axis."
EXT. GUAM, NEAR THE MARINE BIVOUAC – A FEW SECONDS LATER
Dave Schreiner stares into the distance, with his back to Bob Baumann.
BAUMANN
They sure he didn't get out? He always got out of trouble – even in the locker room.
SCHREINER
Doesn't sound like it, Bob. And even if he got out of the plane…
Schreiner reaches into his pocket, pulls something out and turns. He is holding a brown Phi Delta Theta folding picture wallet with three inside panels. With it unfolded, we can see the pictures of his girl (Odette), of his parents, and of two boys. He holds it in his left hand, and points with his right to the picture of the Lancaster Boys at about 10 years old -- Schreiner in hideous striped pants, Hoskins in overalls.
SCHREINER
He's got my watch.
BAUMANN
What?
SCHREINER
When Mark left, I gave him my East-West All-Star Game watch. I told him I'd want it back.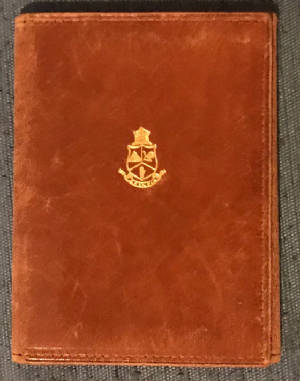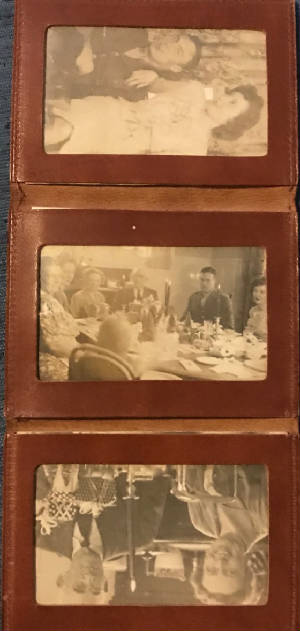 NOTE: Although the screenplay tugs at the heartstrings, the final scene of Third Down and a War to Go is upbeat, with Dave Schreiner's niece, Judy Corfield, and University of Wisconsin athletic director Barry Alvarez watching Schreiner's name and number unveiled on the Camp Randall Stadium upper deck facade. To make inquiries about the screenplay or the book as a film property, go here.