Trent Sieg sought out Phillip Lindsay as part of the middle-of-the-field milling around after the Broncos' 20-19 win against the Raiders on Sunday at Broncos Stadium at Mile High.
What did Sieg tell Lindsay as they shook hands?
"I told him I was glad to see a Colorado boy out there doing good things," Sieg said a little later in the Raiders' dressing room.
They had been rivalry opponents on the same field the previous four seasons. In four consecutive Rocky Mountain Showdowns, Lindsay, from Denver South High School, was Colorado's offensive catalyst, and Sieg, from Eaton High School, was Colorado State's long-snapper specialist.
Lindsay made the Broncos as an undrafted free agent and now, after his 107 yards rushing against the Raiders on Sunday, he has 178 yards on 29 carries through two games.
Sieg's road was bumpier. He signed with the Ravens, also as an undrafted free agent, but was cut after the preseason and came home to Eaton to see what might develop. He watched the Raiders-Rams game Sept. 10 at his parents' home in Eaton and saw Raiders long snapper Andrew DePaola suffer a season-ending knee injury on Oakland's first punt of the season.
"I knew that I might have a chance to come in and do a workout," Sieg said. "I had been keeping an eye on all the teams and how the snappers were doing. So right after that play, I went to bed because I'd decided I might have a long day."
The two calls came back to back as he was making breakfast at his parents' house about 9 a.m. last Tuesday, one from his agent saying he needed to get to Oakland to work out for the Raiders that afternoon, the second from the Raiders with travel arrangements. He had three hours to get to Denver International Airport. He won the job, and five days later, he was snapping against his home-state Broncos.
"Ever since, it's been trying to learn the system as best I could, get my timing down with Johnny (Townsend, the Raiders' punter) and get my timing down with Mike (Nugent, placekicker). I don't want to come in and screw up what they've been doing all the preseason or in the first week. It was a whirlwind week, but I think I've kind of settled into a routine and have been around a little bit."
Sieg said he spoke to the Raiders a bit before the draft and as it wound down, but they signed DePaola, formerly of the Chicago Bears, as a free agent to replace long-time snapper Jon Condo. He didn't have assurances from anyone he was No. 1 among the snappers-in-waiting. He just was waiting. He figured he would have to be patient — snappers don't get hurt much. It's another reason why they tend to be among the longest-tenured players in the league.
"I felt good about my preseason performance, so I thought that I'd be at least getting a workout," Sieg said. "I thought that I had put myself in a good situation to go get a tryout somewhere, and if I got a tryout, I'd be able to do my best to earn the job."
He made eight snaps against the Broncos on Sunday, four on punts, two on field-goal attempts and two on extra-point attempts. The Broncos' Shaq Barrett, for one season Sieg's teammate at CSU, blocked one extra point, but that wasn't Seig's fault.
"I think it helped a little bit being at CSU and playing on this field previously," Sieg said of his first game. "It was a little louder this time. I'm still pinching myself, like, wow, a lot's happened."
Sieg was a three-sport athlete in high school and was a standout linebacker for Eaton. He was a walk-on at CSU and briefly gave tight end a shot before deciding to focus on long snapping.
"I went back and forth between that decision at CSU, and it ended up being the fastest way to a scholarship, and I think it ended up for the best because I was trying to get an engineering degree at the same time," he said. "Between trying to get a scholarship and pay for school and have it be a lot of work with school on top of that playbook."
A redshirt in his true freshman season, Sieg graduated from CSU in five years.
"I added a business minor to slow me down," he said with a laugh.
The one negative to playing his first NFL game in his home state is the cost at the box office. He bought 13 tickets to the game against the Broncos for family and friends.
And now, with the Raiders at 0-2 and getting set to go on the road again to face the Dolphins at Miami, Sieg still is matching names and numbers to faces.
"For the most part everyone knows who I am, or at least I'm the snapper that came in," he said. "I'm still learning their names, they're learning mine. It's a long season. I'll get there."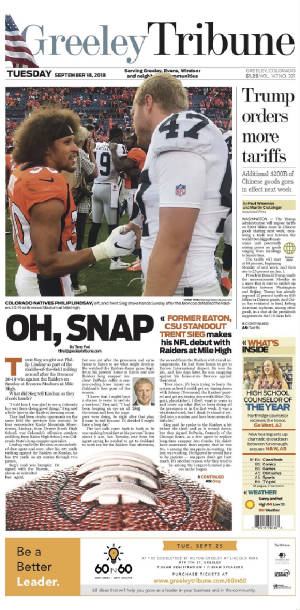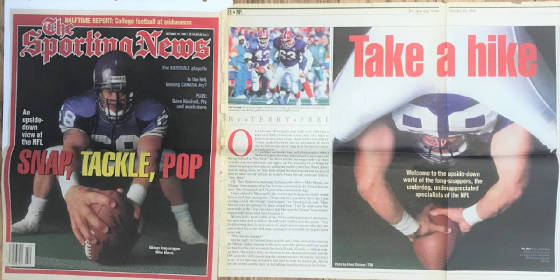 Terry Frei's 1995 Sporting News story on the NFL's long snappers