July 10, 2020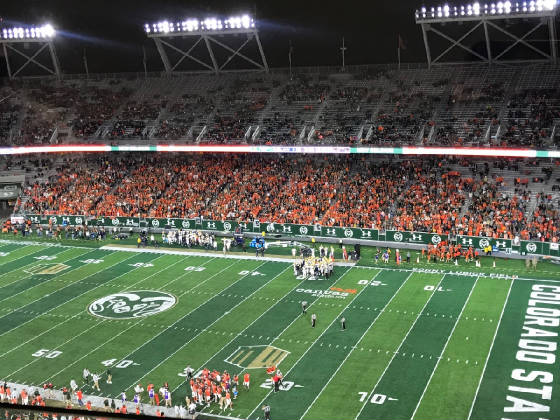 CSU's "Orange Out" crowd last season against Toledo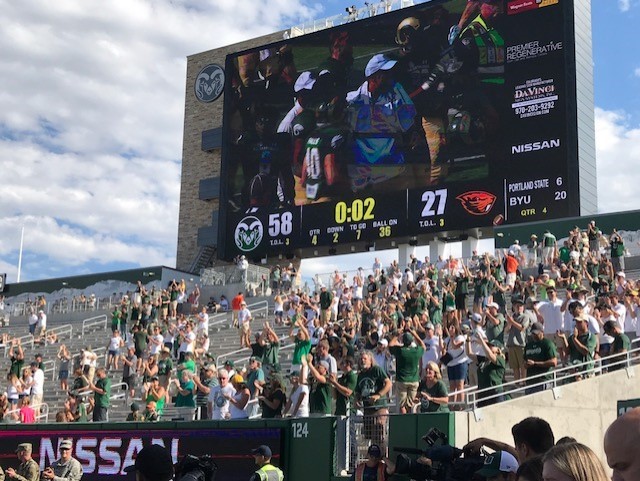 The crowd had thinned out by the end of the August 2017 first game in what came to be called Canvas Stadium -- the Rams' 58-27 romp over Oregon State.
About those friendly annual Rocky Mountain Showdown wagers between Colorado and Colorado State alumni ...
Wait 'til 2023.
The expected announcement came from the Pac-12 Friday, declaring that several fall sports -- including football -- would play all-conference schedules. (That, of course, comes with an asterisk: *...if they play at all.")
That means Colorado drops non-conference games at Colorado State and Texas A&M, and at home against Fresno State. CU-CSU and CU-Fresno State are two of the 13 Mountain West vs. Pac-12 games scrapped.
The loss of the Rocky Mountain Showdown, scheduled for Sept. 5 at Canvas Stadium, is especially unfortunate.
The CU-CSU game would have been the first Rams-Buffs meeting on the CSU campus since 1957, predating the 1968 opening of the off-campus Hughes Stadium. I've long been on record as opposed to anchoring the Showdown in Denver, and in favor of playing it in the programs' home stadiums. And CSU's move to the on-campus Canvas Stadium would have been additionally energizing.
'
CSU also loses its trip to Corvallis to face the Pac-12's Oregon State in what would have been the second half of a home-and-home series, with the first serving as the Canvas Stadium opener in 2017. That game at Corvallis is expected to be rescheduled for 2026 or '28.
On the surface, CU dropping a 50-mile bus ride from Boulder to Fort Collins and perhaps replacing it with a game at Oregon State (1,246 miles) or California (1,229) seems strange, but this decision is more about trying for uniformity of COVID-19 coping standards within the league than cutting down on travel.
If that had remained the primary goal, the various temporary regional realignments proposed recently -- most notably around here by Brian Howell of the Boulder Daily Camera / BuffZone in advance of the pack -- should have come into play. Under that, I would have proposed CU and CSU playing a home-and-home this season -- with the asterisk. Actually, I still don't think that's out of line under these conditions. It could be part of a hybrid approach, with mostly in-league scheduling, plus one or two scrupulously screened "natural" games.
But for now, with this year's CU-CSU game off the schedule, the Showdown isn't scheduled to resume until 2023, at Folsom Field, and then 2024, at Canvas Stadium.
In that stays in force, the gap between CU-CSU games on the CSU campus will turn out to be 67 years.
The Pac-12 move followed the Big Ten blazing the trial on Thursday with a similar announcement, and while the domino effect might take a while, it seems likely all the Power 5 leagues will follow suit, at least for football.
The Pac-12 later revealed in another statement that Commissioner Larry Scott, 55, has had flu-like symptoms, has tested positive for COVID-19 and will self-quarantine as he continues to work remotely.
Before that, he discussed the league decision.
"The health and safety of our student-athletes and all those connected to Pac-12 sports continues to be our number one priority," Scott said. "Our decisions have and will be guided by science and data, and based upon the trends and indicators over the past days, it has become clear that we need to provide ourselves with maximum flexibility to schedule, and to delay any movement to the next phase of return-to-play activities."
If the Pac-12 adds a 10th conference game, the assumption now, it won't be as simple as just dropping in an added game between two teams that weren't scheduled to play each another.
The complication is illustrated by CU's situation. It was not scheduled to face those two schools -- California and Oregon State.
CU was down for five home and four conference road games, but the same is true for Cal and OSU.
So if it evens out its schedule by going to Cal or OSU for a fifth road game, that school would have six home games. It's going to take juggling rather than just adding. The dates are issue, too, and a revamped schedule likely will be out by the end of the month.
Here's what CU Chancellor Phil DiStefano said Friday in a school release:
"We're pleased about the Pac-12 Conference's decision today. The other presidents and chancellors and myself feel this approach maximizes our ability to adapt to the evolving pandemic as we plan for fall sports. It also gives us time to develop the consistent testing and mitigation protocols across the conference that will protect the health and safety of all of our student-athletes, coaches, fans and campus communities."
CU AD Rick George is expected to address the decision Monday in a virtual news conference.
This leaves CSU with more uncertainty about the Rams' upcoming schedule, too. Two of its non-conference games already are scratched, with Vanderbilt (SEC) and Northern Colorado (Big Sky) remaining -- for now.
"We are disappointed in this decision by the Pac-12 Conference which eliminates a number of competitions for our student-athletes," CSU AD Joe Parker said in a statement. "It impacts several Colorado State teams that were looking forard to competing with Pac-12 opponents, particularly in key rivalry games."