June 6, 2021
Here's Joe Sakic's
explanation of Cup
handoff to Bourque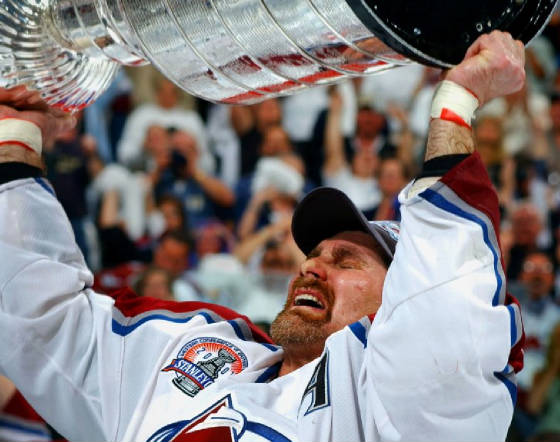 John Leyba's iconic shot of Ray Bourque raising the Stanley Cup ... finally.
As we approach Wednesday's 20th anniversary of the Avalanche's win over the Devils in Game 7 of the Stanley Cup Finals, I thought I'd reprise a portion my omnibus cover story interview with Joe Sakic from Mile High Sports Magazine's 200th issue last December.
In this, Sakic responds to my questions about his much-discussed and much-remembered handoff of the Stanley Cup to Ray Bourque:
TF: Patrick is heroic in Game 6 at New Jersey and the series comes back to Denver. Alex Tanguay scores twice and you win 3-1. I consider it and the Broncos' transformative win over the Raiders in the January 1978 AFC title game to be the greatest single games here in Colorado sports history. That was before your time, I know …
JS: (Laughs.) I don't remember that game, Terry.
TF: Remind me to get you a book. But what so many remember as the crowning moment and even a summation of what you're about was your touch pass of the Stanley Cup to Ray Bourque and you watching him raising it overhead first. How long had you thought about what you did and why did you decide to do it?
JS: It was probably on the plane ride on the way home after Game 6. I just went up to Ray and said, "Hey, we have a …" He cut me off and said, "No, no, no." He was superstitious. I wasn't a superstitious guy. I was like, "All right." But when we won, I knew Ray was getting the Cup first. After the game, I really didn't know what I was going to do, other than he was going to be the next to have the Cup. Once we won, I guess it was the moment, there he was. I didn't think about it, I just handed it over to him as quick as I could. (Laughs.) If it was the very first time I had won it, he probably wouldn't have had it. I would have made sure I lifted it up first. If he was there in 1995-96, there was no way I would have done that. I have to come clean.
TF: Are you amazed about how many people remember that as perhaps the defining moment of your career?
JS: Yeah, a lot of people bring it up as the favorite thing they saw. I didn't really think of it like that. It was, "Here's a guy who has played for 22 years, a legend of the game, and in the entire playoffs, everybody's rooting for him." I just felt it was the right thing to do.
Here's the full interview. Sakic and I should have been smoking cigars and sipping Scotch.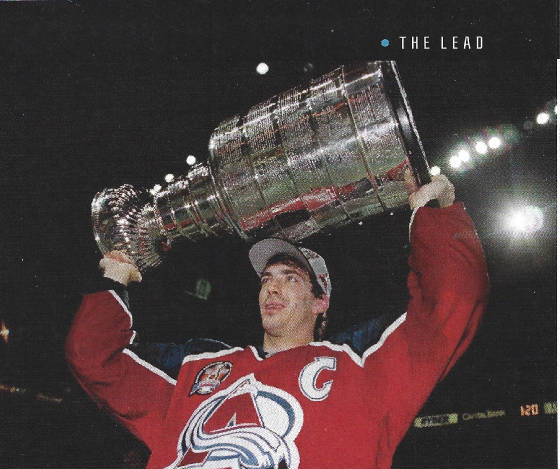 Joe Sakic with the Stanley Cup in Miami in 1996.